Last updated on June 25, 2023
You know a city holds a special place in your heart when you need two separate posts to describe your travel experience even though you only spent five days there. Considering the amount of places and experiences we managed to fit into our itinerary, it feels like we'd been there so much longer. Whether you're looking for the best things to do in New York City as a first-time visitor or planning a post-pandemic return, I hope this New York City travel guide will provide some inspiration!
Our New York City itinerary – Part 2
If you missed the things we got up to during our first two days in New York, including trying out some famous chain restaurants, attending a Broadway show, and my very first Gossip Girl moment, you can read the first part of my detailed guide to New York City!
Day 3 – Breakfast at Tiffany's and dinner on Staten Island
After the most hectic day taking advantage of the city's rich cultural scene, we decided that on Friday we would take it slow. We wanted to check out some foodie spots and indulge in a bit of shopping instead…
When I woke up that morning, my excitement levels reached a new high. The moment I first watched Breakfast at Tiffany's as a teenage girl, my fascination with Audrey Hepburn began. Soon enough, her photos started gracing my walls, books dedicated to her filled my shelves, and my list of dreams was largely centred around places related to my favourite Audrey movies and Audrey herself.
I'd been envisioning the day when I can finally have my Holly Golightly moment and stand with a cup of coffee and a croissant admiring the display of Tiffany & Co's flagship store… so imagine my reaction when I found out you can now have an ACTUAL breakfast at Tiffany's (the entire store is currently undergoing renovations and will reopen in 2022, so mark your calendars)! Getting a reservation at The Blue Box Cafe borders on impossible, but we managed to snag a spot!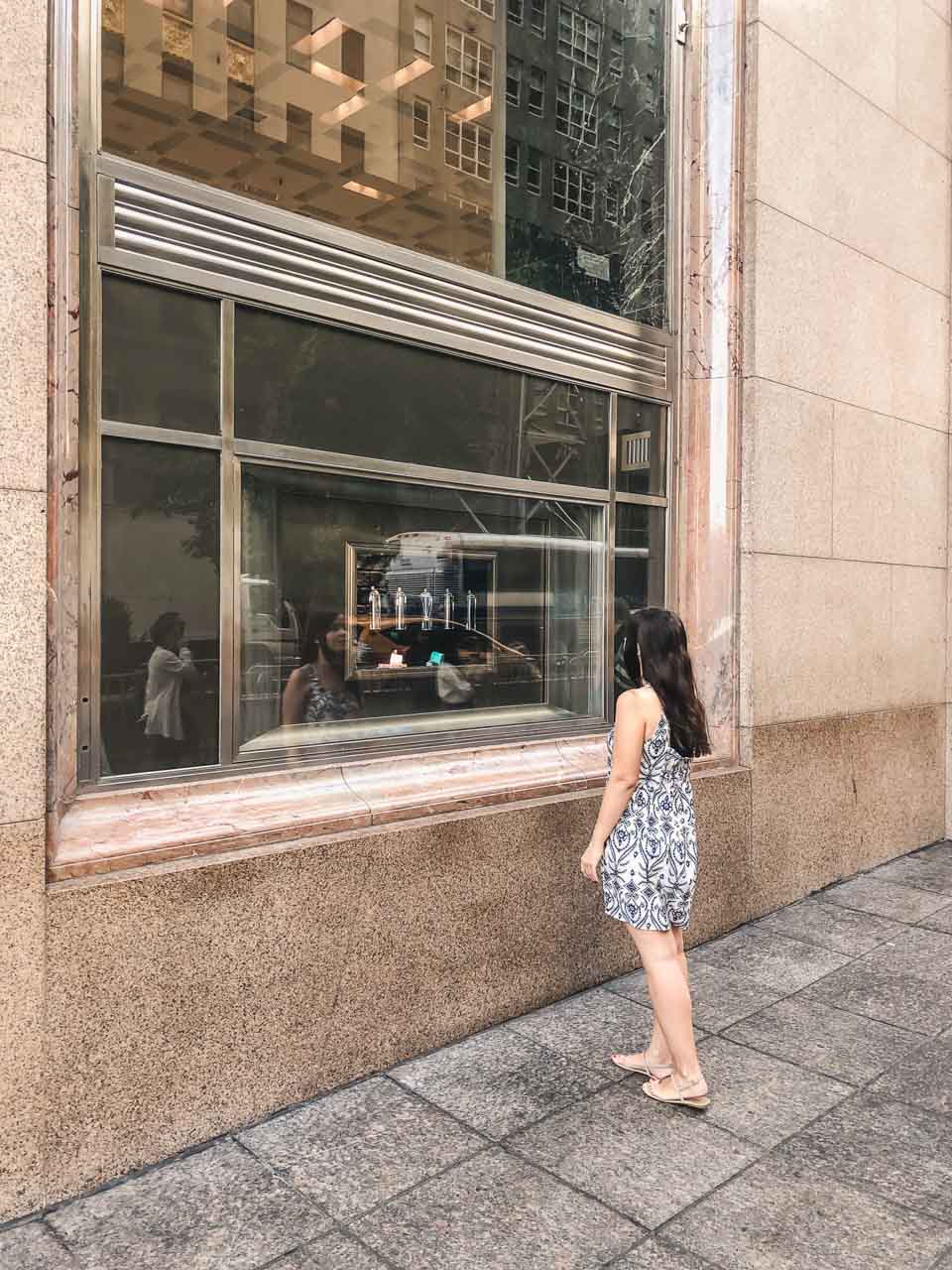 Not wanting to be late for our reservation, we arrived way too early and found ourselves with some time on our hands. Our trip to New York wouldn't be complete without a stroll down one of the most extravagant retail stretches in the world and it was the perfect time to do so.
Victoria's Secret flagship
We walked past shops of multinational retailers and high-end designer boutiques, deciding to stop in only one place – Victoria's Secret. I got on the bandwagon quite late, but once I did, I would watch the annual fashion show almost religiously – and I couldn't pass up an opportunity to visit the museum located inside their flagship store.
With all the costumes on display, it can feel like you got a backstage pass and the staff make sure that you can live out that fantasy. You can pose on a makeup chair or in front of the actual angel wings. I gave it my best shot, but my attempts to be an angel for the day weren't enough to save the show (sorry guys, I tried)…
Breakfast at Tiffany's
After my futile modelling attempt, it was time to head back to Tiffany's where one of my biggest dreams was waiting for me. I wrote a separate blog post describing what it's like to have breakfast at Tiffany's, so if you've ever been wondering whether Holly Golightly would approve of this dining experience, go have a read!
Sprinkles
Afterwards, we set out on a mission to find one of these super Instagrammable pastel pink cupcake ATMs. I've been dreaming of a full-on photoshoot in front of one from the moment I became aware of their existence! We followed the address on the Sprinkles website, but we couldn't see it anywhere, so I went inside their bake shop to ask the cashier for directions. My hopes of withdrawing a photo prop in the form of a red velvet cupcake were shattered as she informed me that the ATMs are no longer in New York. Still, the prospect of trying a red velvet cupcake from this cult-favourite bakery (honestly, I'm a sucker for anything red velvet) was too appealing to give up. I bought one to go, as well as a vanilla milk chocolate cupcake for my boyfriend.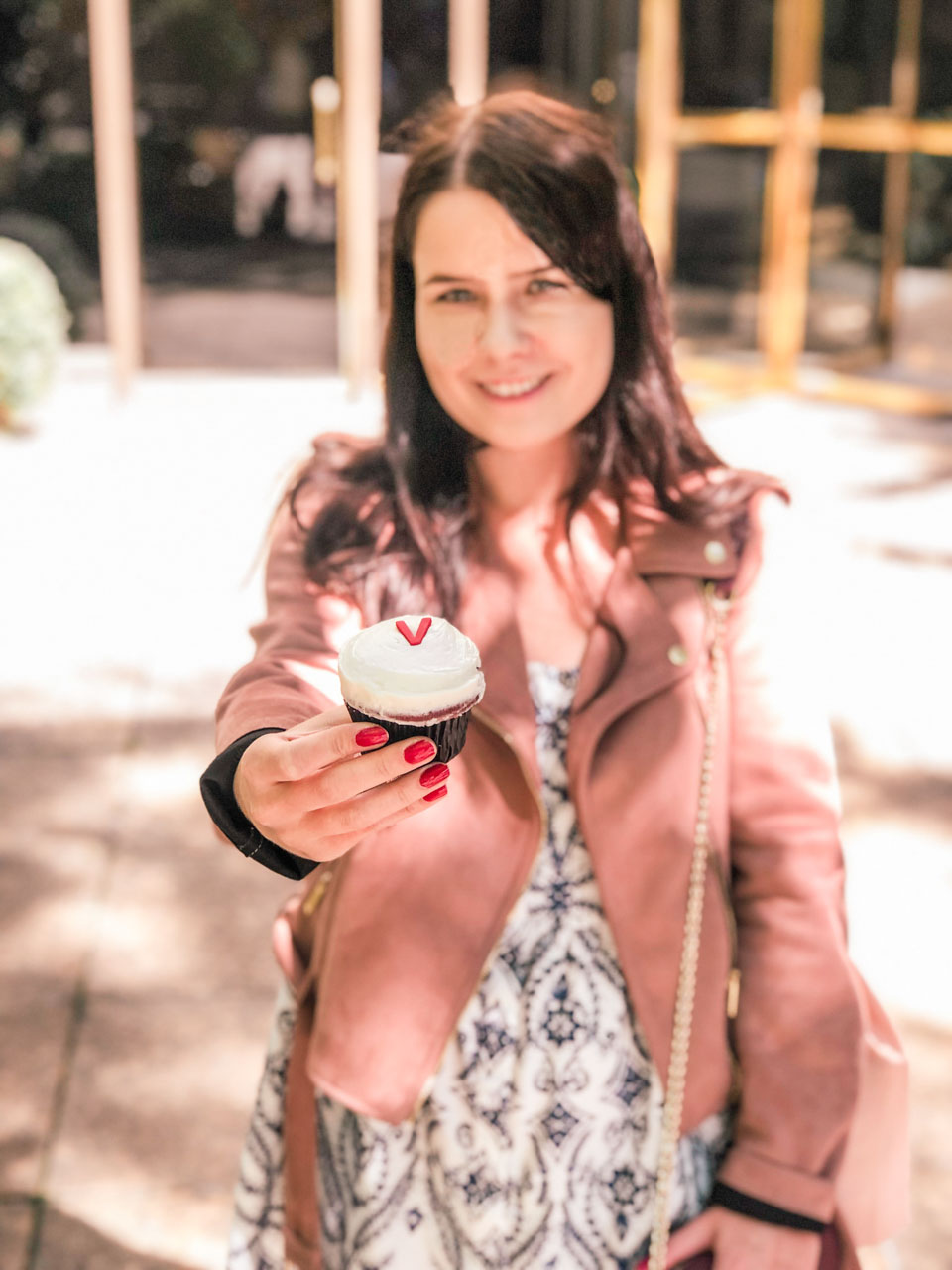 Dylan's Candy Bar
We ate our cupcakes on a nearby bench (at nearly $4 each, they were definitely VERY overpriced, but also really tasty, so I have no regrets whatsoever) before walking to Dylan's Candy Bar to get some gifts for our family and friends back home. It also happens to be another Gossip Girl filming location where Dan helped Vanessa pick out an anniversary gift for Nate. I was immediately sold after spotting some New York-themed chocolate bars on Instagram, but was not prepared for the overwhelming choice of flavours and other sweets in store.
After walking back and forth for a good 20 minutes, I finally managed to narrow it down. I got some classics such as dark chocolate brownie and red velvet bars, but my favourite purchase was hands down the milk chocolate bacon bar. 10/10 would recommend for the reaction and confused looks of those on the receiving end!
Holly Golightly's apartment
From there, we were only a stone's throw away from the place I've been dying to visit for most of my teenage and adult life – Holly Golightly's apartment! If you were wondering what the funny story I teased in my Breakfast at Tiffany's post was, here it comes…
From the moment we turned onto the street, I'd excitedly been trying to work out where our destination was. From the distance, the townhouses all looked alike with the exception of one building that was taped off due to ongoing exterior renovations. With our fingers crossed, we kept walking until we were close enough to realise that the brownstone townhouse under renovation was, in fact, Holly's apartment. I started nervously laughing and repeating 'Just my luck!', but deep inside I was absolutely devastated to see all the excitement I had built up in my head burst and considered saying goodbye to my dream altogether.
Once we assessed the situation, we decided we wouldn't go down without a fight. We just had to get creative, work our angles, and wait for the construction workers to go inside. The looks on their faces as we kept eyeing them up, camera on the ready, were priceless. I wonder if they knew why we were there or thought we were straight-up weird!
I'm really happy with the final result – my boyfriend did a really good job as a photographer! What do you think?
Afterwards, we went to Ulta and Sephora so I could stock up on some beauty bits before stopping off at Levain Bakery for what is supposedly the world's best choc chip cookie. You know I'm not one to say no to that… As we were still full after eating our Sprinkles cupcakes, we decided to leave our cookies for later though.
Wall Street
We got invited to a barbecue at our friends' place on Staten Island, and seeing as we had a few more places we wanted to visit before boarding the ferry, we started making our way downtown. Our first stop was Wall Street, where we went to see the New York Stock Exchange with the Fearless Girl statue facing the building, before walking towards the iconic Charging Bull statue in Bowling Green. While the marble temple-like exterior of the NYSE is certainly impressive, I found the electronic ticker board outside really underwhelming. Still, New York's legendary Financial District is definitely worth visiting to get a feel of the hustle and bustle of the city.
Ground Zero
Our trip to New York fell shortly after the anniversary of the 9/11 attacks and we knew we couldn't leave the city without paying our tribute to the victims of this unthinkable tragedy. We stopped to see the Oculus, the magnificent transportation hub designed to resemble a dove in flight, built to replace the train station destroyed during the attacks. Then, we made our way towards the memorial fountains at Ground Zero set where the twin towers originally stood.
We walked around the area in complete silence, watching cascading water disappear into square-shaped holes located right in the center. Every morning, they place a white rose on the name of each victim that has a birthday that day, a beautiful and touching way to honour all those who lost their lives. No words can convey how emotional this place can make you. I still remember my parents sitting transfixed in front of the TV as news reports kept coming in. Even as I was standing there, I found it hard to fathom the extent of tragedy that happened in that very place 18 years prior. I understand that it might be too overwhelming for some, but if you feel up to it, please make sure to include Ground Zero in your New York itinerary.
Staten Island
When it was time, we came back to the terminal to board our ferry to Staten Island, which is the perfect opportunity to see the Statue of Liberty completely for free. Granted, you can only see it from the distance, but if you don't want to shell out lots of money, it's definitely worth looking into! I feel like it's really understated, as we couldn't see any other tourists around, both on our way to and back from Staten Island.
We ended our day having barbecue, drinking wine, and chatting with our friends until the late hours of the evening before eventually going to bed ready to tackle our fourth day in the city.
Day 4 – Exploring Brooklyn and a unique shopping experience at Glossier
Our morning on Staten Island started with breakfast at a classic American diner called Colonnade Diner. I ordered some toast with eggs and bacon, so imagine my surprise when my meal came with… a big portion of fried potatoes! It did say on the menu all meals included a side of home fries, so I assumed they meant chips. It would've still been a weird combination, but a little less so!
I enjoyed my breakfast overall and it was really affordable considering the portion size and unlimited coffee refills (which definitely came in handy that morning), although definitely a lot heavier than what I normally have! After breakfast, we went for a walk by the ocean to burn off the extra calories before boarding a ferry back to the mainland.
Dumbo, Brooklyn
The first place on our agenda was Dumbo, which stands for Down Under the Manhattan Bridge Overpass, to try and get that iconic shot. Again, you may recognise it from Gossip Girl as the location of Dan Humphrey's loft. I would hands down recommend heading there as early as possible to avoid hoards of tourists fighting for the same spot and blocking each other's view!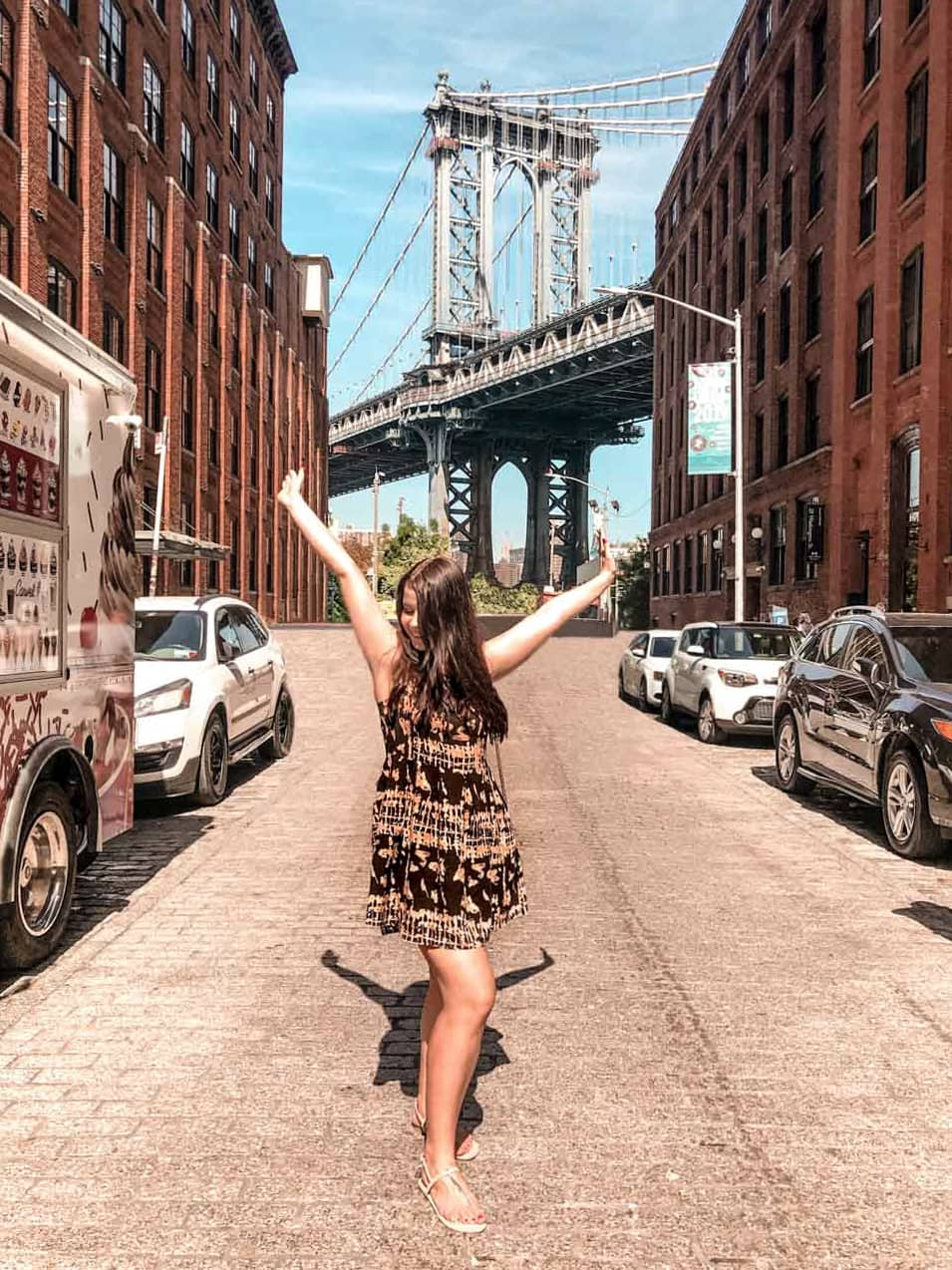 Afterwards, we decided to walk all the way over to the Brooklyn Heights promenade which offers unrivalled views of the Manhattan skyline.
We sat down on a bench and had some root and ginger beer that we bought earlier, as well as our Levain Bakery choc chip cookies from the day before.
I was worried they would get stale and hard to chew, thus making it hard to get our verdict, but these remained super fresh. They delivered on every front – they were perfectly thick and crispy on the outside, and melty and gooey on the inside. The title is definitely justified as I'm certain they're the best choc chip cookies I've ever had. Is it normal to miss a cookie? Asking for a friend…
Brooklyn Bridge
Once we'd had our refreshments, it was time for the cherry on top of our Brooklyn venture – the Brooklyn Bridge. I would highly recommend starting on the Brooklyn side and walking towards Manhattan as you get to admire the magnificent view stretching in front of your eyes. It was easily one of my favourite things we'd done in New York and I would love to go back at sunrise when there's hardly anyone around.
Back in Manhattan, we went over to see the impressive New York City Hall building before getting some rest in the nearby City Hall Park as we watched squirrels playfully running around us in search of nuts and acorns.
Before getting on the subway to 7th Avenue, we went to check out the windowless skyscraper on 33 Thomas Street – or should I say spyscraper? Its intended use is subject to countless conspiracy theories and remains shrouded in mystery, with many people believing it to be the NSA's spy hub. Regardless of the truth, I would love to know what really goes on behind those walls!
Museum at the Fashion Institute of Technology
As Saturday afternoon was our last chance to visit the Museum at the Fashion Institute of Technology, we made it our next spot. My boyfriend decided to sit by the reception area and wait while I excitedly explored all of the exhibitions. The museum itself is really small, but it features an amazing selection of costumes that walk you through fashion history. If you would like to know more about my experience, I wrote a separate blog post about visiting the FIT Museum.
Little Italy and Nolita
Our visit in New York City coincided with the Feast of San Gennaro, so my boyfriend suggested that we head to the Little Italy neighbourhood of Manhattan to watch the celebrations.
We circled the area for a while, making note of all the various food stalls, before walking over to Pietro Nolita, one of the most Instagrammable restaurants in New York City. We wanted to grab some coffee to go, mostly because of the cheeky Pink as F* cups that made them famous all over social media. After queuing for a good 10-15 minutes just to get inside, we were informed that there were no tables left and they didn't do coffee to go. I found it surprising considering the cups and pink design are probably their main selling point, but what can you do? Still, I would love to return for brunch one day!
Glossier flagship
While my boyfriend went to get his coffee in Kaigo Coffee Room, I shopped 'til I dropped in the Glossier flagship store across the street. I've been in love with the brand ever since a friend gifted me a few products, so I was more than excited to see and swatch the items I've been eyeing up on their website. If you would like to know all about it, head on over to this post where I described the unique Glossier experience in detail!
At that point, we were both absolutely shattered and decided it was time for dinner. We headed back to Brooklyn, where we built our own pizza at Grimaldi's and went back to Brooklyn Heights to eat it with a view. We both agreed the pizza was good, but far from the best we've had. If you can, I would really suggest visiting this area twice – once during the day and again in the evening. The city looks absolutely magical when it's all lit up in the dark and made for a perfect dinner backdrop!
Day 5 – Seeing New York from above and a short trip to New Jersey
Top of the Rock
On our last full day in New York, we woke up bright and early to see the city from a different perspective. We'd booked a 8:00 AM slot at Top of the Rock. I would highly recommend doing so if you want to beat the crowds and have the best photo opportunities!
It has always been one of the top items on my NYC bucket list and once I finally ticked it off, I can totally see why some people can't resist coming back to this observation deck every single time they're in the city. You get an unobstructed 360-degree view of the city's spectacular skyline, which not only is picture perfect regardless of the time of day and angle, but is a total joy just to look at. I could easily spend an entire morning there and know I will definitely go again next time I'm in New York!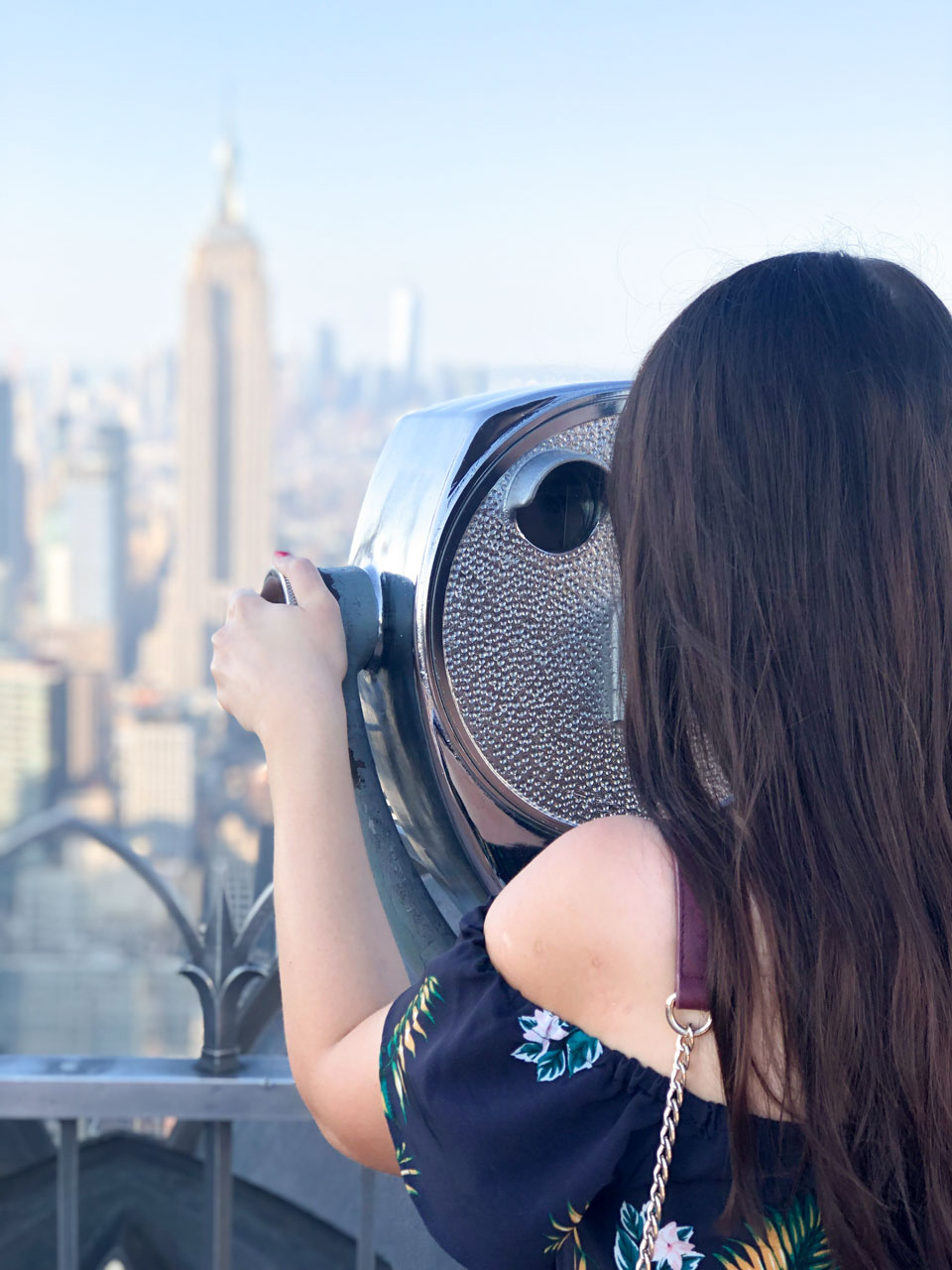 Once we were back on the ground, we took some photos in front of the iconic Radio City Music Hall building. It was absolutely magical to witness the bustling streets of New York slowly come to life in front of our eyes and made the early wake-up time more than worth it!
Bread & Butter
I had a long list of breakfast places that I wanted to visit, but as none were within walking distance and we were both getting hungry, we decided to keep walking until we saw the first place that looked promising. That's how we ended up at Bread & Butter, a local deli that offers a wide selection of convenience-type breakfast items, including freshly prepared sandwiches, a salad bar, and a buffet with hot lunch food.
I got a bagel with cream cheese, a grilled cheese sandwich, and a massive coffee. It came to a total of $8 – not bad considering the amount of food! It's especially convenient if you're with a large group of people because there's truly something for everyone for a fraction of the price you would pay elsewhere!
Carlo's Bakery
We made a quick stop at Target for some more snacks and beauty bits before heading to 33rd Street station to catch our train to Hoboken, New Jersey. Back when I lived at home with my parents, I would often watch Cake Boss with my mum, so I wanted to surprise her with some goodies. If you're a Cake Boss fan too and have been considering a day trip to Hoboken, I described my experience visiting Carlo's Bakery in another blog post so that you know what to expect!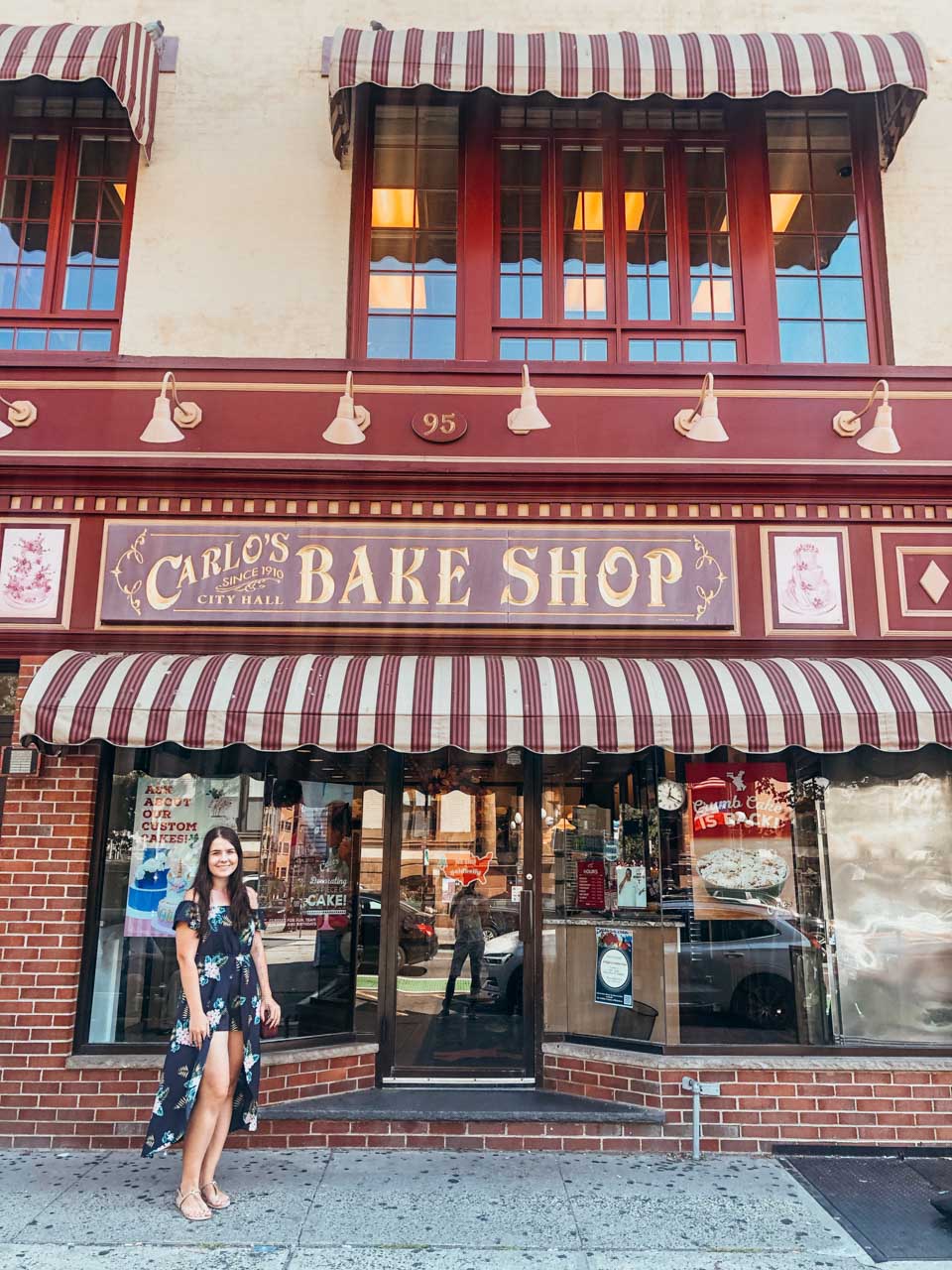 Empire State Building
Over an hour later, we were back in Manhattan ready for round two of sightseeing. We started with Empire State Building. You can either choose to go to the main observation deck on the 86th floor starting at $44, or pay $30+ extra for access to the top deck on the 102nd floor. As we'd already spent a lot of money on Top of the Rock, we weren't too fussed about it and chose the first option.
If you only have the time and means to choose one, I would go for Top of the Rock because it has one added benefit… The view includes the Empire State Building, which in my opinion is a standout element of the city's skyline. Still, I really enjoyed the museum showcasing the Empire State Building's history. It blows my mind that its construction was completed in under a year! The museum features a gallery wall with photos of famous people who visited the observation deck. You can even pose with King Kong pretending to be Ann Darrow. I haven't seen the movie, but I gave it a shot for the laughs!
When we got to the top, there was one more surprise waiting for us… In celebration of the 25th anniversary of Friends, the Warner Bros studio made 30 replicas of the iconic orange sofa and placed them in various locations around the globe. It just so happened that we went on the day it was placed atop the Empire State Building. Although I'm a massive Friends fan, it slipped under my radar, so I was totally taken aback! I've been to a number of Friends-themed cafés, but it's safe to say this experience tops them all… literally!
Friends apartment
Afterwards, we started making our way over to West Village. We passed the characteristic Flatiron Building and briefly stopped at Washington Square Park before walking to the see the building where they filmed the exterior shots of Friends. Sadly, there is no Central Perk downstairs, but there is a little restaurant called The Little Owl which has amazing reviews (next time, perhaps!)
Carrie Bradshaw's apartment
Yet another show that I watched religiously back in my university days was Sex and the City. While I never really envied the contents of Carrie's closet (except for the famous tutu skirt) or shoe collection, what I did envy was the ability to work from home as a columnist and live in that incredible brownstone with the walk-in wardrobe of dreams (am I an adult or what…)
The owner put a small chain on the front steps to prevent people from invading their privacy. I made sure to be very respectful about it, as I knew they don't make an exception for anyone – even Sarah Jessica Parker herself got in trouble with the owners back in 2014! Still, I was really disappointed to see the windows covered in political statements, which definitely took away from my experience. I'm saying it as a person who hates it when people bring up politics on every occasion, but each to their own. It's their place after all!
Magnolia Bakery
I couldn't resist stopping for a vanilla cupcake from Magnolia Bakery, which has been on my foodie list regardless of its appearance on the show. At $3.95 each, their cupcakes are not exactly the cheapest, but I don't regret spending money on little treats and experiences like that – and would love to try their famous banana pudding next!
Cornelia Street
Our last stop that afternoon was Cornelia Street which, unless you're a Taylor Swift fan, won't probably sound familiar to you. She briefly rented a townhouse on Cornelia Street back in 2016 and referenced it in one of her songs describing the beginnings of her relationship, claiming she would be unable to walk the street ever again if that romance were to end.
Once we finished our little photoshoot, we returned to our Airbnb for some much needed rest before heading back out in the evening. We wandered around the neighbourhood, taking one last look at Yankee Stadium in the distance, and then got on the subway downtown. We bought some more treats at the M&M's Store, had the most disappointing dinner at one of the chain restaurants, and spent the rest of our evening at Rintintin in Nolita having some farewell cocktails. It was the perfect end to our New York trip and a memory that I greatly cherish, dreaming of the day I can finally return to the city that captured my heart.
Ready to plan your New York trip?
If you made it to the end of my veeeery detailed guide – thank you very much! I hope it provided you with some inspiration regarding the best places to see and things to do in New York City for first-time visitors, and gave you the motivation to start planning your own trip. Or, if you're thinking of returning to New York now that things are finally getting back to normal, I'd love to hear about places you'd add to this list. I hope it's only a matter of time before I'm back in New York exploring and eating my way around the city again, so feel free to share them in the comments below!
---
What destination holds a special place in your heart? And if you had a few days in New York City, what would be on your itinerary?