Last updated on June 25, 2023
If you'd asked me at any point in my life what my dream travel destination was, I'd have said New York right away. For as long as I can remember, the Big Apple captured my interest in a way no other place could. I always held this notion of a faraway city that epitomised the American dream. For years, I had been dreaming of being able to one day walk the streets that featured in so many mainstream TV series and movies, including Gossip Girl, Sex and the City, and my beloved Breakfast at Tiffany's.
The joy I felt as I was clutching a piece of paper with 'Your U.S. visa was approved – what next?' written on it was the most rewarding feeling. I could finally get planning and live out my biggest dream. Alexa, play Welcome to New York by Taylor Swift!
How to get to New York City
When it comes to getting to New York, you are spoiled for choice. I mean, you can even book a helicopter ride from the airport straight into the heart of Manhattan! We booked our flight from Copenhagen with a layover in Toronto as a way of making the most of our trip and crossing two additional destinations off our bucket list. In case you missed them, I wrote blog posts about spending 48 hours in Copenhagen and things to do on a layover in Toronto.
Getting around New York City
New York is the perfect city to explore on foot or using the extensive public transportation system that can easily take you from one corner of the city to another. We bought 7-Day Unlimited Ride MetroCards for $34 each and we definitely got our money's worth. We hopped on multiple trains each day, which was crucial in allowing us to stay on top of our jam-packed itinerary!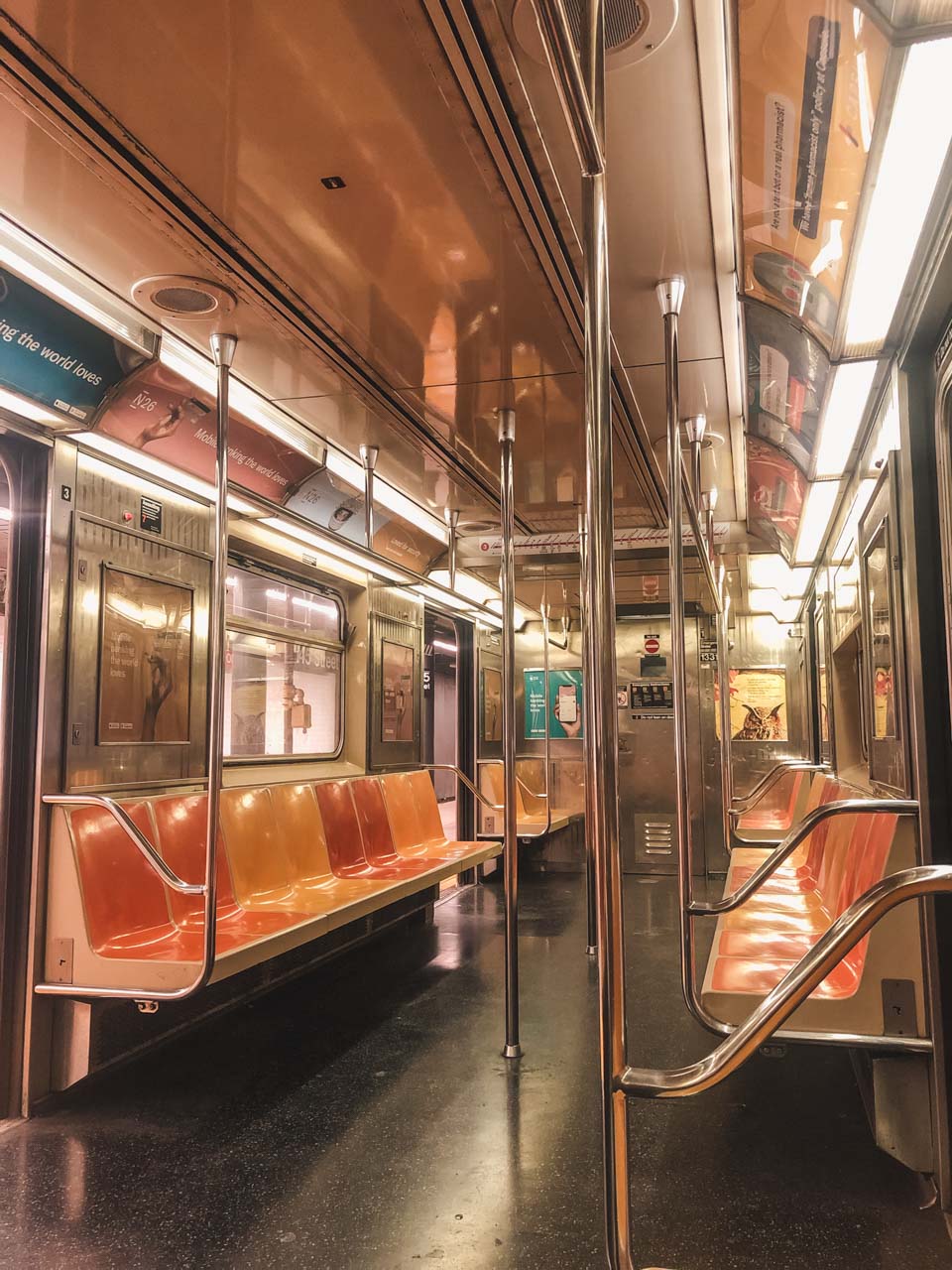 Now, I have a little confession to make. The subway is my all-time favourite transportation mode and a tourist attraction in itself wherever I go. I can't leave a city until I've ridden at least once, even if everything is within walking distance. I came prepared for the fact that the New York subway is nothing like what I'm used to in terms of cleanliness, although there were surprisingly no rats in sight.
Navigating the New York subway
When it comes to navigating the subway, it can seem a little overwhelming at first. Once you get the hang of it, you'll feel like a born and bred New Yorker! When travelling across Manhattan, the most important thing to remember is that it can be divided into three main areas. There's Uptown (the area north of 59th St.), Midtown (the area between 59th St. and 14th St.), and Downtown (the area south of 14th St.). For this reason, the words uptown and downtown are commonly used to describe the direction of travel. Heading uptown means you're going north, while downtown means south.
A defining characteristic of Manhattan is that its streets are laid out in a grid system. The numbers descend as you go south or, in other words, downtown. This makes it relatively easy to locate your whereabouts even if you cannot access Google Maps. Avenues run from north to south, while the majority of numbered streets start with 'East' or 'West', which simply signifies their location in regard to the world-famous 5th Avenue.
Local and express trains
An important thing to remember is that unlike London, the trains don't always stop at every station on the line. There are two types of trains: local and express trains. A common mistake among first-time visitors is getting on an express train that doesn't service your desired station. But don't worry, here's how you can avoid it! If you look closely at the subway map, you can see that all stations are marked with either a white or a black dot. White dots mean express stations, while black dots are local stations where the only trains to stop are those that make every stop on the line. All lines that service a particular station are listed underneath the station name on the map, so you can easily check the best connection.
I hope you feel ready to tackle the New York subway after reading this lengthy introduction because now's the time for the part that you all came here for – a day by day itinerary listing some of the best things to do in New York City, including a bunch of Insta spots and places to satisfy your sweet cravings!
Our New York City itinerary
Day 1 – First taste of the city and a hockey game at Madison Square Garden
Once we dropped off our bags, I could barely contain my excitement to finally get a first taste of NYC… But where do you even begin? After some consideration, we decided to start with Central Park.
Strawberry Fields
We took the subway to 110 St. and walked all the way down to Strawberry Fields. It's the John Lennon tribute site across the street from where he was shot and killed. I admit I was expecting something much grander for a person of his stature, but the ambience of this place was still highly enjoyable and contagious as dozens of people joined a musician who was strumming his guitar and singing Imagine.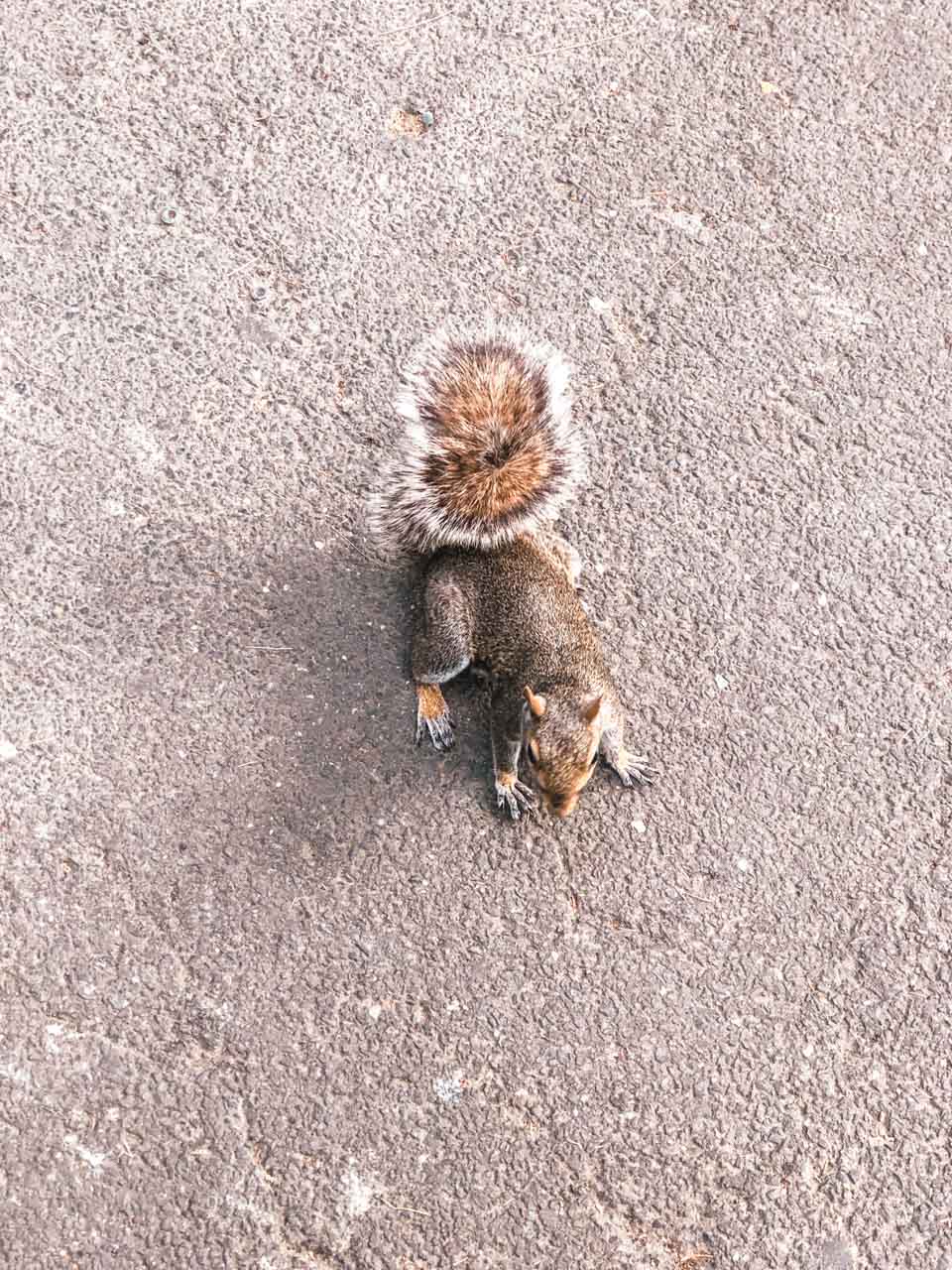 The Lake
Our next stop were the Bethesda Terrace and Fountain overlooking The Lake right in the heart of Central Park. You may recognise them as a backdrop from many movies. The upper level of the Terrace provides a perfect observation and photo spot, while the Arcade acts as a stage for various artists and street performers. We soaked up the sunny weather as we watched row boats paddle along the Lake wondering if we should join in on the fun. For a unique and romantic experience, you can also rent a Venetian gondola, but we decided to leave it for another occasion.
Umpire Rock
After a bit more crowd watching, we started making our way towards the exit… and then we came across Umpire Rock. The bedrock almost looks like it was taken straight out of an action movie and placed there on purpose for a dramatic effect, but it's in fact estimated to be 450 million years old. Yes, you read that right… talk about the city's past shaping its present!
We then popped into Olive Garden for a little Italian feast to see what the hype is all about. I've been wanting to munch on their famous breadsticks ever since I watched that Post Malone video. Let me just say this… Unlimited breadsticks AND cheese? Thank goodness we had somewhere to be, or else they'd have to drag me out of there!
Let's go, Rangers!
When planning our NYC itinerary, live hockey was one of the few items on my boyfriend's list. We decided to attend a preseason game between New York Rangers and New Jersey Devils at Madison Square Garden. Our tickets cost $42 each, but the service fee came to a whopping $20 per person. We found it excessive considering all we had to do was access our tickets from the official Ticketmaster app, but what can you do?
Being able to experience the American sports culture with the cheering, random kids riding the zamboni and all that at a legendary venue like MSG was worth the money though, as well as the perfect ending to our first day in the city – in spite of the New York Rangers losing that night…
Day 2 – My first Gossip Girl moment and attending a Broadway show
The morning of our first full day in the Big Apple, we got up bright and early, ready to tackle my overflowing bucket list. We decided to fuel up at another chain restaurant I've been wanting to check out – IHOP. Now, I know it might seem funny or even pointless to some considering how rich New York's culinary scene is, but I used to be a little obsessed with American culture when I was younger. I always knew that alongside the obvious touristy attractions, I wanted to experience the smallest things as well, like eating at fast food chains or shopping at Target.
I went for their classic buttermilk pancakes, while my boyfriend chose the New York Cheesecake version. As a Gilmore girl through and through, my drink choice was a no-brainer. Nothing beats a freshly brewed cup of joe! What I loved most about dining in the US was the fact that many places offer free coffee refills. It ended up being something we happily took advantage of throughout our trip and believe more countries should adopt… Sadly, the pancakes themselves were rather overrated. They tasted okay, but we've both had much better!
Times Square
Once we finished our breakfast, we got on the subway and headed to the so-called 'Crossroads of the World'. As one of the busiest pedestrian areas in the world with an estimated number of daily visitors at 330,000, people understandably have a love-hate relationship with it. Some believe it should be avoided like the plague, while others can't imagine a trip to New York without it.
As for where I stand in this debate, the jury is out. Yes, standing in Times Square for the first time was an incredible feeling. A place I'd seen countless times in movies and photographs was now within an arm's reach, blazing its advertisements all around us. But, that feeling soon faded away as we constantly had to fight our way through the omnipresent crowds and keep an eye out for tourist traps. Plus, after you see some vintage photos of Times Square, it's hard to look at it the same way again! It was part of the reason why we didn't stay long. After we took some photos, we decided to head to our next location…
Hey Upper East Siders, Gossip Girl here…
Remember the opening scene of Gossip Girl when Serena is spotted arriving back in New York causing a stir among fellow New Yorkers? I've always seen myself as more of a Blair (mostly due to her fashion choices and affinity for all things Audrey Hepburn, not the Queen Bee attitude), but I knew that the Grand Central Terminal was a must-see place on my list regardless of its appearance on the show.
There were plenty of tourists mixed in with regular commuters rushing to catch their train, so it felt good to just stop and stare. With beautiful marble staircases, sunlight streaming through the leaded windows, and the intricate constellation ceiling, the first part of this terminal's name is definitely well-earned.
New York Public Library
From there, we were only a stone's throw away from yet another magnificent building – the New York Public Library. Not only did it bring to mind that Breakfast at Tiffany's scene where Paul brings Holly to the library and then autographs his own book much to the librarian's frustration, but it brought me back to my university days. If my library looked half this pretty, maybe I would've done more reading for uni! ?
The High Line
Seeing as we were blessed with beautiful weather, we decided to make the most of it and walk the entire length of the High Line next. In case you've never heard of it, the High Line is an elevated public park created on disused rail tracks. It extends for 2.33 km, from Gansevoort Street all the way up to 34th Street.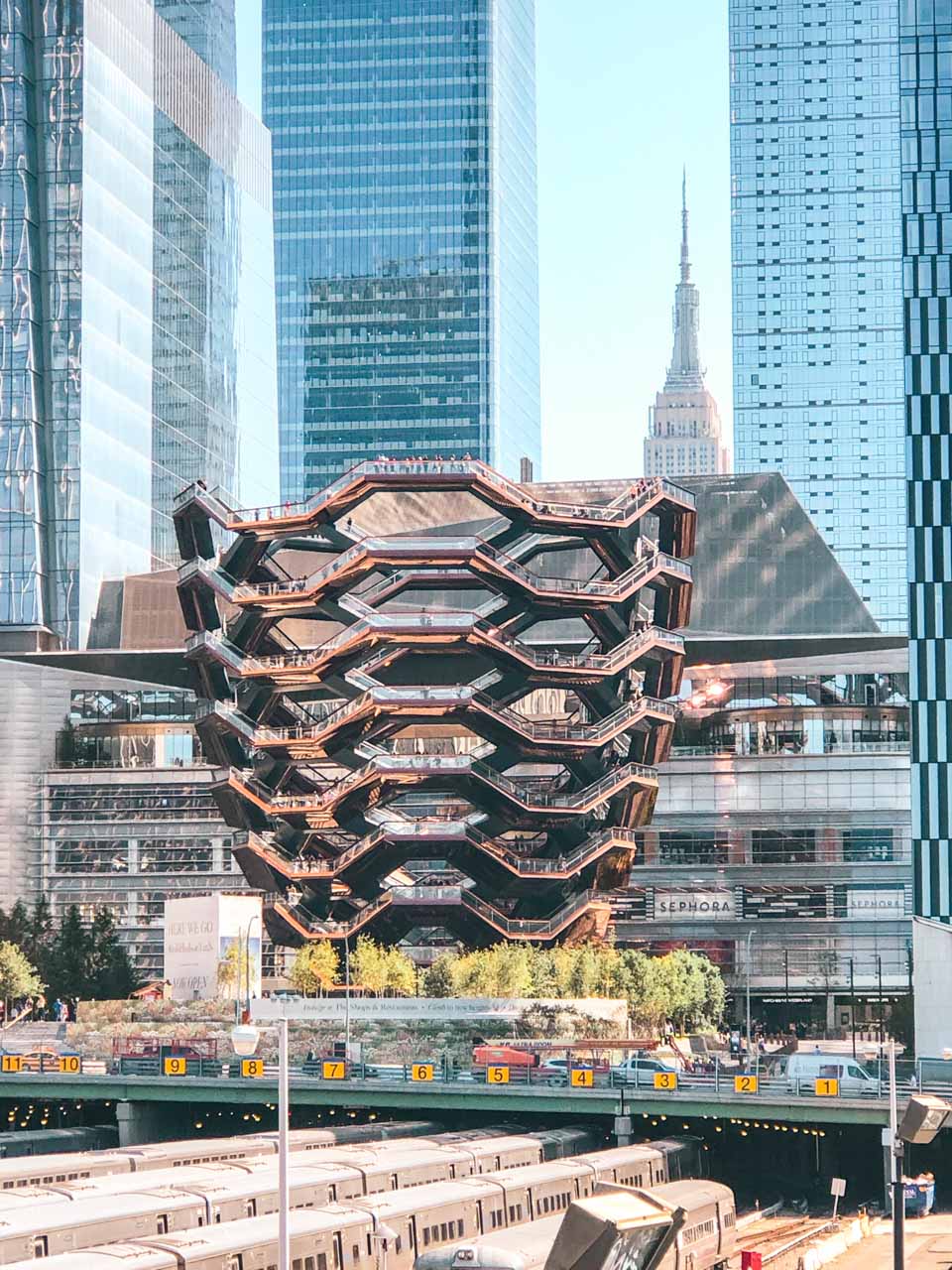 We chose to walk in the opposite direction and it took us a while to find the entrance point. As we were looking around the area, the Vessel appeared right in front of our eyes. You could once climb this massive honeycomb-like structure for free, provided that you booked a slot in advance. However, after a series of suicides, the Vessel currently remains closed and its future is uncertain.
The walk itself probably took us around an hour. We took our time as we soaked in the sun, admired the surrounding architecture and played a game of 'Which of these buildings would you like to live in most?'.
I also spotted a lovely What Lifts You mural by Kelsey Montague. She's an artist whose work went viral after Taylor Swift posed in front of one of her NYC creations. Taylor then commissioned Kelsey to create a special mural to celebrate her first single off Lover, which is when I first heard of her street art.
Chelsea Market
Our initial plan of action was to grab something to eat at the nearby Chelsea Market after completing our walk. Unfortunately, we were both still full from our breakfast, but we decided to go inside and have a look anyway. Oh, how I wish we had room! Chelsea Market is an old factory turned foodie heaven. You can truly find anything your heart desires under one roof, from freshly baked bread and pastries to American classics and Michelin Guide-recommended Thai food.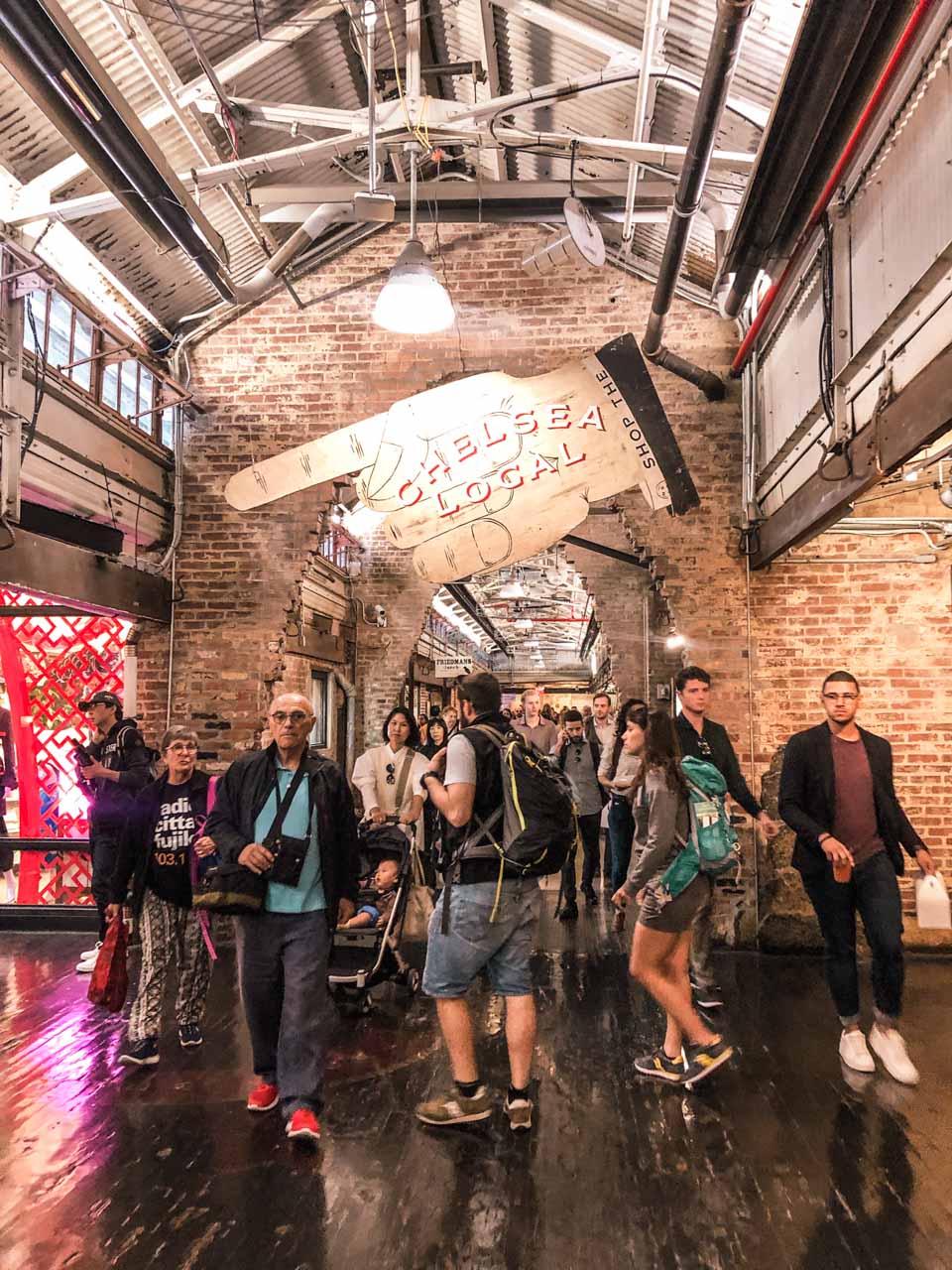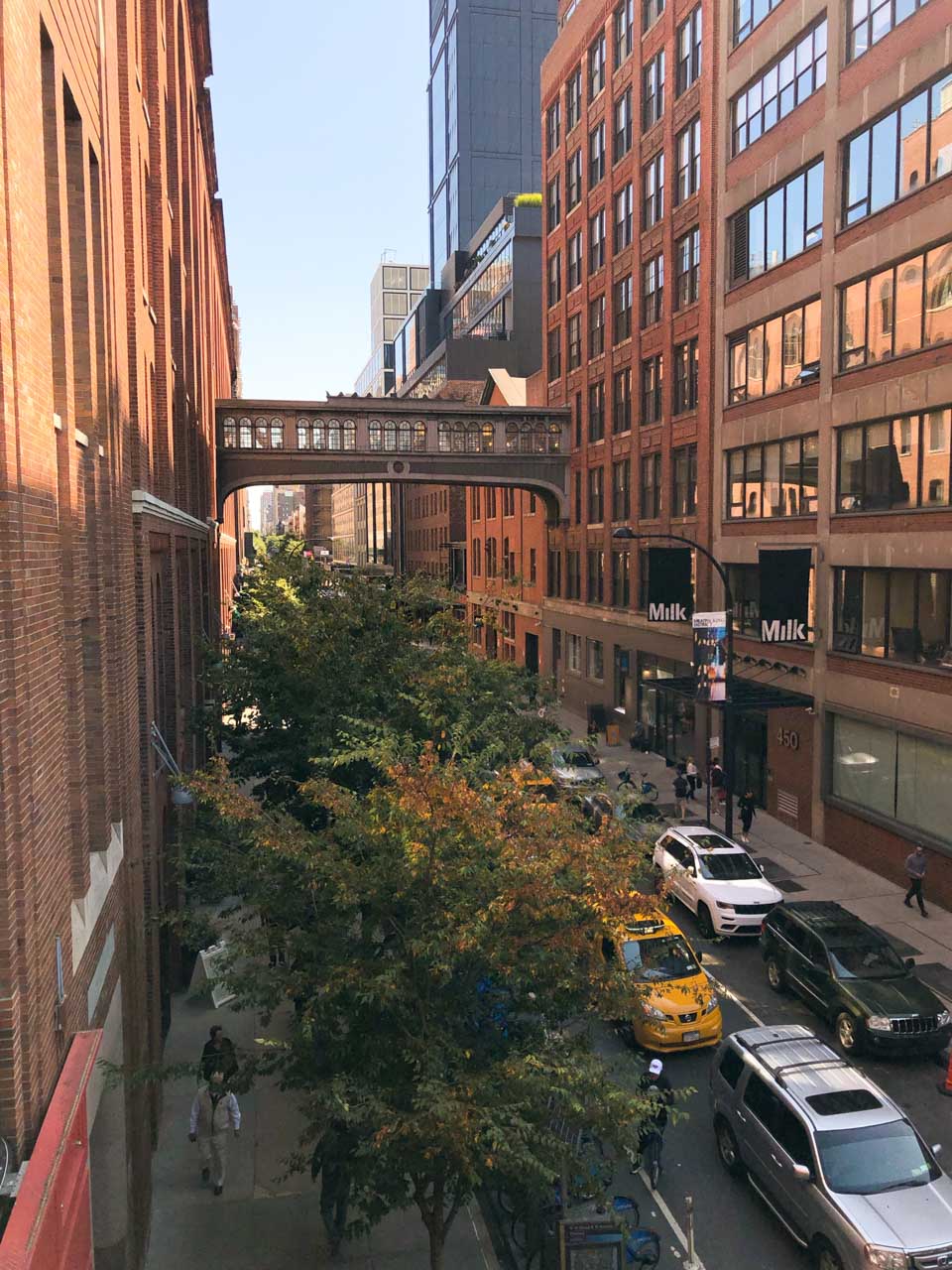 The building that houses Chelsea Market holds yet another interesting story. Did you know that it was originally the Nabisco factory where a certain world-famous black-and-white cookie was invented in 1912? If you go outside, you can see one of my favourite elements of New York architecture – a skybridge that used to connect the factory with the building across the road. During my time in New York, I loved spotting these remnants of centuries past that help keep the industrial feel alive all around the city.
One more thing that I loved about the Meatpacking District is that it's home to many fashion ateliers of both local and international designers. These include some household names such as Diane von Furstenberg or Christian Louboutin. I could easily spend an entire day wandering around the area, discovering new boutiques and thinking about what my shopping experience would be like if money was no object (a girl can dream…).
The Metropolitan Museum of Art
Another place on our itinerary was the museum that not only featured prominently in Gossip Girl, but is also home to a massive fundraising gala organised by none other than Anna Wintour herself.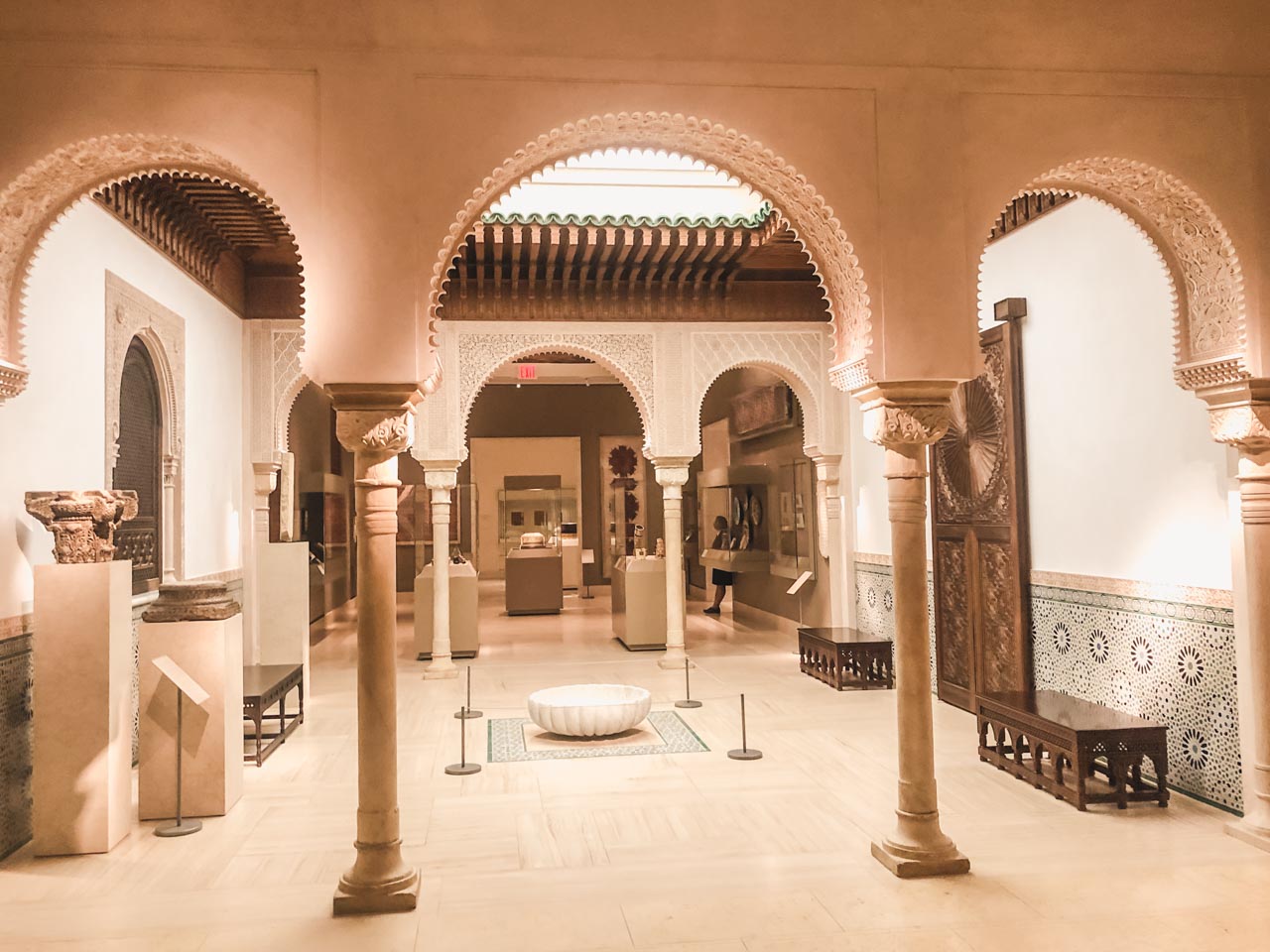 However, it is so much more than that. With its extensive collection spanning over 5,000 years of art from all around the globe, I'd probably have to move in for a while to see everything that piqued my interest. Thankfully, they must be well aware of this problem, so all tickets are valid for three consecutive days. If our to-do list hadn't been as long as my arm, we would've definitely taken advantage of this offer!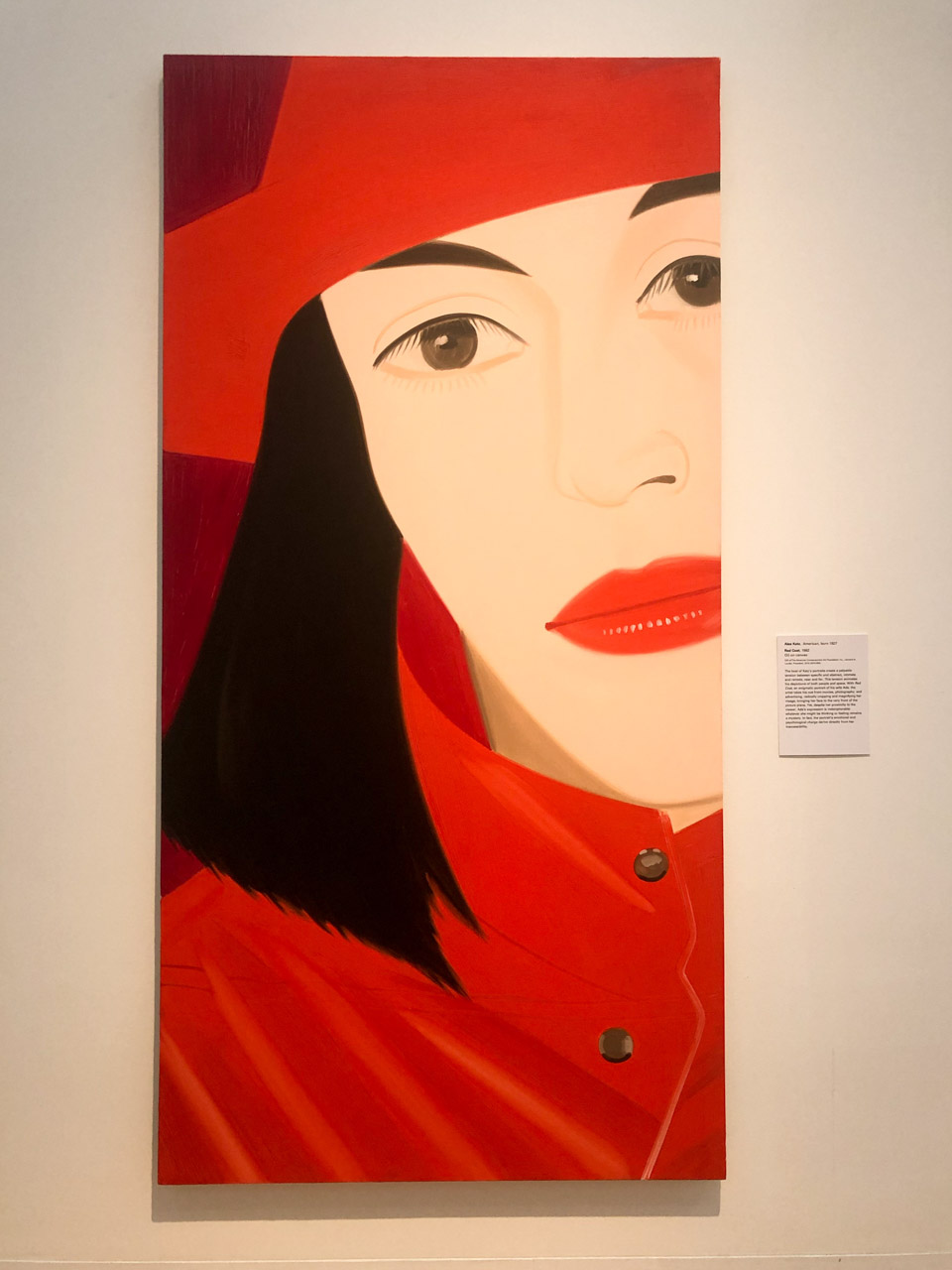 If I were to choose the most memorable part of our visit at The Met, aside from the masterpieces of Vincent Van Gogh and Leonardo da Vinci, the entire 'Play It Loud: Instruments of Rock & Roll' exhibition would take the cake for me.
Co-organised with the Rock & Roll Hall of Fame, it featured nearly 130 instruments used by some of the most iconic musicians of all time, including The Beatles, Metallica, and Prince.
The absolute stand-out pieces were two Stratocaster guitars. One was destroyed by Jimi Hendrix during the Monterey Pop Festival in 1967, and the other got demolished by Kurt Cobain during the 1993 tour. The exhibition sadly closed down shortly after our visit. If it ever comes back in another form or place, I really couldn't recommend it enough to fans and non-fans of rock music alike!
The Phantom of the Opera is here!
By the time we left the museum a couple of hours later, we were absolutely exhausted. We realised we hadn't eaten anything since breakfast, nor did we have the time to do so (I'm only mentioning it so that you can learn from our mistakes). For my boyfriend's birthday, I got us tickets to see Phantom of the Opera on Broadway and we had to account for possible traffic on our way to the Majestic Theatre.
There's a good reason why it's the longest-running show on Broadway. It was an absolutely brilliant performance with spectacular acting, singing, and set design. The use of strobe lighting, smoke, and various pyrotechnic effects throughout the show was simply astounding. We've honestly never seen anything like it! I'm sure our reception of the play would've been even more positive if we had been well-rested!
I booked our tickets well in advance seeing as they were a birthday gift. If you are feeling spontaneous, I would highly recommend heading to the TKTS booth in Times Square where you can get same-day tickets at 20 to 50% off! You can also try certain apps and websites to score great deals or access ticket lotteries. I will definitely try my luck next time I'm in the city!
Our day ended right where it started as we took an evening stroll around Times Square to see it in full glory. Then, we finally headed back to our flat for some much needed R&R…
Like our New York adventures so far?
So, here's everything we got up to during our first two days in the Big Apple! The next three days were even more hectic as we ticked off lots of NYC bucket list items. We went outside Carrie Bradshaw's West Village apartment and found a way to see the Statue of Liberty for free. We also ate our way around the city – we had breakfast at Tiffany's and dinner on Staten Island. And if you've been wanting to visit the world-famous Carlo's Bakery in Hoboken, there's a little treat for you too… I hope you enjoy the second part of my NYC guide for first time visitors!