Last updated on July 10, 2022
If you're anything like me, you may have rewatched the legendary movie multiple times over the years wishing you could have an actual breakfast at Tiffany's one day. Well, I have some good news for you. The flagship store on Fifth Avenue now allows you to live out your dream!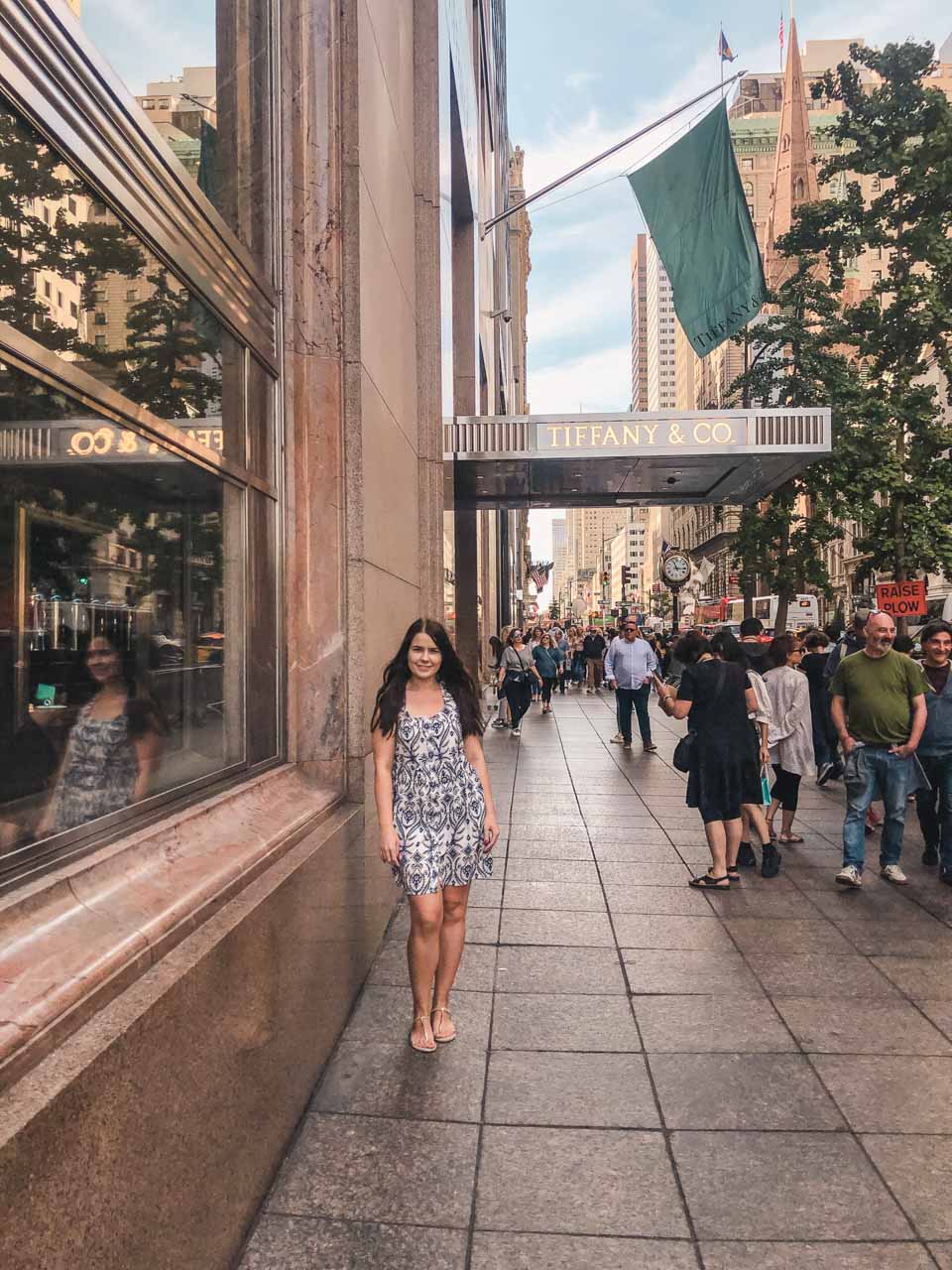 As I mentioned in my random facts post, Audrey Hepburn is my biggest role model. From the moment I first watched Breakfast at Tiffany's, I was mesmerised. I would spend my evenings watching her movies and reading about her on the Internet or in the books I'd ordered, utterly convinced I was born in the wrong era (it may or may not have been perpetuated by the story of Princess Ann and Joe Bradley that I was absolutely living for).
I proceeded to spend the following years trying to incorporate Audrey-related places into my travels. In high school, I travelled to Rome where I walked the Spanish Steps and saw the Mouth of Truth (watch this clip from Roman Holiday if you don't know what I'm talking about – I love the fact that it wasn't scripted and you can see Audrey's natural reaction to Gregory Peck's prank). Last year, I got to see the place she called home for the last 30 years of her life and I visited her grave in Tolochenaz, Switzerland. This year, I planned out our visit to see Holly Golightly's apartment on the Upper East Side (which is a funny story for another time)…
There was one more thing missing, the cherry on top of my Audrey Hepburn bucket list… have breakfast at Tiffany's. When I found out their flagship store on Fifth Avenue now gives you the option, I instantly jumped at the chance and started researching how I could make this a reality.
Making a reservation at The Blue Box Cafe
The Blue Box Cafe, located on the 4th floor of Tiffany's flagship store on NYC's Fifth Avenue, does not accept walk-ins. The reservation system opens 30 days in advance at 9 AM EST. I knew it was going to be hard to get a reservation, but I didn't realise just how hard. Within a minute or two, all spots had gone. I tried again the next day and I couldn't believe my eyes when I saw these magical words on the screen – "reservation booked".
Tip: In order to make a reservation, you need to have a Resy account. I learned this the hard way. I was redirected to the sign up page and by the time I finished creating an account, there were no spots left. Make sure you have a Resy account up and running, you have provided your card details (no payment is taken, but there are late cancellation fees), and you are logged in. A lot of people make cancellations, so it's also good to turn your email notifications on. Good luck!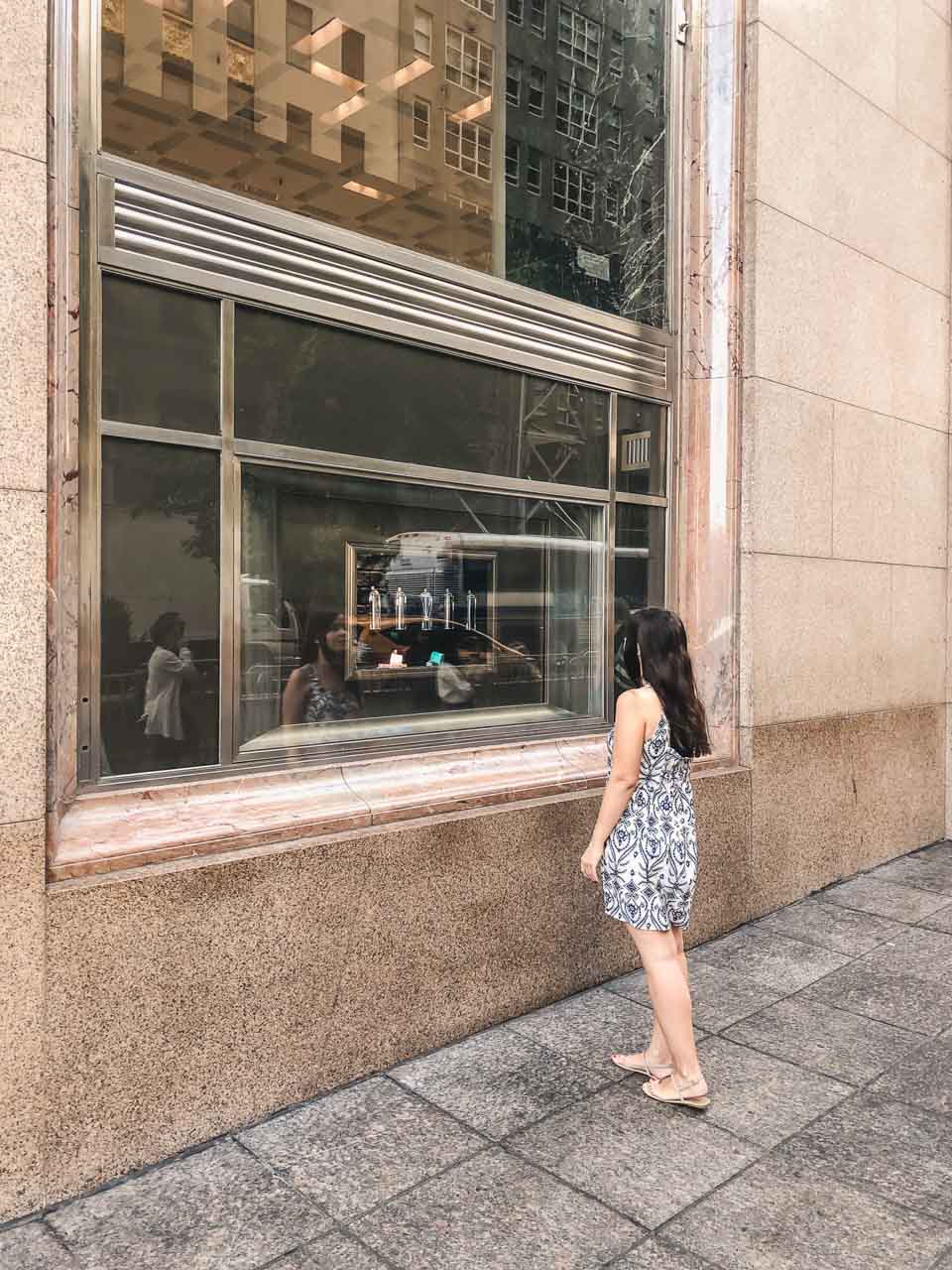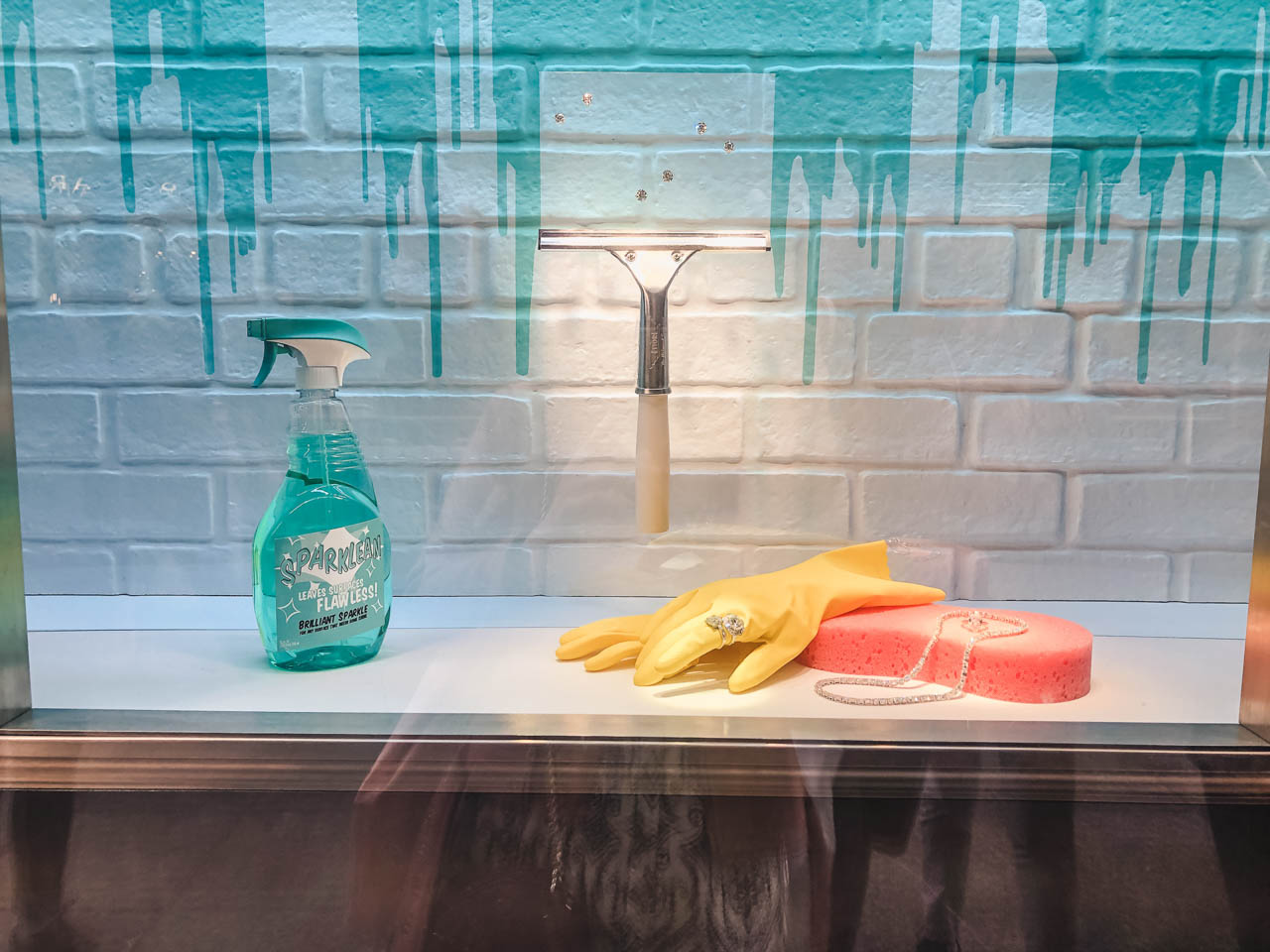 We got to the flagship early so we could take a mandatory photo of me admiring the window display. As we walked inside, we made our way through the bustling store towards the lift that would take us to the 4th floor. The lift operator seemed really impressed with our ability to snag a spot, which made us even prouder of our accomplishment!
Once we arrived at The Blue Box Cafe, they promptly seated us and gave us our menus. The café is relatively small. There are no more than 10-12 tables inside, which explains the struggle to get a reservation.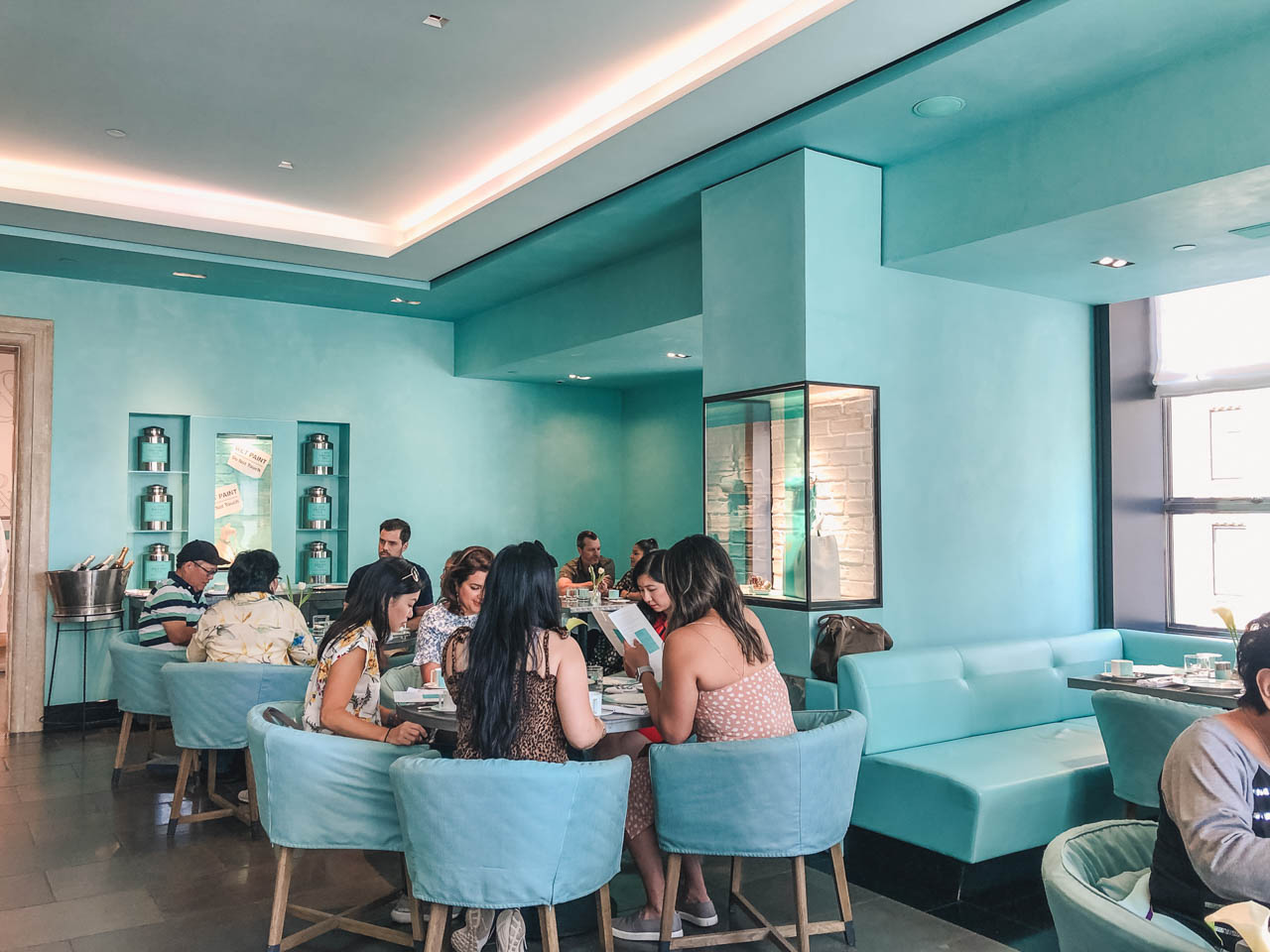 The inside of The Blue Box Cafe
It is all decked out in the company's signature Tiffany blue, from the colour of the walls and furniture to the tableware. And if that wasn't enough, they also have shelves stocked with giant cans of Tiffany Tea and glass cases filled with diamonds. Not exactly the same kind of breakfast experience Holly Golightly had in the movie, but I have a feeling that she would be a frequent visitor…
The Tiffany Blue Box Cafe menu
The menu is exclusively prix fixe and consists of three options – breakfast, lunch, and tea. I found their afternoon tea option tempting (I'm not one to turn down a scone unless there's dried fruit in it), but I simply couldn't leave without having an actual breakfast at Tiffany's.
Breakfast at Tiffany's comes with a bowl of seasonal fruit and berries, a croissant, a choice of main dish, and tea or coffee. First, they brought us our fruit bowls and tiny croissants with three different spreads – Nutella, honey butter, and sour cherry-cranberry jam.
Everything was fresh and the croissants were perfectly flaky, but I thought the portions were really small. While I would pass on the fruit, I could easily eat one more croissant.
For the main dish, there are four options to choose from – smoked salmon with bagels, coddled egg, avocado toast, and buttermilk waffle. I decided to go for the avocado toast with radish, nasturtium, sorrel, sunflower seeds, sprouts, and a poached egg. My boyfriend chose the smoked salmon and bagel stack with cream cheese, beefsteak tomato, red onion, and capers.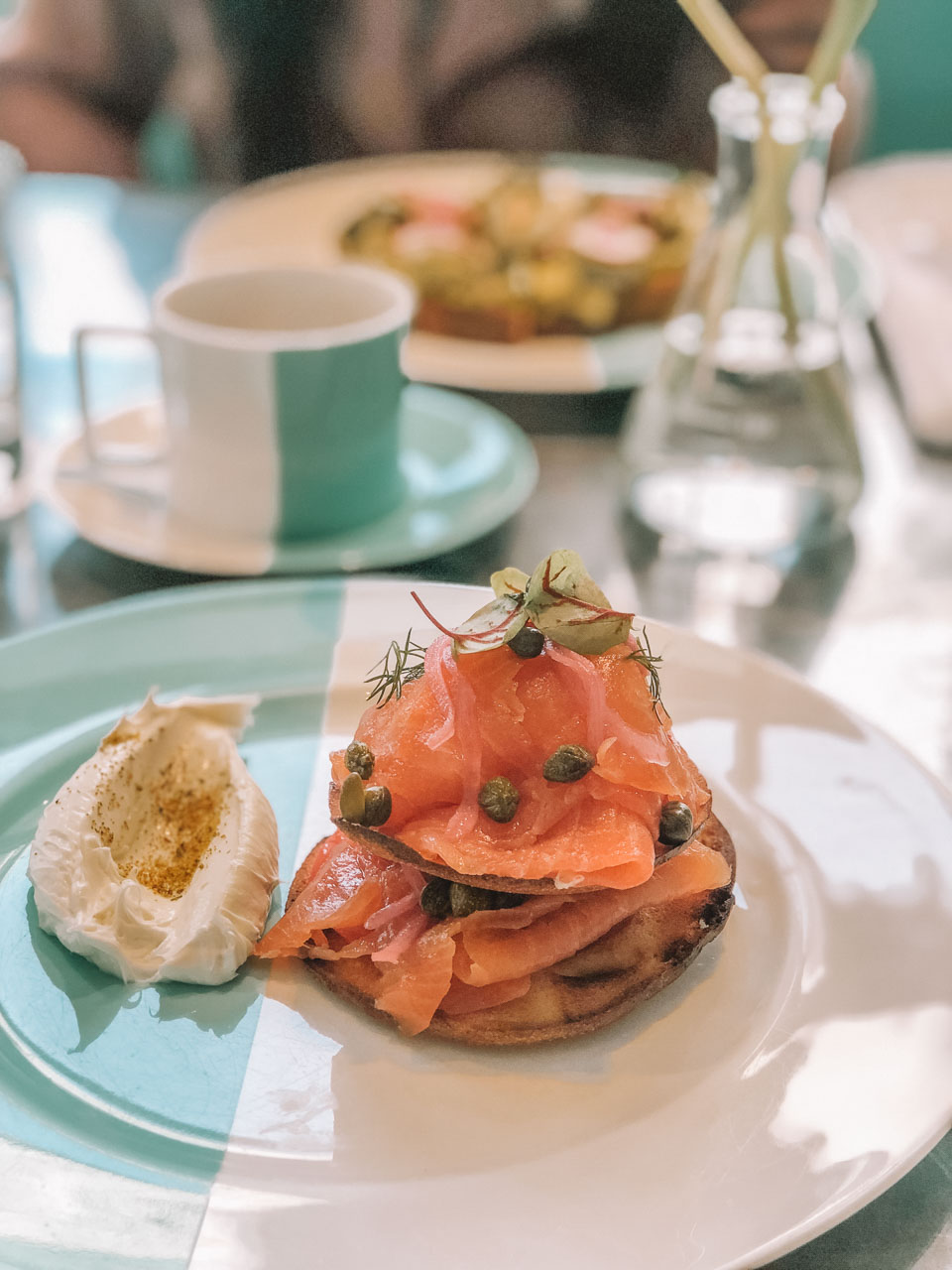 Our dining experience
We were both very satisfied with our choices, and we agreed that it was one of the best meals we had during our time in New York City. I can definitely see why the avocado toast is a breakfast favourite, as it's hands down the best I've ever had the pleasure of trying (not that I've tried many, but still). I loved the combination of an avocado with an egg, and the edible flowers on top were a really nice touch.
During our visit, two different waiters served us. One brought us water and food, and the other made sure to keep those coffee refills coming. One thing I love about dining in the US is the fact that they never let your coffee cup run empty. My inner Gilmore was very happy indeed!
How much does it cost to have breakfast at Tiffany's?
Having breakfast at Tiffany's is a fairly expensive experience. The current price is $32 (the egg on my toast was $5 extra). If you add state tax and a tip, you can rack up a pretty hefty sum. Another thing you need to bear in mind is that they only accept debit and credit cards as a form of payment. It can be a bit of a hassle if you're a cash kind of person like me!
"What I've found does the most good is to just get into a taxi and go to Tiffany's. It calms me down right away, the quietness and the proud look of it; nothing very bad could happen to you there, not with those kind of men in their nice suits, and that lovely smell of silver and alligator wallets. If I could find a real-life place that made me feel like Tiffany's, then I'd buy some furniture and give the cat a name."

Holly Golightly, Breakfast at Tiffany's
Still, I feel like it was a relatively low price to pay for the ability to live out one of my biggest dreams and have my Audrey Hepburn moment. After we'd had our breakfast, in true Holly Golightly spirit, we decided to walk downstairs for a bit of window shopping. I could definitely see why she loved Tiffany's so much! It was an experience I would love to one day be able to relive… and maybe even walk out with a little blue box of my own!
Would you like to have breakfast at Tiffany's?