Do you have those cities that you've always known you were going to love? One such place for me is definitely Budapest. It's been on my bucket list longer than I care to admit. I even distinctly remember my mum calling me after she'd watched a documentary about the capital of Hungary, saying: "You should go there – it seems exactly like the kind of place you'd like."
So, I did what any well-behaved child does and listened to my mother. Granted, I didn't need much convincing either way, and it may have taken me longer than I'd hoped for, but I finally did it. When we were looking for an autumn city break destination back in 2021, Budapest seemed like the perfect choice. I'm happy to report that I liked the city as much as I thought I would, if not more. So, without further ado, here are the best things to do, see, and eat for the perfect Budapest itinerary!
Where we stayed in Budapest
One thing we noticed as we were looking for a place to stay in Budapest is that many flats come with a mezzanine. I have this thing with stairs that stems from my childhood dream of owning a two-storey house. As I grew older, I started wavering after I realised how much maintenance it would actually require, but my affinity for stairs still stands strong.
So, when we came across a cosy centrally-located flat with a mezzanine, we immediately hit that 'Book' button. 3 nights at the lovely downtown home in Budapest cost us €161, which we thought was really decent considering that we were within walking distance from some of the city's attractions. As for others, we could easily reach them from one of the many bus stops located in the area.
The flat itself was really cosy, even if the walk around the open courtyard to get inside did get our heart rates up every time. It looked exactly like in the photos – and there was a lovely vintage elliptical bike up on the mezzanine. Almost as if the owners knew I was going to need a release after indulging my lángos obsession 😉 Just kidding, although we did get on it for the photos!
Best things to do in Budapest
Hungarian Parliament Building
When you think "Budapest", this is likely the image that springs to mind. Perched on the east bank of the Danube River, this spectacular Neo-Gothic building makes for the perfect photo backdrop. If you're a Selena Gomez fan like me, you may also recognise it from the opening scene of her Round & Round music video.
If you'd like to go inside, you currently have to pay 4,200 HUF (around £9) as an EEA citizen, and double that amount as a non-EEA citizen. It's worth checking their website ahead of time, as on some days the Parliament is not open for visitors due to an official programme.
In less than an hour, you get to see all the most representative parts of the Hungarian Parliament. As you enter through a gold-plated staircase, you get a pre-taste of what to expect from this place. You can see the Hungarian Holy Crown and the Coronation Insignia inside the magnificent Dome Hall, complete with a vaulted ceiling and 16 pillars decorated with statues of Hungarian rulers. You also to get to enter the former Chamber of Peers before finishing with a brief exhibition which shows some spaces that are not included in the guided tour and goes into detail regarding the building's construction.
My favourite part was when people carrying trays filled with champagne glasses passed us by. One of the tourists asked our guide if they were bringing those in for the parliament session, to which our guide replied: "No, we don't really have anything to celebrate here." Gotta appreciate the humour!
Shoes on the Danube Bank
As you leave the parliament building, it's worth visiting the Holocaust memorial located on the Danube embankment. It was created to honour the Jews who were executed in that exact spot by the Arrow Cross Militia during WWII. They were ordered to take off their valuable shoes (so that the militia men could resell those afterwards) before being shot on the bank of the river, with their bodies falling over the edge. Nowadays, 60 pairs of true-to-life iron shoes mark the place and serve as a poignant reminder of the events that transpired there between 1944 and 1945.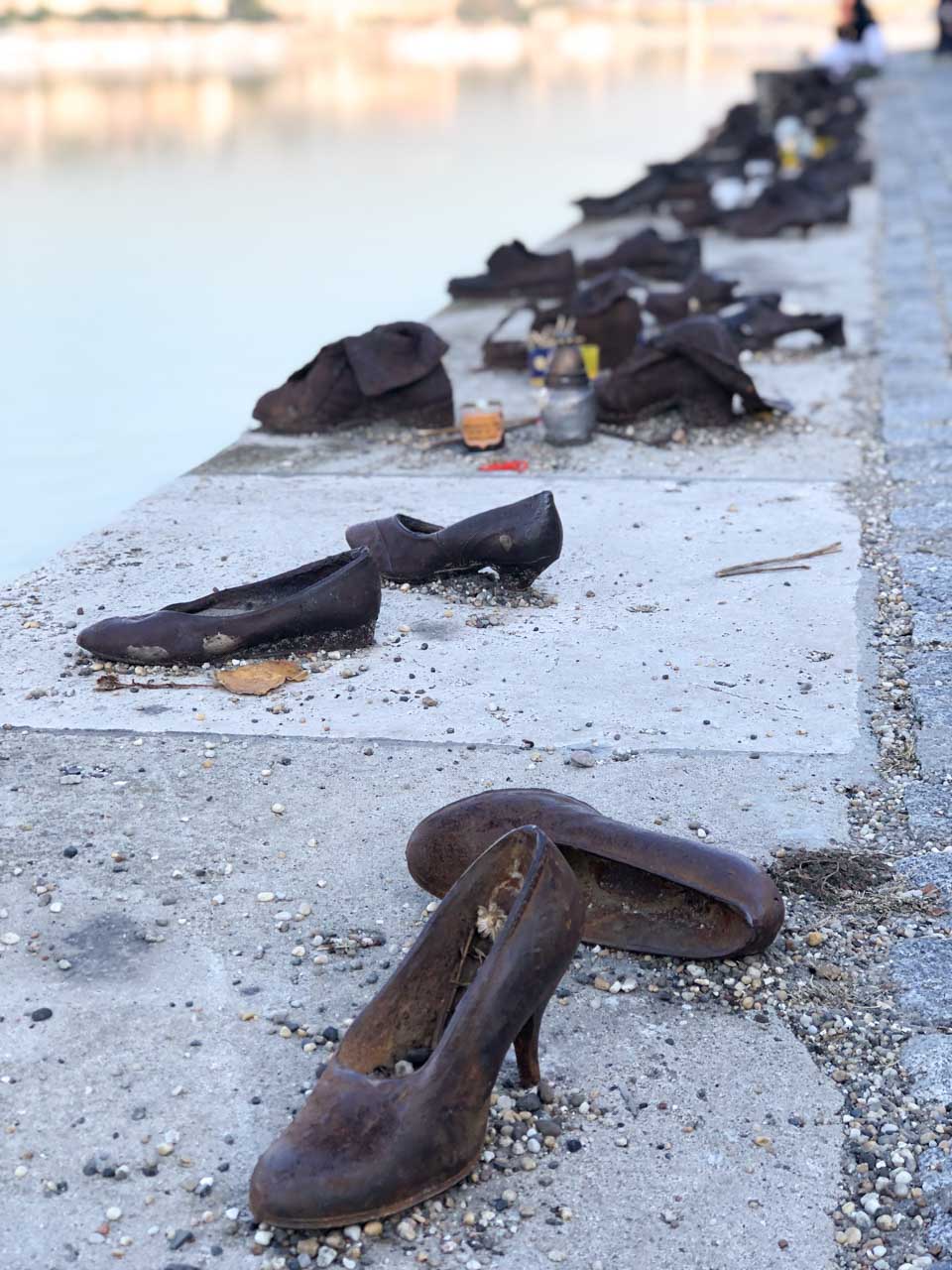 Columbo Statue
This next place is more of a fun spot rather than a must-see. However, as my mum is a massive fan of Lieutenant Columbo, I simply couldn't pass up this photo opportunity.
But, what's a Columbo statue doing in Budapest anyway? Was Peter Falk Hungarian? While he did have ancestors from Hungary on one side of his family, that's not the reason at all. Turns out, it's likely nothing more than a case of having a similar-sounding name to Miksa Falk, a Hungarian politician after whom the street is named.
Just one more thing… At Detective Columbo's feet, you can also find a bronze statue of his basset hound modelled after a local dog (he even came to the statue unveiling!). As we later found out, there's also a tiny statue of a dead squirrel with a gun behind it. Why? Well, maybe if he was still alive, Columbo could crack this peculiar case… Alas, the mystery remains.
St. Stephen's Basilica
While St. Stephen's Basilica is one of the most famous Budapest landmarks, I have to admit it wasn't very high up on my list. I feel like living in Europe your whole life, you can sometimes get desensitised to the beauty of some churches. Having travelled to various countries, it takes a lot to have that wow effect on me, church-wise.
Still, as we found ourselves in the area, we decided to pay to go inside (the fact that I hate paying to enter churches is a whole another topic…). The basilica houses Hungary's most sacred relic, the mummified right hand of Hungary's first king, St. Stephen. You can also pay a little extra to enjoy a panoramic view of the city from the cupola. We chose not to do that, though, as I had a different observation point on my bucket list…
Fisherman's Bastion
The #1 place on my Budapest bucket list was hands down Fisherman's Bastion. I've seen countless photos taken at this very spot and I just knew I had to see it in real life. As a word of recommendation, you should get there as early as possible if you want to beat the crowds – ideally around 7.
We made it right in time to see the sunrise, and it was as breathtakingly beautiful as I'd imagined it would be. As we were one of the few people there, this meant we could take our time wandering around and picking the best spots to take our photos in. There was one couple that was clearly still having an after party and photobombed me with their wine bottle on more than one occasion. Still, it was relatively quiet, so I'm really glad we got there before all the tourist buses did!
The entrance to the Fisherman's Bastion is free. The only exception is the highest lookout terrace, but we decided not to pay, as we had already got some amazing shots on the lower levels. Whether you're looking for the most Instagrammable places in Budapest, or simply a place to see the city from above, this is the one spot you absolutely cannot miss!
Gellért Hill
Speaking of places to see Budapest from above, Gellért Hill is another strong contender. If you climb all the way to the top, you can find the Citadella offering great views of the city's skyline. Or, if you're anything like us, you can find the entire area fenced off due to ongoing restoration works.
Either way, we got the views that we came for – we just had to settle for one of the lower lookout towers instead. As a word of warning, we chose to go there in the evening to see all the lights. While the city was beautifully lit up, the path leading to the hilltop sadly was not. There were street lamps in some areas, but other stretches were completely dark and we had to use our phone torches for support. I'd like to think it was just a temporary outage, but there's unfortunately no way to tell.
Goldberger Textile Industry Collection
Budapest may not be the first place that comes to mind when thinking about the European textile industry, but it actually has a rich fashion history! As we discovered, the city is home to a former internationally recognised textile mill run by the Goldberger family. If you'd like to explore the fascinating story behind it, I wrote a post about what you can expect to find inside the Goldberger Textile Industry Collection.
Ruin Bars
As we researched the best places in Budapest to have a cocktail in the evening, we learned about the legendary ruin bars located in the historic Jewish Quarter. During the WWII, it was the site of the Jewish ghetto. Once thousands of Jews were deported, various buildings and factories located in the district were abandoned and fell into disrepair.
Fast forward to the early 2000s, when a group of young people decided to breathe some life back into the area. They converted a former stove factory into a bar called Szimpla Kert, which marked the start of the most legendary ruin bar to this date. While it started as an experimental place offering affordable drinks to Budapest's young creatives, it soon became a trendsetter. Other alternative spaces started opening in the neighbourhood, and the rest is history.
Today, the ruin bar culture is alive and well in Budapest. We wanted to check out the city's hottest ruin bar, but the queue was so massive we would've spent an entire evening waiting to get in. So, we went to Grandio Jungle Bar instead, which is a party hostel with a jungle-like inner courtyard. It was slightly quieter, enough for us to be able to talk in peace while sipping on our cocktails.
It didn't fascinate me as much as it would have 5+ years ago, as there are now similar hangout spaces in our local shipyard, and I've seen similar ones in other cities too. Still, I would recommend it to get a feel of the atmosphere. Next time we'll make sure to check out other ruin bars too!
Széchenyi Thermal Bath
Another inherent part of the Budapest experience is going for a soak in the thermal baths. The Danube River flows along a geological fault that acts as a natural border between the Buda Hills and the Great Plain. This causes over 100 thermal springs to arise, which poses the question: what are the best thermal baths to visit in Budapest?
With more thermal springs than in any other capital city in the world, Budapest's nickname of "the City of Spas" seems particularly well-fitting. There are perfect opportunities for year-round bathing depending on your personal preferences.
We decided to visit one of Europe's largest bath complexes, Széchenyi Baths. This palace-like complex consists of 15 indoor baths and 3 outdoor pools with different water temperatures. There's also a range of wellness services to choose from at an additional fee – including a beer spa!
The entrance fee depends on what day of the week it is, as well as what time you visit. We paid 6,200 HUF (around £13) each last year, but I know the prices have since gone up. You should also be wary that the regular ticket only comes with locker usage, so you'll have to change in front of other visitors. If you want a private changing cabin, you'll have to pay extra when purchasing your ticket.
I absolutely loved it and would happily go back. The only thing I would do differently is I would get a private cabin, as I wasn't as comfortable changing around complete strangers as I thought I would be. Oh, and I would definitely splurge on some spa treatments, as they look amazing on their website!
Where to eat in Budapest (and where to avoid)
Retró Lángos
First things first, I started my research with the best place to have a lángos in Budapest. If you read my guide to Gdańsk and Gdynia Christmas markets, you'll know this is the one Hungarian dish I am absolutely obsessed with. This deep-fried flatbread can be topped with all kinds of ingredients, but I was told the traditional Hungarian way is with sour cream, grated cheese, and garlic. I've had it many times at our local Christmas market, but I was looking forward to the authentic Hungarian experience.
The place that came up multiple times, both online and talking with friends, is Retró Lángos. I was a little confused at first, as a quick image search pulled up a fast food stall located at the entrance to Arany János metro station. We kept walking around, but there were no food stalls in sight, only construction work. We eventually saw a restaurant of the same name, so we decided to go inside, feeling a little resigned.
Turns out, this was the right place! My guess would be that all the stalls had to move due to the reconstruction project, so they upgraded to an actual restaurant. It appears to be a popular hangout spot among tourists and locals alike, and for good reason. The variety of toppings is almost overwhelming, and everything is extremely affordable. At the time of out visit, a lemonade and a traditional lángos with sour cream and cheese only cost me 1,690 HUF, which is around £3.50. If you're ever in Budapest, this is the one place you absolutely CANNOT miss!
Great Market Hall
The next place on our Budapest itinerary was the Great Market Hall, the oldest and largest indoor market in Budapest. It's a literal foodie heaven, where you can find anything from fresh fruit and vegetables to a selection of meat, fish, paprika, local wines, and even souvenirs. We walked around in search of the best deals on gifts for our friends and family, admiring the beautiful Neogothic hall with light spilling in through the huge windows, before eventually choosing to sit down for lunch.
Now, we've heard several stories of people falling for tourist traps at the Central Market Hall, such as being charged for each additional topping and paper plate without their knowledge. That said, we chose to avoid the food stalls and visited the Fakanál Étterem restaurant which can be found on the upper floor instead. It's a canteen-style buffet which looked really homely on first impression, partly thanks to the live music they had inside.
We went for their tasting menu to share, which included 4 traditional Hungarian dishes. It was a great introduction to the local cuisine to see which dish we liked best before committing to a full portion. All that, along with a craft beer each, cost 3,505 HUF (around £7.50) per person, which is certainly higher than what you'd pay elsewhere. The price aside, we generally enjoyed our experience, but as we later read numerous bad reviews by people who didn't get so lucky during their visit, we would probably think twice before going there again.
Á la Maison
Do you have your go-to breakfast order? I feel like I'm the most predictable person ever in this regard. Most days, you'll find me munching on different kinds of sandwiches, so it comes as no surprise that I often look for a croque madame on the breakfast menu.
As this place was on the list of restaurant recommendations left by our hostess, we decided to check it out on our first morning in the city. Once we arrived there early in the morning, we were surprisingly one of the few people there. Perhaps the Hungarians prefer late brunching? The French-inspired interior completely won me over, but was the food equally amazing? Mac chose the classic Hungarian French toast, which was basically pan-fried sourdough bread coated in lightly beaten eggs.
Frankly, it was the exact same thing my mum used to make whenever the bread was starting to go stale, so I didn't really get the hype. As for the croque madame, it was fine, but definitely not the best one I've ever had. While everything tasted alright, it's definitely not the kind of place you should visit if you're looking for a substantial breakfast. The portions are fairly small and the prices are steep by European standards.
For example, my teeny tiny croque madame sandwich and a cappuccino cost me 3,276 HUF, which is around £7. I feel like we could definitely get more for our money in a less trendy restaurant.
Stika
The second breakfast place we visited in Budapest was Stika. As we were running on little sleep and tired after our early morning photoshoot at Fisherman's Bastion, we were looking forward to a delicious breakfast… and oh boy, did this place deliver!
Mac chose the Hungarian breakfast, while I went for something more hearty than I normally would, their breakfast burger, and washed it down with a pink latte. I sometimes order it for the ✨ aesthetic ✨ and then instantly regret it as I remember that I do not, in fact, like the taste of beet latte.
Still, I can't fault a single thing about the breakfast. I'm always a little apprehensive about dishes that contain maple syrup, as I hate the taste of it, but somehow all those flavours worked SO well together that I ate every last drop of it! If that is not a testament to the quality of this place, I don't know what is. For comparison purposes, this breakfast cost me 4,705 HUF (approximately £10) and was way more filling and delicious!
SixLetter
On our final morning in the city, we decided to hit up a specialty coffee place for breakfast. With an incredibly stylish interior and the shared belief that the perfect morning should always begin with the best six-letter word, coffee, I was instantly sold.
It was one of the rare occasions that we went for the same breakfast – eggs benedict. I would most certainly have a croque madame every morning if I could, but I forced myself to switch things up a little. I don't know what it is with the Hungarians and their small portions, but we were sorely disappointed when our breakfast was served. At least it was delicious, but we still had to stop for some pastries afterwards.
At 3,200 HUF (around £6.70) for our tiny breakfast and a coffee, it's not the most budget-friendly option. For someone who places so much importance on coffee, you'd also think they would know a morning coffee should be WAY bigger than that, but at least the taste made up for it. I'd still recommend it, but probably only if you're not that hungry.
Molnár's kürtőskalács
Now, onto another Hungarian classic… chimney cake! Again, I've had these in numerous places, but apart from the one I tried in Kraków, they were mostly disappointing. We saw this place in one of the travel vlogs and decided to try the real deal.
Even if we hadn't seen the sign, the ridiculously long queue outside would've been a clear giveaway that we'd reached our destination. After some deliberation, we decided to brave it out, as I didn't want to settle for another mediocre chimney cake instead. A definite perk is that you can keep yourself occupied by watching the ladies at work by the window.
While the chimney cake was certainly better than the ones I'd had before, it's not the kind of dessert I could have over and over again. Still, it was good for the experience – at 1,800 HUF (around £3.80) for a cake and a cappuccino, it should be a no-brainer!
New York Café
We all know by now I'm a sucker for the most Instagrammable interiors, so how could I say no to what's supposedly the most beautiful café in the world? We decided to head to the New York Café one afternoon without a prior reservation. Much to our surprise, we didn't have to queue for long – probably 10-15 minutes tops! In the meantime, you can listen to some live piano music. Besides, I was so busy admiring every corner that I didn't even notice where the time went.
As we went there mostly for the views, all we had was coffee. But, it wasn't just ANY coffee – it was their signature 24-carat gold latte macchiato. Now, I realise it's all a marketing ploy, as you can easily buy some edible gold flakes online, but we were willing to pay for the experience. We paid 3,622 HUF (around £7.60) each, but I could see on their website that the price has since gone up.
From what I can gather, the New York Café is the kind of place you either love or hate. The opinions can be very polarised, with many people claiming it's overhyped. Personally, my only two concerns were the number of tables crammed into the space and the fact that the tables themselves looked more like they belonged in a cheap eatery than an opulent place like the New York Café. Other than that, I would certainly recommend you to add it to your Budapest itinerary.
Zoo Café
As for the last café on this list, I'd been debating whether I should even include it in here. I eventually decided that where NOT to go can be just as important, and if this guide puts even one person off visiting this place, then my job here is done.
We made the mistake of assuming this was like our local cat café where you can sip on some coffee surrounded by the cutest kitties looking for their forever homes. Sadly, this could not be further from the truth.
Instead, the café works in 1.5-hour blocks. Once the entire group for a given time slot arrives, the waitresses start bringing various kinds of animals to your table, including actual snakes. Every 10 or so minutes, they swap the animals over, so that everyone gets a chance to spend some time with every single one. While the chameleon looked rather relaxed, climbing all over us, and occasionally licking our hair, seeing the rabbit almost made me cry. Poor thing looked extremely unsettled and stressed out, so we just let it sleep the entire time. Although, it broke my heart knowing this may have been his only 10 minutes of peace and quiet throughout the whole day.
I genuinely do not understand the high reviews, as for me it was pure animal cruelty. Forcing animals to switch their environment every couple of minutes, including families with kids who do not have any boundaries, cannot be pleasant or relaxing, no matter how hard the owners may try to convince us otherwise. This place should be closed down and the animals should go somewhere they are treated with the respect they deserve. I left feeling extremely helpless, wishing there was something I could do to save the animals.
---
So, there you have it…
Here are all the best places in Budapest I would recommend to any first-time visitor (and one you should avoid at ANY cost). Budapest is the perfect city break destination, particularly if you're looking to explore a new place on a budget. Considering how comfortable we felt there, and how unlikely it is to put you out of pocket, I can definitely see ourselves returning multiple times in the future!
What are some places you've always felt you were going to love and why?