One of my fondest memories from when I lived with my parents were evening TV sessions with my mum. Among the shows we used to binge watch together was Cake Boss. It followed Buddy Valastro who runs Carlo's Bake Shop, a family-owned bakery where he whips up out-of-the-world, state-of-the-art wedding and specialty cakes for virtually any occasion.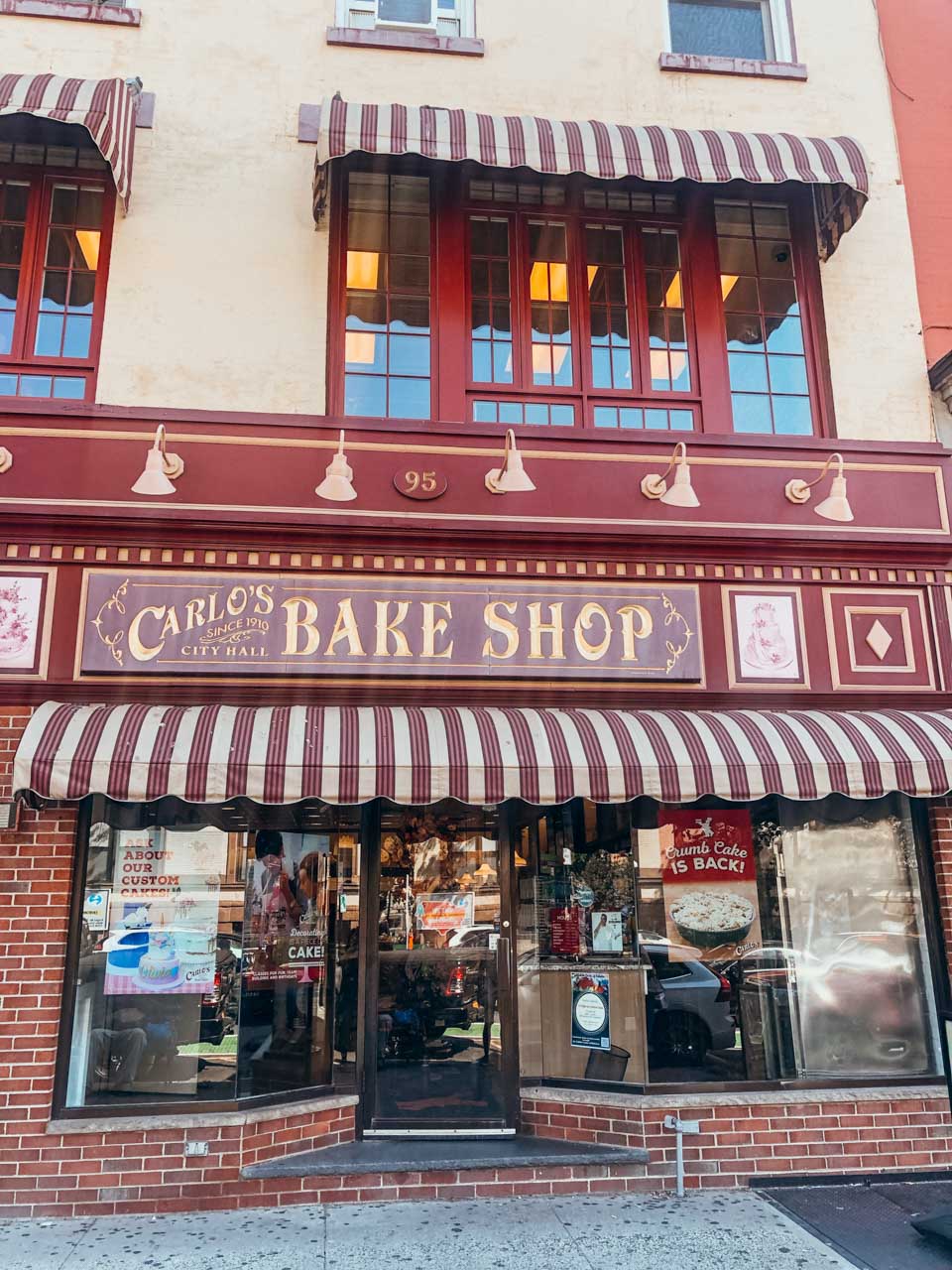 Throughout the seasons, he repeatedly proved that his creativity and craftsmanship know no bounds and revolutionised the way we think about cake and pastry making. You want a replica cake of your cow that you can actually milk? You're in the right place. Or maybe you've been dreaming of a 5-tier wedding cake that features special effects lighting… Say no more.
Although the show stopped airing on TLC back in 2017, it earned Buddy Valastro an almost cult-like status that reaches well beyond the US. He recently came into the limelight again when alongside her pregnancy announcement, Gigi Hadid revealed that Buddy was the mastermind behind her 25th birthday cake, making a big dream of hers come true.
Being a huge admirer of Buddy's extraordinary talent myself, I've always wanted to combine my very first NYC holiday with a trip to Hoboken, New Jersey to visit the bakery… and since that holiday fell around my mum's birthday, what better way to surprise her than with a box of goodies from Carlo's Bakery!
Are you looking for another unique foodie experience in New York City? Read my blog post describing what it's like to have breakfast at Tiffany's!
How to get to Carlo's Bakery from New York City
Yes, Carlo's Bake Shop is located in another state, but don't let that scare you away – getting to Hoboken from NYC is actually no more time-consuming or harder than moving around Manhattan. Hoboken is only a short PATH train ride away from the heart of New York – it takes 10 minutes from the World Trade Center site and 15 minutes from the Midtown area.
At the time of writing, a SingleRide ticket costs $2.75 and you can purchase one from ticket machines in any PATH station. You can also opt for a more convenient solution available in selected stations – a 2-Trip MetroCard for $5.50. Unfortunately, you cannot use unlimited MetroCards on PATH trains, but if you have a Pay-Per-Ride MetroCard, you're good to go!
Do you have to queue outside Carlo's Bake Shop?
Given the unflagging popularity of Cake Boss, I wanted to do some research on estimated wait time so that I could plan our trip to Hoboken accordingly. I couldn't find much information, but I did come across one source that showed a sign in front of the bakery pointing to a massive line starting right around the block.
As we were going on Sunday afternoon, we prepared ourselves for increased traffic by scheduling in some extra time… So, imagine our surprise when we arrived at our destination and there was neither a sign nor a single soul in sight!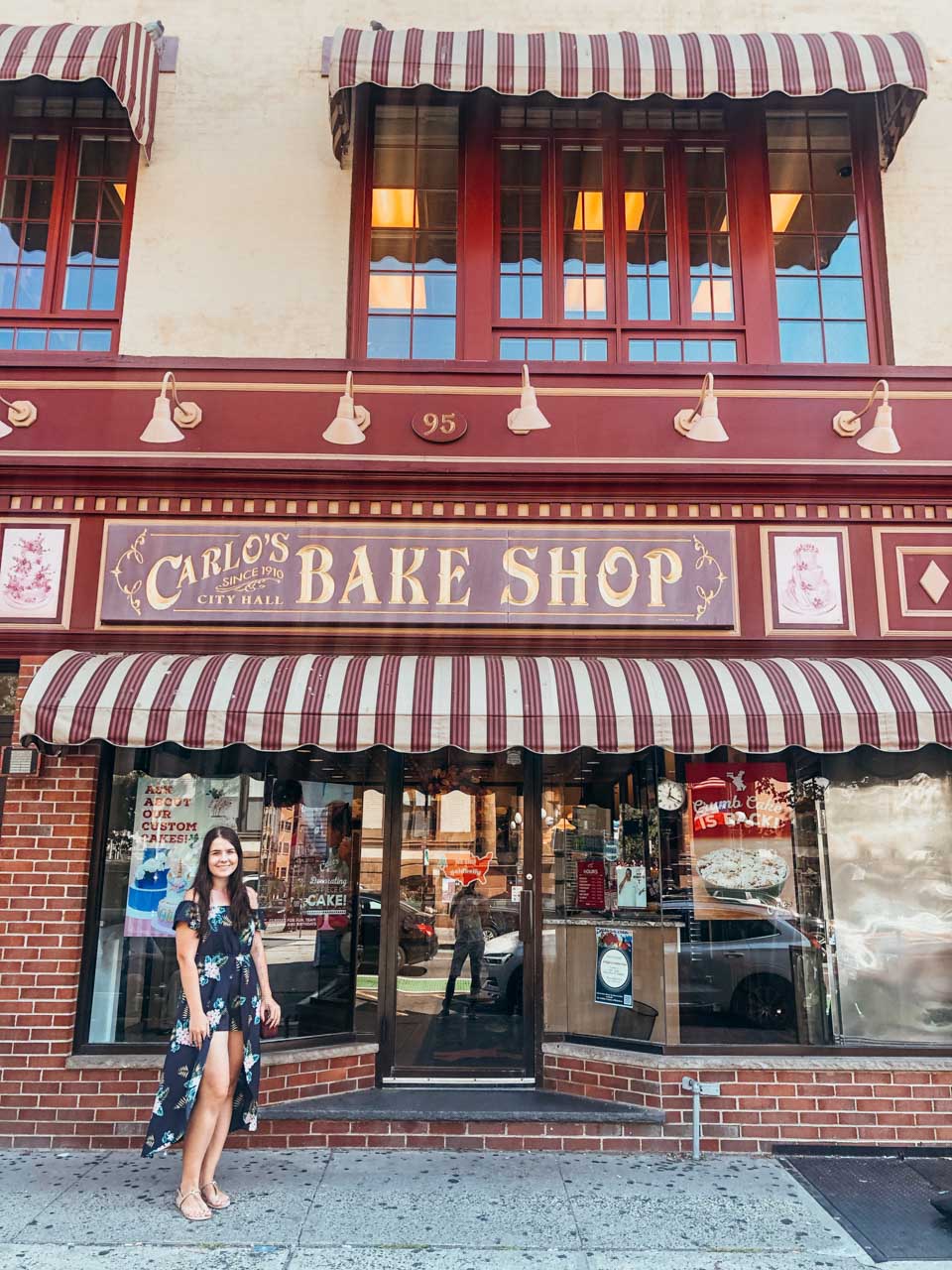 After we took some mandatory photos outside the bakery, we finally went inside, where we were one of the few customers. We took our time walking back and forth between the display cases and taking sneak peeks inside the baking area, which brings us to…
Can you meet Buddy or other family members at Carlo's Bakery?
I'm sorry to burst your bubble, but meeting Buddy at Carlo's Bake Shop is highly unlikely and borders on impossible. Due to numerous other projects and commitments, he's hardly ever present at the bakery. However, his sisters Mary and Grace often serve customers and I have seen many photos of people who got to meet them – even the official website says you're always free to ask if any of the cast members are around! We weren't lucky enough, but it's definitely worth a shot!
How much does it cost to buy a cake from Carlo's Bake Shop?
I know this is probably the number one question on a lot of people's minds, and I'll openly admit many Cake Boss episodes left me frantically googling "how much does it cost to have a cake custom made by Buddy?" so I could figure out when to start saving… Well, your guess is still as good as mine based on various online sources and testimonies of past customers. I'm more than willing to shed some light on buying pastries and cookies from Carlo's Bakery though (baby steps…)!
When we walked through the door, we were faced with an overwhelming choice of cakes, pastries, and desserts, each looking more scrumptious than the other. Sadly, as we were leaving New York the next day and had a long journey ahead of us, we decided to get just a pastry each and a gift for my mum. That didn't stop me from admiring the contents of each display case, trying to tackle the impossible task of narrowing down my choices to just one thing. The famous cannolis, mouthwatering lobster tails, and don't get me started on the red velvet slices (I've already spoken candidly about my affinity for red velvet anything)… can I just get one of each, please?!
What are the prices at Carlo's Bake Shop like?
Prior to our visit, I've seen many people online complain about the prices at Carlo's Bakery without giving any specifics. I thought the visit would burn a hole in my pocket, but frankly speaking, I found it didn't differ much from the other places we visited during our time in NYC.
At the end of last year, the prices of cupcakes ranged between $2.95 and $3.50, while most cookies cost either $3.25 or $3.50. Pastries were slightly more expensive, but still fairly affordable considering the bakery's level of fame – majority of them cost between $3.75 and $5.95, with just one going above that amount.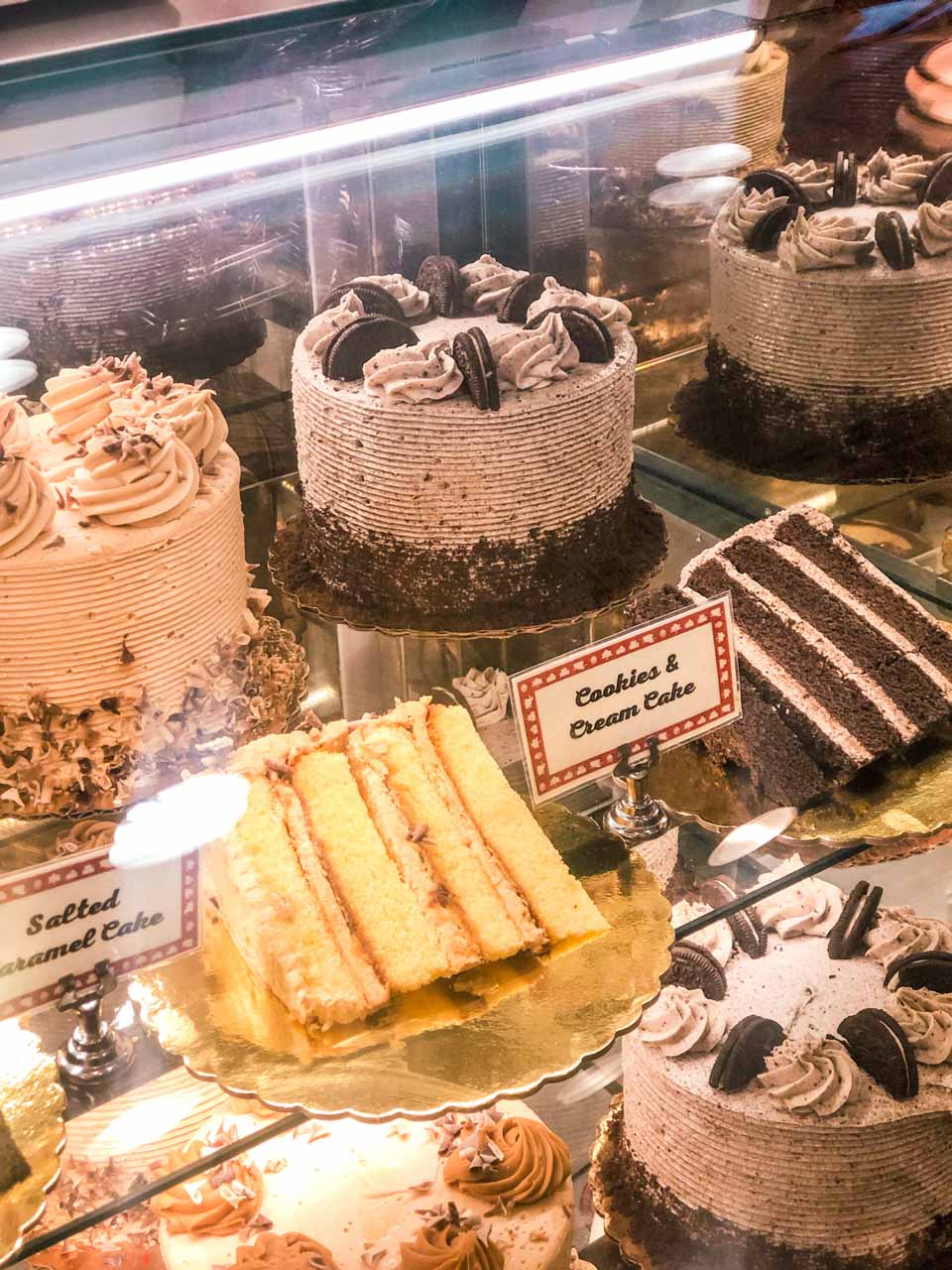 All individual desserts were priced at $6.95, while cake slices set you back $7.95. And if, like me, you've been dreaming of having a cake custom made by Buddy, but don't quite have the occasion or means yet, you can settle for one of the pre-made options starting at $26.95. There were also a number of souvenirs available, such as T-shirts and mugs, so it's also worth budgeting for if you're a die-hard fan of the show!
And finally… is it worth the money?
I decided to go for a classic cannoli and a box of assorted butter cookies for my mum (I was meeting her the following Friday and sadly, there was a limited choice of things that could survive this long) – the cannoli was $4.50, while the cookie box was around $25. My mum kindly let us all try the cookies – I'm not a fan of sprinkle cookies, so they missed the mark for me, but the cannoli was easily the best I've ever had. That golden crispy shell filled with light, fluffy cream haunts me to this day!
The prices will likely keep changing over time, but I hope you will find this estimate helpful anyway. Again, if you're anything like me and would gladly have one of each, the total price can easily build up, but it was an experience I would happily pay for over and over again if I lived closer – I have a feeling it will become a staple during my future NYC trips…
Have you ever watched Cake Boss? If you could get any kind of cake custom made by Buddy, what would be your first choice?