I have to admit our main reason for visiting Malta was the amazing price deal we managed to score. We didn't know much about the country itself and we didn't know what to expect either. More than 2 years after our trip, during which we fell in love with this vibrant place and its culture, I decided to put together the ultimate guide to visiting Malta on a budget. I'm hoping it will inspire you to follow in our footsteps and see what this country has to offer.
Located under 100 km south from Sicily and nearly 300 km north from Africa, Malta is a unique archipelago of islands. Its picturesque landscapes, clear blue waters, and approximately 300 days of sunshine a year draw more than 2 million visitors annually.
A little bit of history of Malta…
The country's main selling point, however, has to be its rich and turbulent history. According to the New Testament, Apostle Paul brought Christianity to Malta around 60 A.D. when he was shipwrecked on the island on his way to Rome. Eight centuries later, the Arabs conquered Malta, which made a significant influence on the country's culture and language.
It existed merely as an extension of Sicily until 1530, and then it was ruled by the Order of St. John of Jerusalem for over two centuries. This period is commonly known as Malta's Golden Age, as the country was flourishing under the Knights' reign.
Napoleon Bonaparte put an end to the Knights' rule in 1798 by taking over the country on his way to Egypt. Breaking up the institutions established by the Knights, including the Roman Catholic Church, as well as stealing gold, silver and church property angered the Maltese society. It led to an uprising with the help of the British who later retained the territory of Malta.
Being under Britain's rule left an imprint on the country's culture, language and politics. In 1964, Malta was granted independence, but the British influence spans across many fields to this day. English remains an official language along with Maltese, red phone boxes still adorn the streets of Malta, and everyone drives on the left side of the road.
This mixture of various cultures and influences makes Malta a one-of-its-kind country which should be on everyone's bucket list. Whether you want to go on a beach holiday and enjoy the breathtaking landscapes, see the legacy of St. John's Knights, or visit the cradle of Christianity with all of its magnificent churches, Malta is the country for you.
How to get to and from the Malta Airport
MaltaTransfer
As we landed at 11 PM, when public buses were no longer running, we decided to book a shared shuttle bus to our hotel. We chose MaltaTransfer and paid €12 for two people. However, when we got to the arrivals hall, we had difficulties finding the MaltaTransfer lounge where we were supposed to wait for our driver.
Every 10 minutes, we kept going outside where all of the shuttle buses were parked, but nobody was there. We asked various airport employees for directions to the lounge. Strangely enough, no one was able to help us and their command of English was rather limited.
Finally, one of the employees mentioned that these shuttle buses were no longer running at that hour. We had no reason not to believe him. As it was getting late and our nerves started kicking in, we decided to take an overpriced taxi to the hotel.
Taxi service
How it works is you walk up to the counter, say where you would like to go, pay a fixed price (in our case it was €25) and get a receipt with your destination and taxi number on it. Little did we know that our stress level was about to get even higher.
As we were waiting for our taxi outside the terminal, a taxi with a different number pulled up. The driver quickly put our suitcases in the boot and insisted he was the one who was supposed to pick us up. At that point, various scenarios went through my head. I kept hoping it was just a misunderstanding and not a kidnapping attempt. Luckily enough, there was no suspicious activity and 20 minutes later, our driver dropped us off at the hotel.
Public transport
On the way back, we took a public bus from Bugibba, which was a quick and hassle-free way of getting to the airport (I will describe their public transportation system in more detail in the next section).
Back home, I messaged MaltaTransfer asking for a refund. They told me that the airport employee misled us and shuttle buses were in fact running. As an apology, they offered us a possibility to use the tickets we purchased during our next trip. We won't get to visit Malta anytime soon, but it was a nice gesture on their part nevertheless!
How to get around Malta
As the public transport system has a reputation for being unreliable, the best way to explore the islands is to rent a car. As neither of us have a driving licence, we were left with no choice but to use public buses. However, having seen how narrow and winding Maltese streets are, we came to the conclusion that driving in Malta takes a level of courage and mastery that would be unattainable for us anyway.
At one point, our bus driver took a turn into the tiniest street I've ever seen. I kid you not, if I stuck my hand out of the window on either side of the bus, I would easily be able to touch the walls. Just watching that made us stressed beyond belief and gave us a whole another level of appreciation for anyone who drives in Malta and makes it out in one piece.
Luckily for us, the public transport system is very affordable and there are 80 routes linking various destinations all across Malta. We bought our Explore Cards at the bus terminal in Bugibba. They cost €21 each and granted us unlimited travel for 7 days. The entire system reminds me a lot of London, as you also have to touch the reader with your card when you board the bus.
If you are planning to stay longer, you might consider applying for a personalised Tallinja card, which is essentially the Maltese equivalent of an Oyster card. We actually found Maltese buses surprisingly reliable. The only time we were stressed out was when our bus from Rabat to Bugibba was an hour and a half late and it started getting dark. However, you have to be aware that these might be more common occurrences.
When to visit Malta
The answer depends on the main reason behind your trip. Are you looking for a proper beach holiday and don't mind the heat waves and hoards of tourists? Or maybe you want to save a little extra money and explore the islands without having to beat the crowds?
We came in March and the weather was as unpredictable as it gets. It was warm enough to lounge by the pool in our bikinis, but the second we were behind the hotel walls, we had to put our coats and scarves back on. It was gloomy and rainy most of the time, which meant we had to prioritise comfort over looking cute in the pictures.
If I were to go again, it would be between April and June. This way, I could save money on flights and accommodation, as well as avoid crowds and scorching weather. It is also the time when some of the most interesting events, including Medieval Mdina and Isle of MTV, take place.
Where to stay in Malta
Depending on your personal preferences, there are many areas worth considering when looking for accommodation. As we were both university students at the time, we set ourselves a challenge to do this trip on a budget as much as possible.
We decided to stay in Bugibba, a lovely village located on the northern coastline of Malta. It is fairly affordable and well-located, so you can easily travel to other parts of the island, as well as to Gozo and Comino. Other options for budget travellers include Qawra and St. Paul's Bay. If you are looking for vibrant nightlife and clubbing, St. Julian's and Paceville are the perfect choice.
The place we stayed in was Cardor Holiday Complex, and it remains my greatest achievement in terms of budget travelling. We paid a mere €88 for 7 nights in an apartment housing 4 people, but there were a few catches…
There was no heating except for a portable radiator on wheels. The view from our balcony and bedroom window was a staircase, so we had to sleep with the curtains closed. However, our apartment had a mini fridge and an extremely obsolete oven (honestly, I've never seen anything like it in my entire life), so at least we were able to cook our own meals. There was also an outdoor and indoor pool with jacuzzi that we could use.
Overall, if you're travelling on a budget and don't mind the inconveniences, it is worth looking into as you get an apartment for the price of a hostel. Would I stay there again? The answer is… probably not, as I would happily pay a little more for extra comfort now.
What to eat and drink in Malta
We decided to save money by cooking dinners and living off of pastries and other snacks during the day. Having said that, I am unable to recommend particular restaurants, but here's a round-up of the things we tried during our time in Malta.
1. Ftira
One of the things from our trip that I look back on with fondness is going down to the local grocery shop every morning to get some fresh bread for breakfast (to the point where the shop owner started recognising me and randomly gave me a chocolate bar one morning).
Ftira is a ring-shaped Maltese bread. You can either eat it on its own or with various fillings, such as tuna, anchovies, mixed salads, and many others. Having tried it both ways, I can totally understand why a petition has been launched to include ftira as part of UNESCO's Intangible Cultural Heritage list.
2. Rabbit meat
While many people can't fathom eating rabbit meat, Stuffat Tal-Fenek (rabbit stew) is one of the most popular Maltese dishes. As I was a little apprehensive about it myself, I only had a small rabbit pie. While the crust tasted stale, the meat itself was really tasty. It is definitely something I want to try a bigger portion of when I return to Malta one day.
3. Ġbejniet
Like any Mediterranean country, Malta is famous for its variety of cheeses – from mild to slightly stronger flavours. The most popular one is Ġbejniet – a round cheese made from local sheep or goat milk. I brought some home for me and my parents to try. Unfortunately, I didn't check the expiry date and they all went bad before anyone got a chance to taste them.
4. Pastizzi and other pastries
On to the unquestionable highlight of this trip in terms of food – Maltese pastries. The entire time we were there, we would take short breaks from sightseeing, walk on over to the nearest pastizzeria and buy a bunch of delicious pastries to go.
The most popular kind are pastizzi. They are diamond-shaped snacks made with a flaky pastry that resembles the Greek phyllo pastry. The most common fillings are ricotta cheese and mushy peas. Not only are they delicious, but also extremely affordable – we typically paid between €0.50 and €0.70 each.
We also tried Qassatat, a larger rose-shaped pastry with a cheese, peas and spinach filling, and Arancini, deep fried rice balls with breadcrumb coating. They were all just as delicious as they sound, and I believe it is worth returning to Malta for this reason alone.
5. Galletti crackers
These Maltese water crackers may seem bland at first. I'll admit I was hesitant about buying them myself, but I finally caved in. I got them in two flavours: plain, and with rosemary and onion. While the first option wasn't to my liking, the second one didn't last us long. They are cheaply available from local grocery shops (I believe I paid around €0.60 for one pack), and I am sure they would be perfect for dipping or with some cheese.
6. Qagħaq tal-għasel (Honey rings)
Although they are traditional Maltese Christmas biscuits, you can purchase them at local supermarkets all year long. Despite their misleading name, there is actually no honey inside and the filling is made of treacle. I personally wasn't a fan and would've preferred them to be softer.
7. Bambaluni with vanilla
I'll admit these red donut balls, called Bomboloni in neighbouring Italy, didn't look very appetising at first. Even though they tasted a little artificial due to all the food colouring, there was something about them that made me really enjoy this dessert.
8. Kinnie
I think it is safe to say Kinnie is the liquid version of Vegemite – you either love or hate it. This bittersweet soft drink made of bitter oranges and aromatic herbs was launched in 1952 as an alternative to Coke and other fizzy drinks that were becoming increasingly popular after World War II. It didn't win me over, but I am willing to give it a try again in the future.
Places to visit in Malta
I have dedicated separate posts to each of the areas we visited during our time in Malta, so you can find all of my comprehensive travel guides linked below.
Bugibba
We explored Bugibba, the town where we were based, along with the adjacent town of Qawra and the maritime city of Birgu, which I described in the first post of my Malta series. If you have been hesitant about visiting or staying in the St. Paul's Bay area, the fact that the Malta Chocolate Factory has since opened in Bugibba might just sway you in the right direction.
Dingli Cliffs and the Blue Grotto
The next stop on our itinerary were the island's natural wonders – Dingli Cliffs and the Blue Grotto. While I found the first a little underwhelming, I couldn't stop waxing lyrical about the latter despite some people's claims that it is commercialised and overhyped. I believe the fact that we went off-season hugely influenced my opinion, so I suppose the best thing to do is add it to your itinerary and see for yourself!
Gozo
Our holiday wouldn't be complete without a day trip to Malta's sister island of Gozo. Although the island's biggest tourist attraction, the Azure Window, no longer exists, you shouldn't by any means skip Gozo while planning your trip itinerary. I wrote a blog post where you can find out more about what the island has to offer.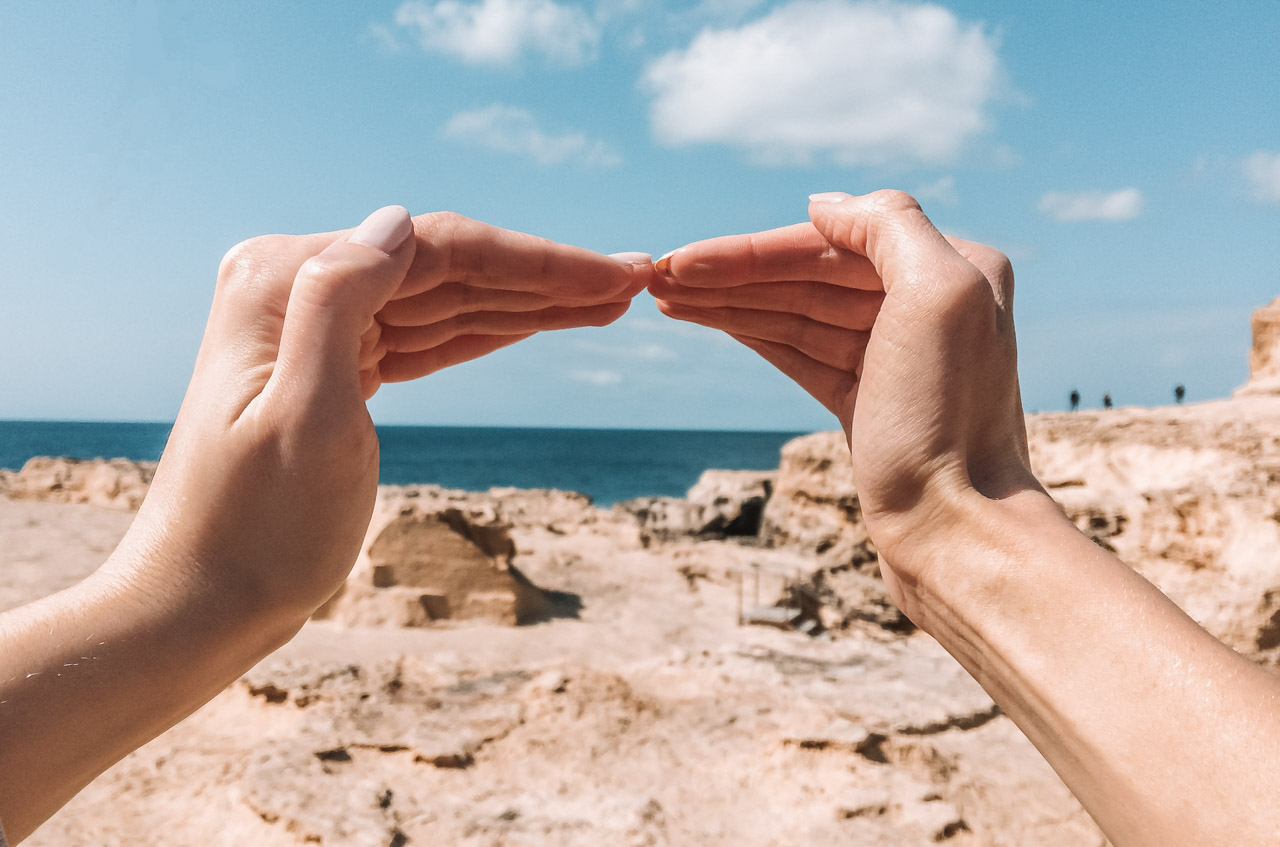 Valletta and Sliema
Some of the country's most important historical landmarks are concentrated in the tiny capital city of Valletta. We absolutely loved strolling around its charming streets. They are set out in a grid system, which makes it extremely easy for tourists to get around and immerse themselves in the culture. It is also worth taking advantage of the country's extensive bus network and stopping in Sliema for some relaxation by the waterfront and that postcard shot.
Rabat and Mdina
If you want to delve deeper into the history of Malta, you cannot miss the city of Rabat, where Christianity was born on the island, as well as its neighbouring city and Malta's former capital, Mdina. Being able to see where St. Paul lived and preached the word of God during his time in Malta will truly feel like a trip back in time, while entering through Mdina's Main Gate into its quaint, picturesque streets will resemble stepping into a fairytale. You can find all the photographic proof in my little guide to Rabat and Mdina…
Overall, I think it is safe to say Malta is one of my favourite places I've been to, and not just because it was the first trip I planned with my friend from beginning to end. The memories of captivating landscapes, magnificent architecture and friendly locals enjoying a slower pace of life have stayed with me ever since. I remember repeatedly counting my blessings and being thankful for the opportunity to travel, so if you keep wondering whether you should visit Malta… don't. Stop wondering and start planning your trip to this one-of-a-kind country as soon as possible!
Which of these tips did you find most useful? Would you add anything to my guide to visiting Malta on a budget?