Last updated on March 9, 2022
Our holiday to Malta wouldn't be complete without a day trip to its sister island, Gozo. While the main island is home to the country's top attractions and offers bustling nightlife, Gozo is a perfect place to just unwind and relax on one of its sandy beaches or stroll through the charming narrow streets.
How to get to Gozo from Malta
The island of Gozo is inaccessible by air or road. Ferries from Cirkewwa to Mgarr run 24 hours a day, 7 days a week. At the time of our visit, the standard passenger fare was €4.65 for a round trip. The trip itself takes around 25 minutes. It gives passengers a pre-taste of beautiful landscapes as the ferry passes the island of Comino on the way.
As we had two places to cross off our bucket list, we didn't spend a lot of time exploring the island's capital city. We grabbed some pastries from a local pastizzeria and went for a walk in the Villa Rundle Gardens, followed by a quick trip to the Arkadia Mall where we bought some snacks from Waitrose (you can take a girl out of the UK…). Then off we went to our next destination…
Azure Window… or lack thereof
The day before we were supposed to fly to Malta, we woke up to the devastating news that the country's iconic landmark, the Azure Window, had collapsed into the sea. This has been the source of many jokes among our family and friends. They started saying we shouldn't travel anywhere out of concern for landmarks all over the world. However, this didn't stop us from visiting the area, if only to see the aftermath of the collapse.
Looking at the place where this majestic flat-topped arch used to stand, only to see that there is nothing left apart from the submerged rocks that were once part of it, is impactful and heartbreaking.
We wandered around the area, stopped by the edge to marvel at the cobalt blue water… and decided to recreate our very own Azure Window for the purpose of a photo. After all, we didn't come all the way to Gozo for nothing.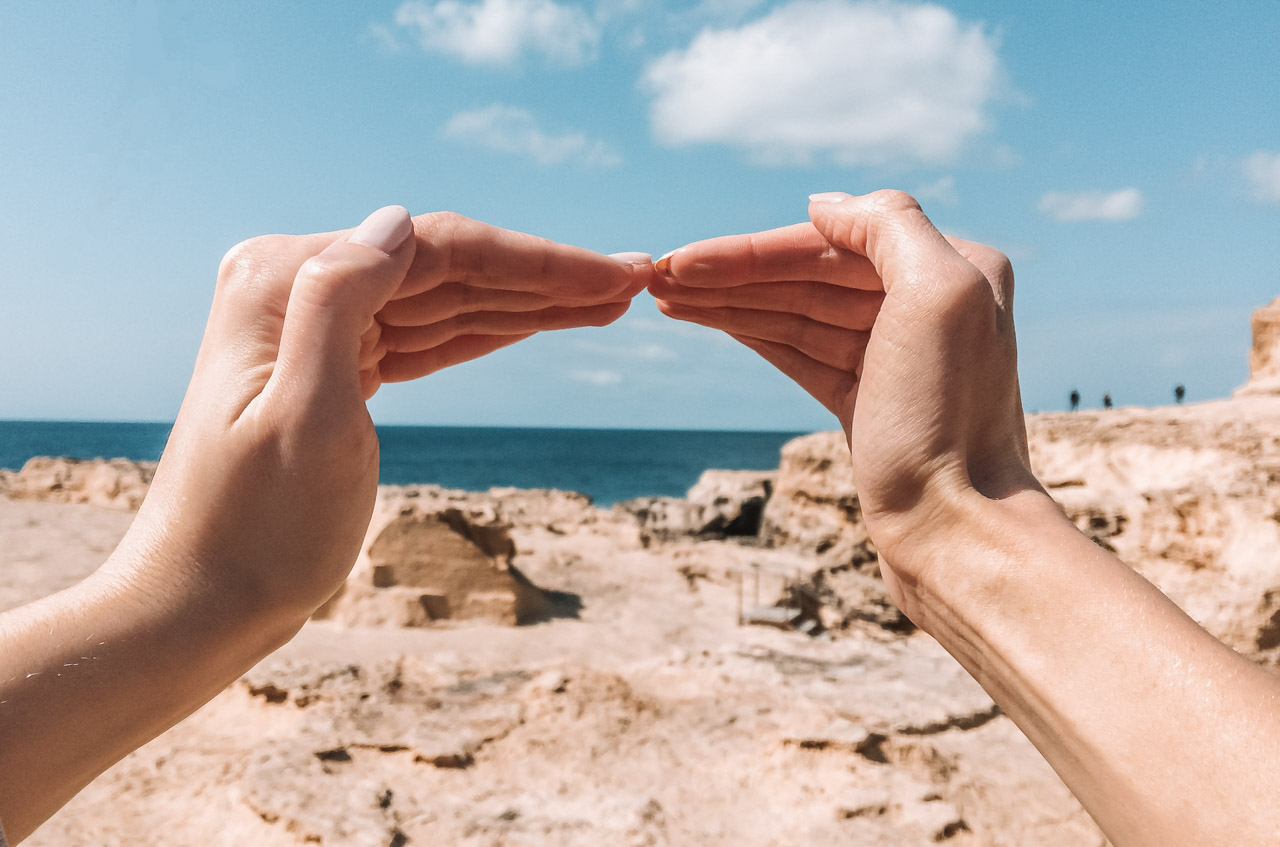 We also came to a tiny pier where some fishing boats were docked. There were absolutely no tourists around and the only indication that boat trips still depart from that place was a swing sign. I think it still has tourism potential though, with plenty of scuba divers coming to Gozo to explore the remnants of the Azure Window.
The Basilica of Ta' Pinu
The second point on our list was the Basilica of Ta' Pinu, Malta's national shrine and main pilgrimage site. It's located in the middle of open countryside between the villages of Gharb and Ghammar.
The records of the basilica, which was a small medieval chapel at the time, date back to the 16th century. Legend has it that in 1883, a local fieldworker was passing by as she heard a voice coming from inside the chapel. When she walked inside, the voice supposedly coming from the painting of the Assumption to Heaven of Our Lady asked her to recite three Hail Mary's.
The news spread quickly. People started attributing numerous miracles to Our Lady of the Assumption and organising pilgrimages. Soon, the need to build a larger church arose in order to accommodate the ever-growing number of visitors from all over the world.
The basilica in its current form was built between 1920 and 1932. The inside of the church is decorated with splendid sculptures all carved in Maltese stone. Behind the altar, you can find the original chapel along with the said painting. You can say a prayer, fill in a form describing your prayer intentions, and leave it in one of the boxes provided.
My favourite part of the basilica were the corridors on both sides of the altar. They are filled with various ex-votos left by the people who were allegedly miraculously healed. These include crutches, photographs, and newspaper excerpts. It was a very important and emotional visit for me, as we had a family friend who was battling cancer at the time. Sadly, she passed away last November. Still, I would strongly recommend visiting Ta' Pinu. Seeing this majestic basilica towering over the countryside is truly remarkable, especially at sunset.
Is Gozo worth visiting?
I honestly wish we had more time on this beautiful island. One day is nowhere near enough to see all of the landmarks that Gozo has to offer. Probably our biggest regret, however, is not making a trip to the paradise island of Comino to see the Blue Lagoon. Before we even left, we made a vow that it will be our top priority if we are ever to return to Malta.
If you started putting together your bucket list just now, there will be two more posts in my Malta series, so stay tuned! And in case you missed my previous guides, you can catch up on my post about Bugibba, Qawra and Birgu, see how we spent our time in Valletta and Sliema, and read all about our day trip to Rabat and Mdina. Happy reading and see you soon for the next part!
---
Have you ever been to Malta's sister island? Is there anything you would add to my list? If you've never been, how would you spend your ideal day in Gozo?