When planning your Malta itinerary, it is easy to direct your focus towards the coastal towns or the capital city of Valletta and overlook the gems that the central part of the island has to offer. Mdina, the first capital of Malta dating back to before Roman times, along with the city of Rabat where St. Paul lived and preached during his stay on the island are two unmissable places that were right at the top of our bucket list. Here's my overview of the top things to do in Rabat and Mdina that will hopefully convince you to add both to your itinerary too…
Exploring the old capital city of Rabat
As we got off the bus, we made our way to a local pastizzeria to get some snacks. What I find particularly interesting about all Mediterranean countries is that these spots become community gathering places where people can sit down, enjoy some freshly made food, and talk for hours. This place appeared to be very popular with the locals, so we grabbed a ftira and coconut buns to go. We then enjoyed them in the sunshine before setting out to explore the city.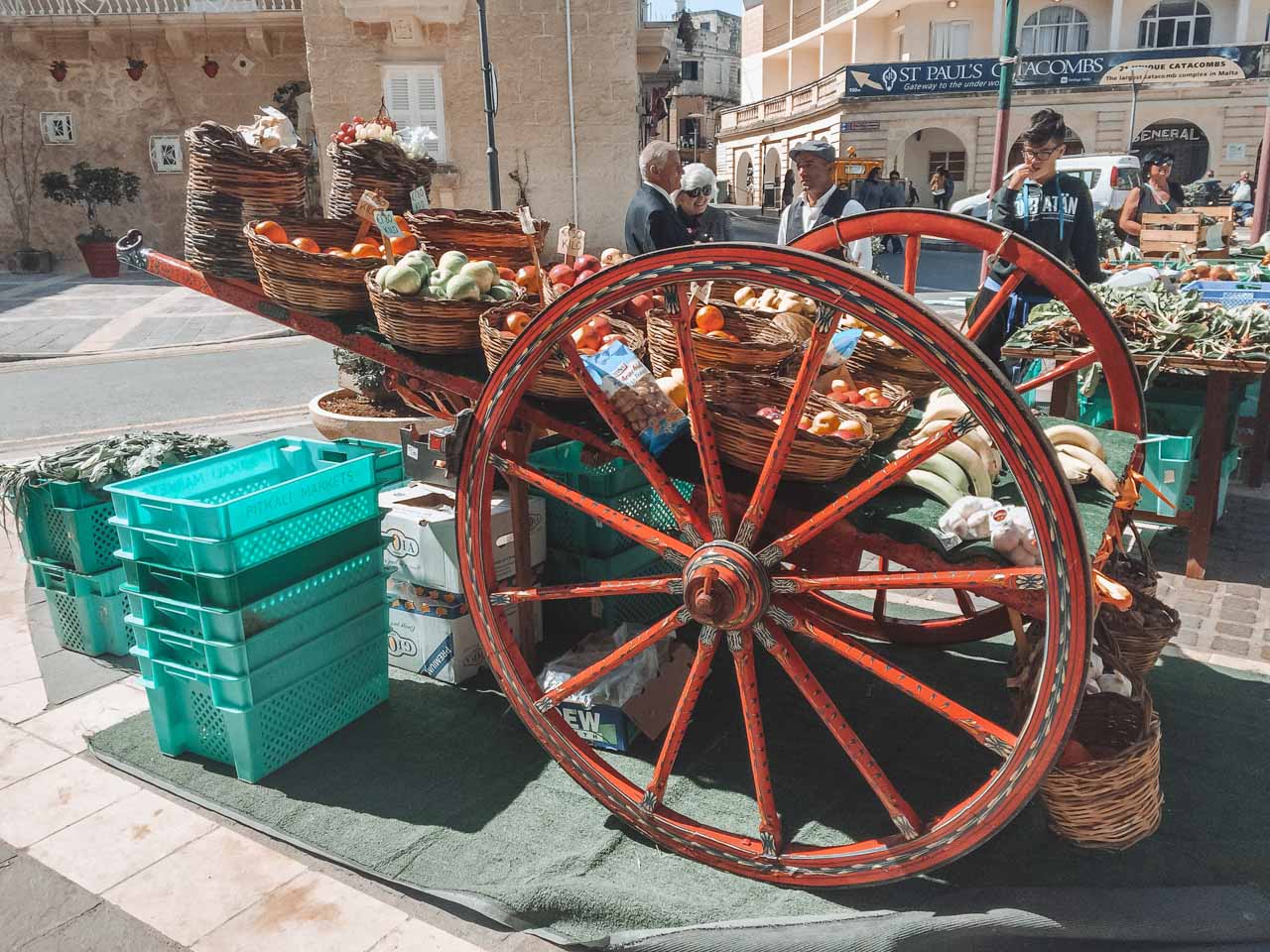 Collegiate Church of St. Paul
Our first stop was the Collegiate Church of St. Paul where we attended the Sunday Mass. Although it was in Maltese, it was interesting to observe how it is celebrated in a country that is often considered the cradle of Christianity.
The church itself provides great insight into typical Maltese architecture of the 17th century. It is decorated with many ornate elements, including a marble statue of St. Paul, frescoes depicting different scenes from his life, and an altarpiece representing the Shipwreck of St. Paul. Right opposite the church, there is a little square where visitors can get some rest and enjoy the scenery. This is exactly what my friend did while I went to see some of the city's biggest attractions.
Wignacourt Museum
This was the second time that my ISIC card came in handy. I got a joint ticket to the Wignacourt Museum, St. Paul's Grotto, as well as adjacent WWII air raid shelters with catacombs for a mere €3.50.
The recently renovated Wignacourt Museum houses an exhibition of various historical artefacts related to the Order of Malta. They include paintings, sculptures, silverware, ceramics, and an altar which was once used to celebrate the Mass. There is also an Italian-owned garden café / restaurant. You can try the specialties of Italian cuisine or enjoy a cup of cappuccino and a slice of cake in the presence of blooming flowers and a pomegranate tree.
St. Paul's Grotto
The museum is linked to St. Paul's Grotto. It is said to be the place where the apostle took refuge with his disciples after the shipwreck, as well as the meeting point for the first Christian community. I was lucky enough to be the only person in the grotto. It allowed me to look around and take a moment to think about what it must have felt like back in the day.
Inside the cave, there is a life-size statue of St. Paul and a hanging silver ship which was donated by the Knights in 1960. St. Paul's Grotto has become one of the main places of Christian worship over the years, with many important people visiting the place. There is a plaque inside commemorating Pope John Paul II's visit in 1990.
WWII shelters and catacombs
While I considered myself lucky to be the only person in the grotto, I no longer felt this way upon entering the burial site of early Christians which was later used as air raid shelters during WWII.
I normally wouldn't consider myself faint-hearted when it comes to such tourist attractions. As a matter of fact, I find them really fascinating. However, throughout my entire visit there, I felt rather uneasy and I was very relieved whenever someone else passed by. There were a lot of poorly lit corridors and I was afraid I was going to get lost. It also didn't help that my iPhone camera started acting up. Although everything looked perfectly fine on the screen, once I released the shutter, the photos would come out with strange colourful stripes. I am sure there is a logical explanation for it, but at the time, it sent shivers down my spine and made me head towards the exit sooner than I was planning to.
If you are considering a visit, here's a tip: it wasn't until I started preparing this post that I found out the catacombs I visited are in fact not related to St. Paul's Catacombs. St. Paul's Catacombs are a separate tourist attraction located slightly further away. Hopefully you find this piece of information useful and it saves you the disappointment!
Once I was reunited with my friend, we stumbled upon an opulently decorated street. My guess is that it was in preparation for the Feast of St. Joseph taking place in Rabat every March. Having snapped dozens of photographs, we finally proceeded to make our way towards the gates of Mdina.
Visiting Malta's Silent City, Mdina
Mdina, also known as the Silent City due to its strict vehicle restrictions, is one of the most picturesque and unique cities in Malta that feels like it was taken straight out of a fairytale.
Built by the Phoenicians around 4,000 years ago, it was initially part of the same landscape as the neighbouring city of Rabat. It wasn't until Malta was conquered by the Arabs that defensive walls were built around the city. This created the impression of a closed fortress that can only be entered through three gates. The Main Gate was actually one of the filming locations for Game of Thrones. I'm one of the people who haven't seen a single episode though, so it was never a reason for me to visit.
Once we were past the moat, we decided to skip all the tourist attractions and go for a wander through the myriad of narrow alleys.
With all the empty streets, closed doors and shutters, it was as if we had entered an abandoned city. It didn't bother us at all though. Quite the opposite – it felt like we were let in on some well-kept secret. Only an occasional passerby would remind us that we didn't in fact have this fairytale city all to ourselves. We also loved the element of surprise not knowing what we were going to discover after turning another corner.
Mdina Glass
If you are looking for a unique souvenir for your loved ones, it is worth visiting the local Mdina Glass shops where you can find a selection of world-renowned handmade artistic and functional glassware.
And when all the sightseeing and shopping wears you out, Fontanella Tea Garden looks like the perfect place to have your afternoon coffee. Located atop the city walls, it provides beautiful panoramic views of the island. We didn't go in, but judging by how impressive it looked from the outside, I assume the experience can only get better once you step inside!
---
If you're looking for more Malta inspiration, I wrote a post about Bugibba, Qawra and Birgu. I also described my experience visiting Valletta and Sliema. Finally, I would love to know – what's the most fairytale-like place you've ever been to? I'm always looking to expand my bucket list and I'm a total sucker for Instagrammable locations! Can't wait to read all your suggestions in the comments below!