After our Sarajevo trip back in 2021, which sparked my interest in the history of the Balkans, visiting Kosovo next felt like a natural course of action. I was initially going to title this post something along the lines of "best things to do in Europe's youngest country". But, even though it's been 15 years since Kosovo officially declared its independence, many countries still don't recognise it as a sovereign state.
Nestled in the heart of the Balkans, Kosovo is a land of striking contrasts and complex identity. The 1998-1999 war has left a lasting mark on its people and landscape. Nearly 25 years on, the struggle for independence isn't over yet, with ethnic tensions flaring up again. This makes Kosovo the perfect destination for travellers who want to understand the complexities of modern-day Europe.
Last summer, we chose Kosovo's capital city as the starting point of our 3-week Balkan trip. I feel like 3 days were more than enough to see the most interesting places it has to offer. With that said, here are all the best things to do in Pristina, including where to stay and the best restaurants to visit.
How to get from Pristina International Airport to the city centre
We flew directly from Warsaw to Pristina – and I've honestly never been on such an empty flight before! It genuinely looked like something you'd expect at the height of the pandemic. Apart from us, all other passengers were either locals or being picked up by locals. We've always known Kosovo is far from your average touristy destination, but seeing all the empty seats really drove this point home.
Right outside the terminal, there's a bus stop from which you can go to the city centre. Unfortunately, buses don't run very frequently, so you might have to catch a taxi instead. We read online that while most drivers will quote you €25-30 for a ride to the centre, you should never agree to pay more than €15. However, once we left the terminal, we saw a sign that there was now a fixed price of €25, so we didn't bother to haggle.
As our driver hardly spoke any English, he asked for the phone number of our hostess. He then called her to double-check the address and dropped us off right outside her door, with a quick pit stop to get more petrol. It was interesting to see how laid-back the locals are – something we got to observe again a few days later, as our bus driver stopped in the middle of the road to high-five his friend walking past. While I highly value punctuality, we could all probably take a leaf out of their book in our rushed everyday lives 🙂
Where to stay in Pristina
When we were looking for accommodation in Pristina, it eventually came down to two centrally located flats. From the moment I first saw it, I was absolutely OBSESSED with the living room area of The Nest Urban – City Centre, to the point where I didn't even feel like looking at any other flats.
Ultimately, it was the spacious terrace overlooking the city in this flat that won us over. We could totally picture ourselves sipping on a glass of wine after a long day of exploring, which is exactly what we did. There's even a barbecue that you can use if you don't fancy eating out.
But, the best part about this place is its perfect location on Shaban Polluzha street, right behind Skanderbeg Square and the National Theatre of Kosovo. The only thing to watch out for is that the flat is located on the 6th floor and the lift isn't working properly, but the lovely hostess made us aware of both issues at the time of booking.
You can still send your luggage up, but the buttons inside the lift don't work, so you need to stay behind to push them from the outside. The stairwell was really wide and clean, though, so the daily walks didn't even bother us. At €123 for 3 nights, we would definitely consider staying there again!
Best things to do in Pristina
Note: To deal with the energy crisis, in the summer of 2022, the government of Kosovo started enforcing rotating power cuts. This means that every 6 hours, the power goes out for 2 hours. In Pristina, these blackouts weren't happening across the entire city simultaneously and were divided by areas. We asked our hostess if there were any fixed times, but she said it was random. It's definitely something to watch out for, especially if you're a remote worker!
Now, on to the actual city… With its mismatched brutalist architecture and post-socialist concrete blocks, Pristina might just be the ugliest capital city we've ever visited. But, beneath this surface, there's also a lot of youthful energy and vibrancy, with the city centre bustling with people after sundown.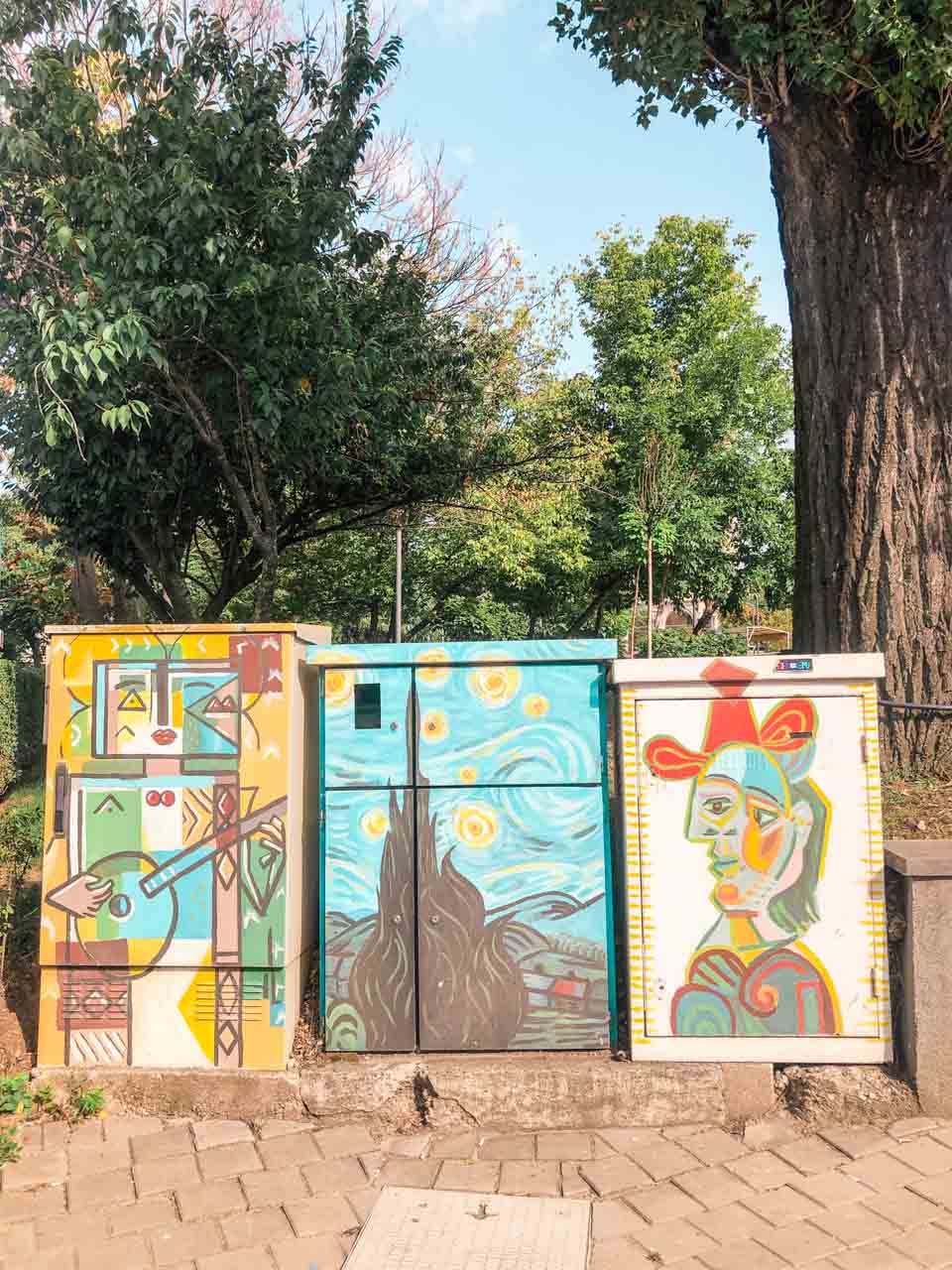 After visiting Pristina, I can finally truly understand what Rita Ora meant when she sang "we gold, we gold, we shine" 😉 All around the city, there are plenty of jewellery shops and display windows filled with the most opulent party gowns on every corner. This probably shouldn't come as a major surprise, considering that two of my favourite fashion designers, sister-duo Lirika and Teuta Matoshi, are originally from Kosovo. I've already decided that if I ever need a show-stopping dress to wear to some fancy occasion, this country is definitely the place to go!
Even if you're not necessarily a fashion enthusiast, the capital also has other attractions to offer (although you should definitely stay tuned for another fashion moment in this guide!).
Here's my personal selection of the best things to do in and around Pristina:
Walk around Skanderbeg Square and down Mother Teresa Boulevard
With its equestrian statue and war memorial, Skanderbeg Square is a great place to start exploring Pristina. Skanderbeg was a 15th-century military commander, considered an Albanian national hero for leading a rebellion against, and ultimately defeating, Ottoman Turks. Pristina is one of the three Balkan capitals to have a Skanderbeg statue, alongside Skopje and Tirana. It was brought to Kosovo all the way from Albania 2 years after the conflict ended in 1999.
You can also find several government buildings around the square, along with a memorial dedicated to the victims of the Kosovo War. From there, you can turn into Mother Teresa Boulevard (Bulevardi Nënë Tereza), named after Mother Teresa of Calcutta. In the evenings, you can find crowds of people casually walking by or stopping at one of the cafés and restaurants for a meal and a nightcap.
Catch a performance at the National Theatre of Kosovo
If you're lucky, you can also catch a performance at the National Theatre of Kosovo. I read there are free ballet performances on Thursday nights, which was perfect since we arrived the day before.
Unfortunately, once we got there on Wednesday afternoon, the building looked almost abandoned. We decided to come back the following morning. It was open, but what was even stranger, the people inside seemed to have no idea what we were talking about. And I don't just mean free ballet nights – I mean theatre tickets in general. They just shook their heads, making us feel like we somehow ended up in the wrong place.
After I emailed them using the address I found on their website and it bounced, I lost all hope. There were some job ads pinned to the door, so we guessed that maybe they still hadn't returned to normal post-pandemic. Judging by the official National Theatre of Kosovo website, they appear to finally be back and running, so maybe you'll have more luck than we did!
Explore the city's red past at the Pristina Spomenik
If you like to engage in some red tourism, i.e. tourism revolving around visiting places with a significant "red" past, this next spot is for you. There are thousands of spomenik monuments scattered around the countries of former Yugoslavia. They come in a variety of bizarre shapes and forms. I saw someone compare spomeniks to alien landings, which I think is oddly accurate! There's even a website dedicated to spomeniks, including their history and a full database, if you'd like to plan an entire trip around them.
Following the breakup of Yugoslavia, many of these monuments were vandalised or destroyed. Today, some of them remain in good condition, while others are neglected and left to ruin. This mostly depends on their location, who they honour, or what ethnic groups live in their proximity.
Pristina's Monument to Brotherhood and Unity, which is the official name of this spomenik, commemorates the soldiers who died during the People's Liberation Struggle during WWII. For years, it had been in a pretty bad state, with its base starting to fall apart. Following concerns over its safety, there were some plans to demolish it and redevelop the square where it stands. Despite this, a full renovation project took place in August 2018.
When we were in Pristina in August 2022, the entire monument was wrapped in bright pink and purple foil as part of the Manifesta Biennial that was taking place in the city. I'm not sure whether the foil was removed following the end of the exhibition, but I personally much prefer the new version!
Challenge your aesthetic limits at the National Library of Kosovo
Quite possibly the most controversial building in Pristina, The National Library of Kosovo is often referred to as "one of the world's ugliest buildings" – and I can see why! From the outside, I could never guess that this brutalist building houses a library. To me, it certainly looks more like a prison or a top-secret laboratory. I have to admit the structure looks way more impressive from a bird's eye view than it does from the ground. See our drone shots for proof:
The inspiration behind the design was to blend Ottoman and Byzantine influences that are prevalent in Kosovan architecture. The library's nearly 100 white acrylic domes represent the traditional Albanian national hats, or "plisi". Interestingly enough, during the Kosovo war, the Serbian forces used this building as their headquarters. I suppose this explains the slurs we found on one of the library's walls 😉
When you look to the side of the building, you may notice a small Serbian Orthodox church in the distance. The construction of Christ the Saviour Cathedral began in 1992 and came to a halt during the Kosovo war. Once the conflict ended, the locals vandalised the church, since they saw it as a reminder of the Milošević regime.
Nowadays, many people are calling for the church to be demolished or turned into a museum about the war crimes. But, following disputes over the land on which the building is located, its future remains uncertain.
Get up close and personal with the Bill Clinton Statue
The Kosovo Albanians' deep admiration for Bill Clinton stems from the vital role he played in bringing the 1998-99 conflict to an end, ultimately leading to the signing of the Declaration of Independence 9 years later. The locals credit him with finally putting Kosovo on the map and shining some light on the struggles and suffering of its people.
As a way of saying thank you, they decided to erect a larger-than-life statue of Bill Clinton on a street named in his honour. What's also interesting is that in Albanian, the spelling is a little different. So, if you're going to visit, these are the street signs you should be looking out for 😉
Shop 'til you drop at the Hillary boutique
If you thought the locals' admiration ends with the former US president, you'd be mistaken. Bill may have got a boulevard named after him, but it's Hillary that got 2 fashion boutiques dedicated to her style, so who's the real winner here?
One of them is located further down the street from the statue, inside a less-than-imposing shopping complex. We didn't go inside, but it's the go-to place for Hillary's signature outfit, a two-piece trouser suit.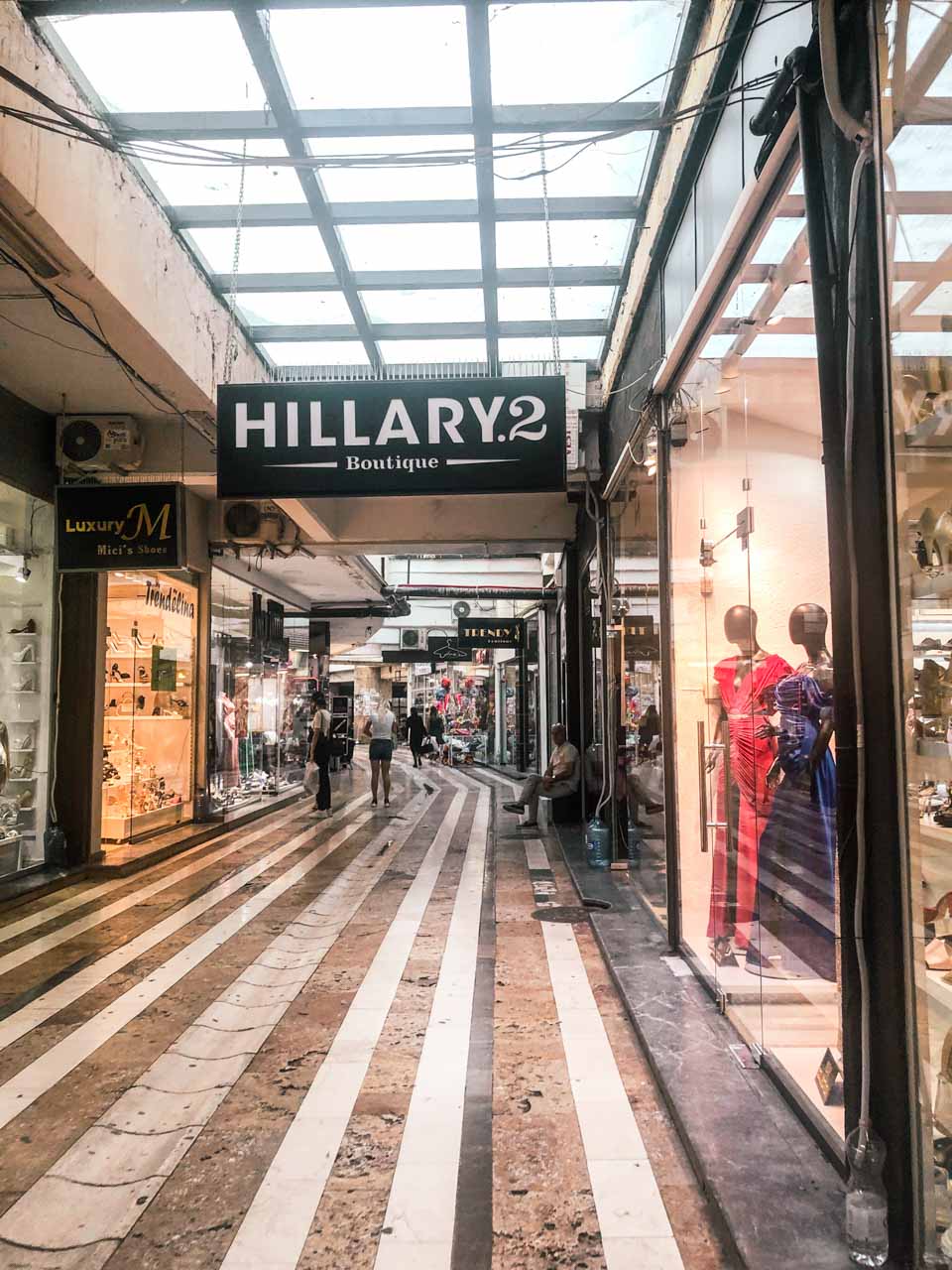 I read that the idea for these shops came from the owner's father who's always admired Hillary's style. He assumed if he started selling clothes modelled after her wardrobe, she'd have to come to Pristina one day and meet him. Well, he wasn't wrong about it! Hillary Clinton paid a surprise visit to the boutique back in 2010, during which she was gifted a navy-blue trouser suit. You can find photographic proof on the walls of both shops.
Celebrate freedom at Pristina's Newborn Monument
The Newborn Monument is a statue that celebrates Kosovo's status as Europe's youngest country. Unveiled on the day the Declaration of Independence was signed, it's a symbol of resilience, determination, and Kosovo's newfound freedom. The statue itself consists of the word "Newborn" in capital block letters. It started out yellow and gets repainted every year on the anniversary of Kosovo's independence movement.
When we were there in 2022, it was covered with faces of women to celebrate women's successes around the world. With around 2,000 domestic abuse cases reported in Kosovo in 2021 alone, the wings painted on the 'W' letter are meant to give strength to the female victims, as well as empower successful women.
You can't actually tell from the photo, but I was absolutely TERRIFIED when it was taken. From the moment we left our flat, we were being followed by a pack of stray dogs. As you walk around, you can often see them roaming the capital's streets. It has been a massive problem in Pristina for a long time, with many incidents of attacks on its citizens. Thankfully, we were safe and sound, as they eventually found another pack to play with. Last year the authorities decided to allocate €350,000 to help deal with the issue, so fingers crossed it will soon be a thing of the past!
Join the fight for animal rights at the Pristina Bear Sanctuary
Out of all the places we visited in Kosovo, the Pristina Bear Sanctuary was hands down my favourite. The sanctuary is a haven for brown bears that have been rescued from abusive situations. Unfortunately, many bears in Kosovo and Albania are subject to cruelty and neglect. They are kept as 'restaurant bears' in tiny battered cages next to restaurants to attract more customers. The most shocking statistic we learned during our visit was that one of the bears was forced to drink as many as 20 (!) bottles of beer each day for people's entertainment.
Thankfully, the police have been working to put an end to this despicable practice. They have been confiscating bears and bringing them to the Pristina Bear Sanctuary. So far, 20 brown bears got a second chance in life, free from the suffering they once endured.
By visiting the sanctuary, not only will you be able to experience the natural beauty of Kosovo, but also support a vitally important cause. It serves as a place of healing and rehabilitation, providing these animals with the support they need to recover from their traumatic pasts. You can witness their playful antics and observe their daily routines, all while knowing that your visit is helping to fund their ongoing care.
When we were there in August 2022, a single ticket cost €2. There was also a donation box, as well as a gift shop where you could support the cause with a purchase. You can also pay for a guided tour or enjoy a meal inside their restaurant. Overall, if you want to explore at your own pace, I'd say you need around 2 hours.
How to get to the Pristina Bear Sanctuary
The Pristina Bear Sanctuary is located near the village of Mramor, around 20 km away from Pristina. To get there, you can catch a bus from Pristina Bus Station towards Mramor or Gjilan for €1.
Whether it's a local or regional bus, in Kosovo, you always buy tickets on board. There's a separate employee who will approach you once the bus leaves the station. We found it's good practice to always tell them where we wanted to go when buying our tickets. As we were usually the only tourists on the bus, they always remembered and kindly made sure we got off at the right stop as there were no bus stop announcements.
In this case, there isn't a specific bus stop, so our driver dropped us off next to a petrol station. You should then turn left onto a smaller road towards Mramor and follow the signs. From there, it's a 2.5 km walk along the edge of Badovc Lake. If you're lucky, you can catch a sanctuary shuttle that runs every 2 hours on weekdays, or every hour on the weekends, starting from 10:30 am. It operates on a donation basis, with a small red box attached to the side.
A much easier option is getting a taxi. The Pristina Bear Sanctuary has a partnership with a local taxi company, Blue Taxi. It costs €12 one way, or €25 return with one hour waiting time. We asked the lady at the ticket office if she could call us a taxi back to Pristina, and it was there within half an hour – just enough time for a pint at the restaurant and some touristy photos!
Go on a day trip to Prizren
Should you have some spare time, I'd highly recommend venturing outside of Pristina. For us, it was a toss-up between a day trip to Mitrovica or Prizren. We eventually settled on the latter, mainly due to Prizren's standing as one of the oldest cities in the entire Balkan region.
From its Ottoman-era architecture to the Bronze Age fortress towering over the city, it's the ideal place to roam and absorb Kosovo's rich cultural heritage. If you're searching for things to add to your Kosovo itinerary, read my post on how to plan the perfect day trip to Prizren!
Best restaurants to visit in Pristina
Liburnia
When you see the same restaurant appear in every travel guide, it usually means one of two things. Either it's incredibly good or massively overhyped. As Pristina isn't a tourist hotspot, I had a strong hunch about this one, and I wasn't disappointed!
If you want to try traditional Albanian cuisine, Liburnia is definitely the place to visit. Tucked away on a cobbled side street, it can be a bit tricky to locate, but it's totally worth the effort. The rustic Ottoman-style building that houses the restaurant is as atmospheric inside as it is from the outside. With wicker chairs, patterned tablecloths, and greenery peeking out from every corner, it makes you feel right at home.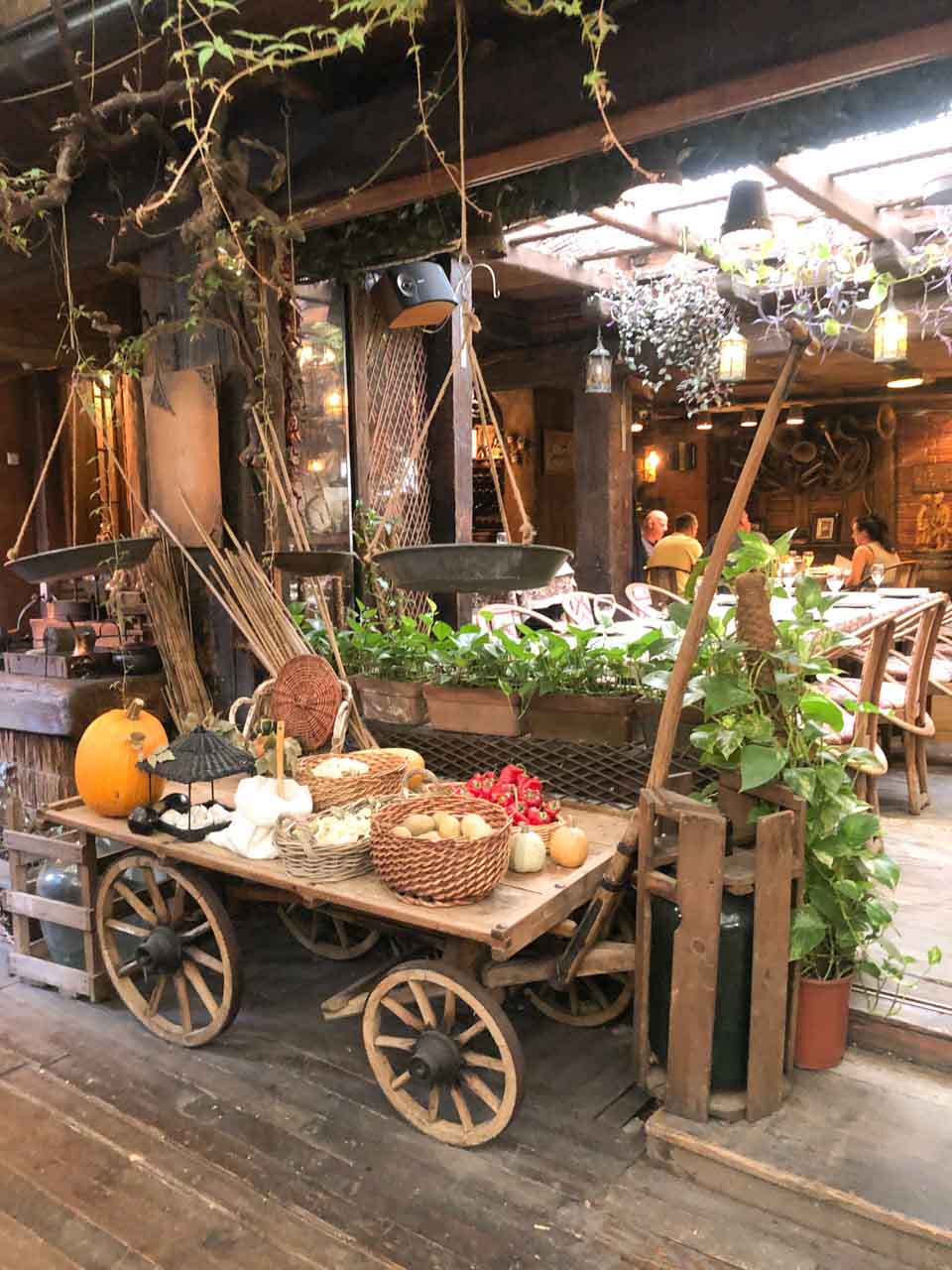 But, the real highlight here is the food. Liburnia is the type of restaurant where you have to restrain yourself from ordering every single item on the menu. From various kinds of fresh bread and hearty soups to sizzling meat plates served in skillets, it's foodie heaven.
I'd particularly recommend the oven-baked cheese or paqe soup for a starter, and the Liburnia meat patty for your main.
We loved Liburnia so much that we returned 2 days in a row to sample more dishes. Honestly, we would've returned on our last day too if we hadn't decided to give other places a chance.
And the best part? We never spent more than €20 each, even when we ordered a couple of starters to share, a main, and a dessert each, and washed it down with a carafe of house wine.
Liburnia isn't just my favourite restaurant in Pristina, but one of my favourites in general – and I don't say that lightly! So, if you only have time to eat in one place in Pristina, make sure it's this one. You can thank me later!
Dit' e Nat'
The name of this bookshop/café translates to "day and night", and that's the exact order in which we chose to experience it. What immediately caught my eye were cats absolutely everywhere – in the logo, on the walls, even on the little sugar packets. As a cat lover myself, they got bonus points from me for the donation box on the counter.
When we sat down on the open-air terrace, there was even a resident cat adorably napping in one of the chairs – those morning shifts can indeed be truly exhausting…
It's also worth mentioning that all dishes on the menu are vegetarian. I opted for their crunchy sandwich with cornflakes-fried courgette, sweetcorn, tomatoes, and pickled cucumber, and a side of carrots and potato wedges. Mac went for an Albanian breakfast, which consisted of fried dough (called petulla in Albanian) with white cheese, pepper spread, and jam.
Everything was delicious, filling, and super affordable – I only paid €4.70, including a cappuccino. When we returned for some evening drinks, the place was bustling with people. Aside from beer and wine, there were only 6 cocktails on the menu ranging from €4 to €5.50. It sadly didn't include any of my favourites (*cough* Aperol Spritz *cough*), but I still couldn't recommend it enough. The laid-back vibe is amazing, and you even get some decor inspiration included in the price 😉
Soma Book Station
The next morning, we decided to hit up another highly recommended place. With an industrial feel, a large central bar, and ample garden space where you can relax with one of the books available inside, I can see why it's instantly become a favourite hangout spot for locals.
Sadly, when we went there early in the morning, it turned out they didn't serve breakfast until 10 am. As we were heading to Prizren for the day, we couldn't return later. It's all good, though – this just means we need to visit Pristina again, am I right…?
Half & Half Café
At this point, you may be wondering why we didn't at least stay at Soma for some coffee… That's because, in true Dominika fashion, I had another coffee place on my list!
One thing you should know about the people of Kosovo is that they take great pride in their macchiato-making skills. If you ever want to wind up a Kosovar, just tell them that Italians make much better macchiatos, and you've got yourself a perfect storm brewing (pun very much intended).
In all seriousness, though, even Yahoo rated the macchiato in Kosovo the best in the world. Apparently, the difference lies in the way they foam the milk, with the end result impressing even some Italians. You can get your macchiato pretty much anywhere, but Half & Half Café on Mother Teresa Boulevard is said to be the go-to place in Pristina.
Now, I'm no expert when it comes to macchiatos, so I can't tell you if it really is the best, but I certainly enjoyed mine. There's only one way to find out – you just need to visit Half & Half Café yourself and be the judge 😉
BUFFÁLO Prishtine
On our last evening in the city, we wanted to have a late-night meal. We were initially going to go to Pishat, but there were no available tables due to a private event. With it being a Friday night, many other restaurants in the city centre were packed too. So, what do you do in such situations? When all else fails, I find a burger is always a great idea!
After a quick search, we decided to check out BUFFÁLO's American-style burgers. Again, it was a little challenging to locate at first, as you have to enter an inner courtyard, but the absence of crowds made it worth the effort. I opted for their Felix burger with garlic chips, and it was the ultimate comfort food.
I'd say the prices were a little high for Pristina (I paid €6.80 with a Coke), but they offer a meal deal with regular chips that allows you to save some money. While the burger wouldn't make my personal top ranking, I believe it could be tough to beat in Pristina. Overall, I would definitely return!
---
Which of these spots would you add to your Pristina itinerary? Also, what's the most unique place you've ever been to, and why?