Last updated on August 11, 2022
We all know the famous quote that is often mistakenly attributed to Audrey Hepburn – "Paris is always a good idea". As a long-time fan, I can assure you she never actually said those words. She did, however, say something way more beautiful in her role as Sabrina Fairchild, a chauffeur's daughter who returns home after spending two years in the French capital. In conversation with Humphrey Bogart's character, she remarked: "Paris isn't for changing planes, it's for changing your outlook, for throwing open the windows and letting in la vie en rose." I didn't think twice about following my idol's advice and spent 48 hours exploring Paris with my best friend.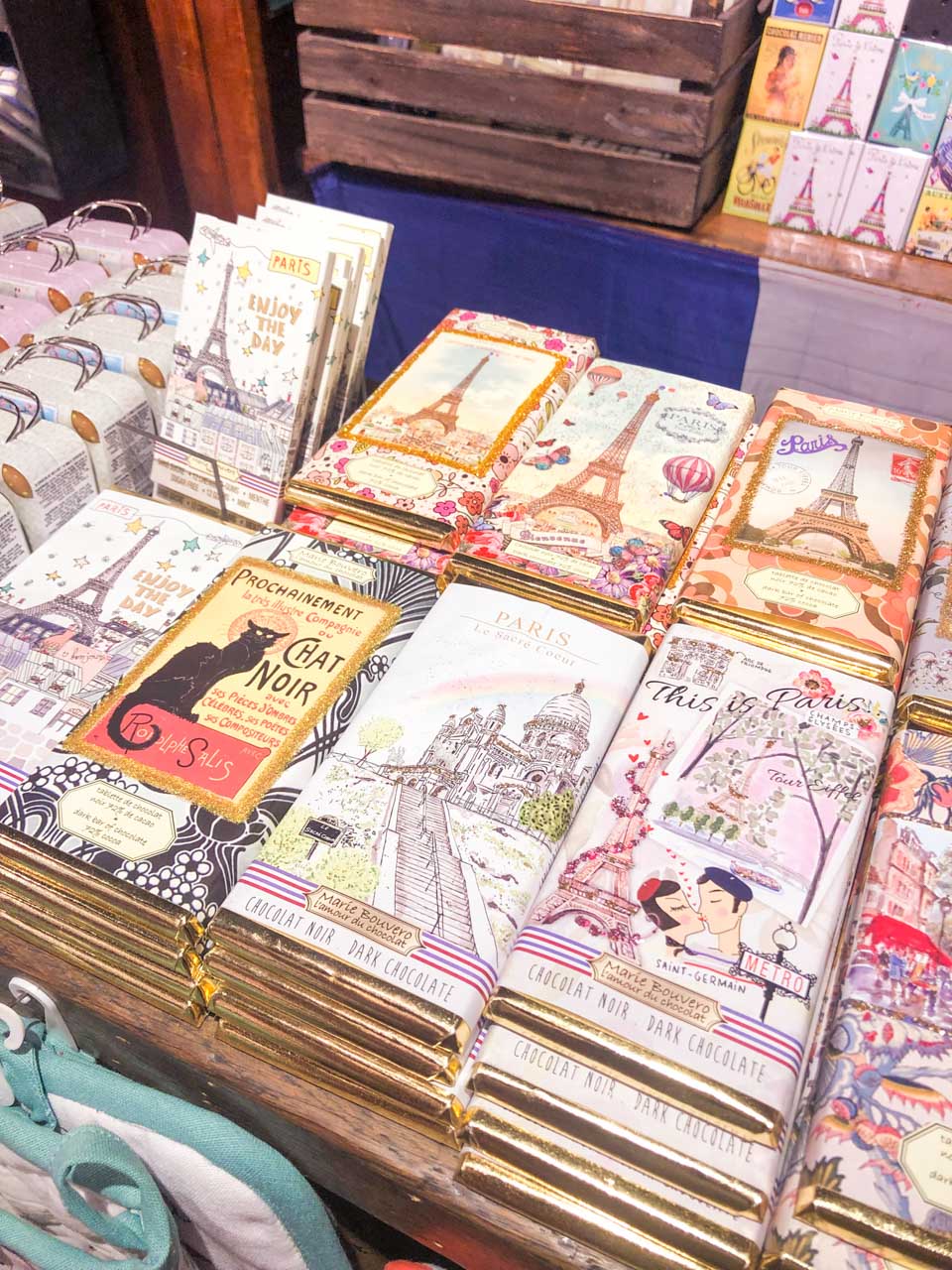 Visiting Paris for the first time can be rather overwhelming, if not a little heartbreaking. I'm a total sucker for romance, so it's been a dream of mine for as long as I can remember. This is why I found it so hard to accept that something had to give eventually. There was simply no way for me to see everything on my list in just 48 hours. Whether it's your first or n-th time visiting the City of Love, I hope my guide will make it easier for you to narrow down the best things to do in Paris, so you can make the most of it!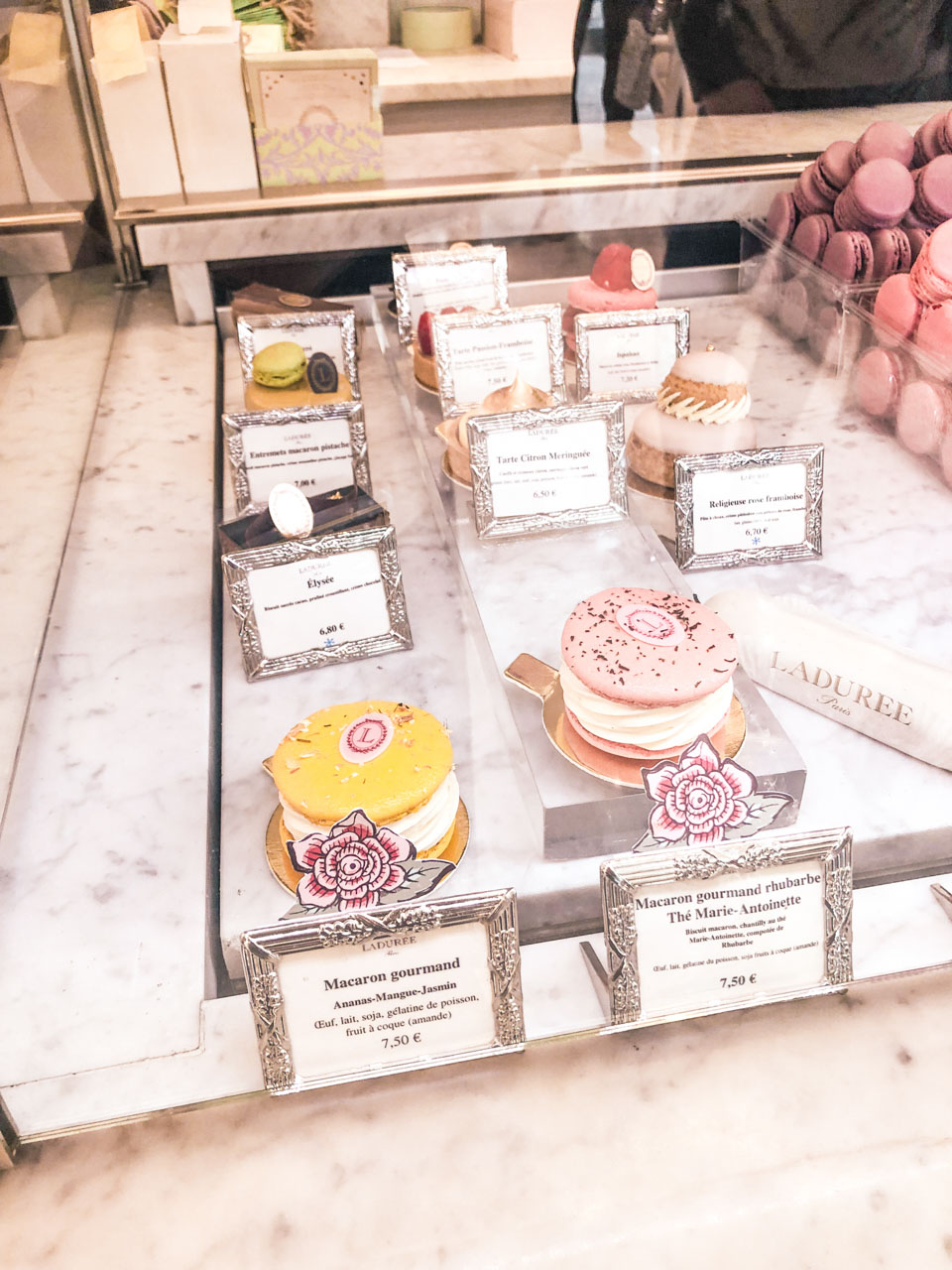 Where we stayed in Paris
Residhome Rosa Parks
Now, who wouldn't want to stay in a place allowing them to fall asleep and wake up to the best views of the Eiffel Tower? I'd been gushing over different apartments for a while, but checking the prices provided a harsh reality check each time. I've always been the kind of person who would typically choose to splurge on experiences over accommodation. Thankfully, my best friend feels the same way, so we soon found a place that struck the balance between affordability and convenience just right.
Our pick was Residhome Rosa Parks – a lovely aparthotel located in the La Villette quarter of Paris' 19th arrondissement. We booked a studio with a kitchenette and a private bathroom, which cost us €173 for 2 nights. While the view from our window was far from glamorous, we chose to look on the bright side. Yes, there were train tracks as far as our eyes could see, but it also meant we were very well-connected! The room had all the necessary hotel amenities, including a big comfy bed that was really hard to get out of in the morning, while feeling like our own small apartment. If you're not too bothered about the city views, I would definitely recommend it for a short stay!
Arriving in the City of Love
We flew into the Charles de Gaulle International Airport, which has to be my least favourite airport to date. I found CDG frustratingly confusing both flying in and out of it, so it's crucial to allow yourself some extra time to get your bearings.
Another aspect you need to be wary of is the duty-free zone. My best friend and I live in two different countries, and we also happened to be flying out of two different terminals. One thing I found surprising once I arrived at my terminal was that they had separate security checkpoints depending on your gate number. Thank goodness I did all my shopping beforehand! Once I was past security control, there was literally nothing apart from one teeny tiny shop. Sarah was the lucky one – she had a myriad of shops to choose from, including the likes of Gucci. It's not like I would go on a spree anyway, but at least I could kill some time!
When it comes to leaving the airport, there's a free shuttle train that connects all three terminals. One thing I would suggest is to double check what terminal you arrived at to avoid any mishaps on your way back. In order to get to the city, you need to get off at Terminal 3 and change to a RER-B train that will take you to Gare du Nord in around 35 minutes. You can purchase tickets from vending machines or the ticket office before boarding the train. As the capital's largest station, Gare du Nord is notorious for pickpockets, so always keep an eye out!
Getting around Paris
As we knew we would use the Metro and RER a lot, we purchased Mobilis day passes at the airport. To cover CDG, you need a pass for zones 1-5 which currently costs €17.80. Other than that, you will probably be fine purchasing a zone 1-3 pass, as that's where you can find virtually all the major tourist attractions (with the exception of Versailles and Disneyland Paris). You can find a full fare overview on the RATP website. Also, a word of warning – you must write your name and date of use on the pass. We didn't know this at the time, but thankfully we didn't get in any trouble!
Of course, you'll probably also want to do plenty of walking in the City of Love. I don't think I've ever got in so many steps – not even during our week in New York! It's definitely one of my favourite ways of exploring places, especially in a city like Paris where every street is more picturesque than the other! The only time we got an Uber was on our way back to the airport. We had every intention of catching a train, but when several policemen entered the Rosa Parks station with sniffer dogs, stopped the incoming train, and started inspecting the tracks, we thought it was time to dash…
What to see and do in Paris
Tip: If you're drafting your itinerary, please bear in mind that many Parisian museums offer free entrance on the first Sunday of the month. Additionally, all the national museums and monuments are free for students and EEA residents under 26. This is a wonderful opportunity to tick off some of the city's biggest attractions on a budget!
Champs-Élysées
Does anyone else remember the legendary Joe Dassin song of the same name? Like Joe, I too opened my heart to the unknown and walked down this stunning avenue that stretches from the Place de la Concorde all the way to the Arc de Triomphe. An interesting fact is that its name translates into "Avenue of the Elysian Fields". In Greek mythology, the Elysian Fields were the final resting place for pure souls. The Fields were essentially similar to the concept of Heaven, or the paradise garden of Eden.
Nowadays, this place is a different kind of heaven – for those with a fat wallet! The Avenue des Champs-Élysées is lined with numerous high-end (recently also global chain) shops, cafés, restaurants, and even car showrooms. You can find such well-known names as Louis Vuitton, Dior, Tiffany & Co., or Cartier. Even the Abercrombie & Fitch shop makes the impression of a luxury establishment with a separate path leading you away from the main shopping artery.
Also, does anyone else have their dream hotel they would most like to stay in if money was no object? Mine's definitely Plaza Athénée with its classically French decor, unparalleled Eiffel Tower views, and the Dior Institut SPA. Just seeing it from the outside while strolling down Champs-Élysées filled me with excitement. One day, it'll be me on that balcony…
Arc de Triomphe
If you make it all the way down Champs-Élysées, you'll see this majestic monument standing at its western end. It was commissioned by Napoleon I to honour everyone who fought and died during the French Revolutionary and Napoleonic Wars, and took 3 decades to build! In case you didn't know, you can actually climb to the top to admire Paris from its panoramic terrace. As I have already mentioned, if you're a EEA resident under 26, you can do it completely for free! We ran out of time, but the views from the ground were breathtaking too!
Eiffel Tower
In Poland, we have a saying that visiting a given place without seeing its most important attraction is like going to Rome and not seeing the Pope. The logic may be a little off here (Have any of you actually seen the Pope? Even though it's possible, I don't know many people that have), but you get the point. You probably couldn't miss this iconic landmark if you tried.
Fun fact: did you know that a popular French writer, Guy de Maupassant, apparently dined in the Eiffel Tower's restaurant every single day? The reason is not as obvious as it may seem… He actually hated the Eiffel Tower and claimed that was the only place from which he couldn't see it!
If, unlike him, you are not immune to its charm, you can come every evening to watch the Iron Lady sparkle. The lights are switched on every hour, on the hour, for 5 minutes. It has to be one of the most magical things I've ever seen. As a matter of fact, I loved it so much I genuinely couldn't imagine an evening in Paris without it! If you're looking to elevate your experience, I wrote a separate post about what it's like to climb the Eiffel Tower!
Trocadéro
My favourite place to watch the Eiffel Tower has to be Trocadéro. This square, that is part of a massive complex built specifically for the 1937 Universal Exhibition, sits on a hill on the Seine River's east bank. It understandably attracts huge crowds coming to see the city's defining landmark, especially after sundown.
My first impression upon leaving the subway station was a classic example of expectations versus reality, as countless vendors selling cheap tat battled for our attention. However, once we got past them and the Eiffel Tower slowly came into view, all was forgotten. It honestly felt like we had her at our fingertips, while we were in fact separated by the Trocadéro gardens sprawling out beneath us.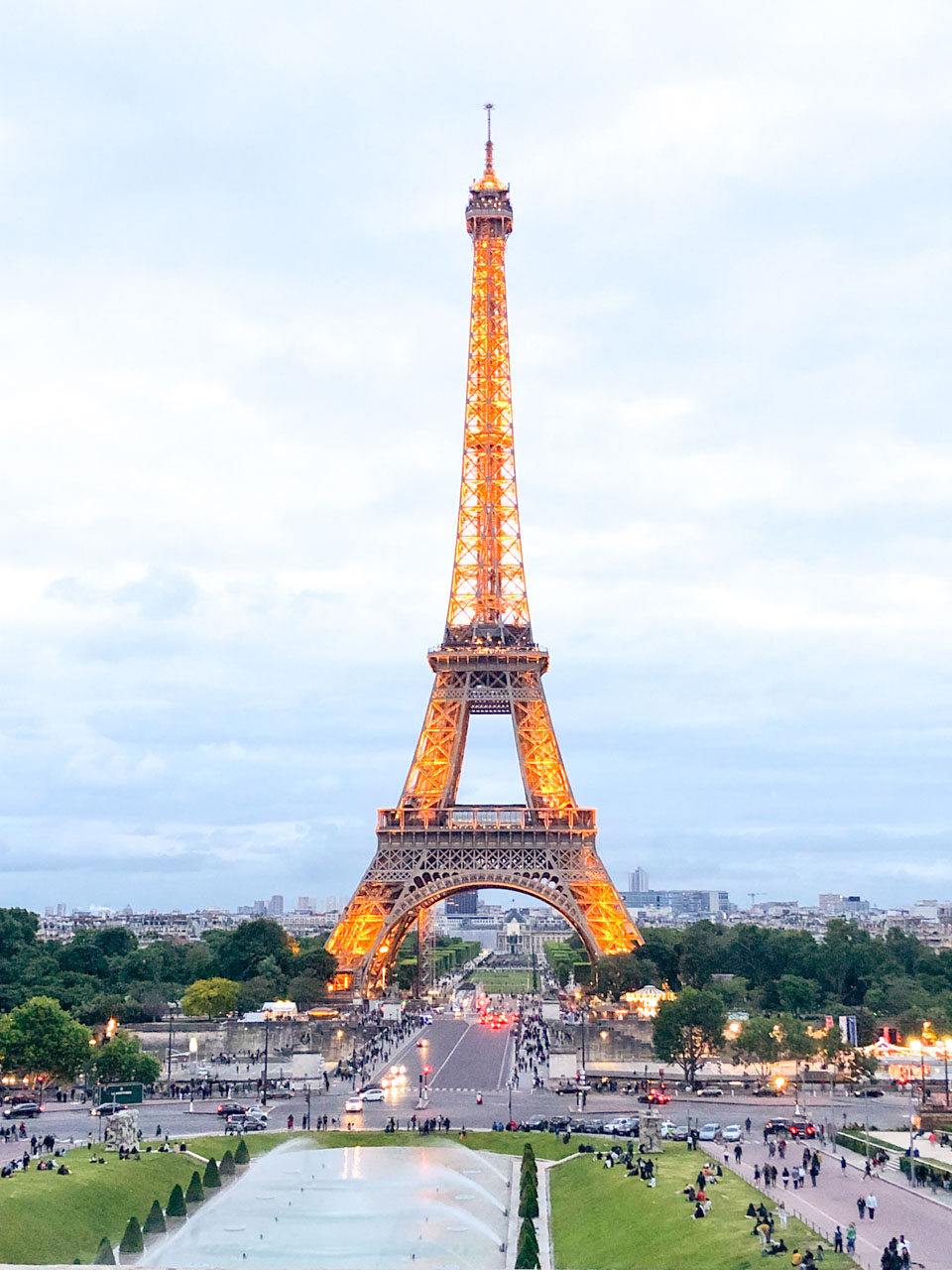 My only reservation would be the bustling crowds spilling out from every corner. If you want to watch the electrifying light show from Trocadéro, you have to be prepared to fight for the best photo spot (only figuratively, don't worry) and keep an eye on your belongings at all times. I've heard stories about groups of pickpockets circling the area and gathering around potential targets. Therefore, next time I would love to try something I can almost never bring myself to do – come when the city is still asleep so that I can have the Iron Lady all to myself!
Cruising on the Seine River
Another chance to see the City of Love from a different perspective is taking a cruise on the Seine River. As we set out to do our research, we were overwhelmed with the choice of boat companies offering their services. It was virtually impossible to get to the bottom of it, so we decided to go with the first company whose reviews captured our attention.
Vedettes du Pont Neuf
That happened to be Vedettes du Pont Neuf, a cruise company that has been on the Parisian scene since 1959 and has enjoyed glowing reviews alongside TripAdvisor's Certificate of Excellence. We chose their 90-minute "La Guinguette Parisienne" champagne cruise that currently costs €24.50 per person. The boat departed at 9 PM from the Pont Neuf on the Île de la Cité and took us all the way down to the Statue of Liberty at the Pont de Grenelle and back. It was perfectly timed to allow us to watch the Eiffel Tower twinkle right in front of our eyes. We also got to learn more about the city's history from our guide who provided interesting commentary and anecdotes as we cruised past some of the city's most popular monuments.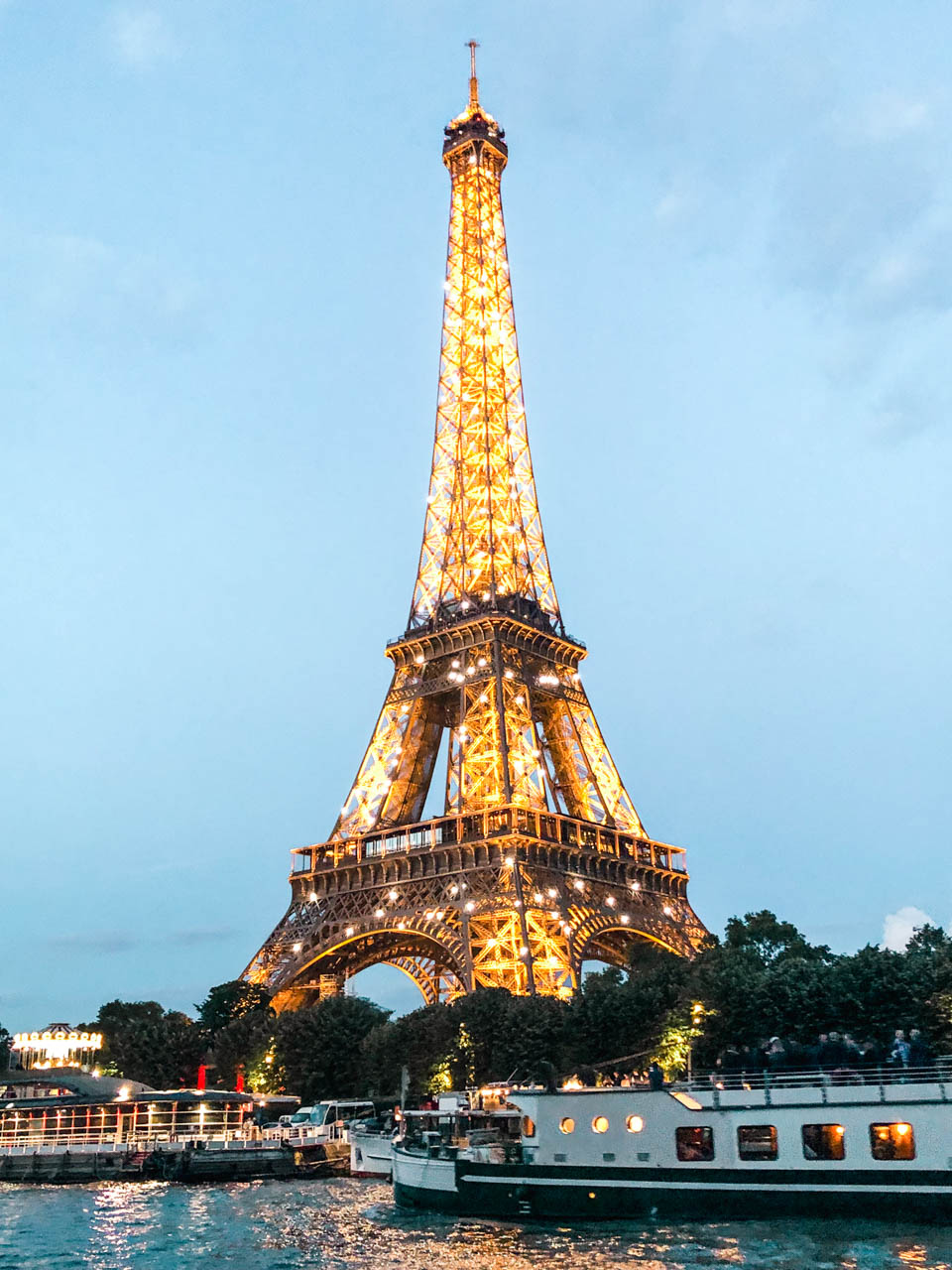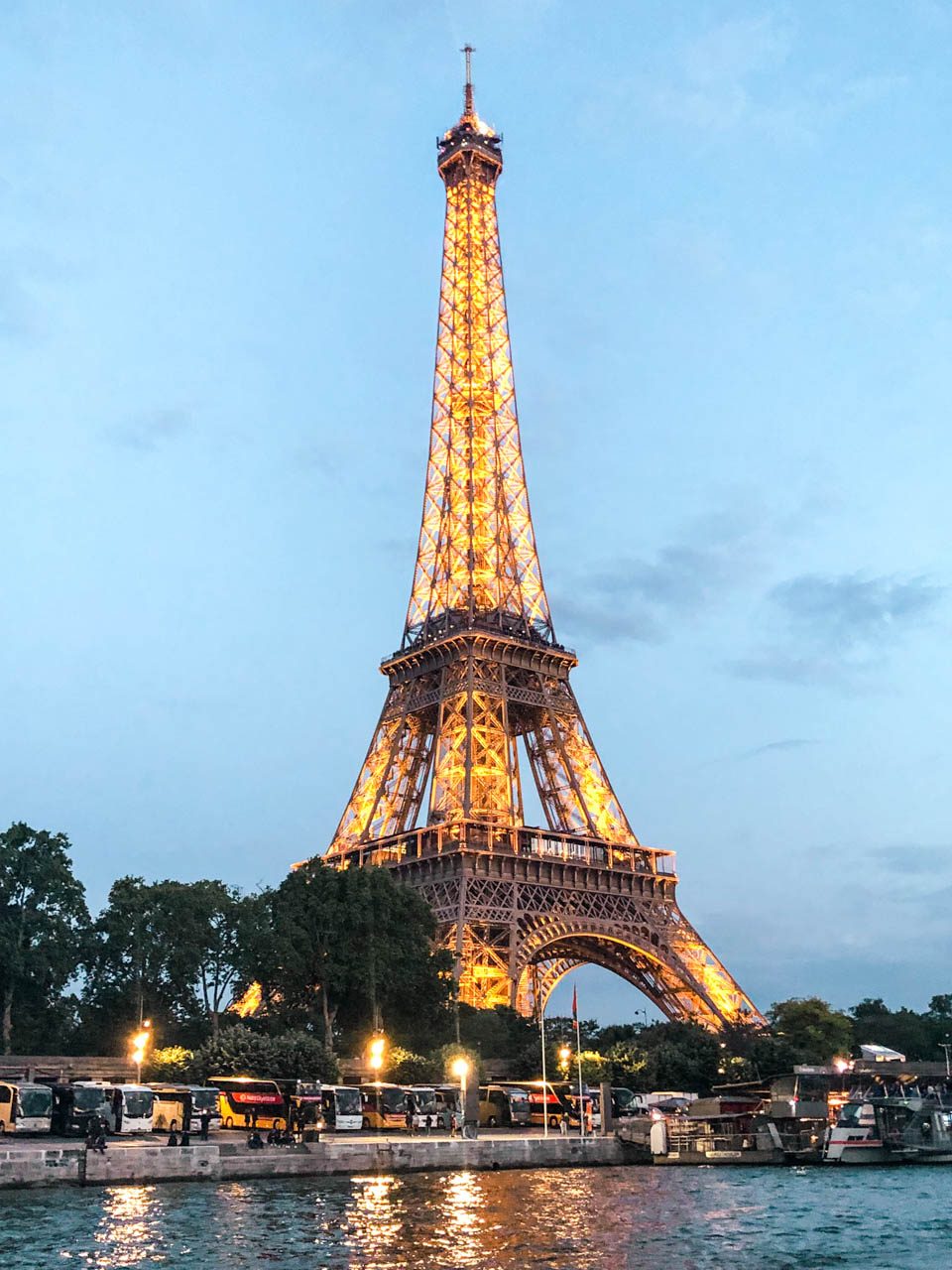 I would absolutely recommend Vedettes du Pont Neuf to anyone looking to book a similar experience. There were only two aspects I didn't like: too many passengers crammed into a small space, although that's probably to be expected everywhere for the price, and the fact that we were given plastic champagne flutes, although I can imagine the chaos that would ensue if people started accidentally breaking glass on board… Oh, and a final word of advice – it's absolutely worth paying extra for a charcuterie and cheese platter! We didn't, and instantly regretted our decision as people around us started receiving theirs – they looked mouthwateringly delicious…
Discover the city's numerous bridges
There are 37 bridges that connect the left and right bank of the Seine River. I've always adored Paris, but what cemented my love for its bridges was watching different photos taken by Audrey, whose creativity knows no bounds. I am yet to walk (and photograph) them all, but if like mine, your time in the Parisian capital is limited, some of the most beautiful bridges include Pont Neuf, Pont des Arts, Pont Alexandre III, and Pont de Bir-Hakeim.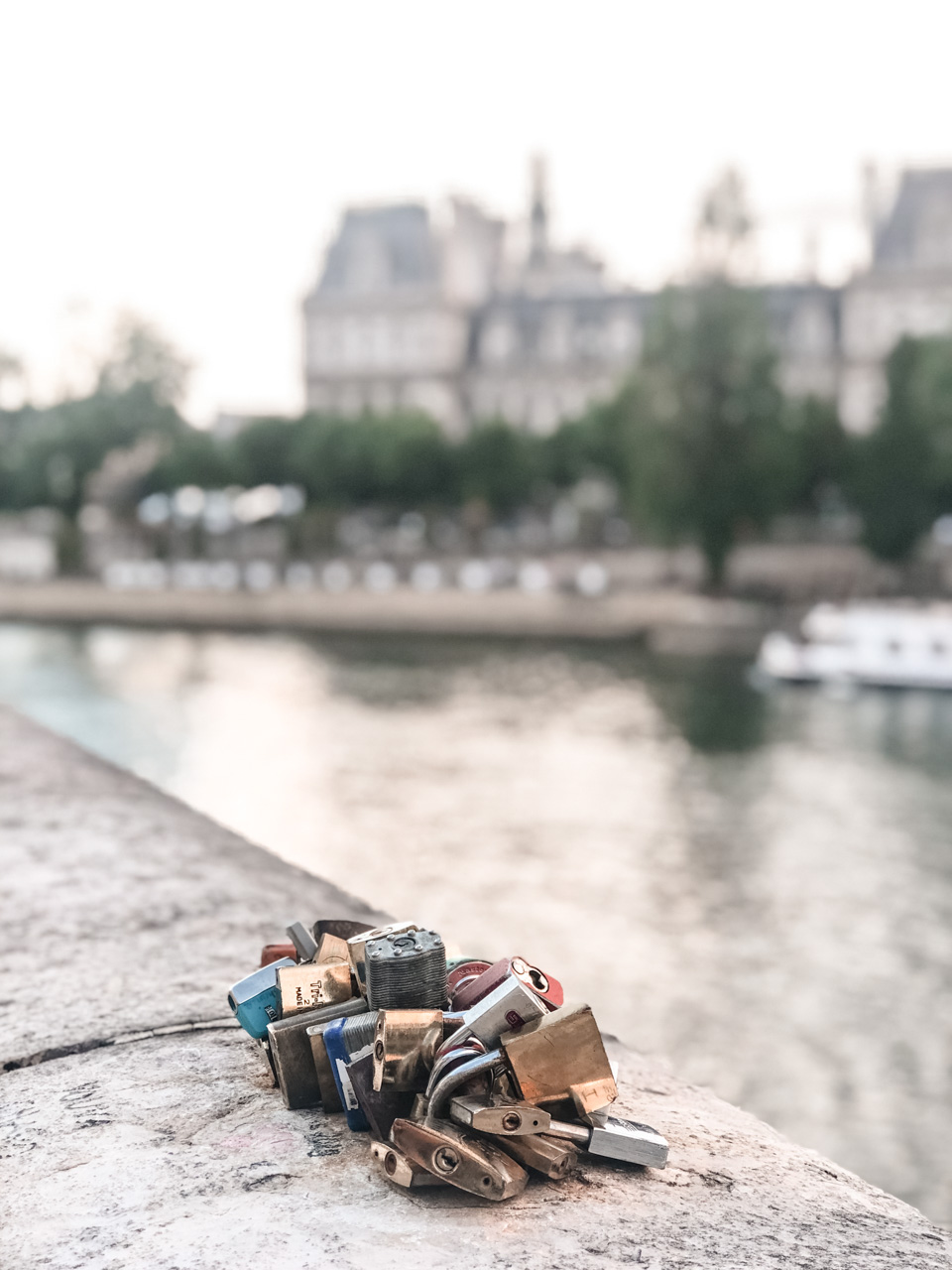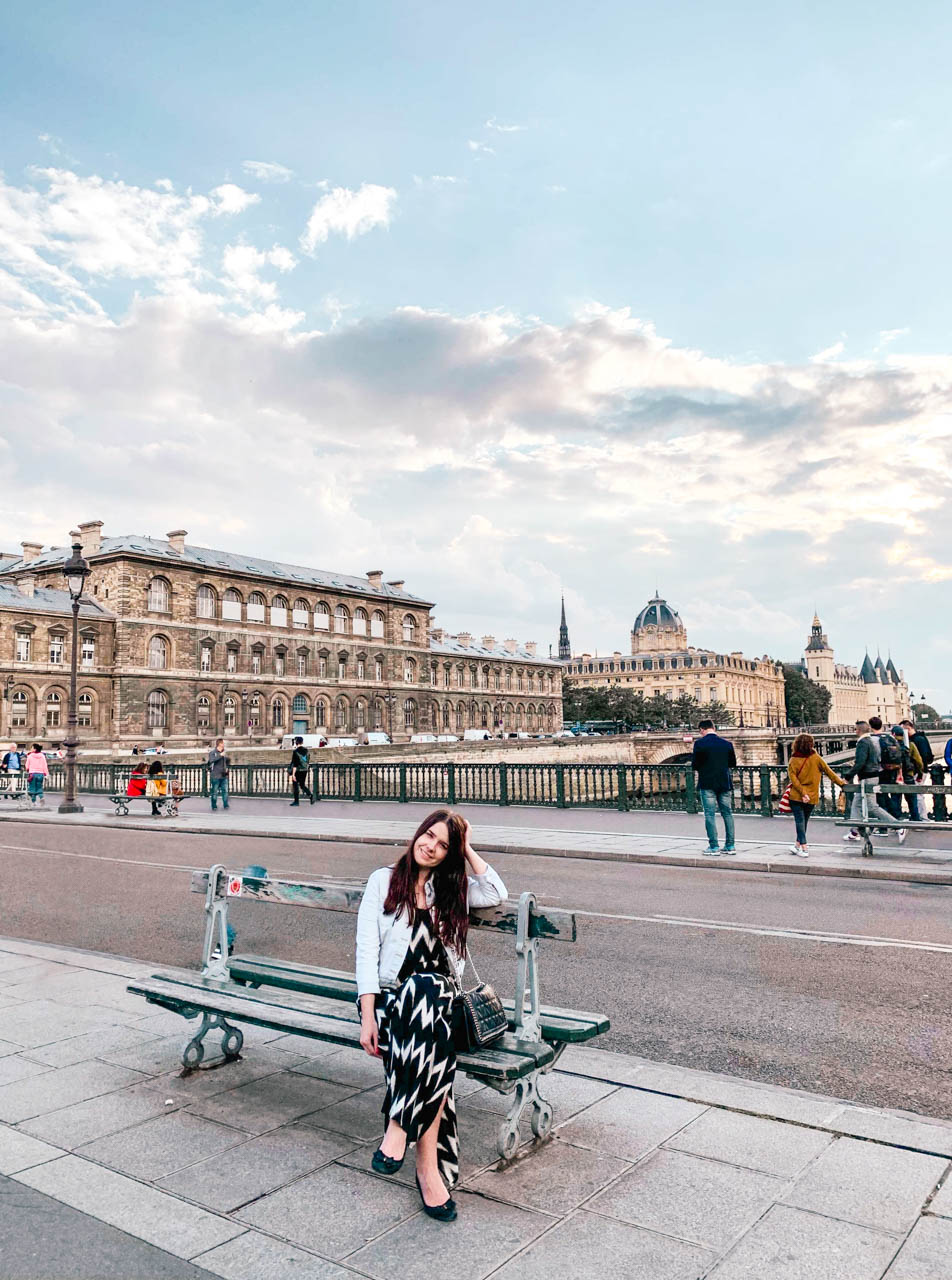 Notre Dame Cathedral
If you read my guide to Malta's sister island, Gozo, you may remember my Azure Window story. The morning before we were supposed to fly out, we woke up to the news that the country's most recognisable landmark had collapsed into the sea. It was the beginning of a running joke between our family and friends. They would often say we should perhaps hold off travelling for the sake of the remaining attractions.
A month before my trip to Paris, the world heard the tragic news that the Notre Dame Cathedral was engulfed in flames. We watched news reports describing the recovery efforts in horror, holding out hope that at least some parts of the cathedral's structure could be salvaged. More than €1 billion has since been raised as part of a very controversial fundraising campaign, with restoration works expected to finish by 2024. When I finally made it to Paris, I still went to assess Notre Dame's current state from behind the scaffolding. I hope that one day I will get to see this majestic cathedral in its full glory!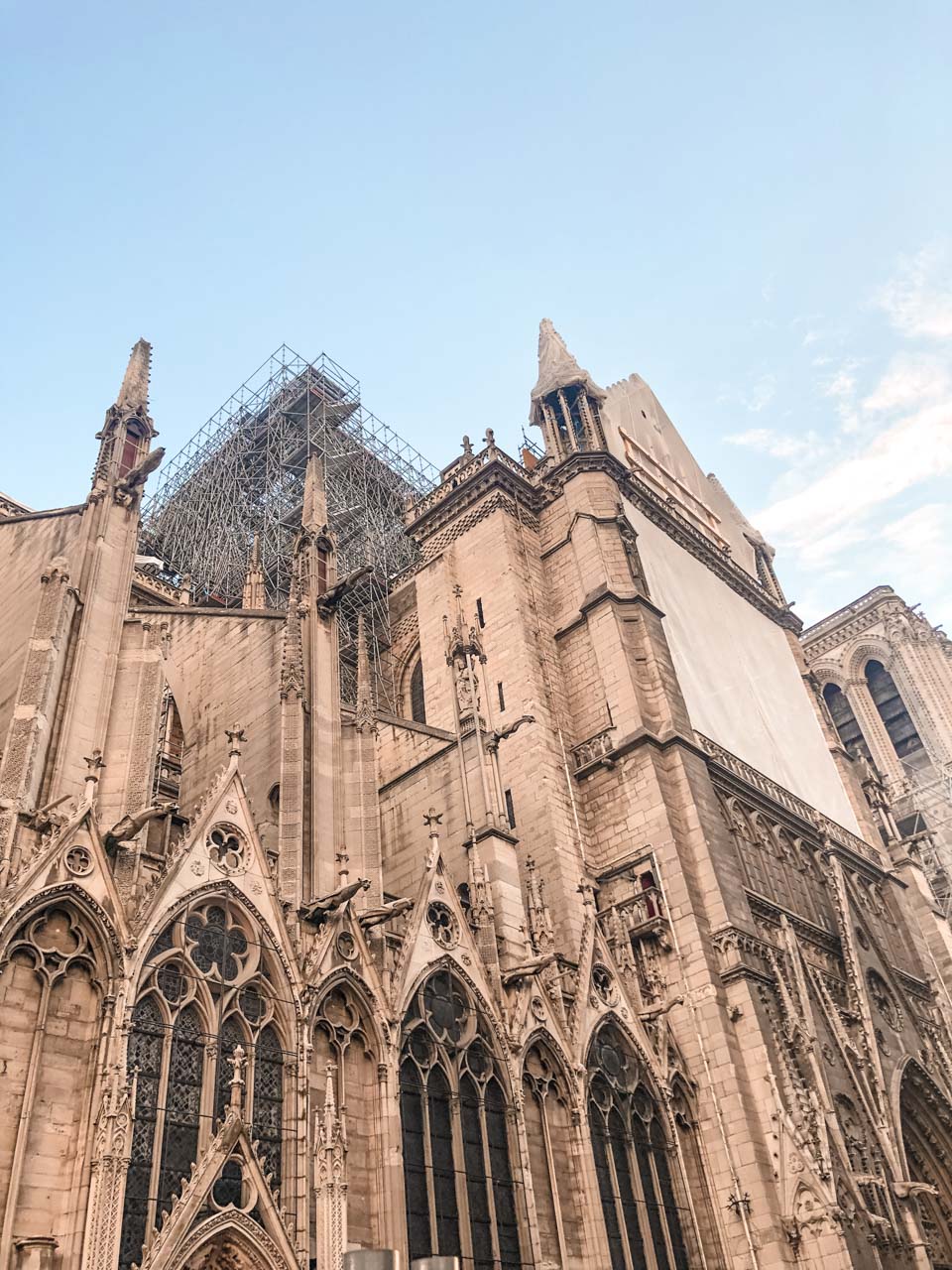 Quai des Grands Augustins
As I was mindlessly scrolling through Instagram one evening, a photo of bookstalls along the Seine River bank caught my attention. I was immediately drawn to the vintage Vogue covers and prints on display, including those of my favourite Audrey Hepburn. I instantly reached out to the author, asking her to disclose the location. Some of you may know that I collect Vogue magazines from around the world, and plenty of Audrey-themed items line my bedroom shelves. The moment I got my response, I jotted down Quai des Grands Augustins on my list of must-see places in Paris.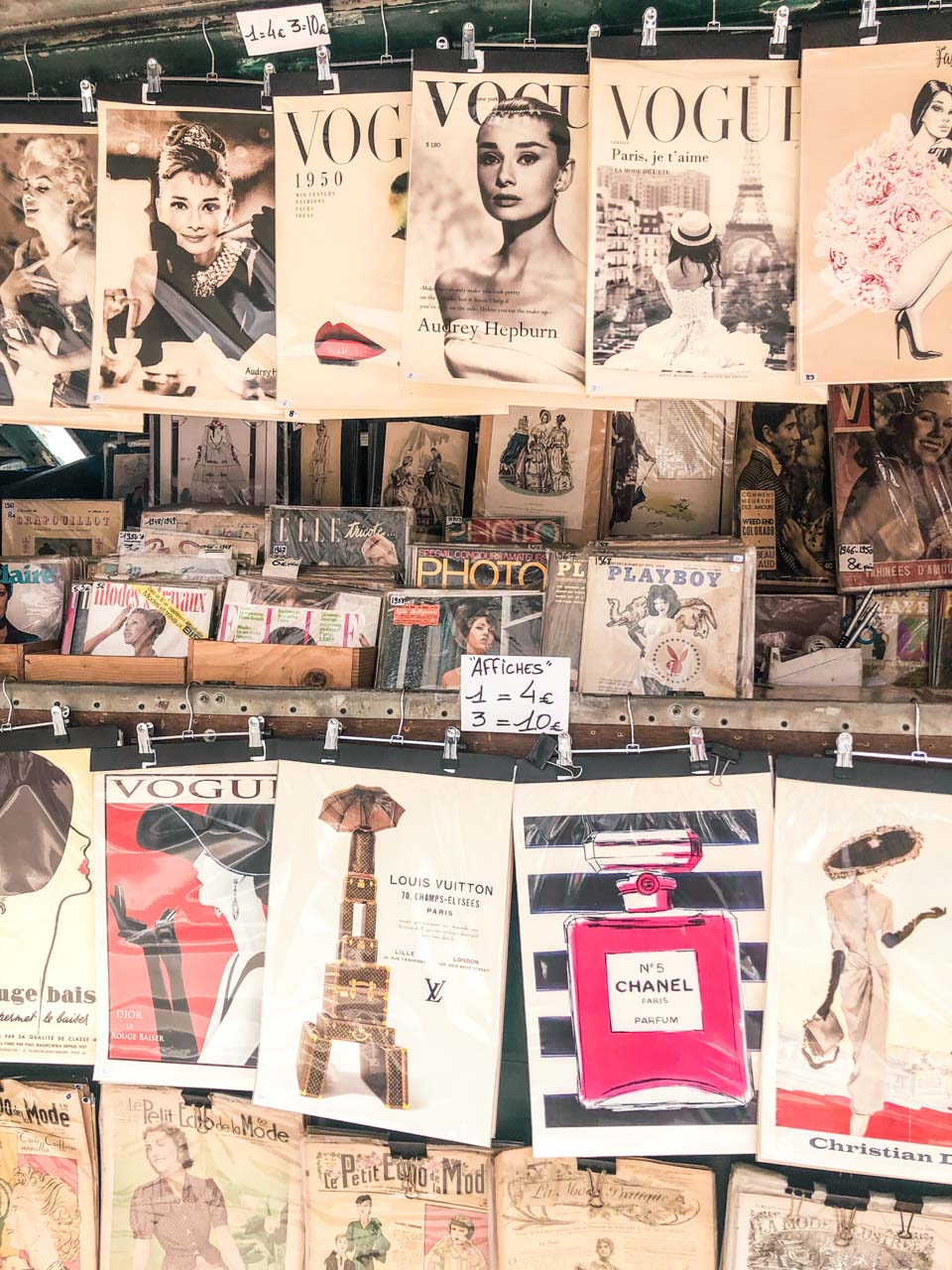 The tradition of second-hand booksellers, or the Bouquinistes of Paris, setting up shop along both river banks dates back to the 16th century. They're a characteristic element of the city's landscape, and treasure hunting among their stalls is an unmissable Parisian pastime. I came with every intention of sourcing new gems to add to my collection, but I surprisingly left empty-handed. Still, wandering along these bookstalls was a real pleasure. You can spot some one-of-a-kind items and get a real feel for the city's atmosphere!
Musée du Louvre
The next place on my list probably doesn't need a lengthy introduction. Is there anyone who's never seen the iconic glass pyramid that serves as the main entrance to the Louvre Museum? Its distinctly modern structure stands in stark contrast to typical Parisian architecture, and features as a backdrop in countless tourist photos. Inside, you can find some of the world's most famous artworks, including the Winged Victory of Samothrace, the Venus de Milo, and Mona Lisa! In case you'd like to know more, I prepared a post on how to plan your visit to the Louvre.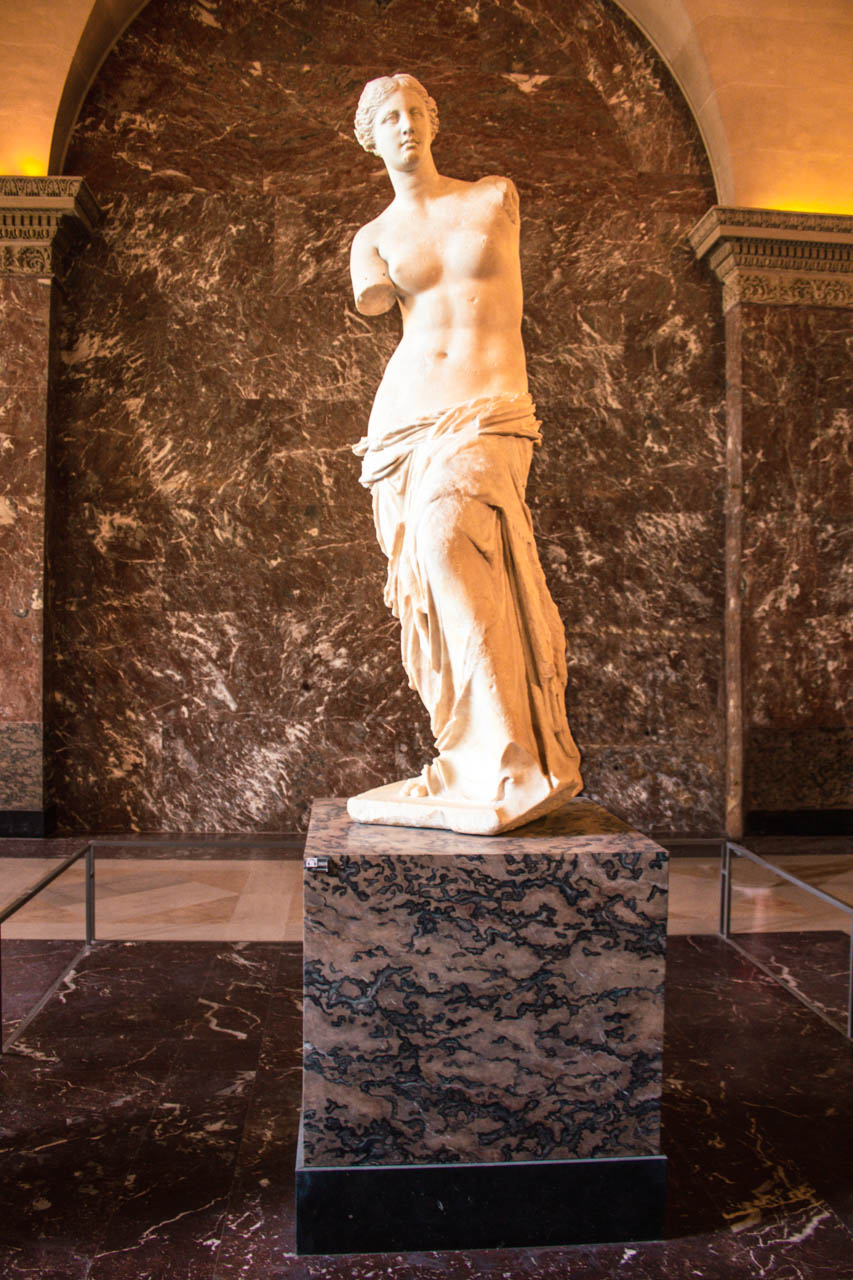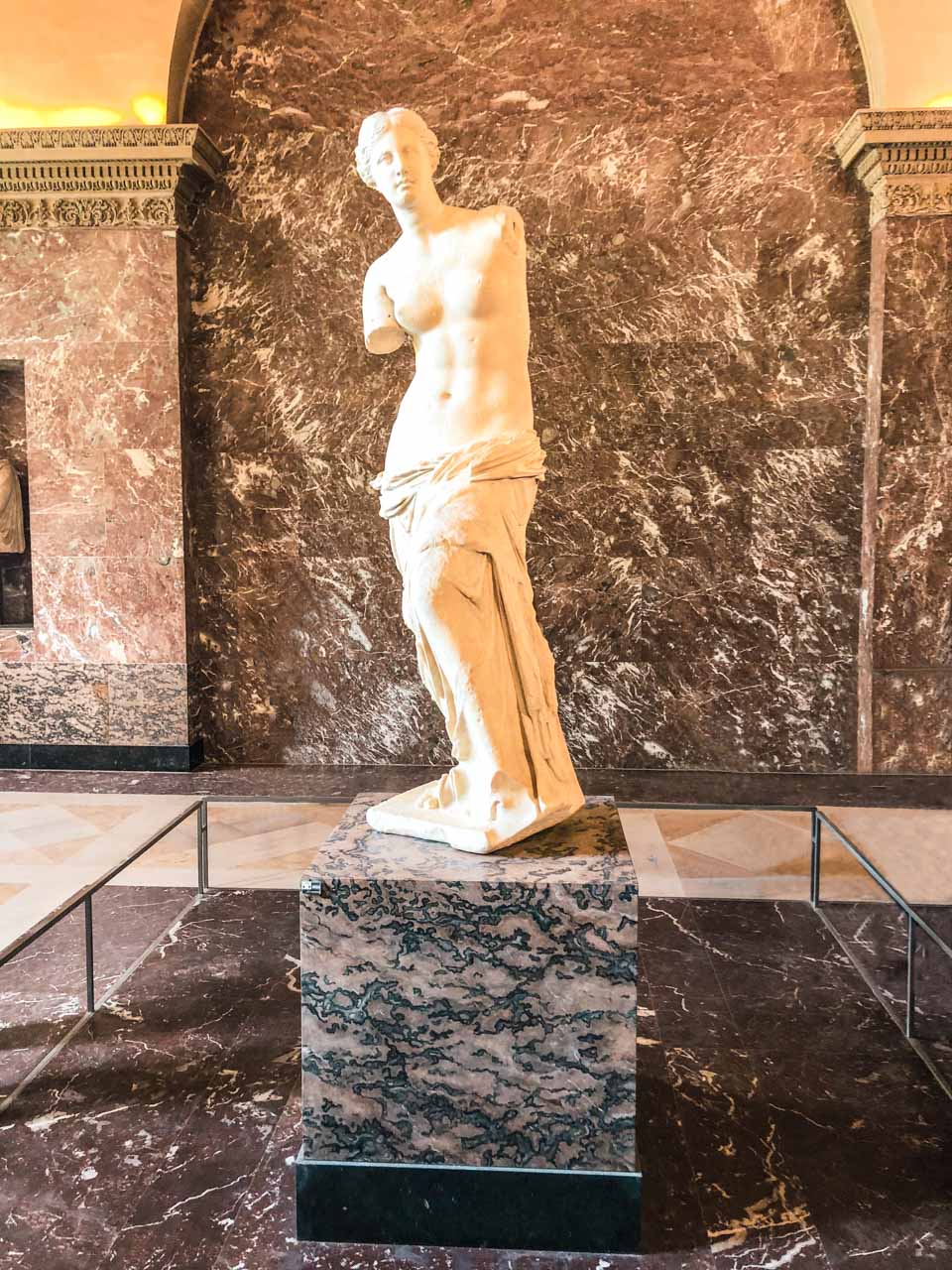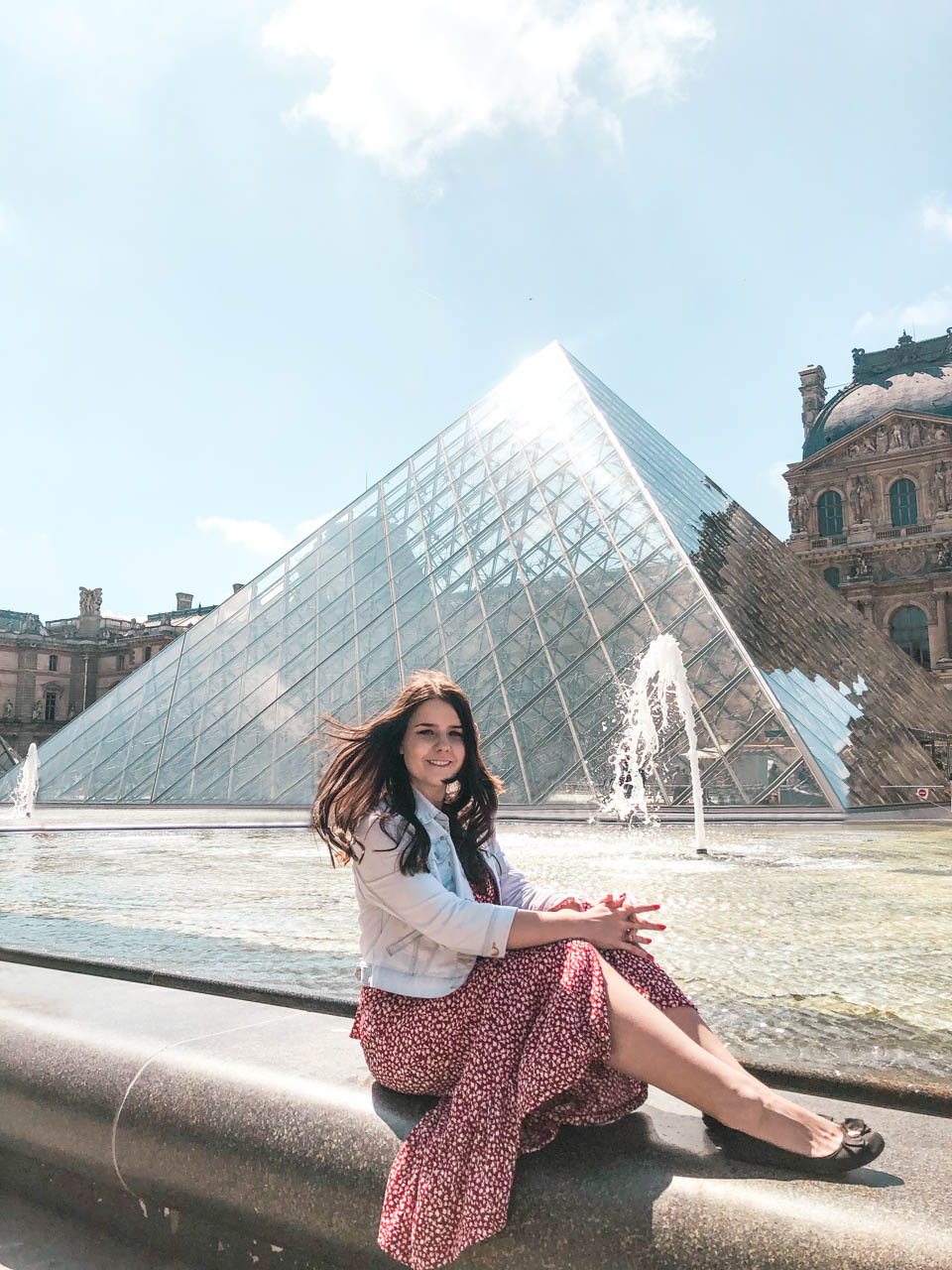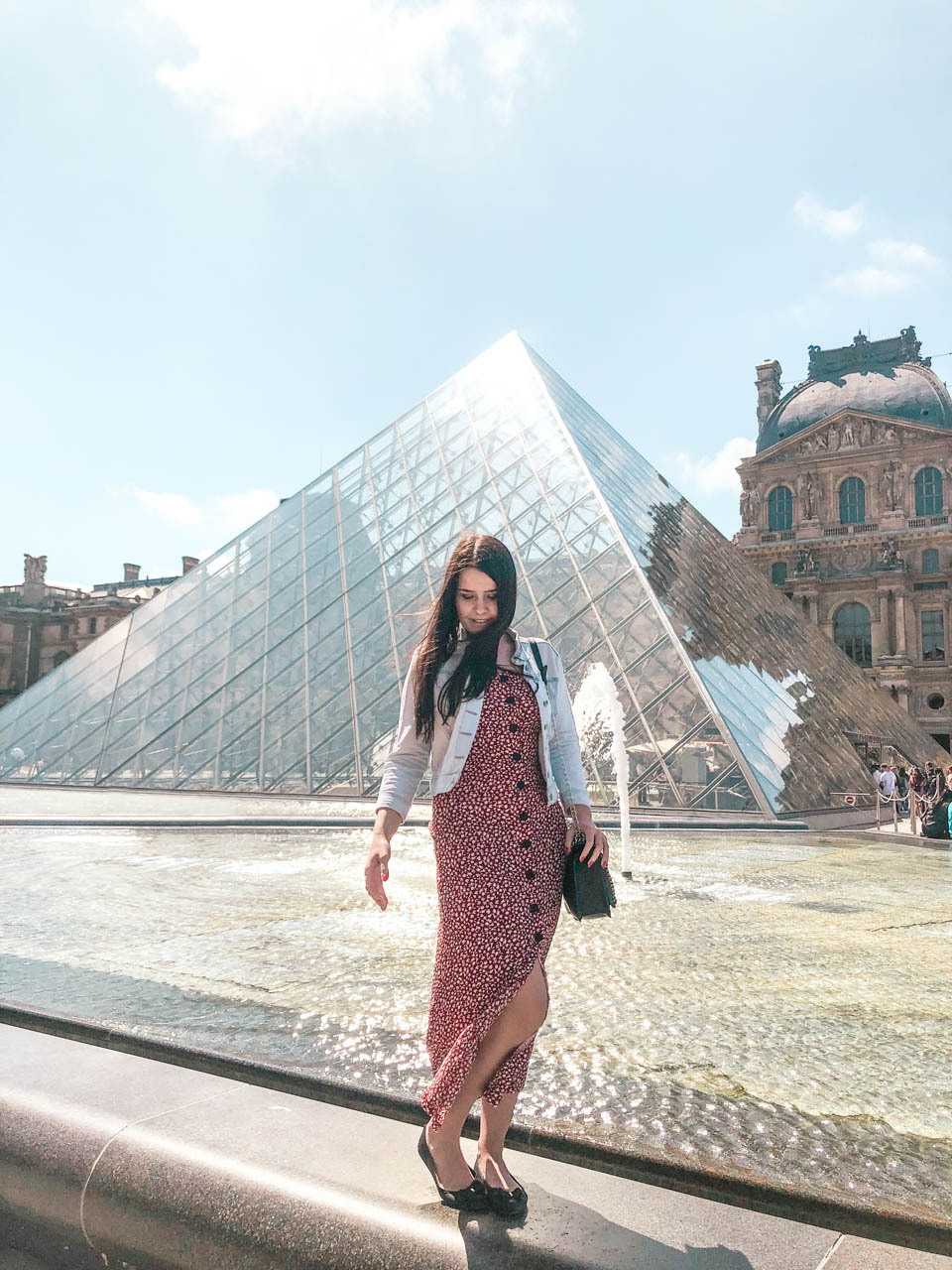 Sacré-Cœur
The Basilica of the Sacred Heart of Paris is the city's second-most visited monument, located at its highest point. It provides great panoramic views of Paris, which is why it featured heavily in many popular TV shows and films. As the entrance is free at all times (not including the dome and crypt), we decided to stop by during our afternoon walk around Montmartre.
Sadly, I have to admit it was one of my biggest disappointments of the entire trip. It was virtually impossible to get any personal space, as there were people everywhere. However, the final straw for me were the Hare Krishna followers walking around the queueing tourists and loudly singing their songs. I personally found it distasteful that such things happen right outside a place of worship. At least the queue moved very fast, and admiring the ornate interior of the basilica made it worth our while. Again, I would love to return on a quieter day to truly appreciate this place for what it is!
La Maison Rose
If you're in Montmartre, you simply cannot miss one of the most Instagrammable places in the entire city! La Maison Rose is the picture perfect restaurant nestled on the corner of rue des Saules and rue de l' Abreuvoir, whose name literally translates to The Pink House.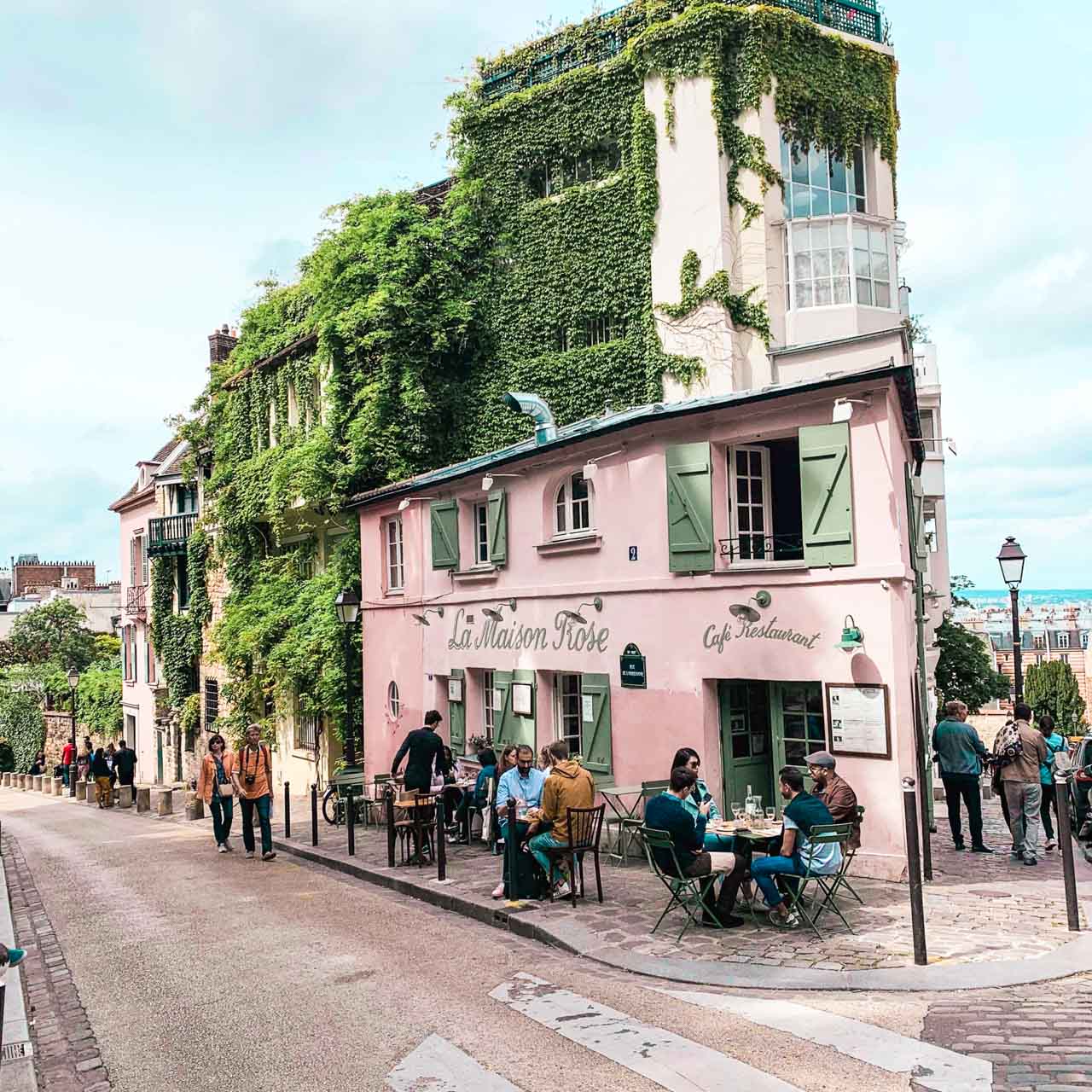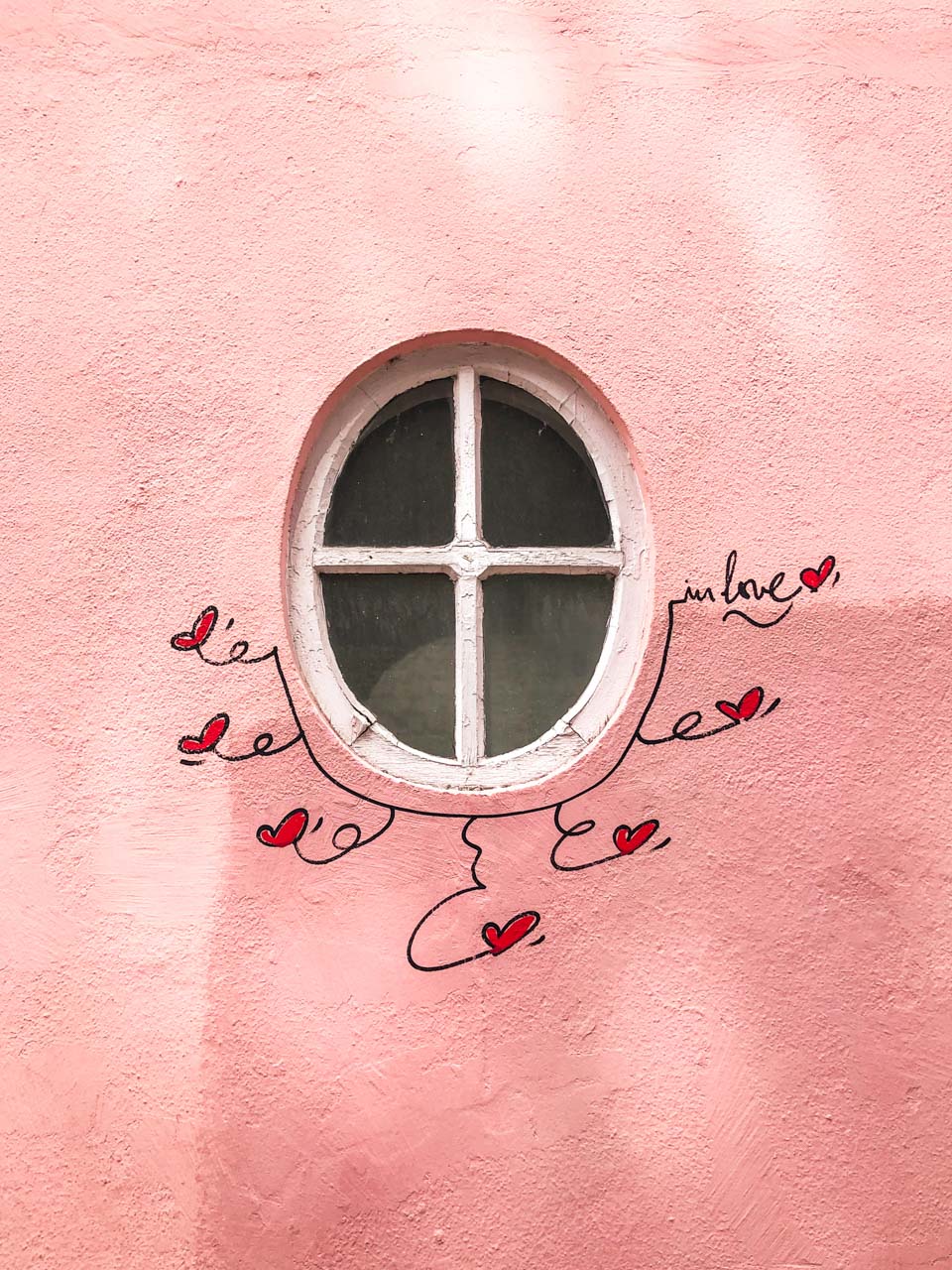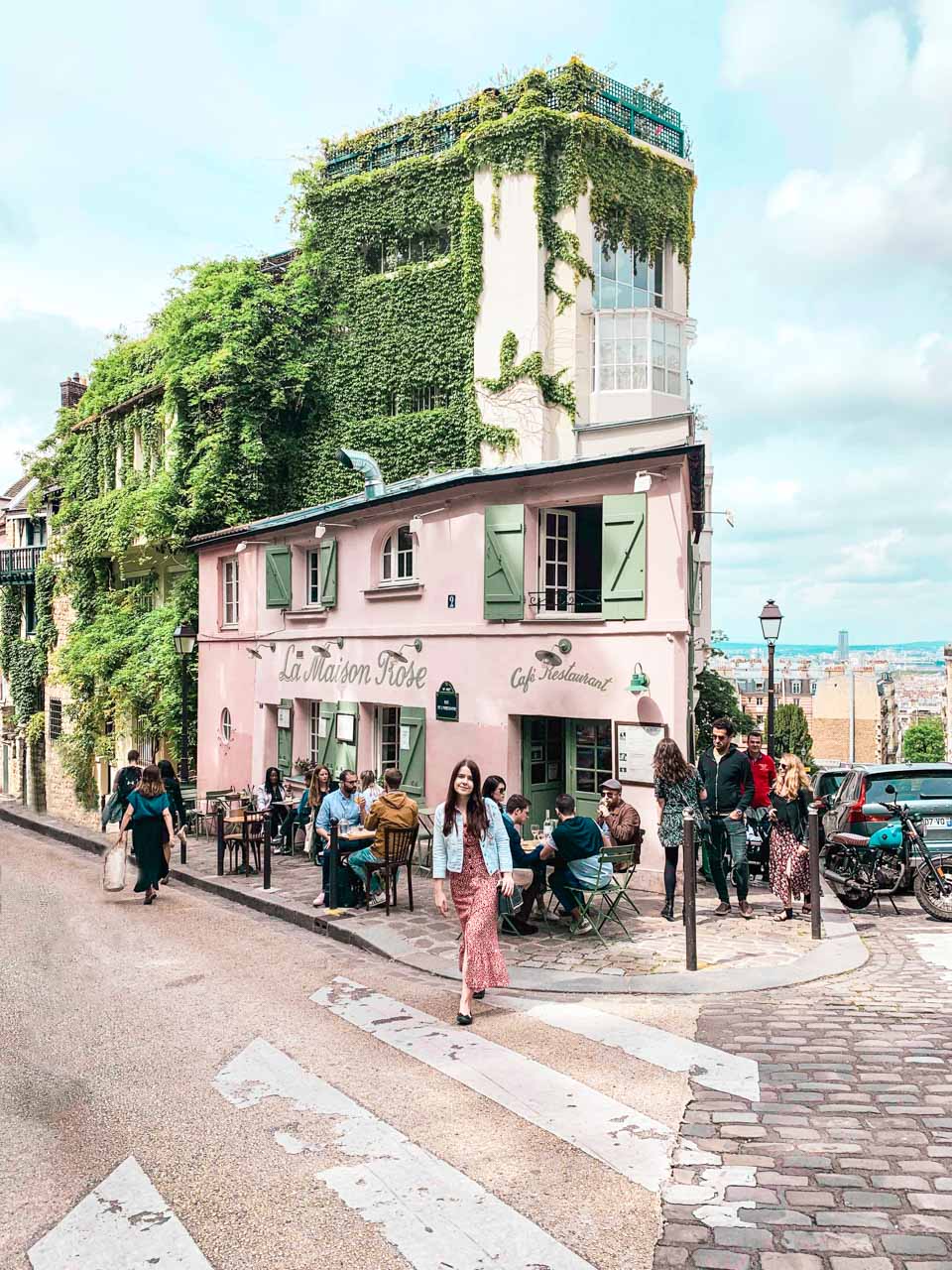 There's also a very interesting story behind its origin. La Maison Rose has actually been serving coffee since before Montmartre became a part of Paris. Its first recorded owner was a former lover of Pablo Picasso named Laure "Germaine" Gargallo. As a matter of fact, Picasso wasn't the only famous person to frequent that place. Long before it became an Internet sensation, La Maison Rose was a meeting spot for various artists, including the likes of Albert Camus and Maurice Utrillo.
When we came to visit, the place was packed. We managed to quickly snap a few photos before a waiter came to prepare the table for the next visitors and asked us to leave. Next time, I will have to check if the food and drink offer at La Maison Rose is as delightful as its cotton candy-hued exterior!
Rue Crémieux
On the note of the most Instagrammable locations in Paris, another place you cannot miss is Rue Crémieux. Only a short walk away from the Gare de Lyon railway station, this pedestrian street was originally built to provide housing for workers. Pastel housefronts that line both sides of the street offer the perfect photo op. We were lucky enough to come when it was virtually empty and tried to snap our photos as quickly and respectfully as possible to not bother its residents. Well, we didn't make it to the Instagram account where they shame various people taking photos outside their houses, so I'd like to think we succeeded…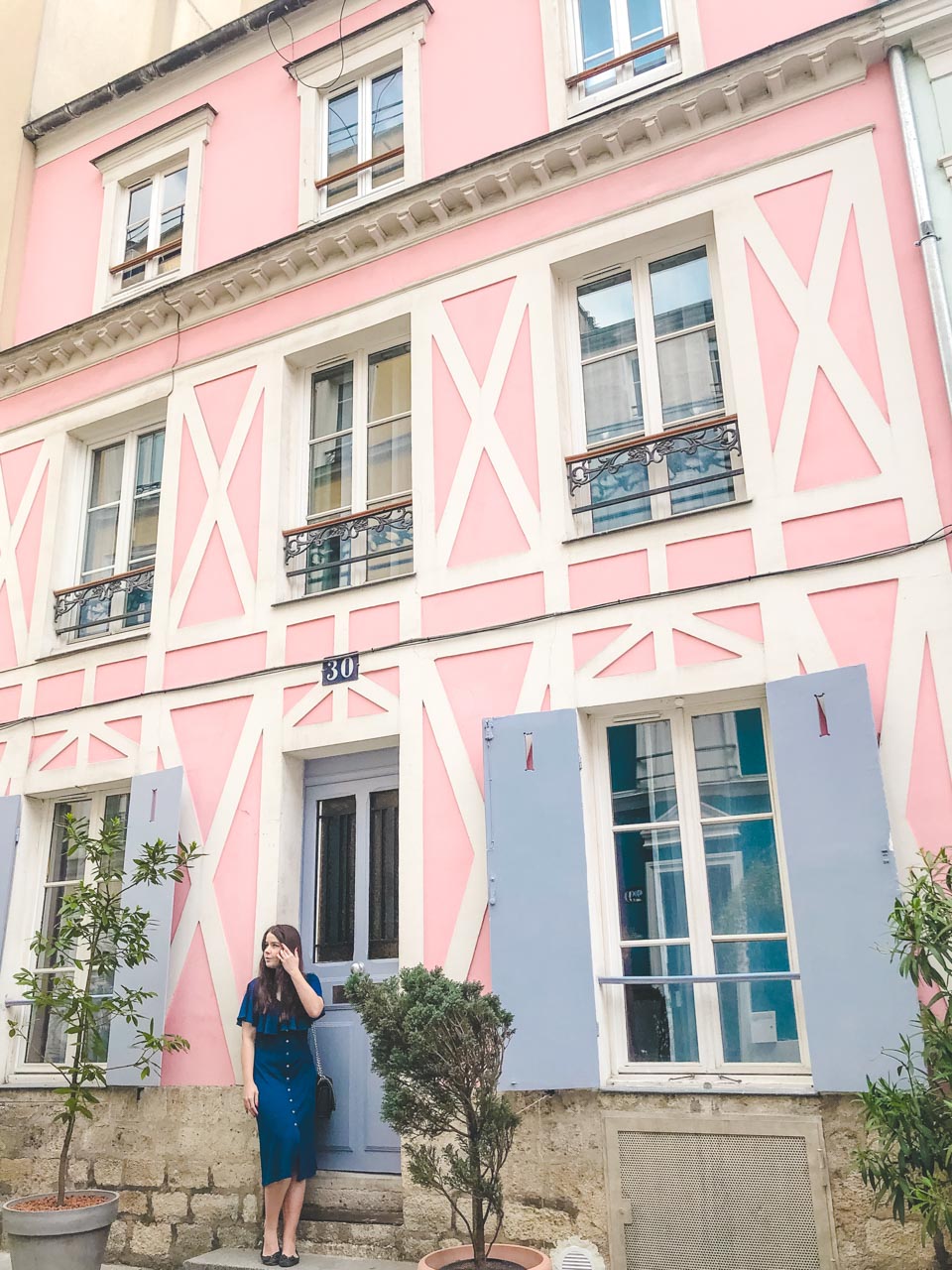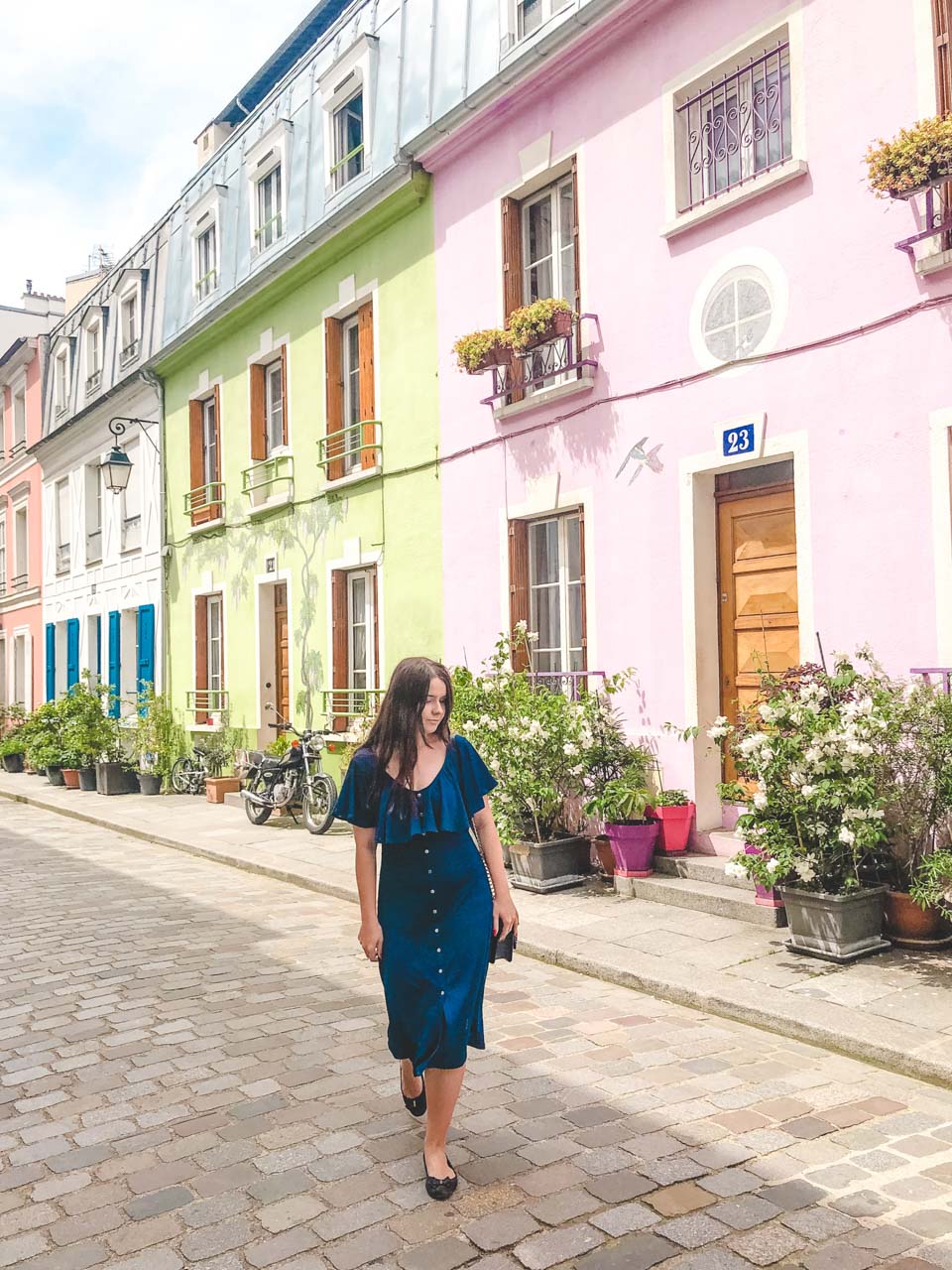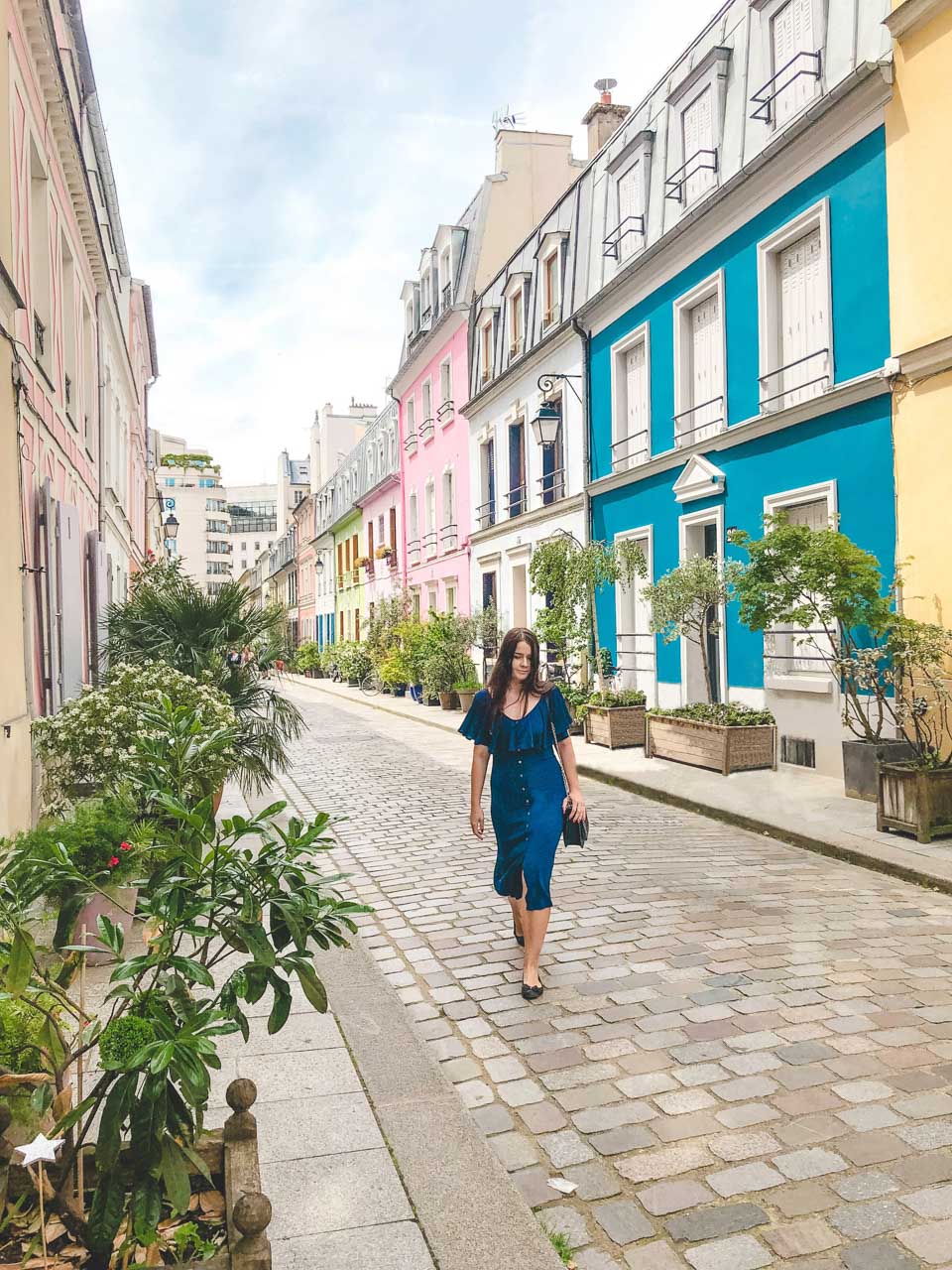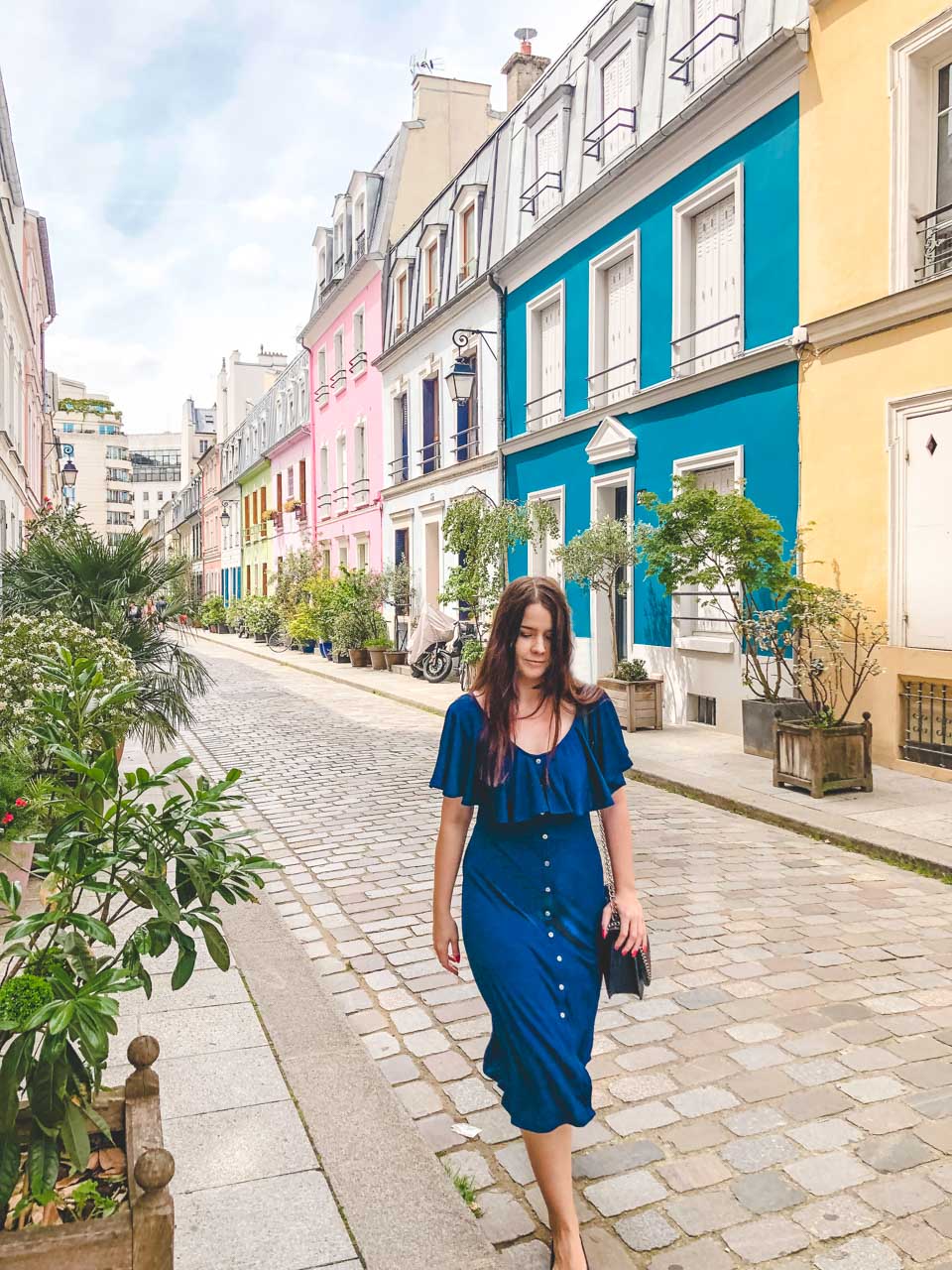 Moulin Rouge
Another Paris classic is this remnant of the Belle Époque era with a huge red windmill on the roof. Did you know that this world-famous cabaret is the birthplace of the modern can-can dance? Attending one of the sensational performances during your trip is the ultimate Paris bucket list item. Unfortunately, you have to be prepared to pay around €100 for a ticket, and I just couldn't stretch my first-timer's budget any further. Hopefully I'll get to tick it off my list next time I visit!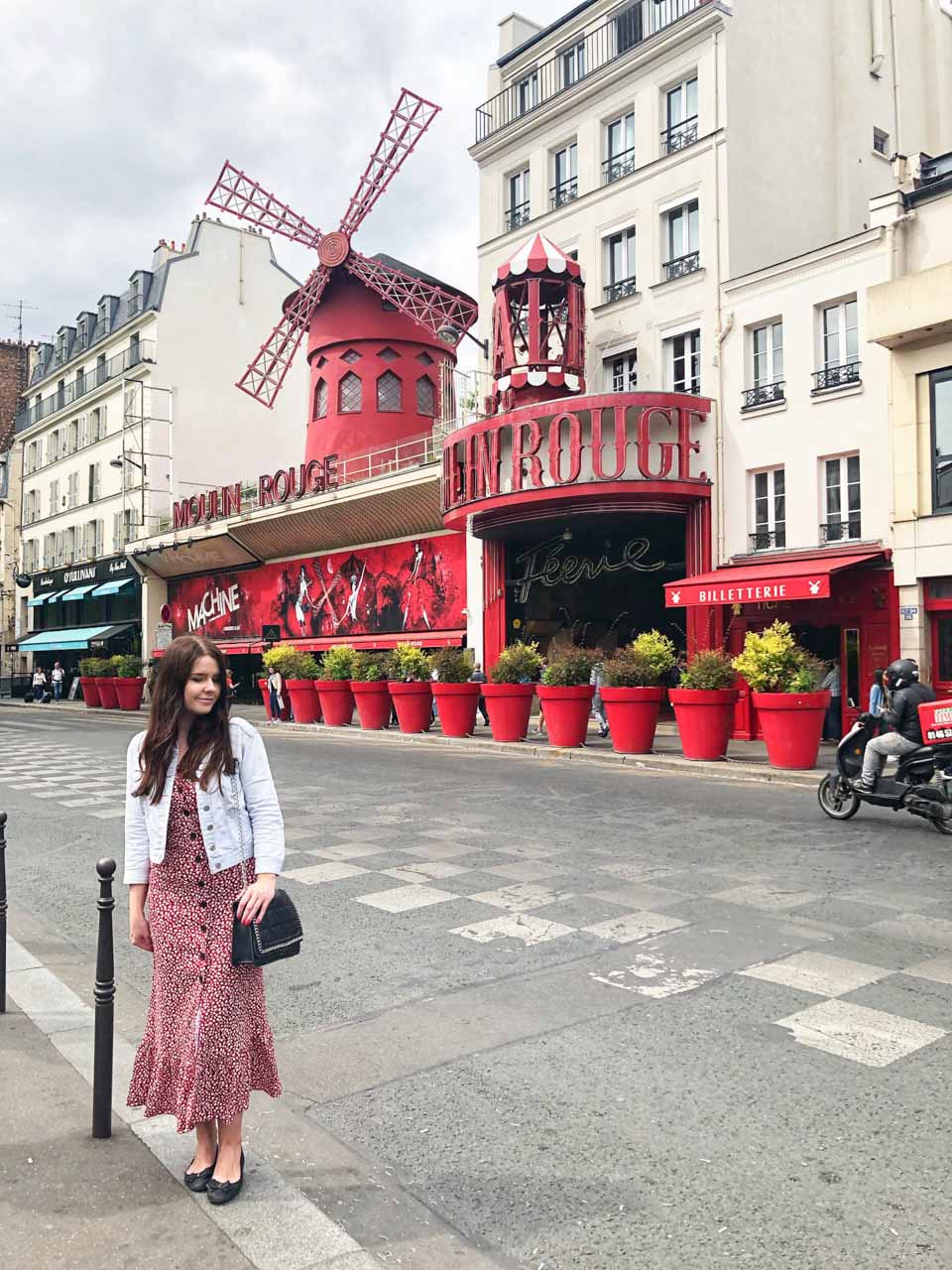 Galeries Lafayette Boulevard Hausmann
We all know a trip to Paris can seriously drain your resources, but who's to say you can't engage in a bit of window shopping? Galeries Lafayette Boulevard Hausmann is the perfect place to do so. It's the famous Parisian department store that stocks a wide range of designer fashion, luxury accessories, beauty, and homeware goods across several massive floors.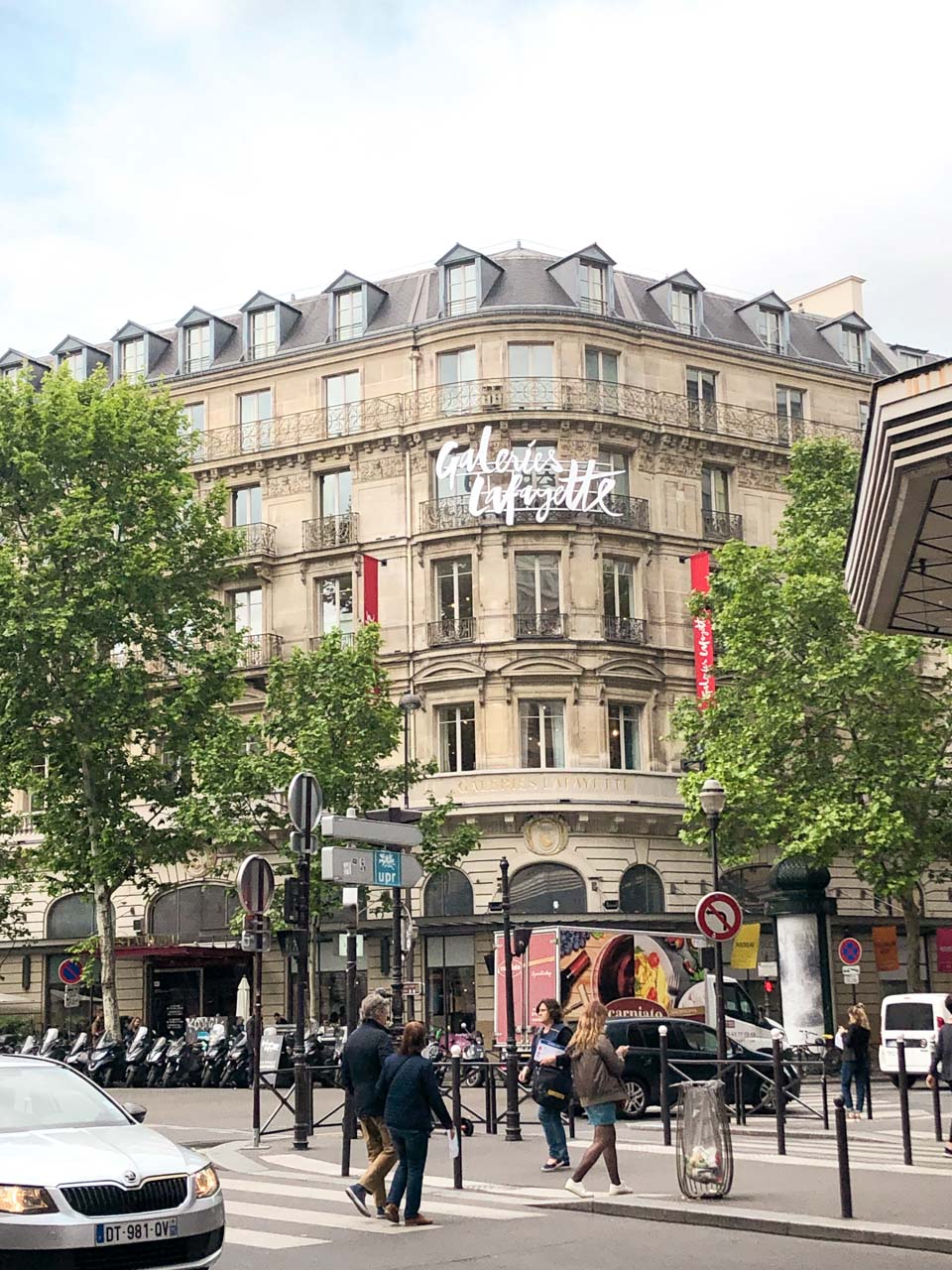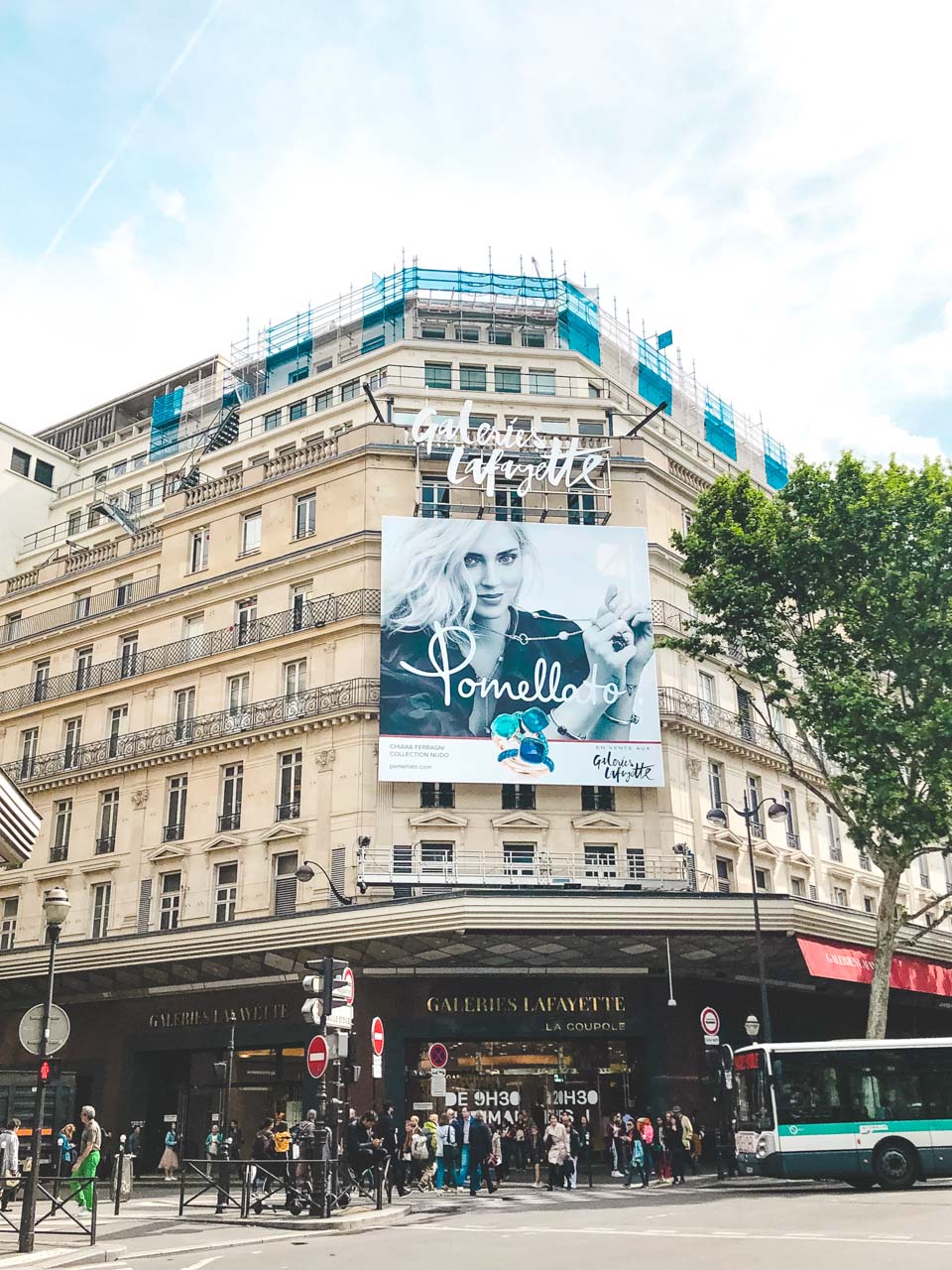 The flagship's most distinctive feature is the intricate glass dome that perfectly complements the remarkably ornate interior. On a beautiful day, you can also admire the magnificent views over Paris from the rooftop. It was closed on the day we went, but there's enough to see inside to keep you occupied for an entire afternoon.
Unfortunately, you need to queue in order to take photos on the Glasswalk, a 9-metre walkway suspended in the air right beneath the dome on the 3rd floor. There were 2-minute slots for groups of 10, and a guard who made sure everyone adhered to the time limit. We personally found this solution less than ideal. What you get is 10 people all fighting for the best spot before time runs out and photobombing one another. Thankfully, as we weren't in a rush, we queued twice to allow ourselves some extra time. I would happily queue longer if it meant I could have the walkway to myself even for 2 minutes!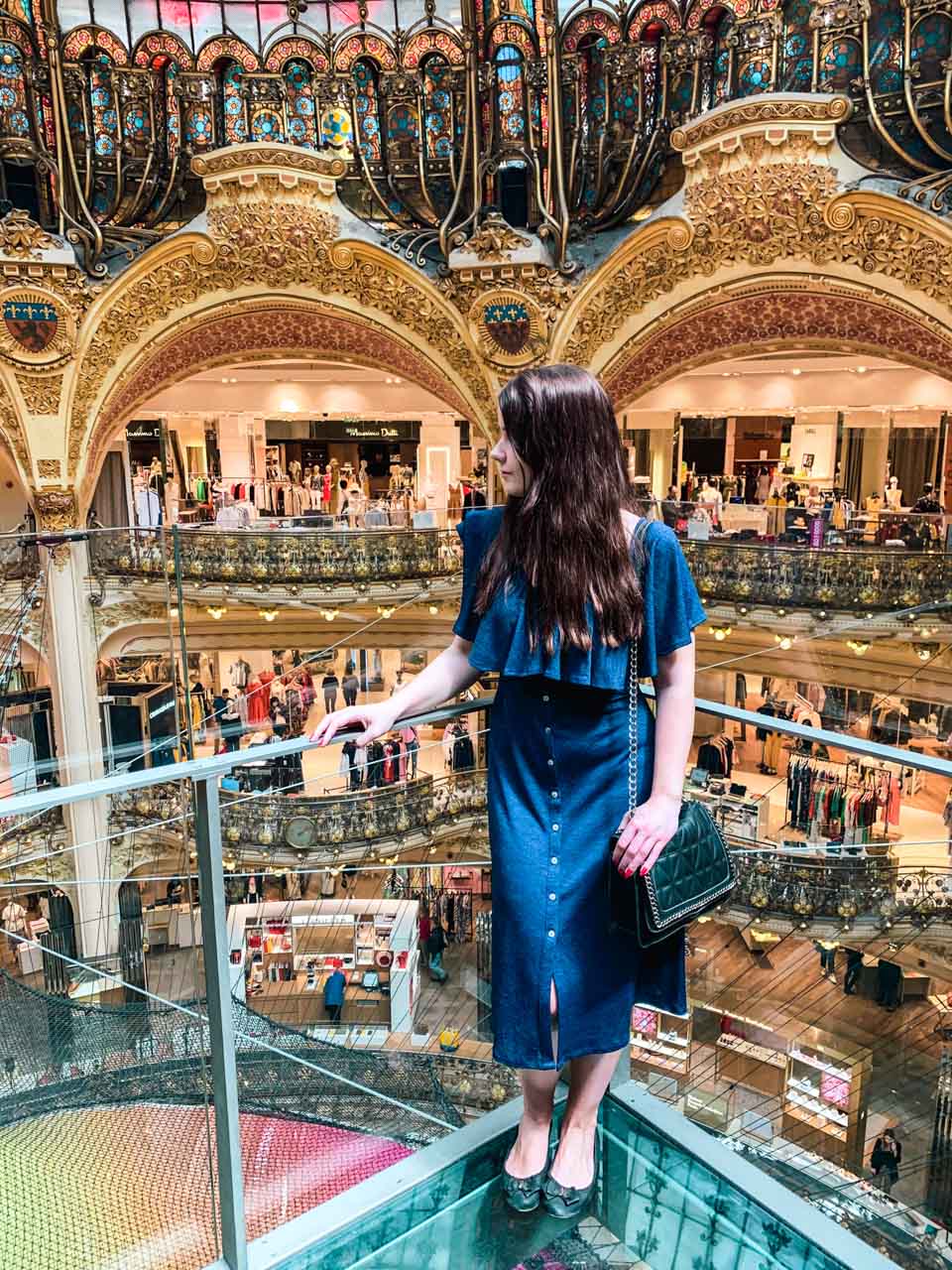 Eating our way around Paris
Le Cadre Noir
The day we arrived in the city, we went to stock up on groceries and grab some lunch. Instead of doing our research, we decided to stroll around the neighbourhood and follow our intuition. It led us to Le Cadre Noir, a typical Parisian brasserie offering the classics of French cuisine. The waiter was an elderly man, so we were a little worried there'd be some communication issues. There was nothing of the kind – he was as friendly and accommodating as could be. He even brought their A-board inside, read everything that was written on it out loud, and tried his best to explain what each special menu item was!
We eventually decided on the croque monsieur and croque madame sandwiches. Before our visit, I would sternly resist any dish with a fried egg. After seeing how appetising it looked on Sarah's plate, I started slowly warming up to the idea. Now I am not only a full-on convert, but I can say with confidence I am obsessed with fried eggs. I'm honestly surprised to see the average reviews of this bistro, as I couldn't fault a single thing about our meal. Everything was freshly prepared and delicious, and we didn't have to wait long to receive our food. We washed down our meal with an Aperol Spritz, and paid around €17 each. Not bad for Paris, I reckon!
Pierre Hermé
Another quintessentially Parisian experience is indulging in the city's trademark pastry – macarons. Both Sarah and I are no strangers to the Ladurée creations, so we chose to try something different this time. Back in 2016, Pierre Hermé was actually awarded the title of the world's best pastry chef. If you have a sweet tooth like us, it's something you just can't ignore! We ended up paying €10 for the smallest box of 4 macarons. It's admittedly rather pricey, but as it's not your everyday treat, we didn't think twice. Extra cliché points if you follow in our footsteps and eat your overpriced macarons on top of the Eiffel Tower!
Angelina Paris
If you've been planning your first trip to Paris, chances are you know about Angelina. The original one located on the Rue de Rivoli in the 1st arrondissement of Paris has been welcoming guests since 1903. It shortly became the gathering place for high society and prominent people, including the likes of Coco Chanel, Audrey Hepburn, and Marcel Proust.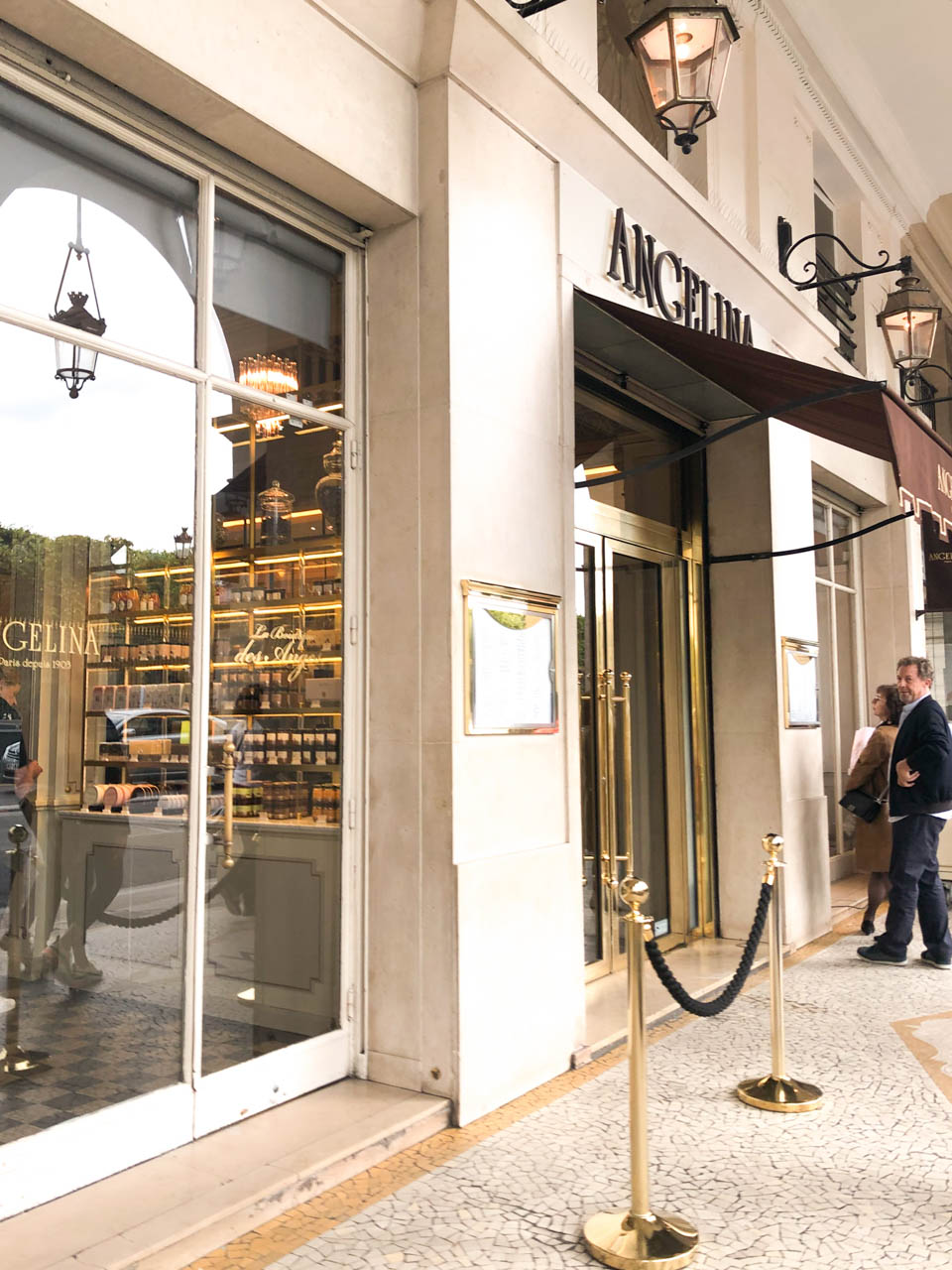 This legendary tea room is most famous for its chocolat chaud à l'ancienne dit "l'Africain" or, in simpler terms, old-fashioned hot chocolate. It's made of three different kinds of African cocoa from Niger, Ghana, and Cote d'Ivoire – hence the name. The chance to indulge in this treat comes at a price – at €8.20 per person, it's not your ordinary dessert. You receive a pot of incredibly rich hot chocolate with a very thick texture, as well as a saucer of whipped cream to achieve your desired sweetness level. I paired mine with a chestnut cream-filled croissant, while Sarah went for a lemon tart.
I've always preferred more of a runny texture, and not even what some hail the world's best hot chocolate was able to change that. I personally find thick hot chocolate slightly too sickly for my liking. There were certain flaws to our experience (such as long wait time and not enough space between our table and the surrounding ones), but overall, it was one I would happily pay for again so I could savour other popular items on the menu. Afterwards, we went a little overboard in their shop and stocked up on gifts for family and friends. If you'd like to dine where the aristocrats used to rub shoulders and don't mind overpaying for the opportunity, Angelina is the place to go!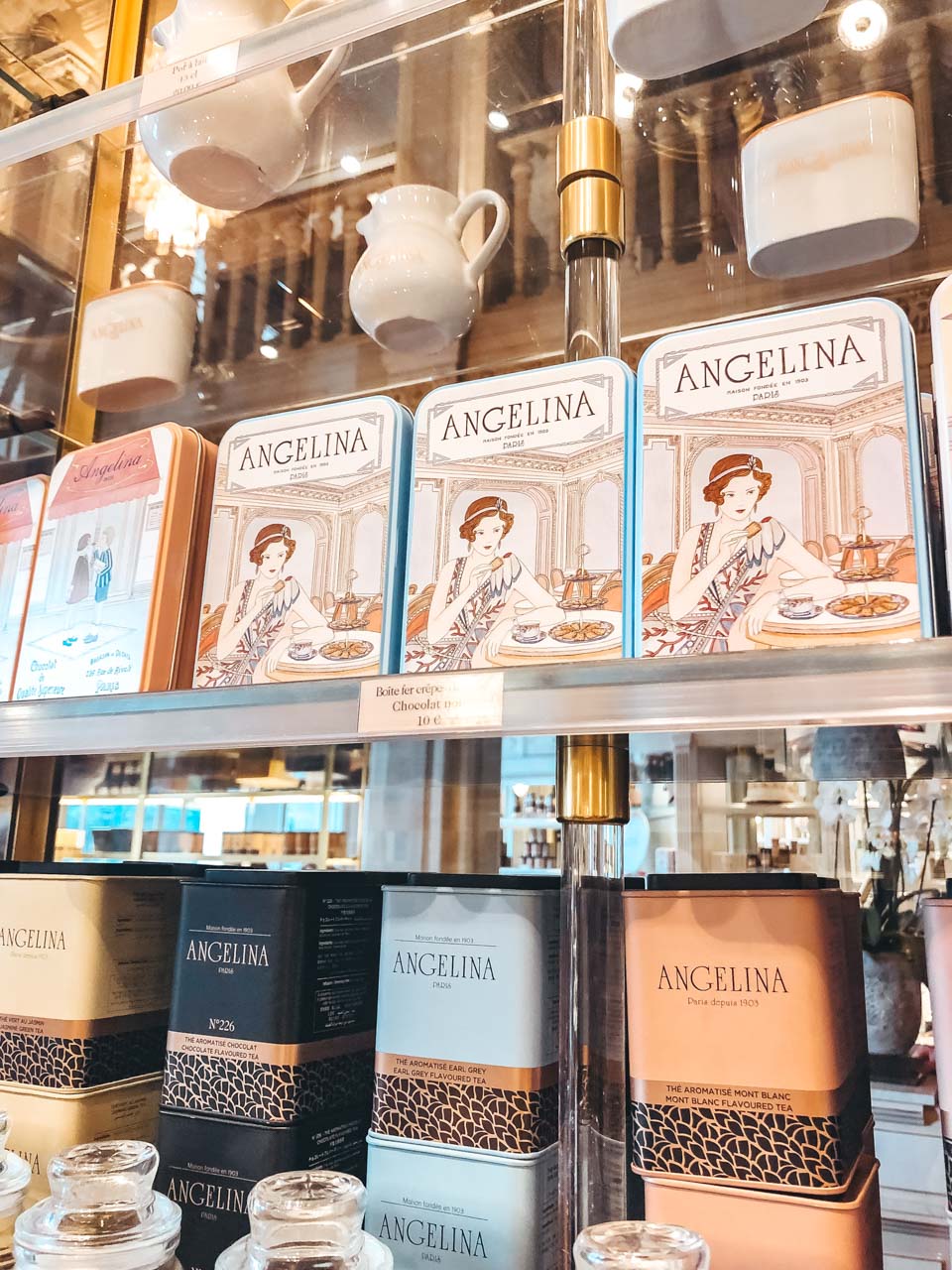 ---
Ready for your Parisian adventure?
Paris is definitely one of these cities that no amount of travel guides can truly do justice. Although I spent 48 hours in the City of Love, I can't help feeling that I barely scratched the surface. I am yet to stroll through the lush gardens of Versailles, visit the House of Mouse, and master the art of people watching while getting my caffeine fix in a charming French sidewalk café. A second trip is definitely long overdue – and when it finally happens, you can be sure I'll be taking you along with me…