Last updated on August 3, 2023
Whenever I plan my next holiday, I think about food just as much as the sightseeing plan. I spend a good amount of time checking out the top restaurants and cafés in the area, and also hunting for the most Instagram-worthy food spots.
I've done this so often that I've started to see a pattern. My list usually has a few instant favourites, then several maybes and back-up options. As I began my list of the best restaurants in Wrocław, so many suggestions sounded totally amazing, I found it tough to narrow it down.
Thankfully, Wrocław is one of my top Polish cities that I love returning to, so I'll keep trying these recommendations one by one. So, you might want to bookmark this post for later, as I'll be updating my list of the best restaurants in Wrocław after each visit.
And, if you're planning your own trip, you may also want to check out this list of my favourite things to do in Wrocław for a bit of inspiration. Enjoy!
Dinette
The first place on my list of the best restaurants in Wrocław was Dinette. I found it in an article listing the best breakfast spots in Wrocław, and I was sold on the idea that this restaurant was always a safe choice.
As soon as we walked through the door, I loved the 50s-style decor with the glass malachite wall, oval mirrors, and various wooden touches. The choices on their breakfast menu were just as impressive.
Each option takes you to a different part of the world, from a classic English breakfast to more unusual choices like shakshuka. The standout at Dinette has to be the bakery section, where crunchy sourdough bread and pastries are freshly baked on-site, ready for customers to enjoy there or take away.
Ever since my trip to Paris in 2019, I can't resist a croque madame. Mac, on the other hand, tried their Moroccan breakfast – 2 poached eggs on bread with mint, avocado, and za'atar.
Before I tell you what we thought, let me give you a heads up. If you're expecting big portions that will fill you up for a full day of exploring Wrocław, you might be a bit let down. I can't knock the food itself, as it was yummy – not the best croque madame I've had, but still good. Sadly, we had to stop at a nearby bakery afterwards, which isn't ideal after spending 40 PLN (around £7) on breakfast.
Still, I'd happily go back for another feast – a treat for both the eyes and the taste buds – but next time, I'll probably have a snack first…
Bułka z masłem Włodkowica
Bułka z masłem, with its name translating as "a piece of cake", is another breakfast spot that came highly recommended. Although there's plenty of seating space, including a lovely garden at the back, it was nearly full when we arrived. Travels aside, there aren't many things that would persuade me to get out of bed on a miserable rainy Saturday morning. So, seeing that most visitors looked like locals was already a good sign.
What immediately caught my eye upon looking at the menu was the unique twist on classic breakfast dishes, like scrambled eggs with halloumi or triple-decker toast with goat's cheese. We eventually ended up ordering something we hadn't seen anywhere else – savoury challah with fried eggs, bacon, cheese and a butter sauce. While the prices were comparable to Dinette, if not slightly higher, we left feeling much fuller.
In the afternoons, they switch to their lunch menu, featuring a variety of burgers, pasta dishes, and flatbreads. It's also worth noting they have two more locations around the city, on Plac Solny and Zwycięska street, each with a completely different menu. Sadly, they only have the Polish version on their website and Facebook if you'd like to check it beforehand.
Jolie Brasserie
Located just around the corner from the market square, this place caught my eye when I first visited Wrocław. I recently decided to see if the breakfast menu was as noteworthy as its delightful white and blue interiors. What's interesting about Jolie is that they serve breakfast all day long, so if you're a late riser or simply enjoy having scrambled eggs for dinner, this is the spot for you.
I've made it pretty clear by now that if there's croque madame on the menu, I will order it, while Mac went for the Mediterranean breakfast set with eggs, labneh, Persian salad, hummus, tahini, and bread.
If you're looking for safe, classic breakfast options around the market square area, you simply can't go wrong with Jolie. However, I feel like the main problem for many breakfast restaurants in Poland seems to be the portion size, and this was no exception. For the price of a lunch dish, you'd expect to get something equally filling, but at least the dishes we ordered were rather small. Other than that, it's definitely worth checking out if you're in the area!
Panczo Wita Stwosza
Mac's breakfast choice was Panczo Wita Stwosza, a Mexican spot just a short walk from the Market Square. I've never actually had Mexican for breakfast before, so I was more than keen to broaden my palate and try something new.
Panczo's take on a breakfast menu all sounded mouthwateringly good, but the moment I saw a breakfast quesadilla with avocado, bacon and fried egg, I was sold. Mac went for a breakfast burrito with guacamole, pico de gallo, chipotle scrambled eggs, and chorizo. Both were absolutely fantastic and served as a great reminder of how exciting it can be to step outside our comfort zone and try foods we might not usually go for!
100 Bridges Brewery
On our first trip to Wrocław, the tour of the 100 Bridges Brewery we wanted to do was sadly fully booked. So, we opted for the next best thing, a visit to their pub. I'm glad I had a peek at their menu before we came, or else we'd have been sitting there until dawn. The choice of beers on tap is almost overwhelming, and they're joined by a wide selection of tasty snacks, main dishes, and desserts.
We each ordered a beer pretzel with red onion jam and cheese sauce, and a drink to go with it – a WRCLW Schöps for Mac, and a Strawberry Milkshake IPA for me. Now, I'm a bit biased towards anything with red onion jam, but my goodness – that was hands down the best pretzel I've ever had! The beer was smashing as well, and they have a shop just opposite the pub in case you fancy taking something back with you.
Luckily, they've since started running brewery tours more often and we managed to nab 2 spots on our last trip. If you want to read more about it, check out the post about my favourite things to do in Wrocław!
Iggy Pizza
Who can resist a slice of mouth-watering Neapolitan-style pizza? I know I can't, especially when it gets rave reviews and is served in a super Instagrammable spot. When we searched the internet for the best restaurants in Wrocław, Iggy Pizza came up several times, so we knew it couldn't be a coincidence.
Once we arrived, the queue outside made it clear that we were about to step into a local favourite. Luckily, the wait wasn't too long, and the whole experience was totally worth it.
Iggy Pizza has to be one of the most visually pleasing restaurants I've ever visited in Poland. I'm absolutely in love with all the neon signs, and if that's not enough for your Insta needs, there's a loo completely decked out in pink lights!
When it comes to the food, I may get in trouble for what I'm about to say, but I genuinely think I preferred their pizza to the one we had in Naples. Granted, we visited Italy in August, when most of the top pizza spots closed down for summer holiday, but still…
At Iggy Pizza, they use the finest ingredients, including flour from the oldest Neapolitan mill, and bake their pizzas in a wood-fired oven. All this hard work shines through in their food, as I savoured every single bite. On our second trip, Iggy Pizza was the place I was most excited to revisit, and it was just as amazing as the first time. Hats off!
Burger Ltd
When we returned from our day trip to Książ Castle, we had a bit of time to grab lunch before catching a train to Dresden. We turned to TripAdvisor for recommendations of restaurants in Wrocław and it delivered. A quick peek at the menu of Burger Ltd showed us it could be a strong contender for our top burgers list, and we've tasted our fair share!
Until the very last moment, I wasn't sure if I should go for a safer choice or take a chance and try an unusual food combo instead. I eventually picked the latter and chose the Blame Canada burger with beef, mimolette cheese, grilled bacon, grilled banana, maple syrup, and peanut butter.
As I usually hate mixing meat with fruit, and I was never crazy about maple syrup, I would be lying if I said I was confident about my choice. I also ordered a delicious strawberry beer from the 100 Bridges Brewery to go with it, just in case I needed to soften the blow of a disappointing order…
Luckily, I had nothing to worry about, as it was absolutely top-notch. I have no idea who thought of putting peanut butter on beef, but they were a blooming genius! We were spot on thinking Burger Ltd could potentially make it to our favourite burgers list, as it's definitely one of the best I've had the pleasure of eating!
Mała Czarna
It's well known that Mac and I enjoy feeding our growing caffeine habit. Before our first trip to Wrocław, we asked the owner of our favourite local café for recommendations for the best restaurants and cafés in Wrocław. Mała Czarna was the first name that came up, so we decided to give it a go when we were in the area.
This café and coffee roastery all in one is found in a small, unassuming building right by the main gate of the Olympic Stadium, so we probably wouldn't have thought to stop there otherwise.
First impressions aside, Mała Czarna turned out to be a must-visit for any coffee lover. The people running this place are huge coffee fans who are more than happy to share their deep knowledge with visitors. You can learn about various coffee brewing methods and choose the blend that matches your taste best. After a quick chat with the barista, we got ourselves some coffee beans to take back home.
And speaking of treats, they don't just know their coffee, they also bake cakes that could make Nigella envious. If you like speciality coffee with some delicious desserts on the side, this is the place to be!
NANAN Patisserie
No list of the best restaurants and cafés in Wrocław would be complete without NANAN Patisserie, which is honestly every Instagrammer's heaven. The moment you step inside, you're greeted by a dreamy pink decor that's almost as enchanting as the rows of colourful pastries artfully displayed behind the glass.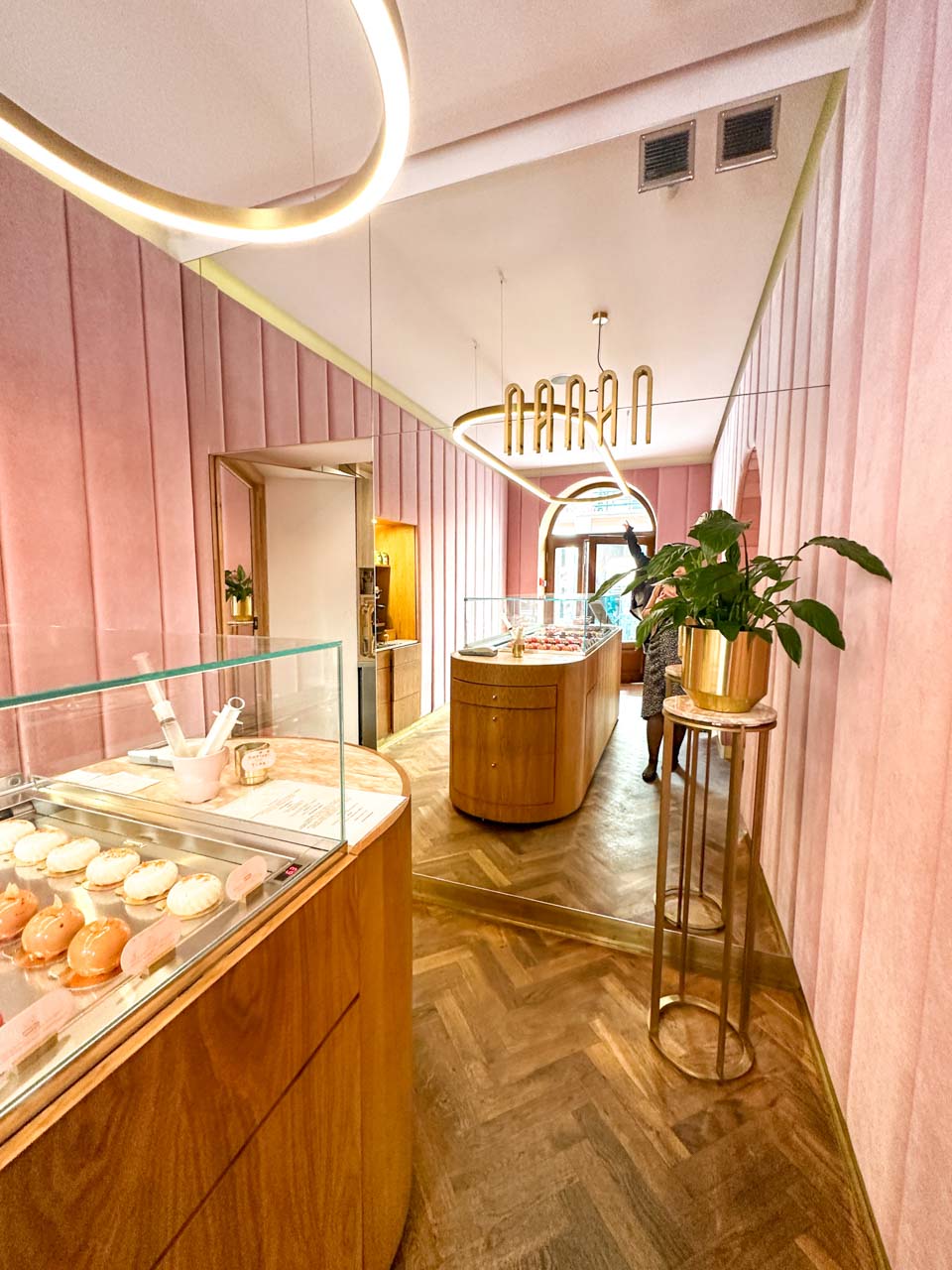 Now, my first choice would usually be a slice of cake, but here you get to choose from a variety of individual desserts and the main specialty – eclairs. Every single one looks like a little piece of art, almost too beautiful to eat.
The minimalist design only adds to the atmosphere, making you feel like you're buying an expensive piece of jewellery rather than a sweet treat. If you enjoy decadent desserts in a magical setting, this patisserie is a must!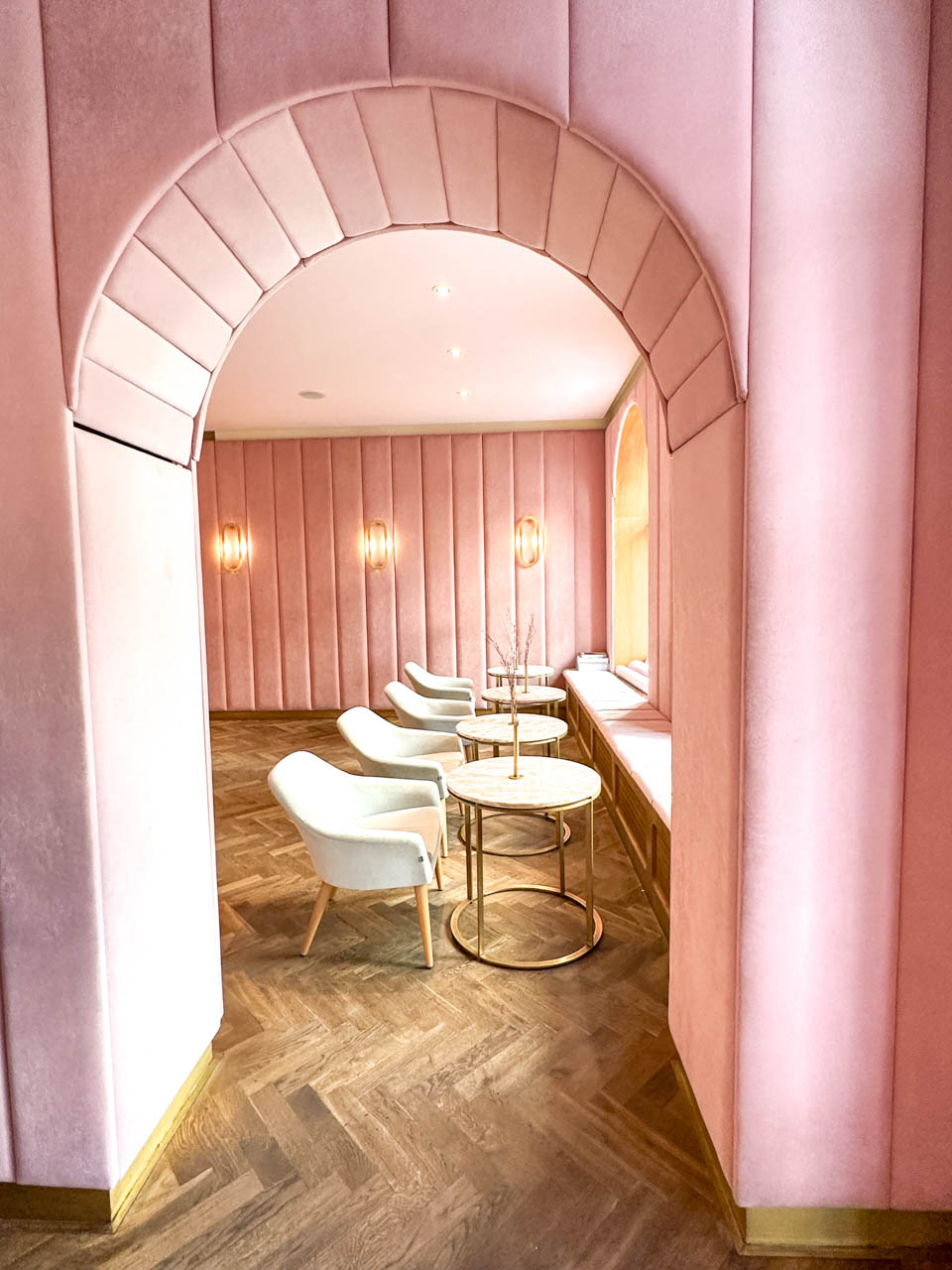 ---
So, there's my complete list of the best cafés and restaurants in Wrocław! Which one would you like to visit the most?