Last updated on January 31, 2023
When we started planning our trip to New York back in 2019, we set out with the aim of finding a connection that would both be affordable and offer us a chance to explore a new location. The second my boyfriend found cheap flights from Copenhagen to New York with a layover in Toronto, I was over the moon. It meant I could tick off not one, but two cities off my bucket list!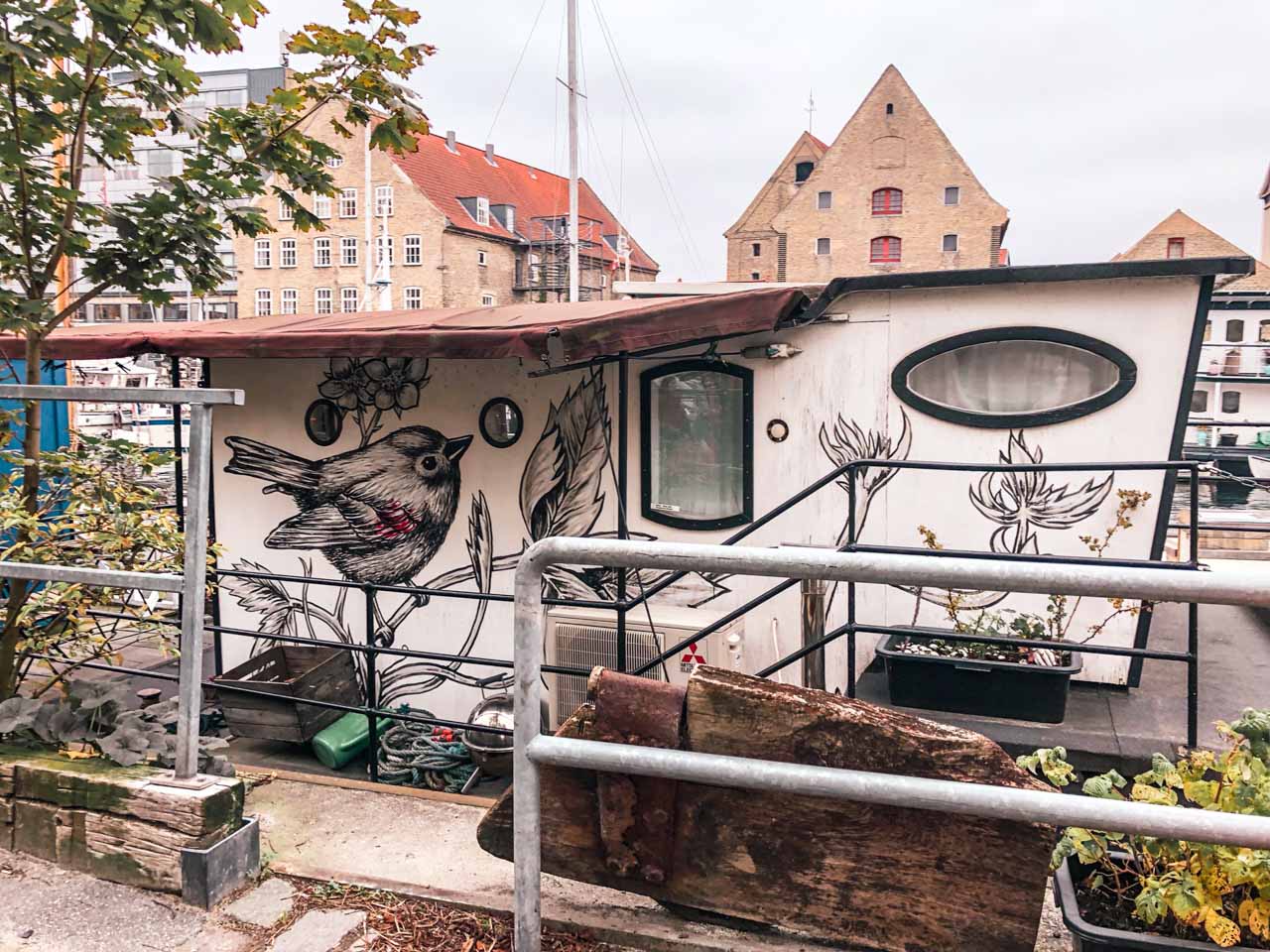 While some people roll their eyes at the mention of hygge, this Danish concept is very close to my heart. I mean, a lifestyle that encourages people to find pleasure and comfort in all things cosy? Sign me up!
It is no secret that I don't cope well with the cold. The only thing that gets me through winter is the promise of snuggling up under a warm blanket with a steaming cup of coffee while a candle is flickering in the background. So, I dusted off my hygge book and started planning our stay in Copenhagen, eager to unlock the secret of what makes Denmark the world's happiest country.
We came to Copenhagen the day before departing for New York and stayed for another day after landing back. Sadly, once we got back to Europe, jet lag got the best of us. We didn't cover as much ground as we'd hoped to, but we still managed to explore a lot of interesting places around the city.
So, grab a cup of tea or coffee, sit back, and enjoy my mini guide to one of the world's most hyggelig cities…
Getting to and from the airport
Instead of flying directly into Copenhagen, we decided to catch a flight to Malmö, Sweden. You may be wondering how it even makes any sense… Although they're in two different countries, the cities are only an hour apart! It also worked out to be 3 times cheaper, but I believe it's worth it for the scenic route alone. You get to drive across Øresund Bridge which spans over the body of water that connects the Baltic Sea to the North Sea, and transitions into an underwater tunnel. To travel between Malmö Airport and Copenhagen, we used Neptunbus, which cost us 216 DKK (around £25) return per person.
When it was time to catch our flight across the pond, it took us around 15 minutes to get from the city centre to Copenhagen Airport, with a single ticket costing 36 DKK (£4). You may find it interesting that a driverless metro system operates around the city – personally, it's one of the things that never fail to amaze me!
Getting around Copenhagen
If you were to name the world's most bike-friendly city, what would be your first guess? I wouldn't blame you for thinking Amsterdam, but it's actually Copenhagen that takes the crown. I witnessed the Danes' reliance on bikes as a transportation mode firsthand. Even in the heavy rain, there were lots of people cycling to work! Although I couldn't quite fathom it, I really admired their determination. I used to love cycling as a child until I was involved in a little incident – I've been refusing to get on a bike ever since. The good news is that with bike racks scattered around every corner of the city, you can start your city tour pretty much anytime.
At the same time, we also spotted fewer public buses in the streets as compared to other European cities. Luckily, Copenhagen is easily walkable, so we tried to explore as much of it on foot as possible.
We only used the metro twice – with trains running every 2 to 3 minutes during peak hours, getting around Copenhagen is a breeze.
Accommodation
For our first night in the city, we booked a room at Cabinn Copenhagen, a budget hotel located within walking distance from Copenhagen Central Station and Tivoli Gardens. It was probably the tiniest hotel room I've ever stayed in (when I opened my suitcase, it took up the entire floor), but we paid around £80 between the two of us, which was far cheaper than anything we could find for that date. Its convenient location also meant we could stay out late exploring the city, so I would highly recommend it if you are not planning to spend a lot of time in your room.
For our second night, we booked the most beautiful Airbnb. It is safe to say that it sparked my love for Scandinavian design. I just couldn't stop admiring every corner of the apartment. The walls with cornice mouldings, the ceiling rose with a crystal chandelier, the marble table, the white furniture with wooden accents… I could go on and on!
We were also only a 3-minute metro ride away from Nyhavn, which was an absolute godsend since we were too jet-lagged to clock in a lot of steps. I normally try to cram in as much sightseeing as possible because I suffer from massive FOMO otherwise, but being in such a beautiful apartment made it a little sweeter…
Where we ate
Katz
After an afternoon of exploring what the city has to offer, we stopped at Katz for some refreshments. I decided to take advantage of their coffee and cake offer, so I ordered a chai latte and gammeldags æblekage – a traditional Danish dessert consisting of homemade apple porridge with macaroons, breadcrumbs, and whipped cream.
I also decided to get a cocktail I've never tried or even heard of before – a Garden Spritz, while my boyfriend ordered a beer. We enjoyed everything and I would say it was rather reasonably priced by Danish standards, as our bill came to 202 DKK (around £23).
The Union Kitchen
Ever since I heard of this unique café famous for its cappuccinos with various sassy sayings on top, I knew we absolutely had to go there for the laughs (talk about taking Instagrammable coffee to the next level…). I chose this place for a little reunion with my best friend from university who moved to Denmark after graduation.
The blogger I heard about this place from recalled being asked if she wanted her cappuccino to be insulting or very insulting. We didn't get a choice – as a matter of fact, it only said 'signature cappuccino' on the menu, so up until the last moment I had no idea if we would get what we came there for.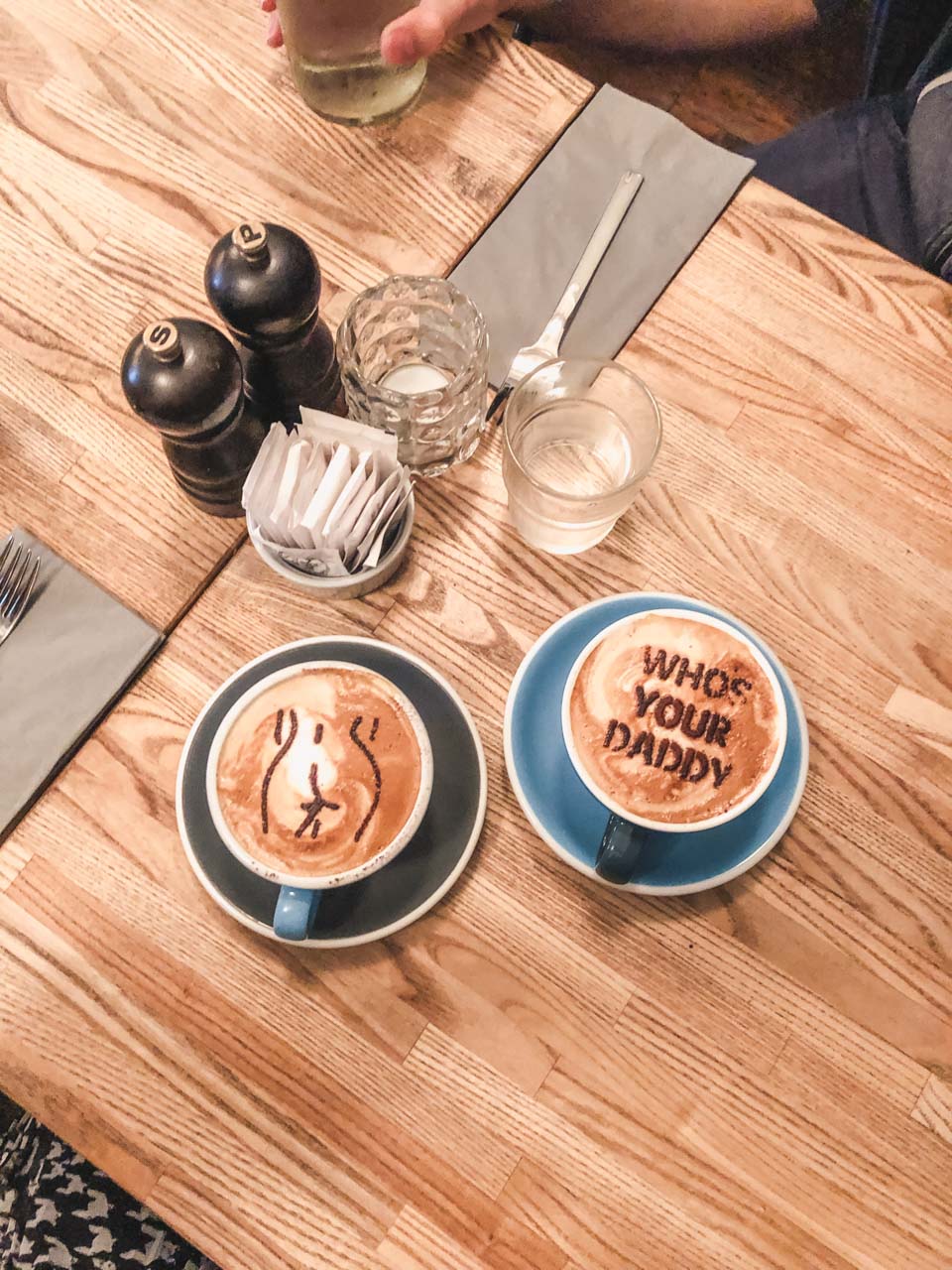 Thankfully, it was everything we'd hoped for and more! As I have a soft spot for white chocolate anything, I also tried their white chocolate cheesecake with fresh berries and berry drizzle, which turned out to be a great choice. Understandably, the place gets very crowded, so be prepared to wait for a table. I promise it will be worth it!
Sidecar
As I have already mentioned, on our last day in Copenhagen, we were suffering from the worst jet lag. We couldn't muster up the energy to venture anywhere far, so we decided to look for a breakfast place close to our Airbnb. Once again, TripAdvisor came through!
My boyfriend ordered a breakfast plate that was chock full of various breakfast options including, among others, a coconut chia pudding with fresh berries and roasted almonds, a courgette fritter with tahini dressing, and scrambled eggs with chives, crispy bacon, and sausages. I went for an avocado sandwich on toasted rye bread with homemade pea cream, flaxseed, and pickled red onions.
To satisfy my sweet tooth, I also got their newest addition to the menu – a waffle with whipped vanilla mascarpone, homemade almond butter, seasonal berries, and chocolate coffee powder. Of course, our breakfast wouldn't be complete without a cup of coffee each.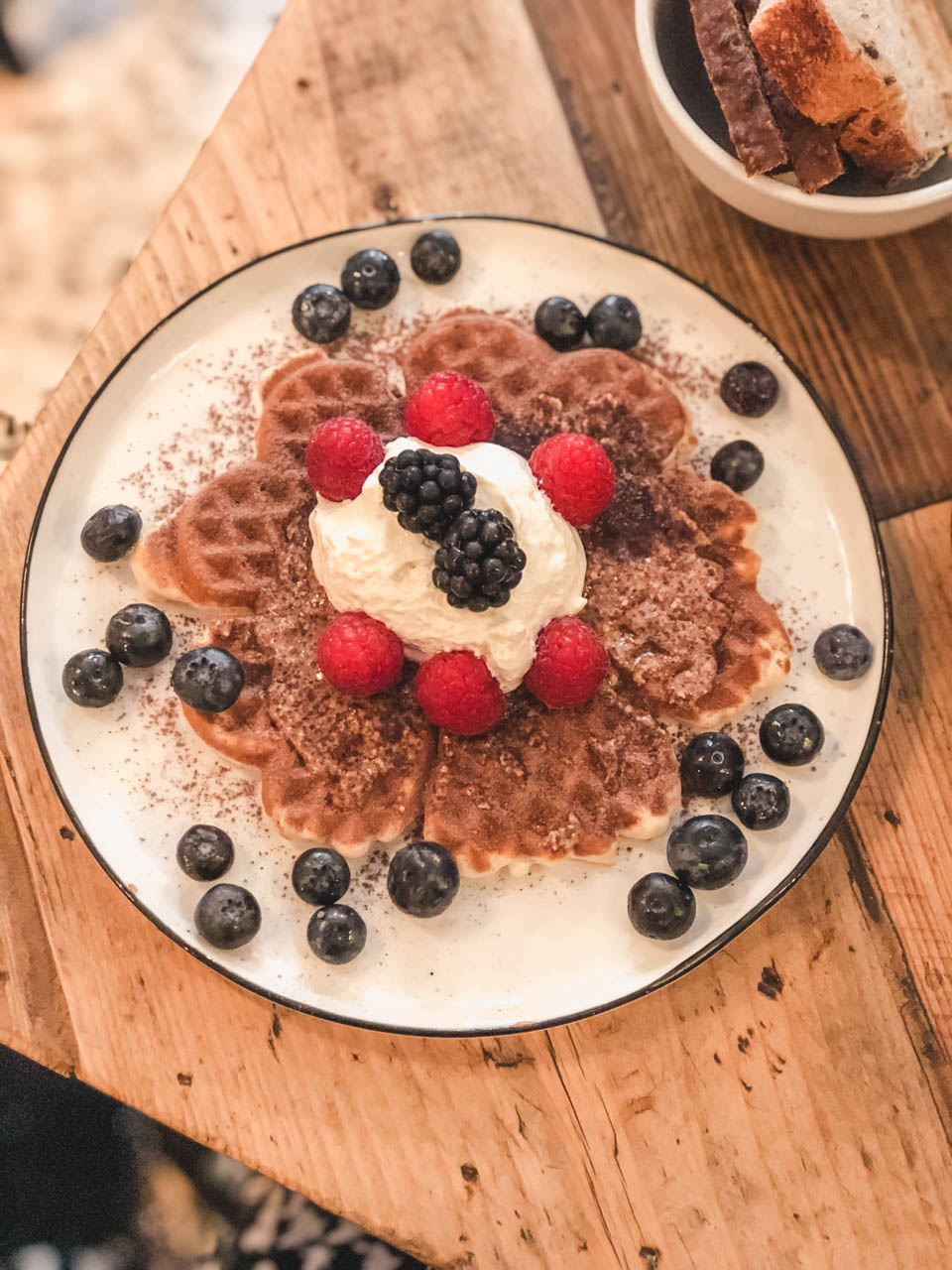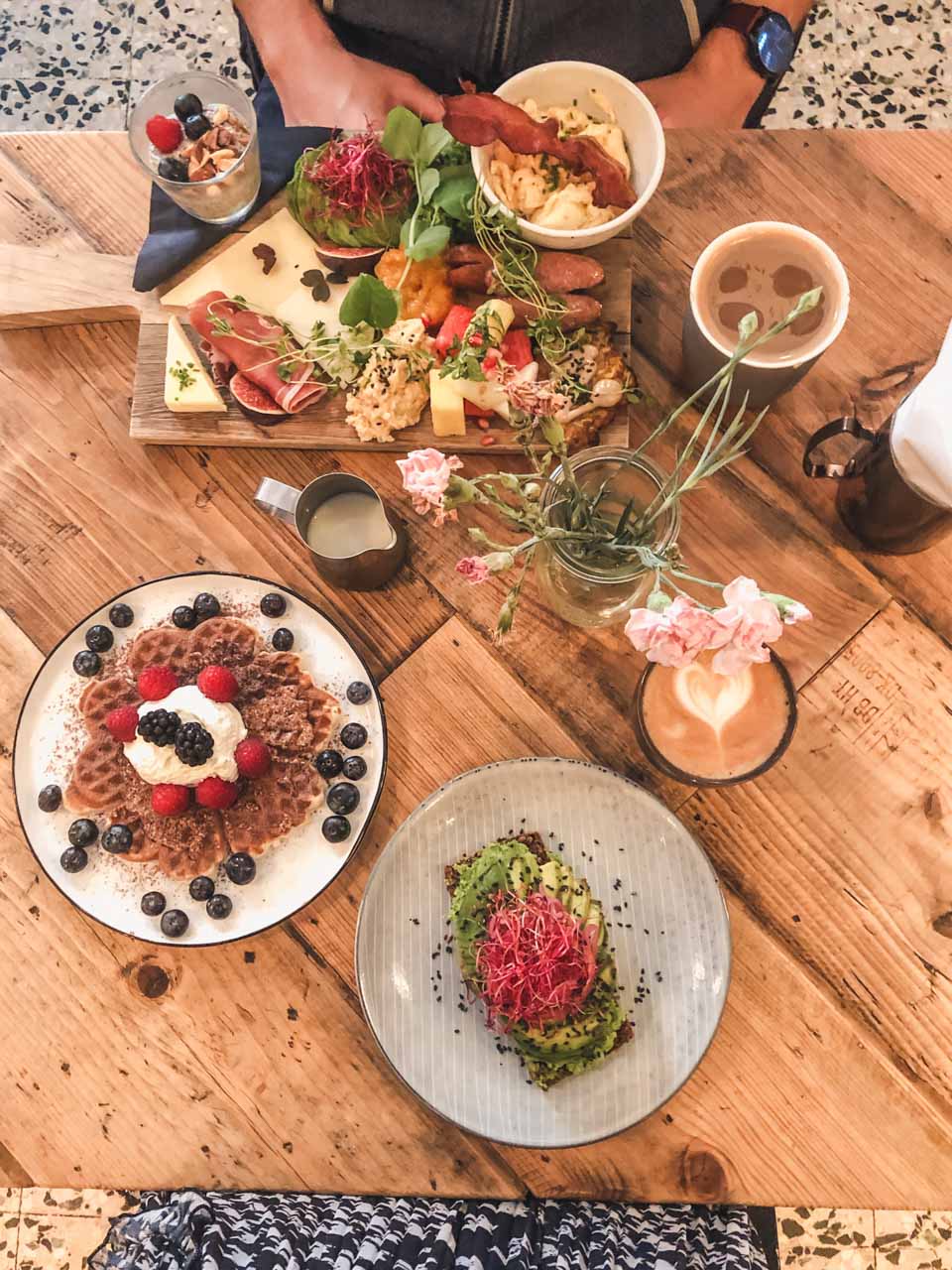 Sidecar exceeded all of our expectations, both design and food-wise. It was one of the most delicious, freshest breakfasts I've ever had, and it looked extremely visually pleasing too. It proved to be just what we needed to refuel after a long journey, as well as the perfect ending to our entire trip!
What we saw
Nyhavn
When you think of Copenhagen, one of the first images to come to mind is an array of brightly coloured houses lining the harbour. The most famous person to have lived in three different houses along the canal is Hans Christian Andersen who wrote some of his earliest fairytales there.
It is hardly surprising that Nyhavn has become the city's signature spot. Thousands of tourists flock to the area to capture its beauty, but it is worth noting that it wasn't always this way. For a long time, the harbour had a bad reputation as Copenhagen's Red Light District, with many of these colourful houses serving as inns or brothels for sailors who came to the city.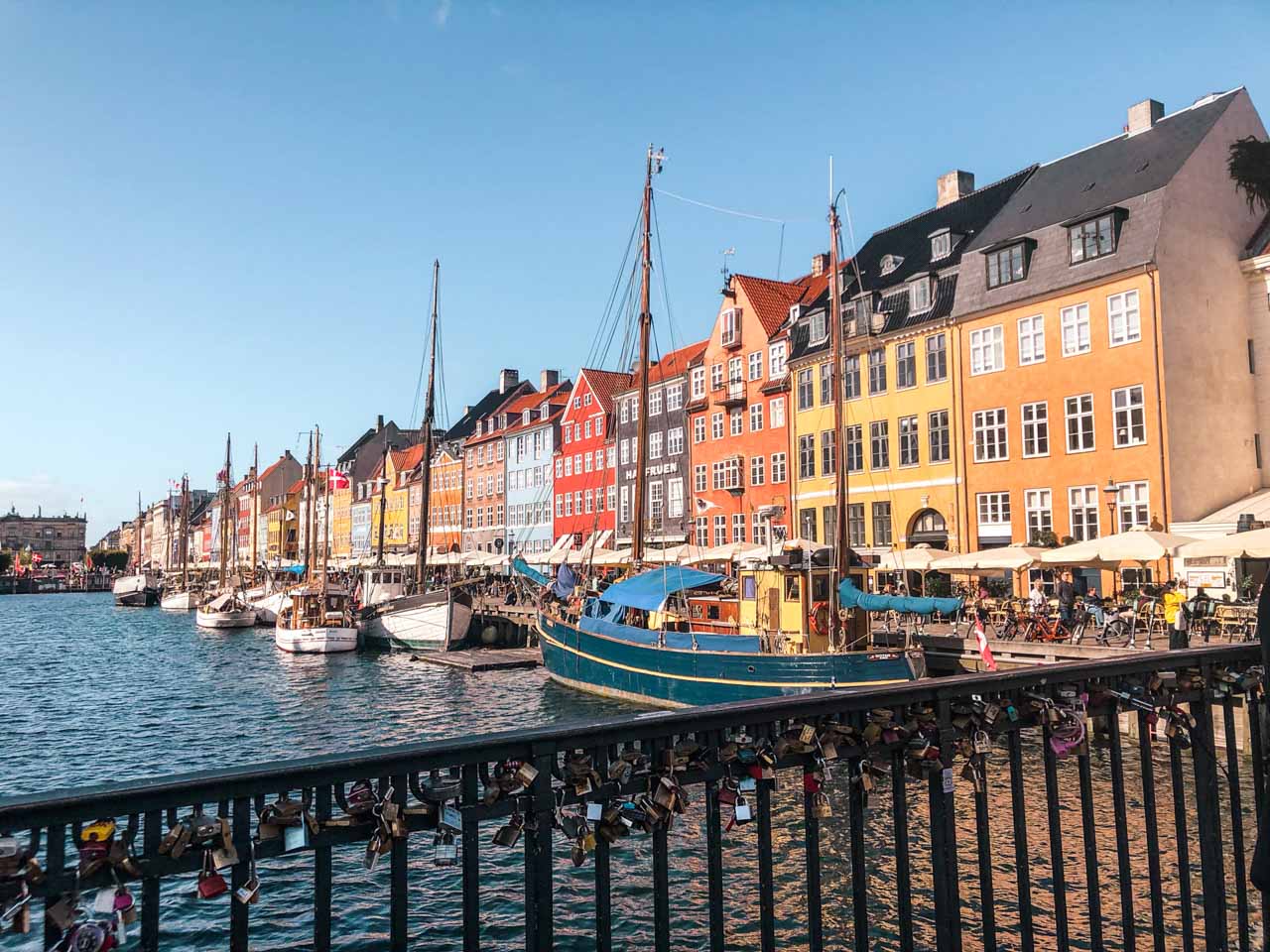 It is thanks to the city council's efforts to change Nyhavn's image, which included inviting sailing boats to moor there, that it is currently one of the most coveted areas of Copenhagen, housing some of the city's most popular cafés and restaurants. We didn't spend much time in the harbour, as it was absolutely freezing despite clear sunny sky, but it didn't take away from its charm.
Den Lille Havfrue – The Little Mermaid
Having often seen it featured in rankings of the most disappointing tourist attractions in the world, The Little Mermaid was something I was really curious to see in person. We were lucky to have come shortly before a huge group of tourists swarmed the area, so we had a moment to take some photos and decide whether it deserves the nefarious title.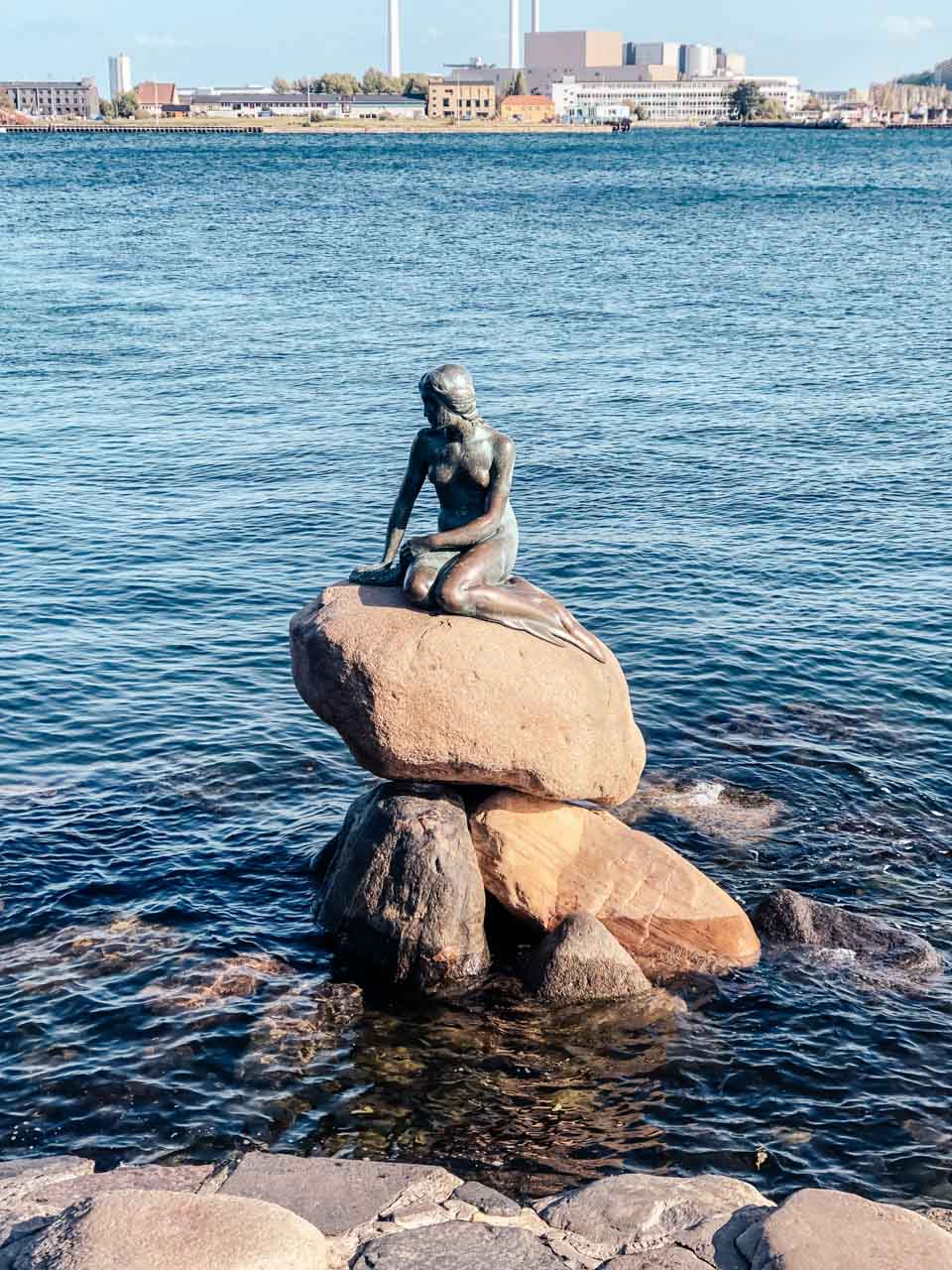 My verdict? I have to admit that the statue is a little underwhelming, but I highly doubt anyone expected it to become a massive tourist attraction when it was commissioned at the beginning of the 20th century. For this reason alone, I would be a little hesitant about calling it disappointing, but I guess you'll just have to come and judge for yourself!
Tivoli Gardens
There are two types of people in this world – those for whom riding roller coasters is an idea of fun, and those whose stomachs start turning at the mere mention of an amusement park. I have always been the former – the scarier the roller coaster, the better!
From the moment we decided to book our flights, I started easing my boyfriend up to the idea that the place I would love to visit the most is Tivoli Gardens, the second-oldest operating amusement park in the world. You have to pay for the entrance and rides separately, or you can purchase an unlimited ride pass on the Tivoli Gardens website. I did some research and decided against getting the unlimited ride pass, as I only wanted to go on 2 or 3 roller coasters.
We ended up going on two rides – the Roller Coaster, one of the oldest functioning wooden roller coasters in the world, and the Demon. You could pay extra for a virtual reality experience in the Demon, which I happily did.
It was hands down the most unique roller coaster concept I've ever encountered. They gave me a VR headset which took me on a wild journey through ancient China inhabited by fire-breathing dragons and demons!
I ended up spending 310 DKK (£35) – 130 DKK (£15) for the entrance and 180 DKK (£20) for the rides. It was a costly experience, but worth every penny.
In addition to having their own theater, aquarium, and amusement arcade, Tivoli Gardens also serve as a venue for music performances, so everyone will surely find something for themselves.
Marmorkirken and Amalienborg
Another point on our walking tour of Copenhagen was Amalienborg, the winter residence of the Danish Royal Family. Consisting of four palaces which surround the Amalienborg Palace Square, this place is mostly famous for its Royal Guard which changes every two hours.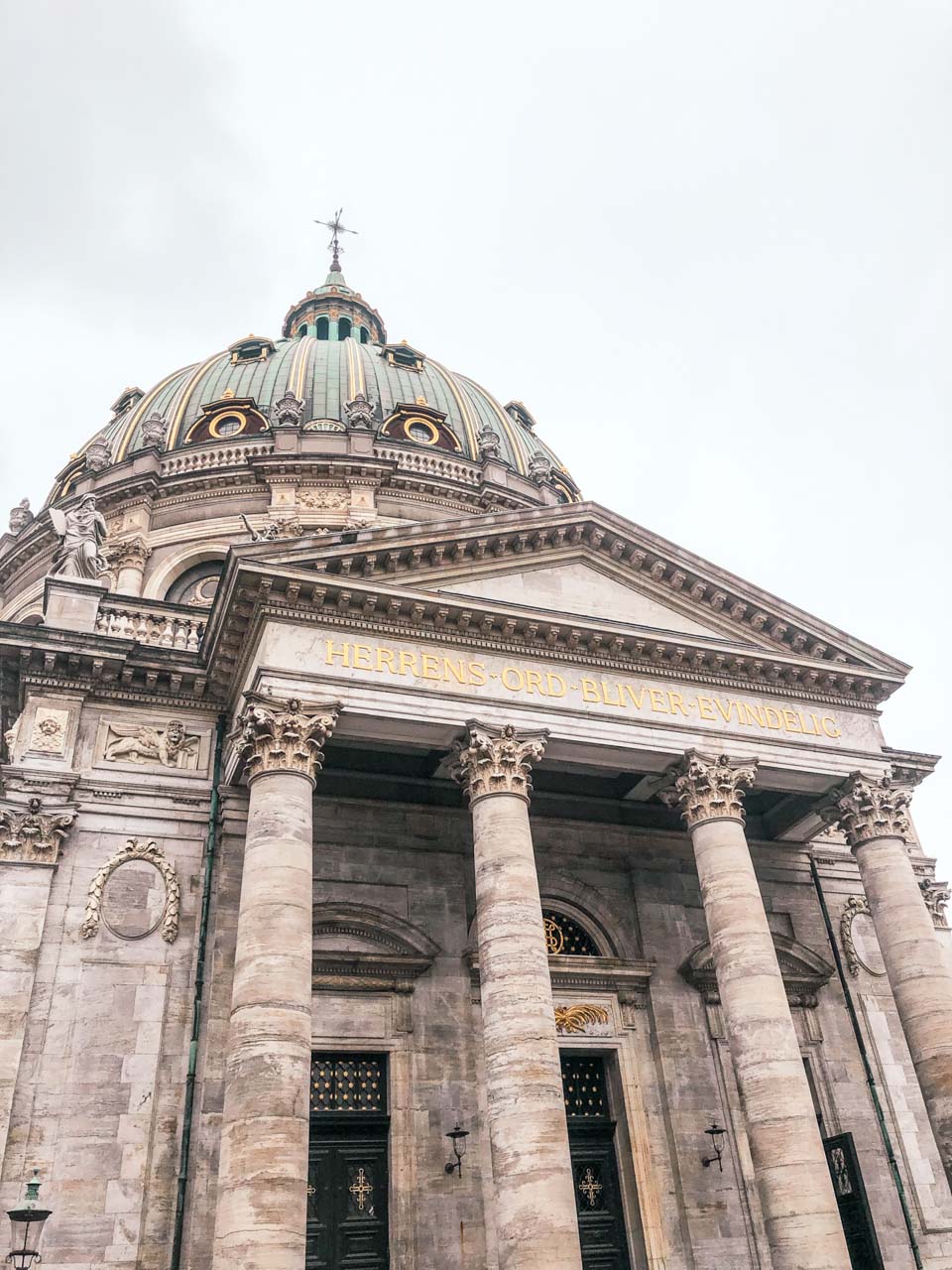 The main palace is not open to the public, but you can get some insight into the history of Danish monarchy in the Amalienborg Museum. We only saw this place in passing, but it's worth looking into if you have more time and the weather allows it.
Christiania
You might be surprised to find out that there's an autonomous anarchist district right in the middle of Copenhagen. The origins of Freetown Christiania date back to 1971, when a Danish journalist came up with an idea to transform an abandoned military base into an alternative residential area as a solution to the problem of affordable housing.
What started out as a social experiment turned into a self-governing and self-sustaining hippie suburb famous for its open cannabis trade in the so-called Pusher Street. You enter this bohemian district through a gate that says "Christiania" on one side and "You are now entering the EU" on the other. There used to be a rule forbidding any photography within the area. While taking photos is currently allowed, you must always ask for permission because drug trade is still technically illegal. I decided to take just one photo of the main gate and refrain from documenting our visit out of respect for Christiania's inhabitants and to maintain the original character of this place.
Behind the gate, you can find an art museum, various galleries and workshops, cafés, restaurants, and shops selling Christiania souvenirs, including beer from the district's first and only microbrewery. Interestingly enough, Christiania even hosts its very own Christmas market! It is definitely a one-of-a-kind experience. I would highly recommend everyone to add this hippie suburb to their list and research its history. I personally found it fascinating!
---
You can find the locations of all of the places mentioned in my guide below:
Would you add anything to this list? What are your favourite ways to embrace the hygge lifestyle?