Last updated on March 9, 2022
I almost didn't make it to Vienna. A few days before departure, I found out that WizzAir changed our return flight from Sunday to Monday evening, and I considered asking for a refund. Luckily enough, I decided we should use it as an opportunity to explore the city properly because let me tell you… Vienna might just be one of my favourite European city break destinations to date!
Vienna is a picturesque place where you can find something worth capturing at every corner. It's a city as cosmopolitan as my beloved London without the hustle and bustle and the overwhelming crowds. A city perfect for history, architecture and music enthusiasts that feels like it was taken straight from a fairytale with all of its opulent palaces and buildings.
The best part about Vienna is you can easily explore all of its highlights in a couple of days. I, however, could easily spend an entire week there and I often catch myself thinking about returning in the future.
Getting from the Vienna Airport
The airport transfer system is something we didn't quite grasp the concept of. Having done our research on Wikitravel, we decided to take the S7 train to the Rennweg station, as our Airbnb was located nearby. According to Wikitravel, you need two separate tickets to board the train – one for the Vienna zone and one for the outside zone as the airport is technically outside of the city, with a single fare of €4.20. Our Airbnb host also confirmed it.
When we used one of the ticket machines available at the airport, the price came to €2.20. We decided to buy our tickets at the counter to make sure we do everything correctly. A friend of ours paid €4.20 for her ticket, whereas my boyfriend and I paid €4.60 for 2 tickets. We just assumed that buying more than 1 ticket counts as a group ticket, which would explain the price difference. We don't know if that was really the case, but it's definitely something worth keeping in mind!
Places we visited in Vienna
Prater
The Wurstelprater, commonly called Prater, is the world's oldest amusement park that is open 24/7 and accessible free of charge. Only access to individual attractions is charged, with fees ranging between €1.50 and €5.
It is also home to Wiener Riesenrad, one of the tallest and oldest Ferris wheels in the world. At €12, it is a rather pricey attraction, but the views from the top make it worthwhile. There are also a number of hire cabins. You can enjoy a candlelight dinner, coffee or cocktails if you are looking for an unforgettable experience and the price tag doesn't scare you.
Apart from the Riesenrad, we also went on the Super 8 Bahn rollercoaster which cost €4.50. Although we found it enjoyable, we agreed that the lap bars felt rather unstable. As it was my boyfriend's first time ever riding a rollercoaster and I have some experience, I had to reassure him that it isn't usually this way. Not an ideal first impression, but we've since been to Tivoli Gardens together, so I suppose it wasn't all that bad!
Schönbrunn Palace
The Schönbrunn Palace is undoubtedly one of the most beautiful baroque palace complexes in Europe and is not to be missed. It is the former summer residence of the Habsburgs, including Maria Theresa, Emperor Franz Joseph, or Empress Elisabeth who you might better know as Sissi. As I vividly remember watching the movie 'Sissi' with my mum as a little girl, I was excited to finally see this place in person.
The Schönbrunn Palace park, which is lined with magnificent fountains, statues, trees and flowers can be accessed free of charge. If you'd like to go inside the palace (which we didn't do), you currently have to pay €22. You can also enjoy some coffee and pastries at Café Gloriette located on top of the hill overlooking Schönbrunn. All palace tickets include access to the Gloriette's roof – or you can buy a ticket just for this attraction.
The Imperial Carriage Museum, Orangery Garden, Crown Prince Garden, Maze and Labyrinth, Vienna Zoo, Palm House, and Desert Experience House are also part of the complex. They can each be accessed separately or as part of a combined ticket.
I would love to return when all the flowers are in full bloom and the Palm House can be seen in all its glory. The woman at the ticket booth told us there was barely anything inside at the time of our visit and advised us against purchasing tickets. We were a little disappointed, but we greatly appreciated her honesty which saved us some money!
Belvedere
The Belvedere Palace complex consists of two magnificent baroque palaces, the Upper and the Lower Belvedere. They are located on a shallow slope and separated by a beautiful garden area with decorative fountains and baroque sculptures.
Both palaces are home to the greatest collection of Austrian artwork. They are complemented by the work of famous international artists, including Van Gogh and Monet. We decided not to go inside and took a walk in the palace gardens instead.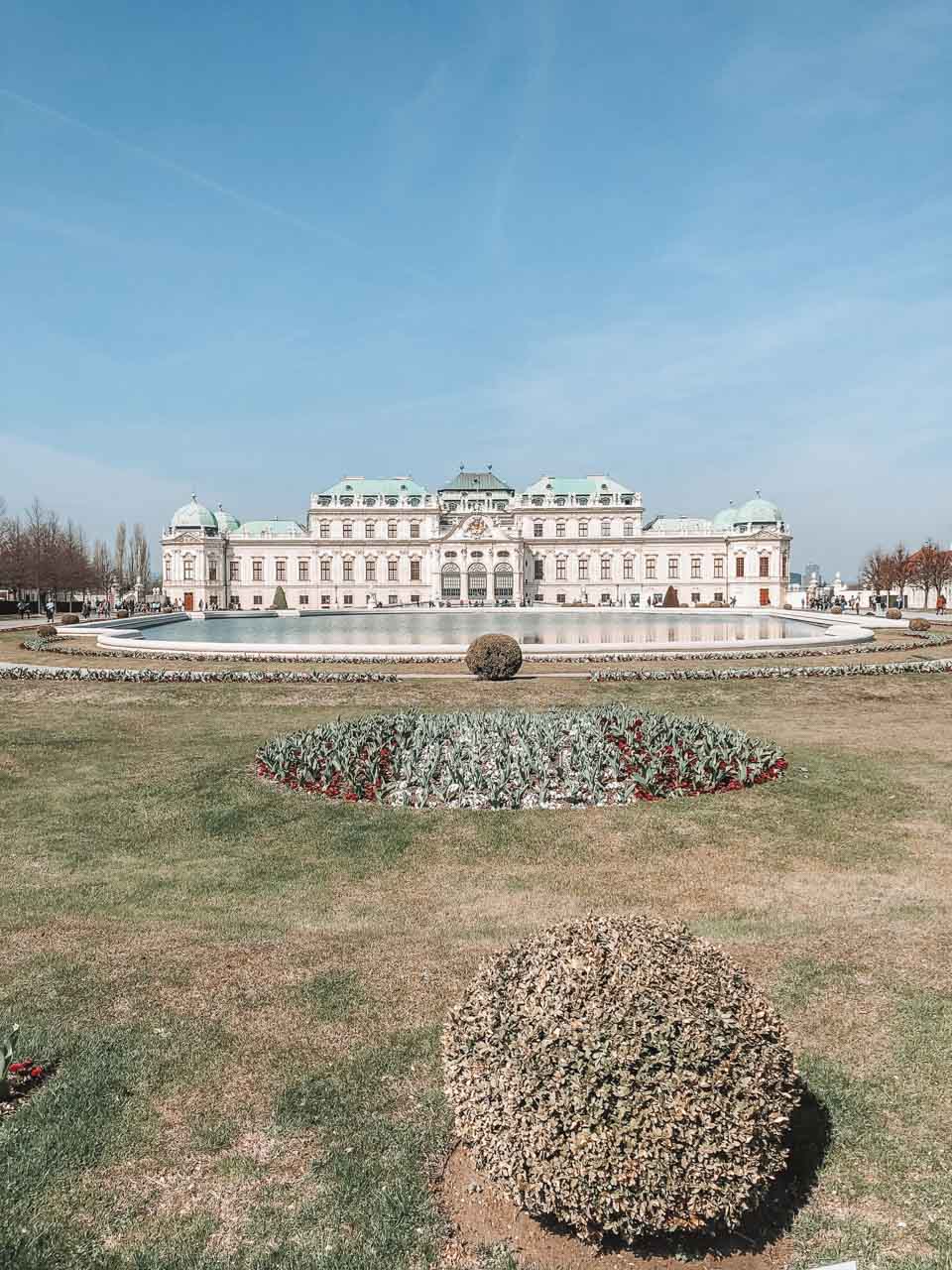 Stephansdom
Stephansdom, also known as St. Stephen's Cathedral, has become a symbol of Vienna. With its multi-coloured roof and the enormous south tower, it is a distinctive feature of the city's skyline.
It holds the tomb of Emperor Friedrich III, the Vienna Neustadt altar, the catacombs, and Austria's largest bell. They can all be viewed at an additional fee.
Schmetterlinghaus
You may have seen a graphic circulating on the Internet that lists the word for a butterfly in various languages. The harsh-sounding German word 'Schmetterling' definitely stands out among other translations, which became a source of many jokes.
While I'll admit the suggestion to visit this place was a direct consequence of these jokes, it ultimately led to us discovering this hidden gem right in the heart of Vienna. Schmetterlinghaus, aka the Butterfly House, is a tropical paradise located in a magnificent glasshouse right by the Hofburg Palace. You can see various exotic freeflying butterflies and, if you're lucky, some may even land on you for a wonderful photo op.
Adult tickets were €7 at the time, while students could enjoy this underrated attraction for €5.50.
Ringstraße
You may also take a walk along the Ringstraße. The boulevard is 5.3 km long and forms a circle around the Old Town district of Vienna. It is lined by the most important buildings and sights, including the University of Vienna, Vienna State Opera, Imperial Palace, Kunsthistorisches Museum, and the Parliament. If you don't have a lot of time to spare, it's the perfect way to see many of the city's highlights in one afternoon.
I hope you found my little travel guide helpful and it gave you some ideas of things to do if you ever decide to tick Vienna off your list. As I have already mentioned, I would love to return and spend more than 3 days in the city. While I enjoyed my time there thoroughly, as this trip was done on a budget, we didn't go inside most of these places and just took advantage of the marvellous weather!
There are many Austrian foods you simply need to try during your time in the capital. I listed all the best dishes and restaurants we tried in Vienna, so you can eat your way around the city!
---
If you have already been to Vienna, feel free to tell me your favourite places and recommendations! Is there anything I absolutely cannot miss next time I'm in the city?