Last updated on June 25, 2023
I know a lot of bloggers throw that word around, but I truly believe that Sarajevo is one of the most underrated European capitals. Even though I didn't know much about the city before our trip, it didn't take long for it to become one of the most memorable places I've been to.
With a fascinating combination of European and Ottoman influences, its rich history, and a contagious joy of living, Sarajevo is the perfect travel destination. In this post, I'll show you all the things that made me fall in love with the city – from where to stay to the best things to do in Sarajevo, including the best restaurants and cafés we visited.
How to get from Sarajevo Airport to the city centre
As there are no direct flights to Sarajevo from where we live, we chose to fly from Copenhagen instead. Thousands of Bosnians fled to Denmark during the war and have remained there since, so it's easier to find flight connections at affordable prices.
Once you land in Sarajevo, there's supposed to be an airport bus to the city centre that costs 5 BAM (around £2.20). However, I cannot remember why we chose to take a regular bus instead. Were the airport buses running infrequently? Or was it due to a miscommunication? I guess we'll never know now.
Either way, we managed to find our bus stop after 15 minutes of trying to cross a busy road without a crossing and navigate our way between residential buildings. At least we unintentionally saved some money, as it only cost us 2 BAM each (around £0.90).
Our bus already provided a snapshot of the efforts to rebuild the city post-war. It was an old Swiss bus, with the old destination blind still in place. Are we going to Bern's main station? I hope not. Although, for that price, maybe it's not such a bad idea after all…
Other than that, we used Google Maps to find bus and tram timetables. We generally didn't have any issues, except for the one time our tram was late and we were worried we were going to miss our train to Mostar. The city centre of Sarajevo is perfectly walkable, though, so you likely won't need to use public transportation much.
Where to stay in Sarajevo
Old Town Apartments
Having stayed in numerous Airbnbs around the world, Old Town Apartments stood out to me as one of the best. Located right around the corner from one of the main pedestrian streets, we had many attractions practically on our doorstep.
The person who renovated this flat was an architect who also designed several popular cafés and restaurants around the city, and it shows. Maybe not from the outside (as we walked upstairs, the building seemed almost abandoned, and we questioned if we were in the right place), but certainly on the inside.
Still, the flat's modern, super stylish interior wasn't even the best part. The real gem in this place is the lovely owner. In all of my years of travelling, it was the first time I encountered such an accommodating hostess. From giving us a handful of city recommendations and answering all of our questions to arranging private transfer to the Sarajevo War Tunnel on our last day, she went above and beyond to ensure we had a hassle-free experience.
We paid €78 (around £67) for 2 nights, which was super affordable considering the central location and high level of service we received. We will certainly book this place again next time we're in the city. If you need a great place to stay in Sarajevo on a budget, don't look further!
What to do in Sarajevo
Baščaršija
I highly recommend starting your trip to Sarajevo with a wander around the old bazaar to get a feel of the city. As you walk down Ferhadija street, just a few steps away from the flat, you'll find an inscription on the tiles that says "Sarajevo – Meeting of Cultures". It marks the place where the main two cultures shaping the city's character merge.
It's also the point of entry into Baščaršija, the city's historical and cultural center. When it was originally built in the 15th century, it laid the foundations for Sarajevo. Now, several centuries later, it's the city's biggest attraction and a popular meeting spot for locals and tourists alike.
Depending on your personal preferences, it's the perfect place to get lost in its cobblestone alleys, try some local food at one of the traditional eateries, or put your haggling skills to the test. I'll leave the details of some places we really enjoyed in the restaurant section below.
Latin Bridge
I remember learning about this place during history lessons when I was at school. Latin Bridge is the site of the assassination of Archduke Franz Ferdinand and his wife Sophie on 28 June 1914, which ultimately led to the outbreak of World War I. Interestingly enough, the killer by the name of Gavrilo Princip is generally considered a terrorist by Bosniaks and Croats, and a hero by many Serbs.
If you weren't actively looking for this place, it's really easy to miss. All that's left to commemorate the events of 1914 now is a small plaque to mark the exact location where the assassination took place. It wasn't always this way, though. The Austro-Hungarian monarchy built a monument dedicated to Franz Ferdinand and his wife, but it was removed when Yugoslavia was established.
There used to be a plaque commemorating Princip, which was later given to Adolf Hitler as a birthday gift in a twisted turn of events, kept in a museum, and eventually lost. You could also see embossed footprints in the spot from which he fired the fatal shots, but they were torn out during the Bosnian War.
Right across the bridge, you can find the Museum of Sarajevo 1878-1918 dedicated to the Austro-Hungarian rule in the country. We've heard that due to different perceptions of Princip by various ethnic groups, the museum mostly gives weight to the political and administrative changes that occurred during that period. As the assassination was what we wanted to learn more about, we chose not to go inside. Still, Latin Bridge is one of the must-see places in Sarajevo due to its historical significance.
Hotel Hecco Deluxe
If you've been following me for a while, you'll know how much I love a good spot to watch cities from above. A not-so-obvious place to do that in Sarajevo is the restaurant on the 10th floor of Hotel Hecco Deluxe. Located right in the heart of Sarajevo, opposite the Eternal Flame monument, the restaurant terrace offers stunning panoramic views of the city.
Our main concern was that we didn't feel like ordering any more food or drinks, as we had just returned from exploring what the Baščaršija district has to offer. Luckily, you don't need to order anything to enjoy the beautiful views. There weren't too many guests at the time either, so we could walk around in peace without disturbing anyone. I would highly recommend it, especially if you're travelling on a budget!
Free walking tour
If I could only recommend one thing for you to do in Sarajevo, it would hands down be the free walking tour by Neno & friends. We chose the War scars & new times one, which covers the Siege of Sarajevo and the post-war period.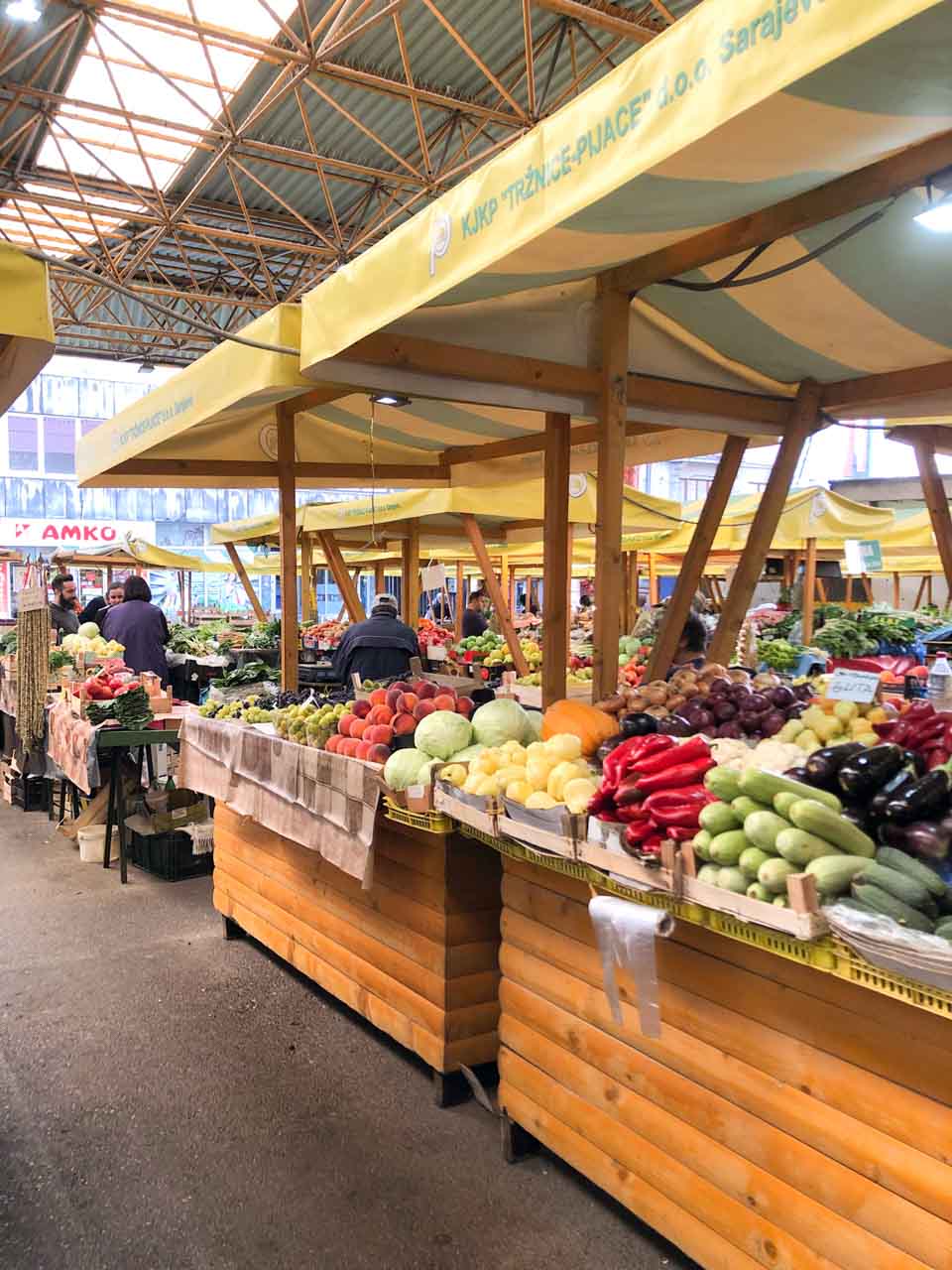 As a child growing up during the war, Neno was able to share some personal experiences from that harrowing time. He also did a brilliant job of explaining the roots of the conflict, as well as the current political set-up and the main challenges facing the country. Whatever questions you may have, he will answer them for you.
During the 2-hour tour, we visited several memorial sites and passed by Sarajevo roses. These are craters left by fatal mortar explosions that have been symbolically filled with red resin. We also went to the infamous Sniper Alley, Sarajevo's main boulevard, which was lined with snipers' posts during the war, becoming one of the most dangerous places in the city.
You can see the signs of war everywhere you look. However, reducing the story to the atrocities the people of Sarajevo had to endure wouldn't paint a full picture. Because, above all, it's about the unwavering resilience on their end, the humour that helped them get through each passing day, and the powerful spirit that couldn't be broken even during the city's darkest hours.
We got all that and more during the tour – it was absolutely heartbreaking, but so necessary to truly get to the bottom of Sarajevo's history. Note that you must book a spot in advance. You can find all the details on the website I linked above!
A little fun fact about the canned beef monument…
A great testament to the locals' sense of humour is the canned beef monument where our tour ended. While the inscription says "Monument to the International Community by the grateful citizens of Sarajevo", it's far more sarcastic in nature.
During the siege of Sarajevo, which lasted almost 4 years, the citizens faced a severe shortage of food and other basic necessities. However, the humanitarian aid that arrived in the city was far from ideal. Some of the canned food was left over from the Vietnam War and had been expired for over 20 years. A lot of it also included pork, which was a horrific oversight in a country where almost half of the population is Muslim. Apparently, even some cats and dogs refused to eat the canned beef – yikes!
Our tour guide told us that the authors were allowed to install the monument as long as it was situated away from the UN headquarters to avoid provocation. However, as luck would have it, they later relocated the headquarters… right behind the monument 😉
Old Jewish Cemetery
One of the places our tour guide recommended was the Old Jewish Cemetery. It was a 25-minute walk from where our tour finished, so we decided to head there shortly afterwards.
This nearly 600-year-old cemetery located on the slopes of Trebević Mountain is actually the largest Jewish cemetery in Southeast Europe, and one of the largest in Europe. The uphill walk isn't exactly the easiest on a hot summer's day, but you gain an insight into life in the city as you pass derelict buildings that likely haven't been occupied since the war.
Once you reach the top, your efforts are rewarded with incredible panoramic views of Sarajevo. But, the moment you remember why you're there in the first place, that awe soon makes way for grief.
Those exact same views were the reason why the Old Jewish Cemetery was chosen to be the sniper's nest during the Siege of Sarajevo. From there, snipers fired shots at innocent civilians going about their daily lives. These tombstones bear silent witness to the atrocities that happened in the valley below, and many still have bullet holes in them.
Trebević Mountain
You can also take a cable car to the top of Trebević Mountain, which was used for some of the events of the 1984 Winter Olympics. It's one of the most important symbols of Sarajevo – before the siege, it was one of the most popular hangout spots among the locals. When the Siege of Sarajevo started, it provided refuge from the billows of smoke that filled the city until the so-called "Lungs of Sarajevo" were completely destroyed during the Bosnian War.
Thankfully, the iconic cable car has since been reconstructed and resumed service in April 2018. The gondola ride takes around 10 minutes and costs 20 BAM return (around £8.90).
Once you arrive at the cable summit, you can walk along the marked mountain paths, visit a recreational sports center, or go on a 2-hour hike to the peak of the mountain. There's even an amusement park nearby! Just avoid going off the beaten path, as there are still some unexploded mines on the hillside.
But, no matter which option you choose, you can't miss the area's biggest attraction…
Abandoned Olympic bobsleigh track
One of the venues built for the 1984 Winter Olympics was the bobsleigh and luge track on Trebević Mountain. Once a source of pride for Sarajevo, it now stands as a sad reflection of the city's former glory days. Back in the day, it drew thousands of spectators. After the Olympics finished, it was also used to host World Cup competitions, and it seemed like it would continue to attract international crowds for years to come…
Sadly, when the city of Sarajevo was ravaged by war, the bobsleigh track became one of its victims too. The track is still pocked with bullet holes, a stark reminder of the fact that it was once used as an artillery position. After the war ended, the massive concrete structure was reclaimed by nature and fell into disrepair.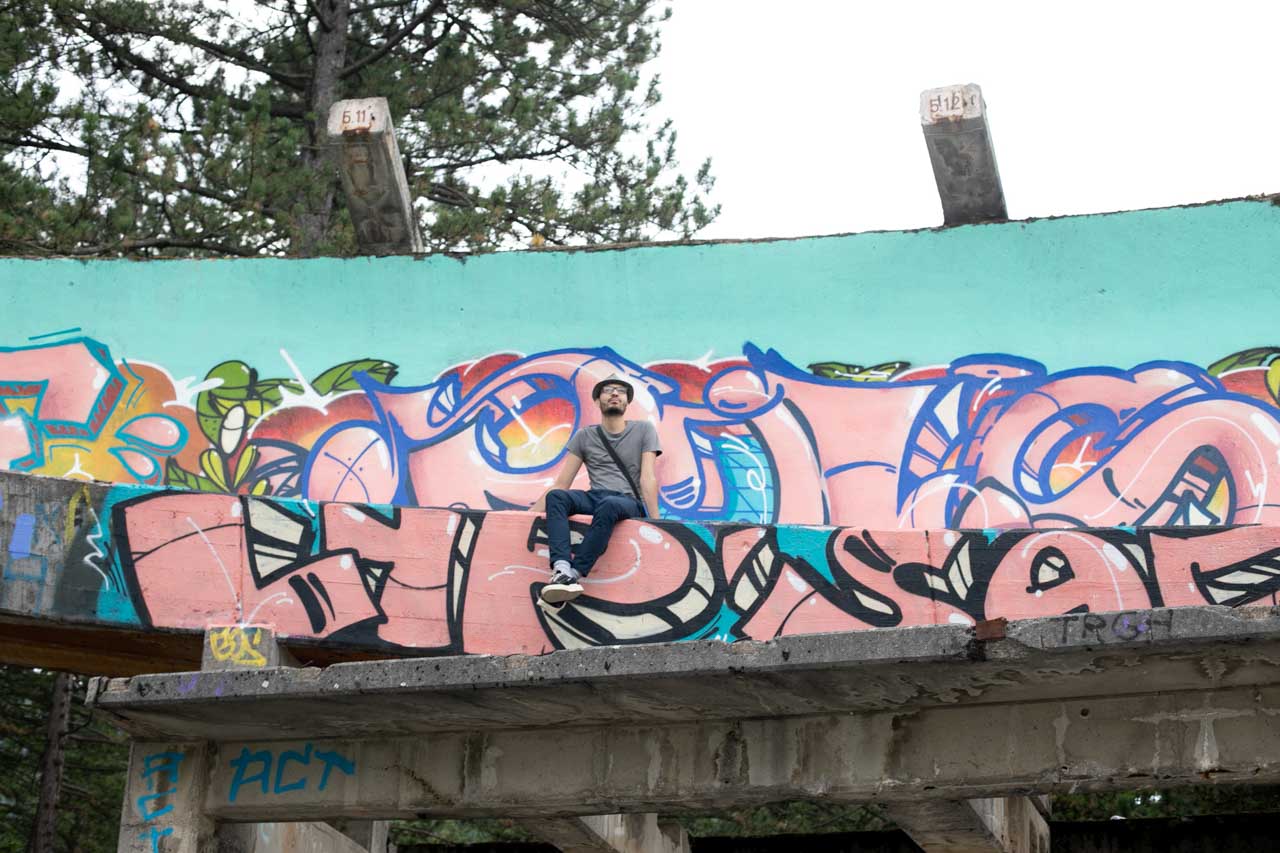 In 2014, a massive demining operation took place. The track is now popular among urban exploration (urbex) enthusiasts and local street artists. Covered in graffiti, it seems hardly conceivable that this place was once vibrant and bustling with visitors from all around the world.
I was surprised to learn that it's still used for summer training, with plans to get it ready for the 2030 Winter Olympic Games. We personally haven't seen any indication of ongoing restoration works, so we'll see about that… Regardless, it's one of the most memorable places we visited in Sarajevo. Unless you're a hiking enthusiast (which I'm not), there's not that much to do there, so you could easily do the round trip in 2 to 3 hours.
Gallery 11/07/95
Unfortunately, we only had enough time to visit one of the war museums in Sarajevo. We had to choose between the Museum of Crimes Against Humanity and Genocide and the Gallery 11/07/95. We eventually opted for the latter, which is a memorial art gallery dedicated to the Srebrenica genocide.
At the time, we paid 12 BAM (around £5.30) each. What I appreciated about this museum was that our tickets were valid for the entire day. We only had an hour to spare in the morning and didn't get to see everything we wanted, so we returned that afternoon to see the rest.
During the Srebrenica massacre of July 1995, over 8,000 Bosniak Muslim men and boys lost their lives at the hands of the army of Republika Srpska. Through a variety of multimedia exhibits, including photographs, posters, audio recordings, and documentaries, you gain a deep insight into what occurred in this small mountain town in Eastern Bosnia almost 30 years ago.
We found it distressing, but important to show how the violence of some people combined with the indifference of others can lead to the suffering of thousands of innocent people.
Sarajevo War Tunnel
The final destination on our Sarajevo itinerary was the Sarajevo War Tunnel, also known as the Tunnel of Hope. During the Siege of Sarajevo, Serbian forces completely isolated the city. As a result, members of the Bosnian Army devised a plan to connect the besieged city with the Bosnian-held territory near the Sarajevo Airport, which was under United Nations control.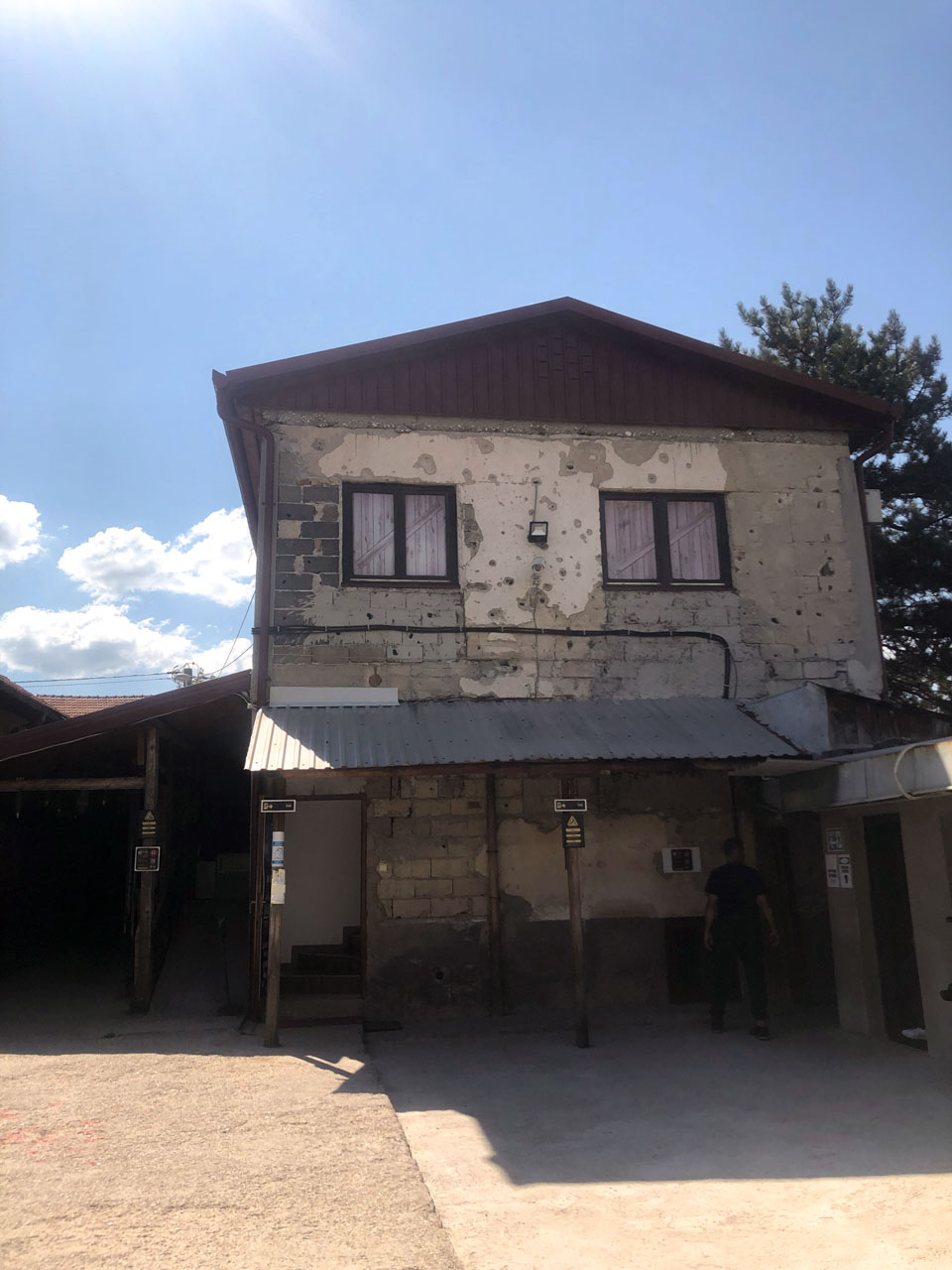 It took over 6 months to dig a tunnel beneath the airport runway. This allowed people to bring food, humanitarian aid, or war supplies into Sarajevo, as well as exit. At that time, it was the only way in and out of the city.
The southern entrance to the tunnel was hidden inside a house owned by the Kolar family, located near the airport. Now, the remaining 20-metre section of the tunnel is part of a museum that tells the story of the longest siege of any city in modern history. We paid 11.50 BAM (around £5.10) each to visit the museum. It's a truly eye-opening experience to walk through the tunnel and get a glimpse of everyday life for the citizens of Sarajevo during wartime.
Getting to the tunnel
As we had limited time on our final day, we thought we wouldn't get to see the tunnel. Thankfully, our hostess came to the rescue! She arranged for her friend to pick us up, drive us to the tunnel, wait for an hour while we explored, and then take us back to the city. We paid 40 BAM (around £17.70) for this private transfer, which was a fantastic value for our money. This was yet another reason why I highly recommend the flat we stayed in, as the hostess will do anything in her power to accommodate you.
A truly fascinating thing about our drive to the tunnel was that we saw a road sign saying that we were leaving the Federation of Bosnia and Herzegovina and entering Republika Srpska, only to re-enter the Federation of Bosnia and Herzegovina shortly afterwards. You can find out why in my post describing 10 things you need to know before visiting Bosnia and Herzegovina.
Where to eat in Sarajevo
Mrvica
This Paris inspired café/bakery/patisserie came as a recommendation from our hostess. As it was literally around the corner from our flat, we didn't think twice about checking it out. Once we had our first bite, there was no question about returning the very next day either. Quite frankly, if we weren't heading to Mostar, we would most likely be there every morning to try out every item on the menu.
With a variety of different breakfast sets to choose from, our main concern was narrowing down our options. As they didn't have an English menu, it was a bit of a guessing game based on the pictures. Thankfully, we hit the jackpot both times.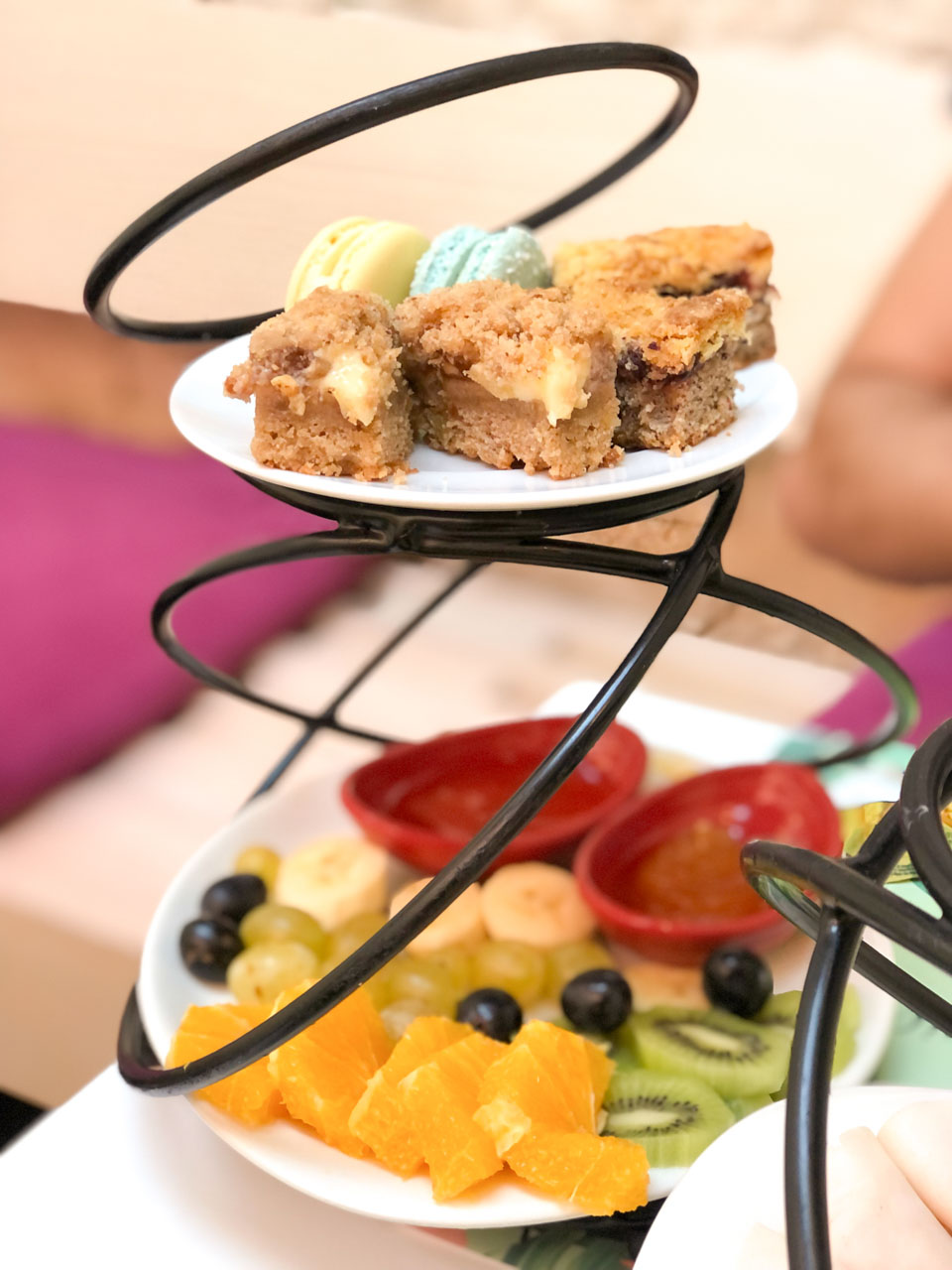 I loved it when we accidentally ordered so much food you could barely fit it all on the table – and we never paid more than £4 each! I have a major soft spot for Instagrammable cafés. The problem with some of them, however, is that the design of the place and the quality of the food don't go hand in hand, and you often overpay for the opportunity to take pretty pictures. That wasn't the case here at all, and I highly recommend this breakfast spot if you're visiting Sarajevo.
Ministry of Ćejf
My boyfriend and I always try to visit a specialty coffee shop or two wherever we travel, and the name of this place immediately intrigued me.
As I came to learn, the notion of ćejf is deeply embedded in Bosnian culture. It means a habit or a quirk that brings you a lot of satisfaction. Your ćejf can be pretty much anything, from placing wild custom Starbucks orders to colour coding your entire wardrobe.
In Bosnia, the ritual of drinking coffee definitely falls under that category. Now, I have to admit I don't like Bosnian or Turkish coffee, so I welcomed this place with open arms. Not only do they serve great specialty coffee, but they also bake delicious cakes to go with it. I also found it quirky that I caught the barista playing chess online in between serving customers. Too bad I didn't manage to convince Mac to challenge him to a game!
Ćevabdžinica Željo
The owners of this place have 3 separate locations around the Old Town area, named after the local football team. But, regardless of whether they support FK Sarajevo or FK Željo, one thing that locals tend to agree on is that this is the go-to place for authentic Sarajevski ćevapi. National Geographic even recommended it, which is yet another testament to the quality of food served here.
We didn't know if there was any difference between Željo, Željo 2, or Željo 3, so we decided to visit what we assumed was the original restaurant. The menu consisted only of a few Bosnian classics. We didn't really need it, though, as we already knew what we wanted to order the moment we walked in.
The vibe is really old-school, and the dishes themselves might not look very appetising served on cheap metal plates. Don't let this put you off, though. It was a wonderful introduction to Bosnian cuisine, and the prices were very reasonable. I paid around £3.60 for a set of 5 ćevapi in a bun and a bottle of coke.
Our food arrived really quickly as well. As is often the case in Bosnian restaurants, the waiter brings the bill along with the food, and you can settle it anytime, which greatly speeds up the entire process. Ćevabdžinica Željo is a great place overall, particularly if you're exploring Sarajevo on a tight budget!
Milky Sarajevo
Think you're a die-hard sweet tooth that can handle any amount of sugar? Why not put your taste buds to the test at Milky, a chain restaurant that specialises in crepe-based desserts?
If you want, you can experiment and create your own crepe. We decided to leave it to the experts, though, and chose two of the suggested options from the menu. Now, I'm not easily defeated when it comes to desserts. When I say I can easily devour a bunch of sweet treats in one sitting, I really mean it. But this, as delicious as it was, almost had me googling "Can you get diabetes from eating too much sugar at once?" at the table.
That being said, would I return? Absolutely. The joy on my face says it all really. Next time, I would probably get one to share, but it was definitely good to test my limits…
Laheri53
When it comes to travelling, I'm usually a big planner. I spend hours poring over my laptop, researching the best places to visit in a given city. In the past couple of years, I've started leaving room for spontaneity, which led me to discover some real gems.
As we were strolling around Baščaršija on our first evening in Sarajevo, we were immediately drawn to this book café. Later, I found out that it is apparently THE place to go for Turkish tea or coffee in Sarajevo.
We decided to try both while we were chilling with our shisha. While I won't be trading in my regular cappuccino anytime soon, we had a delightful evening nonetheless. There are also books stacked all over the place. So, if you'd rather relax with a book in hand, you can do that as well.
It's also very budget-friendly – a shisha and 2 hot drinks each cost us just 20 BAM (around £9). If you're looking for a place with a homely feel that won't break the bank, add Laheri53 to your list.
---
Have you ever been to a city that positively surprised you? If so, what was it and why?