Although I consider myself a frequent traveller now, it hasn't always been this way. As a matter of fact, I didn't leave the country until 2009, when I went on a school trip to Dresden and Dvůr Králové nad Labem. That excursion still holds a special place in my heart, as it sparked my love for travel.
When our options became limited in 2020 due to the imposed travel restrictions, I thought I could use this opportunity to revisit old memories. Would I still be as enchanted now that I've travelled across various continents, or was it just a rookie fascination? There was just one way to find out.
After our trip to Wrocław finished, we decided to head over the Western border and spend 2 days in Dresden. Here's everything we got up to during that time…
Where we stayed in Dresden
Bilderberg Bellevue Hotel Dresden
An unquestionable perk of travelling during the pandemic was the ability to score amazing hotel deals. It's normally the one aspect we choose to compromise on in an attempt to save money, so we were thrilled to enjoy a higher accommodation standard. We chose a 4-star hotel, Bilderberg Bellevue Hotel Dresden, and paid €170 for 2 nights.
All 340 hotel rooms were renovated in 2020, which is reflected in their modern yet cosy interior. We stayed in the Standard room, which had all the necessary amenities, including a flat-screen TV and even our very own iPad! It definitely came in handy for a little blog catch-up, and I also got to look through some of the featured tourist recommendations from the hotel staff.
And finally on to my favourite feature – the hotel's location! It's situated right on the Elbe River, meaning that we only had to walk across the Augustus Bridge to get to Dresden's historic city centre. I believe it was a small price to pay to have the city's main attractions at our fingertips, and I would strongly recommend it to anyone planning a visit to Dresden.
What we saw in Dresden
It's impossible to describe the architecture in Dresden without mentioning the city's catastrophic past. The capital of Saxony, once called "Florence on the Elbe", was virtually reduced to rubble in a series of fire-bombing raids in February 1945. To this day, it remains the subject of many heated discussions about whether these raids were justified, as they came in the final stage of World War II.
The reconstruction efforts that took place in the past 70+ years are nothing short of incredible. As you wander around the Altstadt, it's hard to believe the magnificent Baroque-style buildings haven't been around for centuries. On the surface, the city appears to have completely risen from the ashes. However, you may notice that many areas continue to be rebuilt.
Fun fact – one of the things I remember from my trip in 2009 was the massive construction work near Zwinger. When I returned in September 2020, I was shocked to notice it was still ongoing 11 years later!
Fürstenzug
As we entered the Old Town area, one of the first things we noticed was this massive mural depicting the procession of the Rulers of Saxony. With a length of 102 metres, it's the largest porcelain artwork in the world that consists of around 23,000 Meissen porcelain tiles. What I personally found most fascinating was the fact that it survived the bombing unscathed, bringing the citizens of Dresden a glimmer of hope in times of hardship. I would highly recommend taking a stroll alongside Augustusstraße to admire the craftsmanship and meticulous attention to detail.
Zwinger
One of the most outstanding examples of late German Baroque is this palace complex originally built between 1710 and 1728. During his tour of France, Augustus the Strong visited Louis XIV. It made him want his own residence that would be modelled on Versailles. Did he succeed in his quest? As I haven't been to Versailles (yet), I'll leave it to those who have to judge!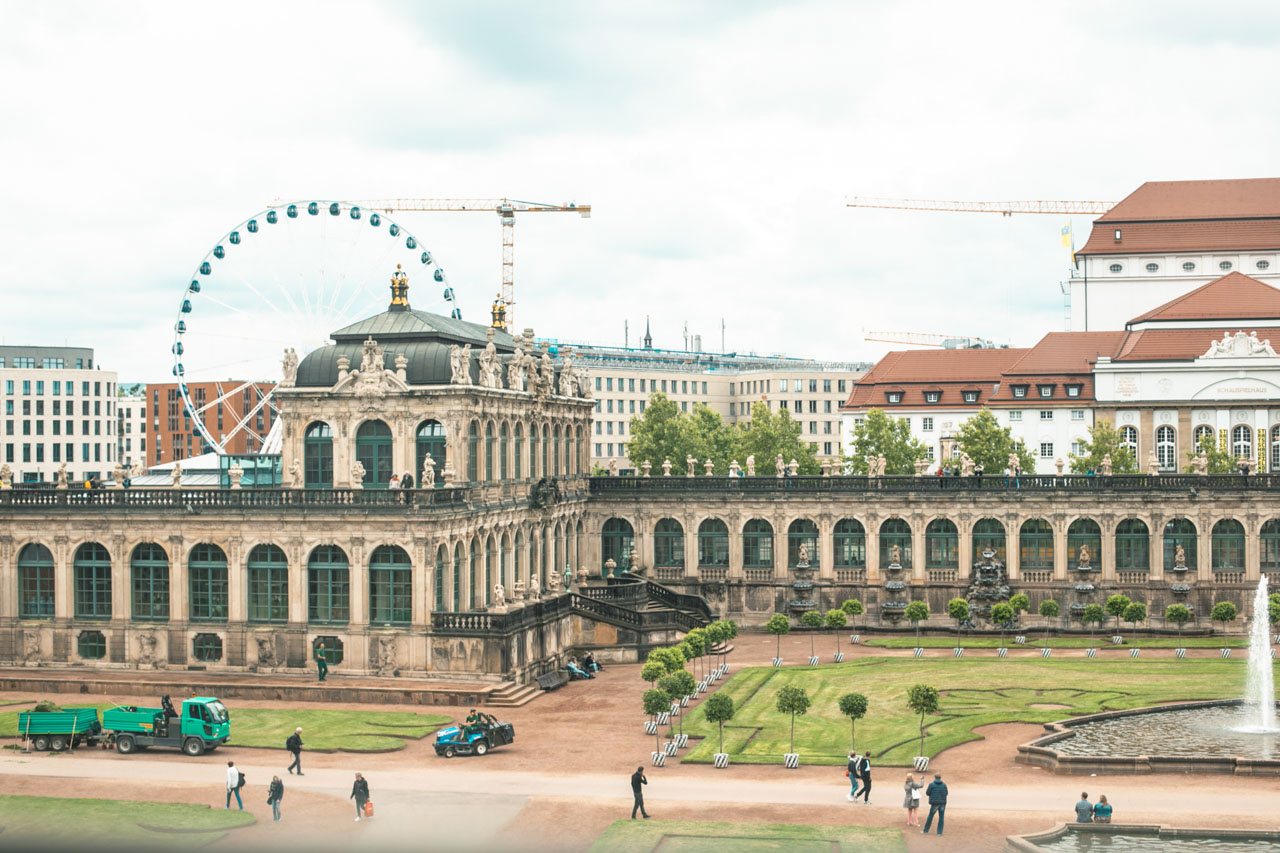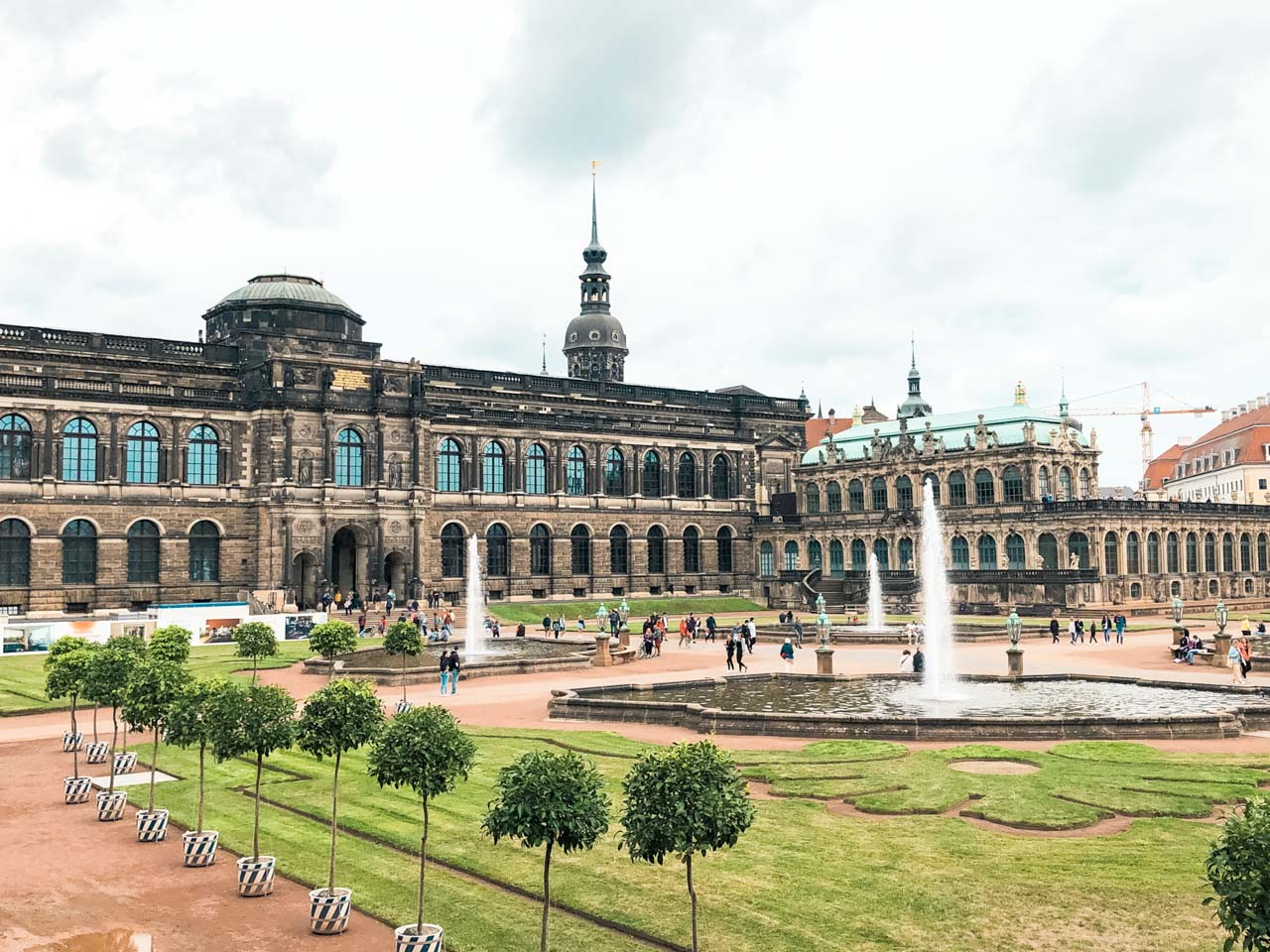 The Zwinger Palace initially served as an orangery and a location for royal balls, and later as an exhibition gallery. It currently houses three museums: the Old Masters Gallery, Porcelain Collection, and the Mathematisch-Physikalischer Salon. While entry to each of them is ticketed, you can walk around the fountain-studded courtyard and external terraces for free.
The Porcelain Collection was closed when we were there, but we spent almost half a day exploring the other two museums. One of the unquestionable highlights of our trip was walking along the upper terraces that overlook the palace grounds. I didn't get to do this the first time around, and I would now encourage anyone to add it to their list.
I also couldn't pass up the opportunity to make a loose recreation of some photos I took in the same spot back in 2009. Doesn't it almost feel like a different person? It's crazy how much my style has evolved over the years. For starters, you definitely wouldn't catch me wearing jeans now!
Old Masters Picture Gallery
On our first day in the city, we headed to the Gemäldegalerie Alte Meister for some art contemplation. With a collection of around 750 paintings dating from the 15th to the 18th centuries, it's a staple for any art buff. It features outstanding works by various Italian, German, French, Dutch, and Flemish painters. The most famous names include Raphael, Rubens, or Rembrandt.
Although I really enjoyed admiring the paintings on display, I personally didn't find this gallery as captivating as the Louvre or the Met. What I did appreciate, however, was the fact that there were way fewer visitors, so we could look around in peace. It was also much easier to navigate – in the Louvre, I spent at least 30 minutes looking for the exit!
At the time of our visit, normal tickets cost €14 euros, while reduced – €10.50. They include entrance to all three museums located in the Zwinger, but you need to bear in mind that they're closed on Mondays.
Brühl's Terrace
This pedestrian promenade that stretches along the shore of Elbe River is called by some "the balcony of Europe". It served as an inspiration source for various artists, and was the subject of several Canaletto paintings. Nowadays, it's a popular hangout spot where locals and tourists alike can enjoy a coffee break and engage in some people watching.
We entered from Münzgasse, a lovely picturesque street that connects the terrace with the iconic Frauenkirche. There are also souvenir stands with one of the most stunning (yet overpriced) illustrated postcards I've ever seen!
My favourite part of the landscape were the historic paddle steamers docked at the riverfront. Did you know that Dresden can boast the world's oldest fleet? All ships are named after Saxon cities or people and run regular cruises along the Elbe.
When we sat down on a bench overlooking the river, there were no passengers on board apart from one middle-aged woman. She was prancing around the boat in a flared dress as some man took pictures of her. I couldn't help but wonder if she was some German personality or just a random woman with an Instagram husband. Either way, her joy was contagious and I found this whole scene really entertaining to watch.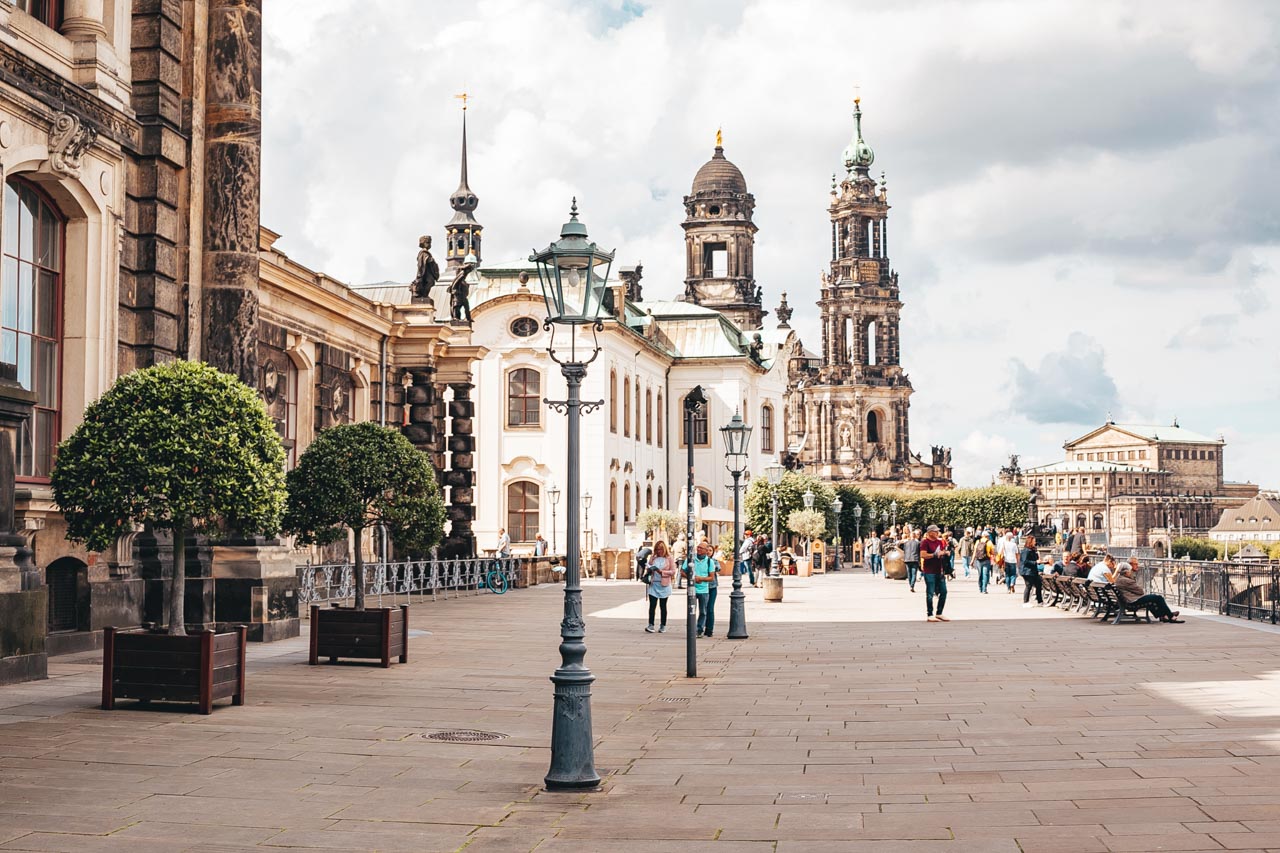 Other than that, I would say Brühl's Terrace was one of the places I've built up in my head over the years. I remembered it as a much more lively and vibrant place, whereas now it was rather quiet. I would love to see more outdoor bars and restaurants on the other bank to breathe some life into it and encourage a longer stay.
Frauenkirche
When in Dresden, it's simply impossible to overlook this majestic Baroque church towering over the city. It was originally built in the 18th century and completely destroyed in the 1945 bombing raids. Over the years, it became one of the symbols of German Reunification, and the story behind its reconstruction is absolutely fascinating.
While the city was under Communist rule, the church remained nothing but a pile of debris. After the fall of the Berlin Wall, reconstruction efforts started as a result of extensive fundraising and generous private donations.
Now, if you look closely at the church's exterior, can you spot numerous black bricks scattered throughout? They're actually the original pieces of the church that were used to rebuild it. As you step inside, you can also observe a big part of the church's history. 2000 individual parts of the original altar were recovered, and then used to construct a new one.
The church's interior is honestly unlike anything I've ever seen. It's kept in light pastel colours, which are my favourite kind of shades and absolute aesthetic goals. We stopped for a moment of reflection, although it may have dragged on a little because I just couldn't stop feasting my eyes on this architectural marvel.
Is it just me, or does a pastel colour palette automatically make any building look more pleasing to the eye? I've visited a fair share of churches over the years, but very few impressed me as much as Frauenkirche did!
Ascension to the dome and the viewing platform
Entrance to the church is free, although when we visited there was a 1-hour break between 12 and 1 PM when visitors couldn't go inside.
I would highly recommend paying €8 to ascend to the dome. I absolutely loved the walk alongside a rising walkway circling the dome, during which we got to take a peek inside the church. As we visited the viewing platform first, this was our first impression of Frauenkirche in person. It gave us a pre-taste of what was to come, and was a wonderful attraction in itself.
The walk to the dome is a little strenuous, but you are rewarded with unparalleled views of Dresden's Old Town and Elbe River. Long-term readers may know that seeing a city from above is a staple during every single one of my trips. If you're the same, Frauenkirche is the place to go!
Kunsthofpassage
The next place on our itinerary was Dresden's hip and trendy district, Neustadt. Don't let the name mislead you, as it's not a new development area. As a matter of fact, it suffered a lower level of war damage than the Old Town, and you can actually find more preserved historical buildings in Neustadt.
These days it's mostly known as the city's nightlife district. From different cultural institutions, such as the Insta-friendly Thalia Cinema, to artsy bars like Katy's Garage, it has many offerings that attract students and creatives. We didn't have much time to spare, so we only came to tick two places off my bucket list.
The first of them was Kunsthofpassage – an initiative of Dresden artists and designers who turned run-down courtyards into thematic art installations. There are five different motifs: Courtyard of the Elements, Courtyard of the Light, Courtyard of the Animals, Courtyard of the Mythical Creature, and Courtyard of the Metamorphoses. I had no idea there was an entire series until recently, so we didn't see them all.
My main reason to come was the Courtyard of the Elements with singing drain pipes. In most cities, rain is likely to ruin your travel plans – but Dresden isn't one of them!
As you walk into this courtyard, there's a turquoise building with an intricate installation of drain pipes winding around balconies and windows. It features several waterfalls, funnels, and trumpets. When it starts to rain, water cascading down these pipes turns the building's façade into a musical instrument. Rainy weather is my least favourite kind of weather, but that afternoon I prayed for a downpour. It sadly didn't rain – although I'm pretty sure the building's residents didn't share my sentiments 😉
Yenidze Cigar Factory
On one of our walks, we decided to take a little detour to see this unique 19th-century industrial building. It's a former cigarette factory that processed oriental tobacco imported from the Ottoman town of Yenidze. Its owner, Hugo Zietz, chose to borrow various design elements typical for mosques to reflect his product's exotic origin. Since 1996, it's been used as an office space.
On the top floor, there's also a restaurant that offers rooftop views of Dresden. We admired it from the outside, but we all know by now I'm a sucker for a good panoramic view, so I'll try to be back for a meal.
Surprisingly, most of the guides I read prior to our visit didn't mention Yenidze Cigar Factory. It's an outstanding feature of the city's landscape whose size and majestic exterior truly stunned me. If you have some extra time, I would strongly advise you to take a leisurely walk to see it up close.
Where we ate in Dresden
Alex
Taught by our previous Hamburg experience, we knew you can find some of the best breakfast places by total accident. Therefore, we didn't do any proper research beforehand and just decided to wing it. We'd just walked past the Dresden Castle when a bakery called Alex caught our attention.
On weekdays, between 8 AM and 12 PM, they offer an all-you-can-eat buffet for €12.60 (excluding hot drinks). On Sundays and public holidays, between 9 AM and 2:30 PM, you have to pay €17.90 for an all-you-can-eat brunch.
You get an amazing value for your money, as you can find anything you want to compose your favourite breakfast. Whether you're a savoury or sweet person, they have something to cater for every taste. From various types of cereal and fresh fruit to scrambled eggs, crispy bacon, and an assortment of sliced meats and cheese, the combinations are endless. There's also an entire stand with freshly baked goods, including pretzels and croissants, and different types of spreads.
You can also choose from several other sweet treats, such as pancakes, pudding, or small desserts in a glass. Orange juice was included in the price, but we chose to pay extra for a chai latte and a cappuccino.
Alex is the kind of place you could easily spend an entire morning in, having a hearty breakfast with a view. As a matter of fact, we liked the breakfast buffet so much we came back the next morning. The only downside was that their offer didn't change, so it could get repetitive after a while.
Pfunds Molkerei
Did you know the Guinness Book of Records has a category for the most beautiful dairy shop in the world? Neither did we, until we got to see the title holder in its full glory! Pfunds Molkerei was founded in 1880 by Paul Pfund, a farmer who wanted to supply Dresdners with fresh milk. The company grew over time – by 1945, there were nearly 50 branches in Dresden alone! Unfortunately, the shop on Bautzner Straße is the only one that survived the wartime destruction.
Today, Pfunds Molkerei is committed to keeping tradition alive and still sells various artisanal cheese delicacies. Located in the city's Neustadt district, this dairy shop is a real piece of art. With gold and blue accents all throughout the shop, hand-painted Villeroy & Boch tiles gracing its every inch, and ornate chandeliers hanging from the ceiling, it offers a real feast for the eyes.
You can purchase all kinds of treats there, from milk grappa to different types of condiments and soap. Upstairs, there's also a restaurant where you can try various dairy-based dishes – we didn't think twice about staying for lunch!
For our main, we both chose the homemade cheese Spätzle with melted cheese and roasted onions, as well as a local beer. It was right up my alley and I savoured every single bite. Our dessert choice was a glass of milk grappa and a local specialty called the Eierschecke – sheet cake made of yeast dough, custard, quark, and poppyseeds.
I hate poppyseed cake, so I was quite apprehensive, but when in Dresden… Well, I worried for nothing, as it was absolutely divine – light, fluffy, and really flavoursome. If you're planning a visit, a meal at their restaurant is a must!
e-Vitrum
If you're looking for a unique dining experience that won't break the bank, the last point on my list ticks all the boxes. What if I told you that in Dresden, you can have lunch as you watch car parts move along production lines? Whether you're an automotive enthusiast or you're just looking for a fun story to tell at dinner, eating at the Volkswagen factory is a great choice!
The e-Vitrum restaurant is located inside the so-called Transparent Factory. You can pay for a guided tour of the plant, during which you can take a sneak peek at the manufacturing process, and even test drive VW electric vehicles! As we only had time for a quick lunch before hopping on a train to Berlin, observing the assembly lines from the distance had to suffice for now.
We ended our trip on a high – with a delicious Currywurst and a beer each (I have a slight obsession with elderflower drinks)! I'd love to return for a tour, and maybe even take one of these cars for a spin – I suppose that could be my motivation to finally get that driving licence…
---
Although it took me 11 long years, I'm really happy I got to return to Dresden! I'm also glad I had more time to spare this time around, as one day is nowhere near enough to see everything the city has to offer. It allowed me to see the city with fresh eyes and discover some true gems that I shared with you! As I have a weakness for German cities, I'll definitely be back someday – hopefully it won't take me this long again!
What about you – what's the first city you've ever visited? How old were you and what was the most memorable part of your trip?