Positano shot straight to the top of my bucket list the moment I saw a photo of its multi-coloured hillside houses on my feed. From rows of colourful umbrellas along the shore to stunning dinner spreads on flower-filled terraces with sea views, it looked almost too good to be true. I was immediately captivated and knew I had found the right place to live the "dolce vita" lifestyle.
Sadly, when we began planning our summer trip to the Amalfi Coast, we had to face the harsh reality. Unless we were ready to pay a large sum of money, there was no way we could stay in Positano. We eventually decided to make Salerno, a lovely coastal town at the eastern end, our home base. Still, I just couldn't be in the area and not visit the place I'd been dreaming of for so long, even if only for a day…
How to get to Positano
There are several options available for getting to Positano, depending on your location and budget.
The most cost-effective option is the SITA bus, which connects various towns on the Amalfi Coast. For example, the journey between Sorrento and Positano costs just €2 and takes less than hour. If you sit on the right side of the bus, you can enjoy some magnificent views of the coastline.
At the other end of the spectrum, you can rent a car or hire a private car service. This will probably cost you in three figures, but it is the most convenient and reliable mode of transportation.
If the idea of driving on the winding roads of the Amalfi Coast frightens you, and you would prefer to take the train, keep in mind that Positano doesn't have its own train station. You will need to catch a train to one of the nearby towns and then continue your journey using alternative transportation.
There is another option that strikes the right balance between convenience and cost – travelling by ferry. We chose to book our ferry from Salerno to Positano online, which at the time of our visit cost €12 per person each way. We arrived a little early so that we could pick up our tickets from the ticket office before boarding.
The journey took a little over an hour and offered a preview of the beauty that awaited us, as the ferry stopped at a few other picturesque towns along the way. If you have room in your budget, I highly recommend taking the ferry.
What to do in Positano
We arrived in Positano at 9:45 am. As soon as we stepped off the ferry, I was instantly mesmerised by the view that greeted us. Unsurprisingly, it didn't take long for the first photo opportunity to present itself. Right next to the marina, we found the cutest tiny blue boat docked in the sand. With its white and blue sail, it provided a lovely pop of colour against the backdrop of pastel buildings and mountains that dominate the area. If you can afford it, I imagine the view from an actual yacht would be even more spectacular.
Enjoy a coffee with a view
Before we could continue exploring, we made a stop for a coffee break at La Brezza, a café right on the beach boardwalk overlooking the bay of Positano. I had a freddo, although the one I mentioned in my Naples guide remains unbeatable to this day! With most coffees costing between €3 and €5, the place was also much more reasonably priced than we expected.
Relax on Positano's iconic main beach
Next, we continued walking towards Spiaggia Grande, Positano's main beach. You may recognise it from photos of girls posing between rows of perfectly symmetrical rows of lounge chairs with striped umbrellas. Unfortunately, we couldn't recreate those photos, as the beach was closed off when we came and we weren't allowed to enter without a reservation. We watched from a distance for a while before turning around to see what else the coastal town had to offer.
Enjoy the handiwork of local artists
We passed a lovely elderly man who was selling his paintings of the vibrant hills of Positano. I'm not usually one to take an interest in purchasing artworks, but I could definitely imagine owning one of his creations. The man was truly brilliant!
As we started climbing the winding stairs, we came across even more stalls of local craftsmen. Whenever I travel, there are a few essentials I always bring home with me – some postcards, a fridge magnet, chocolate, and a Vogue magazine if a particular country has its own edition. When I saw one of the artists selling hand-painted postcards, I knew I had to get one.
We also stopped at a charming little souvenir shop where I bought a fridge magnet and some lemon-flavoured chocolate for my parents, as well as a dark version for my grandfather. If it weren't for my carry-on and (most importantly) budget restrictions, I would've spent way too long wandering from one shop to another!
Admire the distinctive Mediterranean architecture
I feel like this one goes without saying. If you're considering a trip to Positano, chances are you were drawn in by the charming pastel houses perched on its hills, just like I was. Still, by not writing a separate paragraph about the architecture, I would be doing Positano a real disservice.
Positano is mainly a pedestrian town, with most areas accessible by stairs, so be prepared for A LOT of stair climbing. Alternatively, there is one road that winds all the way down to the harbour. The route we took was a combination of both. The heat didn't make our hike any easier, but trust me, the views we came across made it all worthwhile. I would stop all the time to take another photo or simply admire the magnificent views at every corner. It was as if knowing that my time in Positano was limited, I wanted to absorb as much of it as possible and not miss a single thing.
One of the many rewards came in the form of a square that houses the iconic Church of Santa Maria Assunta. We didn't go inside and chose to take in the scenic view from the square instead. If you're after these really Instagrammable spots on your travels, this is definitely the place to go!
Take THAT postcard shot
Speaking of Instagrammable locations… Have you ever wondered how bloggers manage to capture these stunning postcard shots of Positano? Well, you're in luck, because I'm about to let you in on a little secret… Thankfully, you don't need access to a luxurious suite, an influencer's budget, or any budget for that matter. You can get your photo for free if you go to the terrace of Le Sirenuse Hotel!
Hold on, but you just said I wouldn't need a luxurious suite… Don't worry, you heard me right. While even one night at Le Sirenuse costs an eye-watering amount of money, you can access the hotel's terrace for free. You can also choose to dine or have cocktails with a view at one of the hotel's restaurants and bars. Seeing as that experience comes with a fairly high price tag too, we chose to give it a miss this time.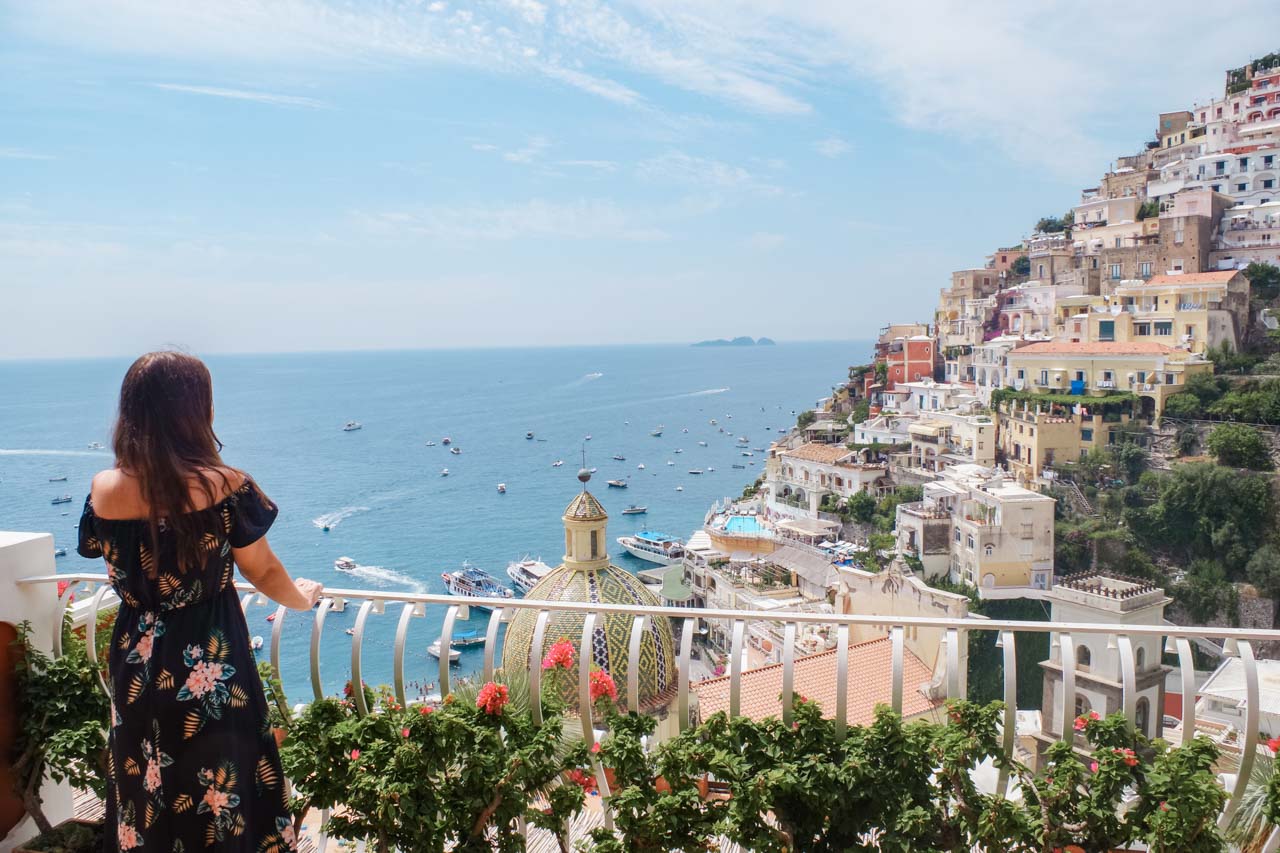 Reward yourself with refreshments by the seafront
At this point, perhaps you've decided to splurge and book a table at Le Sirenuse, or maybe you'd prefer to search for a more wallet-friendly option. On our way back to the harbour, we stopped at several restaurants to check their price range. The average price of a simple margherita pizza was triple what we had paid elsewhere, so we decided to have a round of cocktails before boarding our ferry and put off lunch until we were back in Salerno.
Check out my blog post about the best things to do in Salerno – and why you should consider making it your base while exploring the Amalfi Coast too!
We returned to La Brezza and ordered a Limoncello Spritz and a glass of Positano Lemon Beer. We sat in the sun-soaked outdoor seating area and engaged in some people watching before heading back. The bill came to €17, which was less than we would have paid for just one cocktail in a fancy place. I highly recommend trying local lemon specialties during your time on the Amalfi Coast, whether in the form of a dish, an alcoholic drink, or cosmetics!
So… is it worth the hype?
I came, I saw, I took countless photographs… but does Positano truly live up to the hype? My honest answer would be: it depends.
If you enjoy a busy sightseeing schedule, you might be disappointed. Unlike some larger Italian cities, Positano is mainly for relaxation. That relaxation comes at a cost – you must be prepared to spend a lot of money to stay anywhere remotely near Positano. On top of that, you will have to budget for dining, outdoor activities, and souvenirs. The cost can add up quickly! It's also extremely popular with tourists, so be ready to beat the crowds.
If you don't mind these aspects and are looking to recharge your batteries surrounded by picture perfect views, Positano might just be the place for you. I'm a very visual person myself and will happily travel anywhere for an aesthetically-pleasing location. The crowds of Positano were tiring and their prices frustrated me on more than one occasion, but would I travel there again? A thousand times yes. I would absolutely love to stay in a wonderful sea-view suite one day. Just a few more zeros in my bank account and I'm all set…
Would you still consider visiting Positano after reading my mini guide? Would you make a day trip or stay there and go all out, without any expenses spared?