From ancient temples showcasing the country's rich culture and history to bustling cities dotted with towering skyscrapers, China is a fascinating, multi-faceted destination. If you're reading this, I'm guessing you've decided to take the plunge and are in the midst of planning your first trip. There's no denying that China can be a challenging place, even for repeat visitors, let alone first-timers. As it was my first time travelling to Asia, I tried to do meticulous research before departure. Still, there were some aspects that no amount of research could have prepared me for. After three weeks of exploring and studying in the world's most populous country, here are 10 main things I believe anyone visiting China for the first time should know…
1. English is not widely spoken
During my time at university, I studied with several Chinese people. As we got to know one another, we were curious about what made them choose our country and university in particular. It soon became evident that most of them weren't too concerned about the course itself. One girl straight-up admitted: 'I don't know what economics is'. It turned out that their parents simply wanted them to be in an environment where they could practise their English.
My trip to China confirmed what I'd already suspected, but the extent of people who spoke little to no English still took me aback. I had hoped the situation might be slightly better since we were based in the capital, but unfortunately, this was not the case. There were also few English signs in public places, so the Pleco app was an absolute lifesaver throughout our time in China. On the bright side, this also meant we encountered some of the most amusing translations we've seen to date. I'll leave you with some of my personal favourites…
2. Invest in a high-quality VPN
Before your trip to China, you must find a reliable way to bypass the country's "Great Firewall." Due to the government's restrictive Internet censorship policies, many websites and major global social media platforms, including Facebook, Google, Instagram, and Twitter are banned in mainland China. The Great Firewall also blocks citizens from accessing foreign news websites such as BBC or the New York Times.
To solve this problem, the locals use WeChat – a multi-purpose app that includes a chat feature, a payment service called WeChat Pay, a range of mini-apps, a news source, and more. It combines multiple apps in one, and it's no exaggeration to say the locals use WeChat for everything.
If you would like to browse the Internet or keep followers up to date with your China adventures, you need to invest in a high-quality virtual private network (VPN). A VPN routes your Internet connection through a private server of your choice, keeping your IP address hidden and private information secure. This way, you can access region-restricted websites by making it appear that you are located anywhere in the world. I personally used ExpressVPN, which cost me just $12.95 per month. I genuinely couldn't recommend it enough, as it worked seamlessly the entire time!
3. "Saving face" is crucial
The concept of "face" is an integral part of Chinese culture that often acts as a guiding force in everyday life. Contrary to what you may think, it has nothing to do with your physical appearance. Face refers to a person's reputation, social standing, dignity, and honour. Through your actions, you can either "save face" or "lose face", which directly affects the way others perceive you. By saving face, you increase your self-worth and status in the eyes of others, while losing face injures your credibility and influence.
What we treat as a polite gesture in Western culture can get a Chinese person to dislike you. Does the person you're with have something stuck in their teeth? Trust me, you're better off not telling them. Or maybe they made an honest mistake? Nodding along and letting it go can do infinitely more good than pointing out they were wrong.
This can be particularly frustrating for tourists. For instance, if you ask for directions and the person doesn't know the way, they may confidently point you in any direction just to avoid openly admitting their lack of knowledge. We experienced this a couple of times. You could see the sheer frustration on one man's face as soon as he admitted he had no idea where our destination was!
4. Paparazzi will follow you everywhere you go
Have you ever browsed through Instagram or a gossip site, wishing you could trade lives with a celebrity, even if for a day? A trip to China may not provide a celeb-worthy bank balance, but it will give you valuable insight into what their daily life may be like.
Despite the growing number of foreigners in China, Western tourists are still very much a local sensation. Embrace your newfound fame and be prepared to be photographed at every turn. You will likely encounter two types of people – those who will politely ask for a photo, and those who will go into full-blown paparazzi mode upon spotting you. As a ghostly pale woman with dark brown hair, I first thought it would be a one-off situation. I assumed the Chinese would be more interested in my friends with a Scandinavian beauty type, but how wrong I was!
People would stop me for a photo wherever I went, to the point where I sometimes felt more like a tourist attraction than the landmark I was visiting. They would try to secretly record me as I went about my day – grocery shopping, looking at exhibits at a museum, or riding the subway. They would shower me with more compliments than I'd probably received all year, saying I looked like a film star. One woman even made me hold her child inside the Forbidden City! As much as this experience boosted my confidence, it also gave me a new level of understanding for celebrities who have to deal with this on a daily basis. Oh, how I wish I could see where each of my photos has been living on the Internet (or, specifically, WeChat)…
5. Need to use the toilet? Get ready to see this…
Thankfully, both our hostel and university dorms had Western-style toilets, but "squatty potties" are still very much the norm in China. It's more likely than not that you will have to use one at some point, so it's worth mentally preparing yourself for this…
I realise this makes me sound privileged, but that was honestly the bane of my existence throughout our entire trip. The first time I walked into a public toilet, I was shocked to discover that privacy was virtually non-existent. Why have separate stalls so you can go about your business behind closed doors when you can watch random strangers' private parts as you take a wee?
Regardless of the type of toilet, you must not flush any non-organic waste to avoid clogging. This means that all toilet paper must go in a bin provided – that is, if you bring your own paper, or else you can forget about wiping.
The layout of our en-suite bathroom also left us scratching our heads. It was a so called "wet bathroom." This meant the shower was not separate from the toilet, with no designated cubicle or curtain, just a single showerhead hanging from the wall. If any of us were into water sports, we might have been excited about the opportunity to showcase our skills. Alas, our main concern was getting out of the bathroom post-shower without flooding our bedroom in the process!
6. Get high-coverage travel insurance
At first, this next point might seem obvious, as travel insurance is something you should never leave home without. However, there are two key things to take into account. Firstly, authentic Chinese cuisine differs from what we're used to in the West. Worst case scenario – your body may have an allergic reaction to some of the spices. This suddenly happened to my roommate. The campus doctor suspected it was due to the spices, although the cause was never officially confirmed.
Secondly, it's important to be aware that you may have to pay any hospital costs upfront, and then wait for a reimbursement from your insurance company. Unfortunately, this is how it works in most cases, so be sure to check the coverage carefully when choosing your travel insurance provider.
7. Obtaining (and understanding) yuan can be tricky
Now that you've sorted out your accommodation and filled your itinerary with the best things to do in China, it's time to figure out how to pay for it all! I have learned that exchanging your money to yuan before your trip is no easy feat. I couldn't find it at any of my local currency exchange offices, so I took US dollars and got them exchanged as soon as I arrived in Beijing.
Frankly, I'm a cash person through and through – I've never even owned a credit card! I don't rely on debit cards either, especially in a country like China, where international cards are not always accepted. With competitive exchange rates, withdrawing money from ATMs might be an even better option. Just make sure to let your bank know about your trip so they don't block your card due to suspected fraud!
When it comes to the currency, it took us a while to wrap our heads around the denominations. 1 yuan is divided into 10 jiao (also called mao). Each jiao is then divided into 10 fen. What we found particularly confusing was that jiao coins and banknotes have the same denominations, with the exception of the 2 jiao banknotes. We would often pull out random coins, not knowing what we were looking at!
You may also be one of the few people still using cash
As I mentioned earlier, WeChat is the app for pretty much anything in China, including mobile payments. Some major retailers, like Walmart, have even teamed up with WeChat to launch the Scan & Go feature. This allows people to scan items with an app and pay directly with WeChat Pay, skipping queues. This growing trend towards cashless shopping in China was particularly noticeable on campus, where we were the only people with cash. It was a strange feeling, as university students, to not be down with the kids.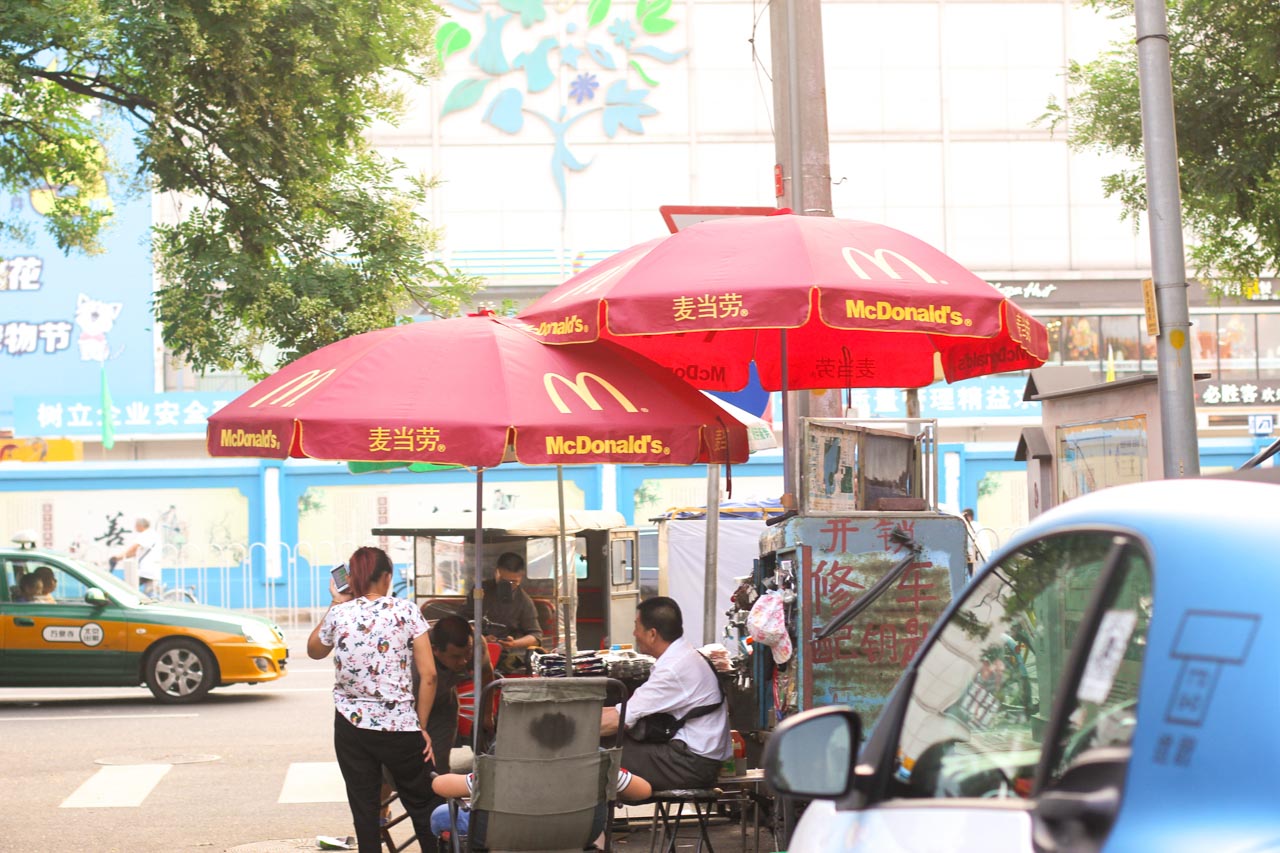 8. You can bring home some truly unique souvenirs…
Even if you haven't yet left the country, you may already be planning the gifts you'll buy for your loved ones back home. Lucky for you, China boasts some of the most peculiar souvenirs I've encountered on my travels. If anyone you know has an odd fascination with Chairman Mao, you'll find a shockingly wide variety of items featuring the late Communist leader. From T-shirts to posters, fans, and ornaments, Mao's full face and receding hairline were staring out at us from every direction.
Then there were also these hardly designer hats to protect yourself from the heat…
…and shelves overflowing with medicine for any ailment under the sun.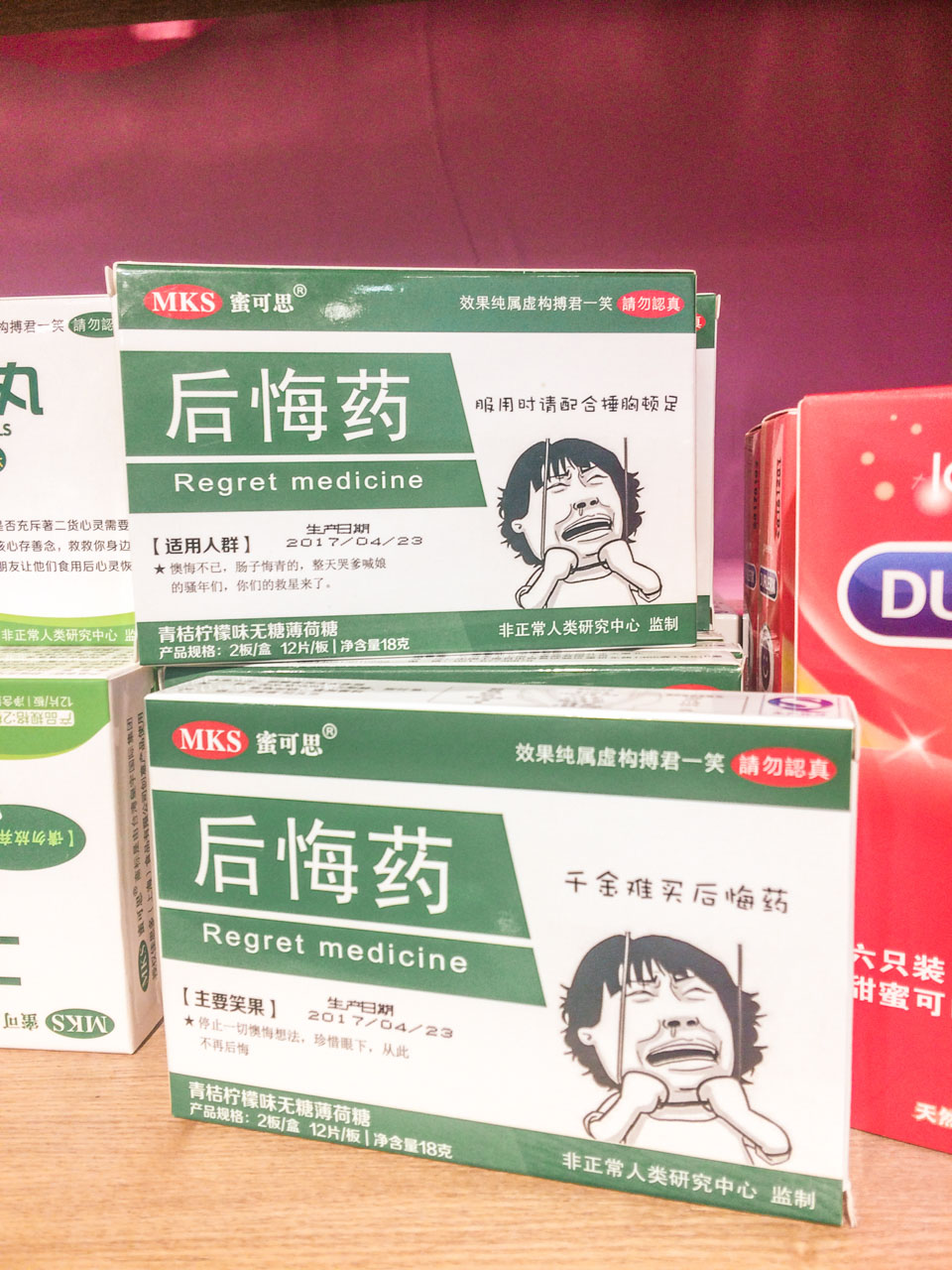 We also discovered the locals' fondness for playing cards – which were most likely invented in ancient China, after all! These days, you can find them in just about every souvenir shop. They are incredibly affordable, featuring all sorts of themes – from animals, landscapes, or cultural motifs, to some absolute gems…
All jokes aside, we also found some truly lovely souvenirs – in my case, mostly tea, snacks, and lots of cosmetics!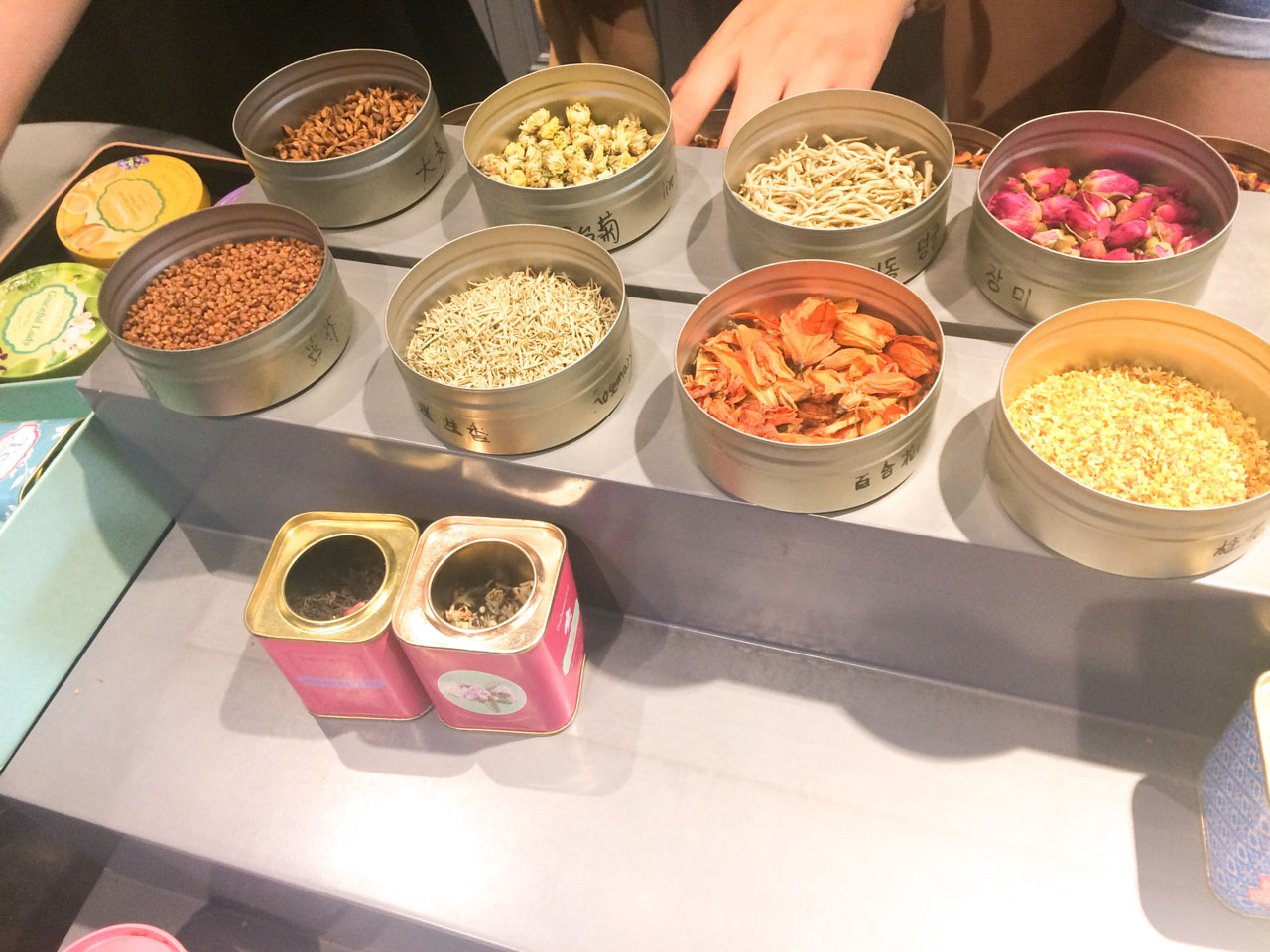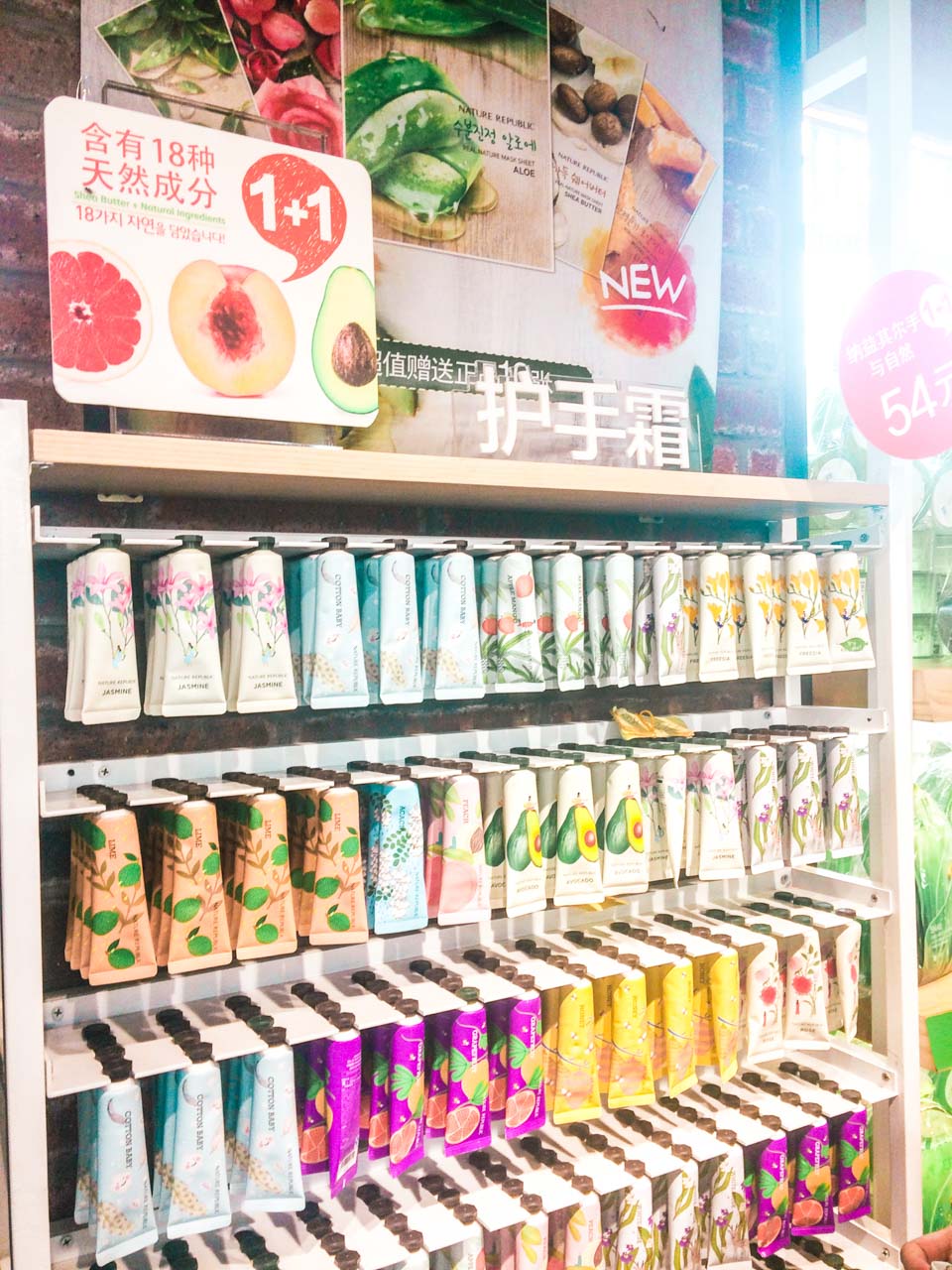 9. …but chocolate lovers may be disappointed!
I have a long-standing tradition when it comes to the items I bring back from my travels. For example, if you read 15 random facts about me, you might recall that I collect Vogue magazines from around the world. My grandpa, who sadly passed away last year, had diabetes, so I would bring him a block of dark chocolate from each country I visited. Despite several trips to local supermarkets, I still couldn't find any.
Interestingly, the problem wasn't just with the dark variety. There was no Chinese chocolate to be found anywhere! I eventually asked some university friends to find out what was going on. Was there some kind of global cocoa shortage that hadn't reached other countries yet?
Their answer was succinct, but it crushed any hope I had left. "We don't really like the taste of chocolate here," they said. And there you have it, folks! This explains why all leading chocolate brands in China are foreign. Thankfully, my grandpa was over the moon with the Singaporean chocolate I got him instead!
10. You need to keep an open mind
During your time in China, you will inevitably come across many things that will challenge your way of thinking. Some may be humorous, while others will straight-up frustrate you. From the chaotic traffic rules that make crossing the street feel like a run for your life, to the questionable hygiene standards and food choices, this country will surely surprise you in many ways. The best way to approach these things is with an open mind. Observe, take notes, and respect the culture, no matter how different it may be from your own.
I still remember the shock I experienced when I saw that the chicken soup we were served had an entire chicken in it, head and all. Or the annoyance I felt when I wanted to try all of the local delicacies, but my chopstick skills were still lacking. Or the confusion I experienced when I saw black chickens for sale at the supermarket. Keeping an open mind will help you make the most of your visit and turn these little curiosities into interesting travel stories. You can also learn many lessons, such as how to hold your parking spot…
…or how to use your Internet cable in different ways…
It's safe to say China challenged me in a way no other country has, but it also broadened my horizons to a greater extent than any other place. It was my first visit to a country so vastly different from my own, and everything I learned on that trip helped me grow as a traveller. I am now sharing my lessons with the hope that they will inspire your future adventures.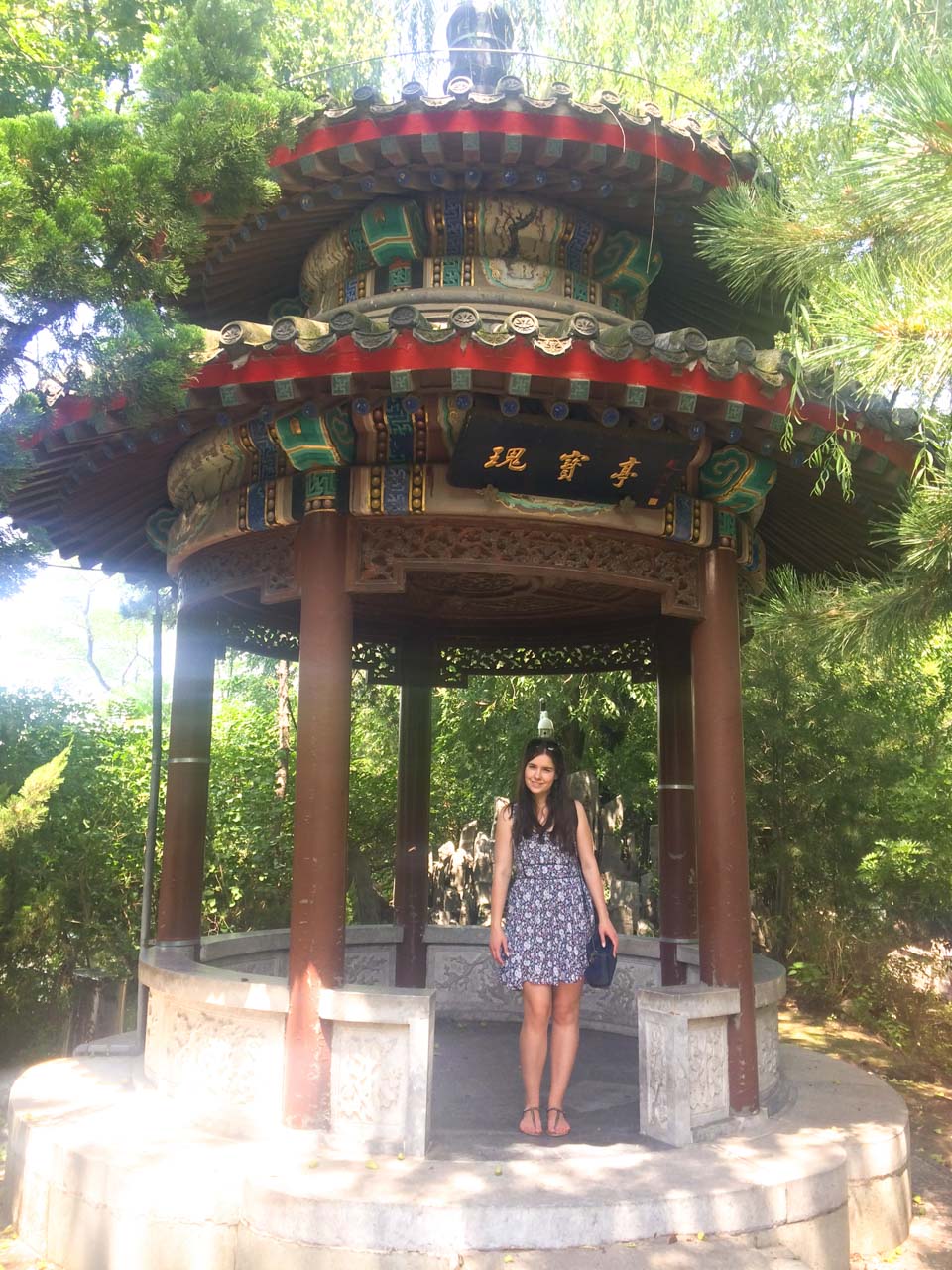 ---
Did you know any of the things I mentioned here? Which of them did you find most surprising, and why?