When planning our trip to the Amalfi Coast, I came across a lot of discussion threads where users debated whether it's better to stay in Sorrento or Positano. As both were majorly out of our budget in the summer months, I set out to find an alternative option and ended up discovering the region's hidden treasure. Salerno lies on the gulf of the same name, less than an hour away from Naples. This Mediterranean port city offers scenic views and a vibrant food scene at a fraction of the price. If you've never considered, or even heard of it, I hope my post might just sway you in the right direction…
Where we stayed in Salerno
From the dozens of properties we looked at, only one immediately stood out to us. We chose to stay at B&B Flora House which we dubbed Italian Versailles due to the extent of luxury and glamour within these four walls. There are only two rooms available, so if you're lucky, you may have, or at least feel like you have the entire place to yourself.
We picked the triple room with a private external bathroom and paid €280 per person for 4 nights. I was more than happy to pay that amount for the ability to pretend like I lived in my very own palace (I may have watched Roman Holiday one too many times…!) I found the ancient-looking vases and statues in the built-in display cabinet particularly fascinating. They looked like they were taken directly from a museum and I would've loved to learn their history!
What to do in Salerno
1. Indulge in Italian cuisine and coffee
Marittimo Tobacco & Coffee
Our breakfast was included in the price, but it was served at a nearby café rather than the B&B itself. When we checked in, we received some vouchers for a pastry and a drink at Marittimo Tobacco & Coffee every morning. We'd never experienced a similar solution during our travels before, and while I understand it may not be to everyone's liking, we honestly LOVED it.
Heading there for a freddo and trying out their selection of sweet and savoury pastries soon became the highlight of our mornings. They also offered refreshments which we happily took advantage of after a long afternoon of strolling around the town.
Pizzeria Resilienza
The drawback of travelling to Italy in August is that many restaurants shut down for holiday. The struggle we experienced in Naples didn't end once we moved to the Amalfi Coast. However, as it often happens, we discovered that we had a great pizzeria practically on our doorstep.
Throughout our stay, Pizzeria Resilienza became our go-to place. We tried a variety of their pizzas and they didn't disappoint us once. The dough was light and the toppings were perfectly fresh and delicious every single time. The best part is everything was so reasonably priced that I had to do a double take at the menu. With pizzas starting at a mere €3.50, it really is a must-visit place!
Osteria del Campo
One evening, we decided to switch from pizza to pasta and chose Osteria del Campo for its charming outdoor dining area. We could enjoy observing people while having our meal, one of my favourite activities in Mediterranean countries. I am captivated by the sight of people of all ages gathering in the streets to chat or play games, and I love the sense of togetherness as music and laughter fill the air.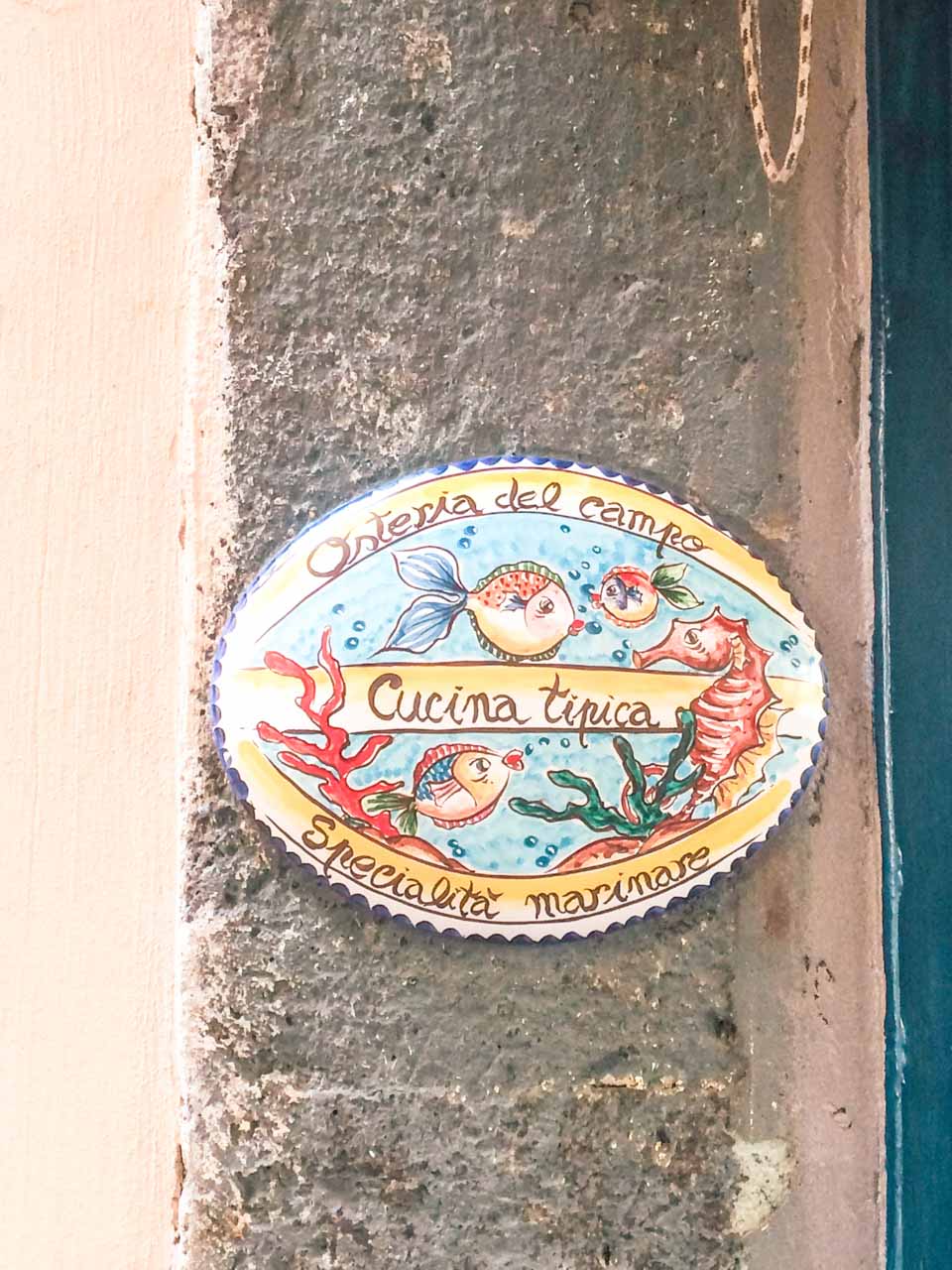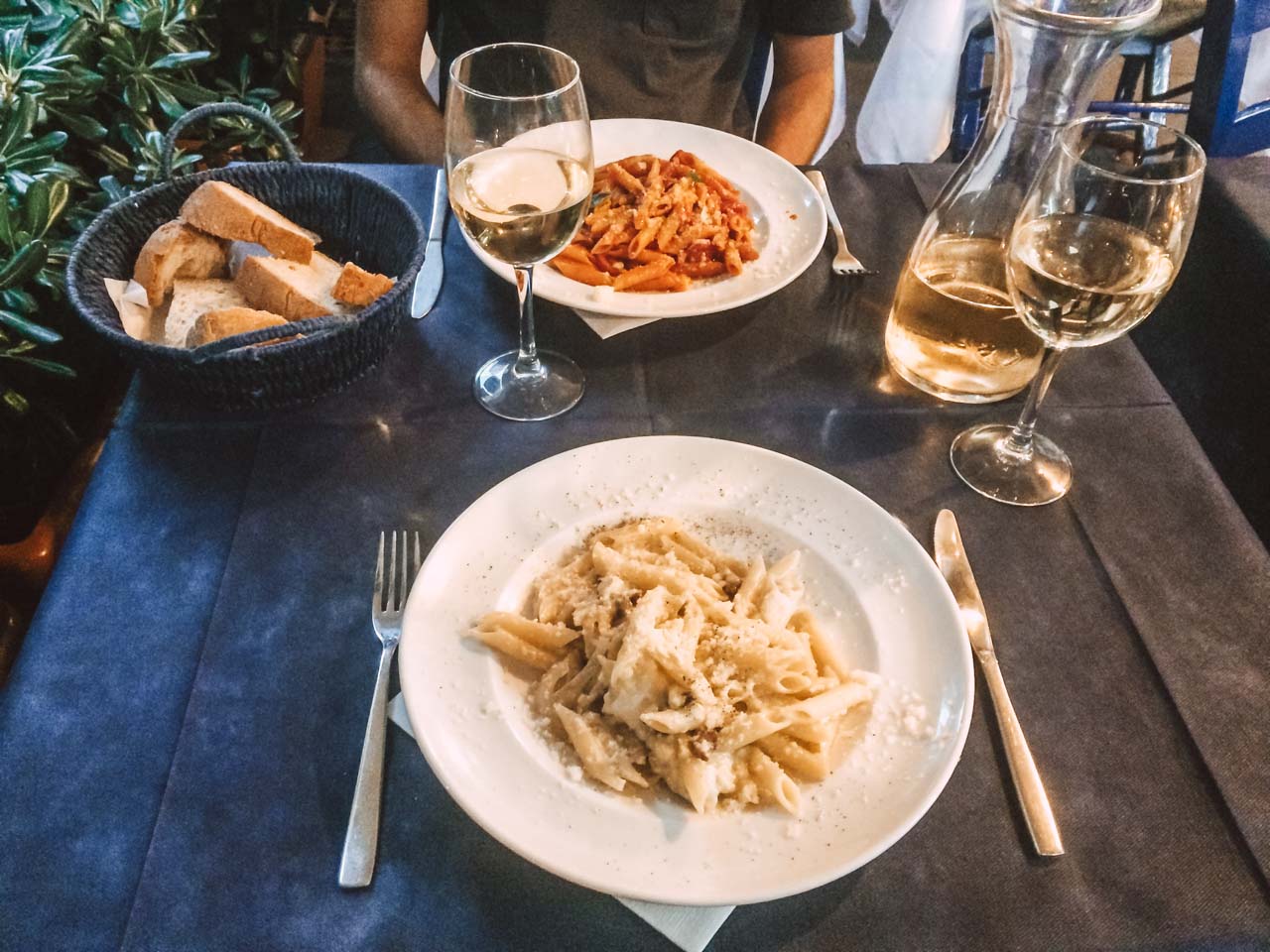 One of my favourite parts about this restaurant was the open kitchen, adding to its charm. Even dining outside, we could see our meal being freshly prepared by an Italian grandmother. I cannot fault a single aspect of our dining experience. The food was delightful and the prices were highly appealing. At less than €10 for a generous serving of pasta and only €5 for a litre of house wine, it was an unbeatable value!
Pantaleone
The mini guide we received from our host recommended stopping by Pantaleone, the oldest pastry shop in Salerno dating back to 1868. One afternoon, we went to Portovecchio in search of pizza. They didn't serve any, but we did spot Pantaleone tarts on the menu and decided to try them.
Sadly, they were massively overpriced (we paid €14 for two small tarts!) but the quality didn't match the price. I believe in second chances, so I would have their pastries again, this time from the source. After all, their reputation didn't come from nowhere and I'm not one to turn down dessert…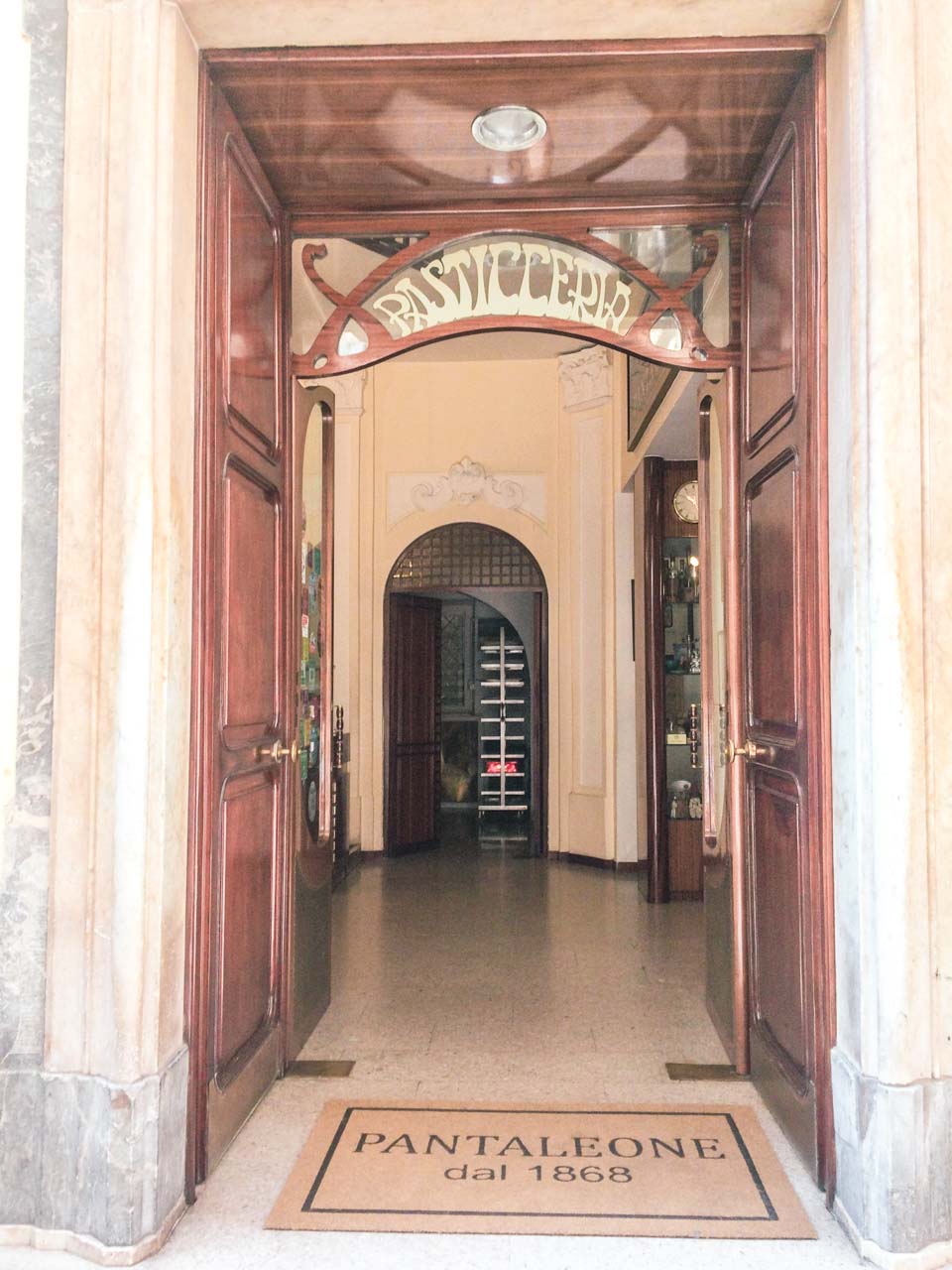 Tip: When dining in Italy (excluding the Lazio region), keep in mind that some restaurants may ask you to pay a "coperto" fee. This covers the use of tablecloths and cutlery and usually ranges from 1 to 3 euros (but may be higher in touristy areas). They may add it to your bill automatically, so keep an eye out! On the other hand, tipping is not customary, so you can simply pay the cover charge.
2. Enjoy a cocktail or a glass of wine by the waterfront
In addition to mouthwatering cuisine, another excellent way to get a taste of Italy is through wine. Italy remains the world's largest wine-producing nation, so whatever your personal preference is, you are certain to have some of the finest varieties at your fingertips.
As I mentioned in my blog post about our day trip to Pompeii and Mount Vesuvius, there are a number of vineyards planted on the slopes of Mount Vesuvius. During our time in the Campania region, we really wanted to try the unique wines born in the volcano's shadow. However, we were rather short on time, so we couldn't book a proper wine tasting experience.
Instead, we opted for a bottle of Lacryma Christi del Vesuvio wine from a local shop. We found a quiet spot overlooking the Salerno harbour and savoured our bottle there. I generally prefer white wine over red (with sparkling being my favourite), but this one was truly wonderful – rich in flavour, but not overpowering. If you can get your hands on some Mount Vesuvius wine, don't hesitate!
Another evening, we chose to have a mini date at Embarcadero. We admired the twinkling lights of Salerno while sipping cocktails on the upper terrace, which I highly recommend. I loved the fact that they served antipasti free of charge with every cocktail, which helped to justify the prices in the double digits…
3. Stroll along the Salerno Promenade and relax on the beach
When in the area, don't miss the chance to soak up some sun. I'm not much of a beach person myself, but even I couldn't resist the charm of the Italian coast. When we weren't exploring, we'd lounge on the beach with drinks nearby, hoping to get enough vitamin D to last us until autumn.
We also took daily walks along the Lungomare Trieste. Often considered Italy's most beautiful seafront, this tree-lined promenade is about 2 km long and offers stunning views of the Gulf of Salerno. Young locals often gather here because of the nearby bars and restaurants. Cyclists can ride on its wide bike lanes, families can enjoy long walks, and elderly men can play chess or fish. Regardless of the time of day, it was always a lively gathering place where everyone could something to enjoy.
4. Learn about the city's medieval heritage
If, like me, you can't imagine a holiday without at least a little bit of sightseeing, don't worry! Right in the heart of Salerno, you can find an 11th-century cathedral that is one of the most important churches in the entire country.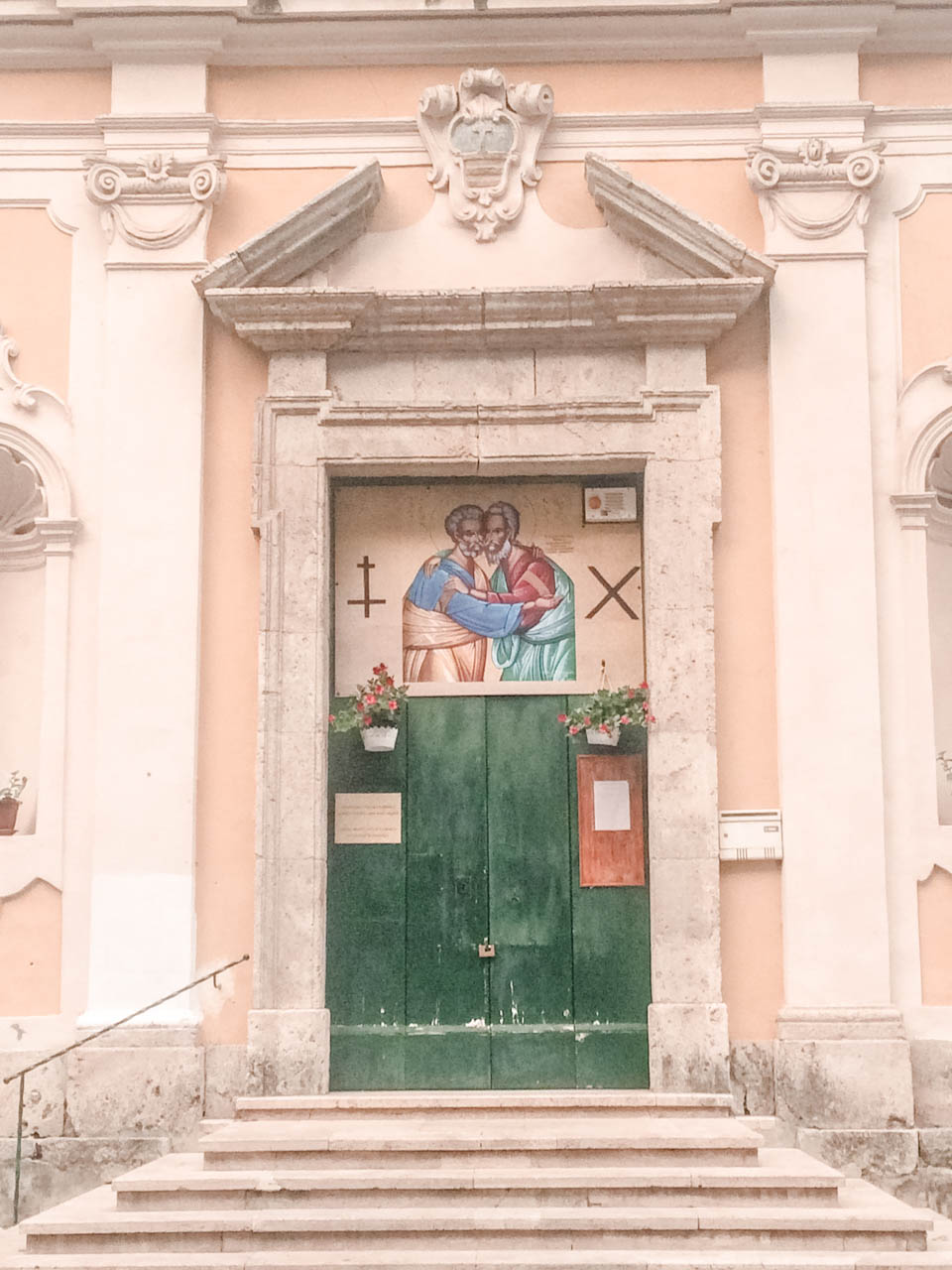 Don't be fooled by its unassuming exterior. The church houses valuable medieval artwork and the tomb of Pope Gregory VII. The real gem, however, can be found behind a small door at the front of the basilica. It leads to a grand crypt that contains the relics of Saint Matthew. The crypt boasts marble floors, stunning frescoes, and golden mosaics, showcasing the height of baroque design. It provides a rich glimpse into Salerno's history. Admission to the cathedral is free. However, a donation box is located near the entrance to the crypt and visitors are encouraged to contribute what they can.
5. Engage in some retail therapy
It's well known that Italy is one of world's fashion capitals. If you're looking to do some shopping in Salerno, head to Corso Vittorio Emanuele. It's the city's main commercial street that connects the historic center to the railway station at Piazza Vittorio Veneto. From high street shops to more refined brands, there are a variety of places to find new additions to your wardrobe. What won us over was the stunning view that stretched before our eyes as we walked. We were more than happy to stick to window shopping and instead take lots of photos in the street…
6. Get a bird's-eye view of Salerno
Giardino della Minerva
I had to save the best for last… As a traveller, I always try to find the best viewpoint, and Salerno was no exception. One afternoon, we headed to Giardino della Minerva (Minerva's Garden) and it immediately captured my heart.
The history of this multi-level botanical garden dates back to the Middle Ages. Some of its plants were cultivated for therapeutical and educational purposes, to be shown to the students of the Salerno School of Medicine. It was the first medical school on the continent that made great contributions to the development of modern medicine.
Today, there are five different terraces you can visit for €3, or €1.50 for students. Inside, you can find more than 200 plant species, including examples of rare flora. You can also enjoy a drink on a sun-drenched terrace or find refuge from the sun in the bookshop, where you can purchase herbal teas and natural soaps.
Thankfully, we came on a clear day, so we could enjoy unparalleled views over the city and bay of Salerno. There weren't too many tourists around, so the gardens felt really tranquil and provided respite from the city's humid streets. We were both absolutely mesmerised and just couldn't put our cameras down. Unfortunately, the background information was in Italian only, so we had to do our own research. Despite this, it was hands down our favourite place in Salerno – well worth the steep hike!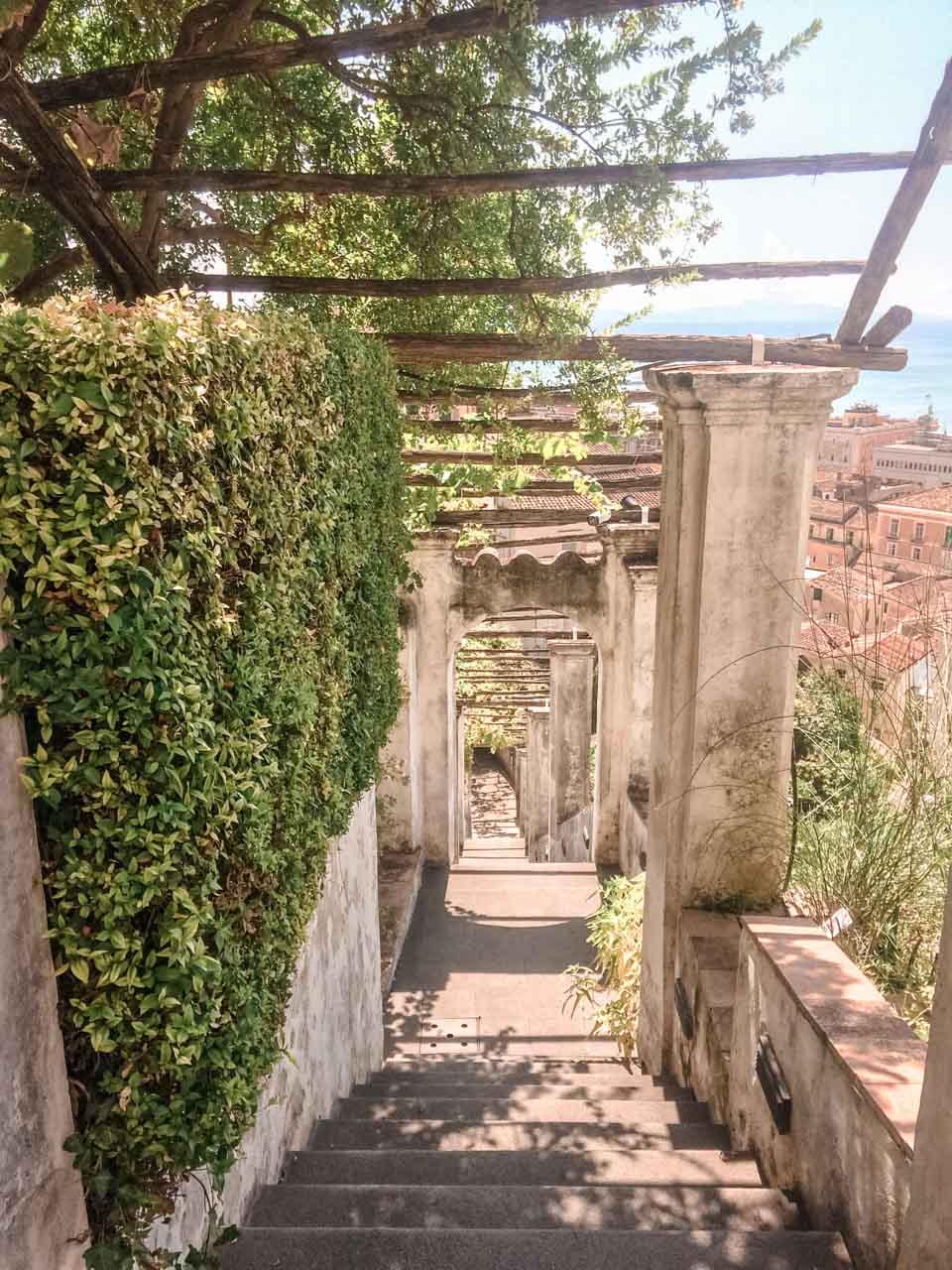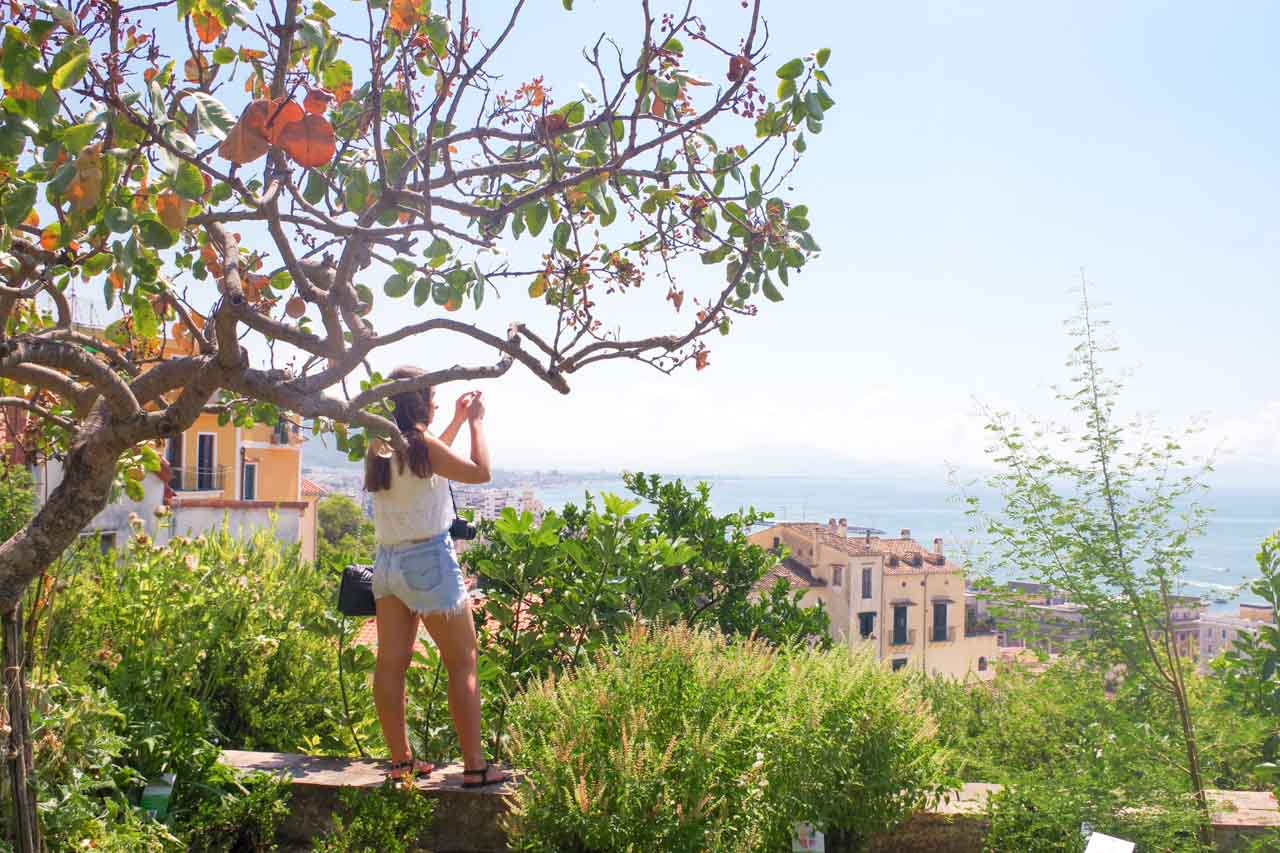 Castello di Arechi
We also wanted to explore Salerno's most recognisable landmark, Castello di Arechi, a medieval fortress towering over the city. Unfortunately, it closes at 5 PM most days and we didn't manage to see it. Four days were enough for us to fall deeply in love with Salerno, so it won't take much to convince us to return…
---
Have you ever heard of Salerno? Would you consider staying there during your trip to the Amalfi Coast, instead of more popular destinations such as Sorrento or Positano?
I'd also love to hear your experiences of discovering other hidden gems during your travels. What are some underrated places that deserve more recognition? Share your stories in the comments section below and let's fill up our bucket lists again…