One of the best things about vacationing in Naples is that it's a great starting point for various day trips. On our way to the Amalfi Coast for some much needed relaxation, we decided to make a stopover at Pompeii to explore the ancient ruins and hike the summit of Mount Vesuvius.
In case you're not familiar with the story, the ancient city of Pompeii used to be a thriving resort for wealthy citizens of Rome who wanted to vacation by the coast. Its cobbled streets were lined with opulent villas whose inhabitants could enjoy a selection of marketplaces, eateries, bathhouses, and even brothels. The only downside was Pompeii's location right by a dormant volcano. Unfortunately, Mount Vesuvius erupted in 79 AD, burying the entire city along with thousands of its inhabitants under a thick layer of volcanic ash and pumice.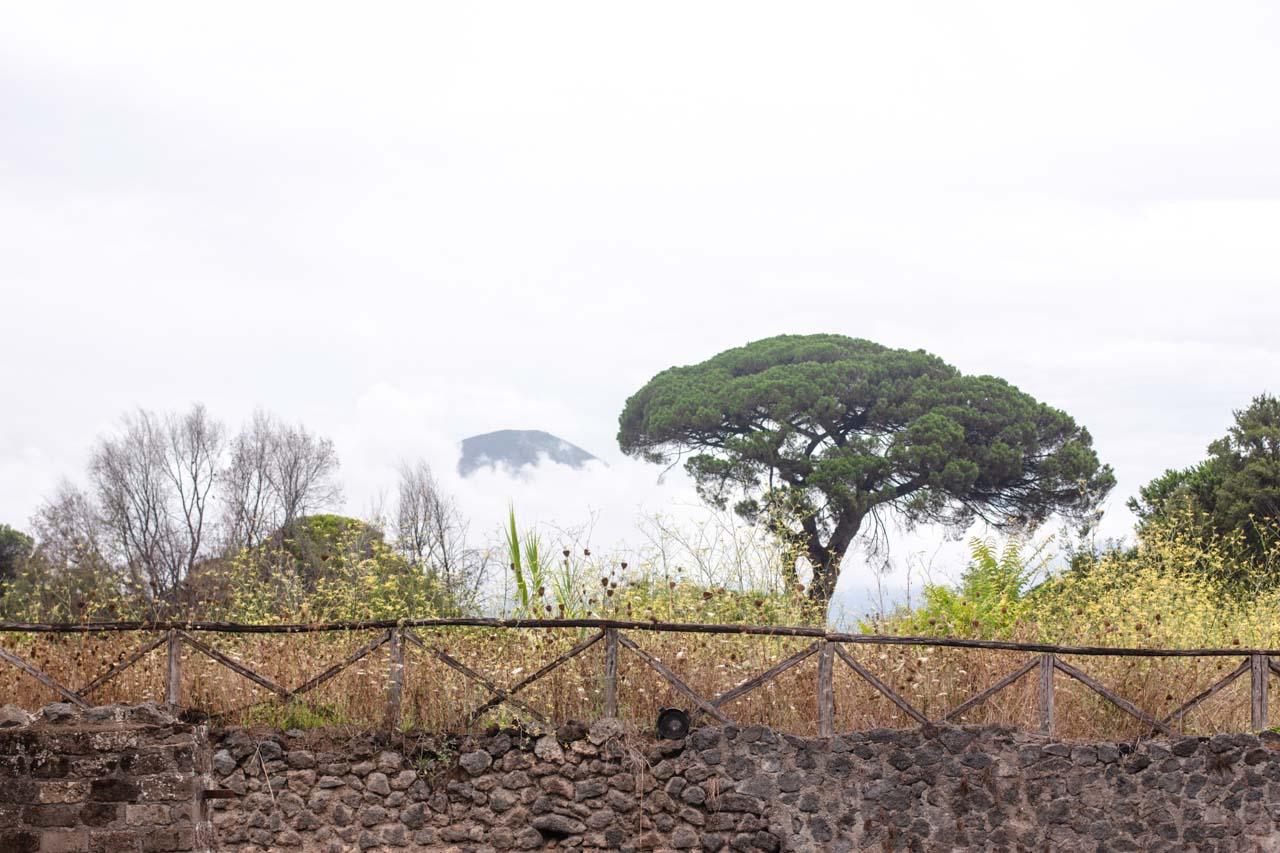 Pompeii remained shielded for centuries until one day, a group of archaeologists came across the ruins by total accident. Miraculously, the city was left intact. The explorers even found some personal belongings and food, including fruit preserve! Nowadays, we can catch a glimpse into what life in Pompeii looked like back in the day. There are even some plaster casts of bodies on display to remind us of the victims' agonising last moments.
Gruesome as the story is, it's also really fascinating. Actually visiting the site of Pompeii is totally different than just reading about it in the textbooks. You can easily combine Pompeii with a visit to the crater on Mount Vesuvius and do both in one day. Here are my tips to help you plan your own day trip from Naples!
How to get from Naples to Pompeii
There are several ways you can get from Naples to Pompeii depending on your budget and time constraints. We decided to board a direct train from Naples to Pompeii, which was a hassle-free and very affordable travel option.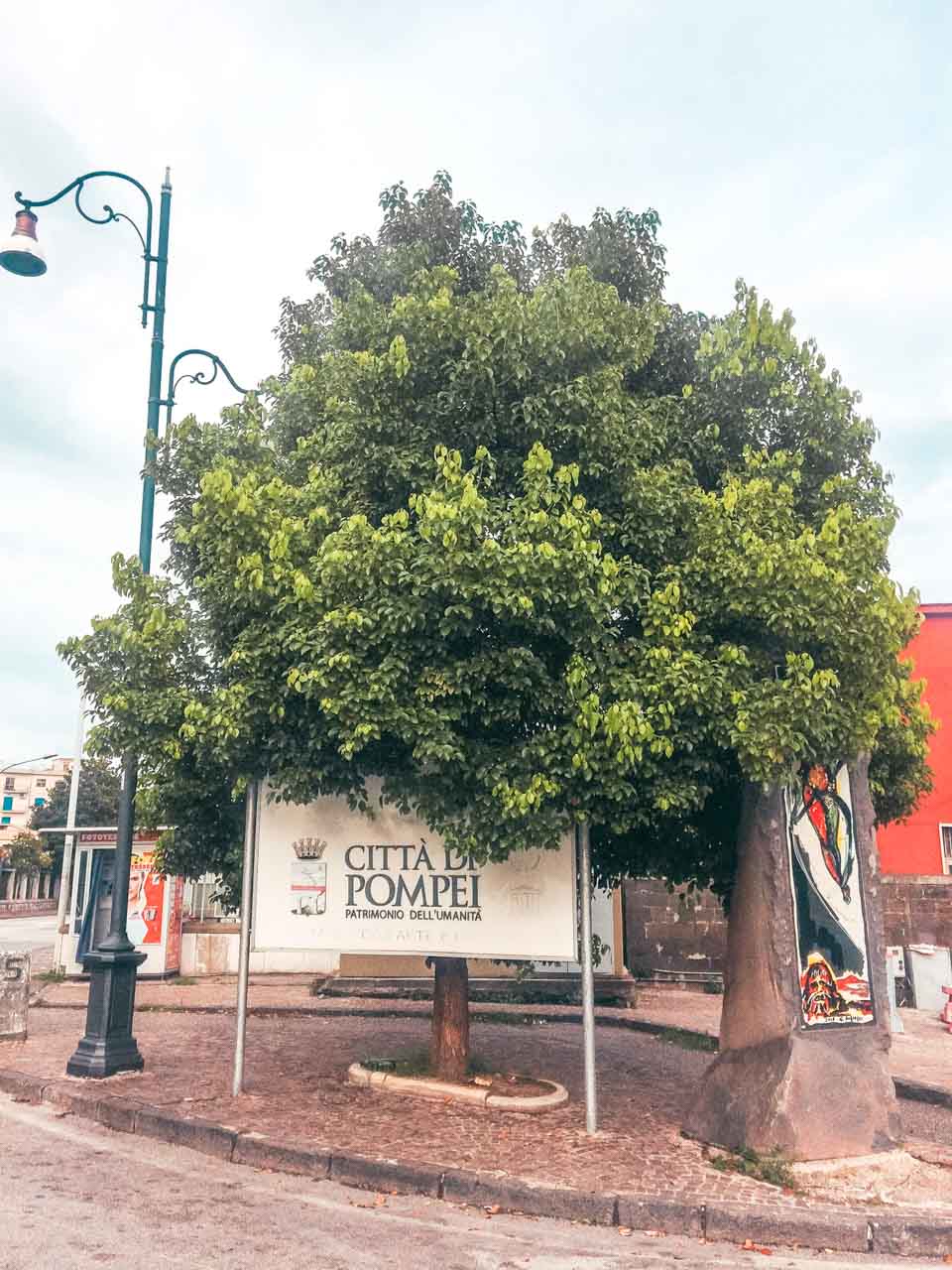 If you're looking to catch a train, bear in mind that two different operators serve this area. There are Circumvesuviana trains operated by EAV and Metropolitano trains operated by Trenitalia. The former option is more popular among tourists because the train drops you off closer to the gate of Pompeii, but we personally found the latter more convenient.
I don't remember the exact price, but I'm pretty sure we paid around €2-3 each. The journey from Piazza Garibaldi took less than 40 minutes. Before we knew it, we got off at Pompei Station which was a 10-minute walk from the entrance. As we wanted to wander around the city for a bit anyway, we didn't mind at all. We put our bags in luggage storage and stopped for a mandatory coffee break. Then, fuelled by caffeine and a serious case of wanderlust, we set off for some exploring…
Purchasing Pompeii tickets
While it's not mandatory to book tickets online in advance, it allows you to skip the queues to get inside. Pompeii is one of the busiest and most popular tourist sites in the entire country, so you need to account for the crowds, especially during the summer months. As we wanted to observe the weather and weren't sure how long we would be strolling around the city for, we chose not to pre-book and just play it by ear. It meant we had to stand in a frustratingly long line, but thankfully it kept moving smoothly.
At the time of our visit (August 2018), adult tickets were €15. I managed to take advantage of the special offer for EU citizens between 18 and 24 years old and paid €9. The price of adult tickets has since gone up to €18, but EU nationals under 25 can apparently now enjoy this attraction for a mere €2. Do you know what this means? For the price of one ticket 5 years ago, you can now see what Pompeii has to offer AND indulge in some pizza afterwards (just not at Alleria Pizzeria – thank me later). You lucky people…
How much time do you need to explore Pompeii?
Whether you're an archaeology buff or not, Pompeii is the kind of place where you could easily spend an entire day exploring. I would recommend giving yourself around 2-3 hours to cover the ground and see the most important places. You can take a guided tour of Pompeii, but we chose to save money and explore at our own pace. We studied the free map we grabbed at the information booth and planned the most optimal route for us.
What should you see in Pompeii
Local vineyards
One thing I had learned was that the town of Pompeii is home to a number of scenic vineyards nestled in the shadow of Mount Vesuvius. These ancient Roman vineyards remained buried until the late 1980s, when archeologists decided to restore them to their former glory. You could literally say they have risen from the ashes!
The local winemakers are doing their best to keep preserving ancient traditions. Did you know that they still plant the same grape varieties in the same position and grow them using identical techniques and type of soil as back in the ancient times? If you want to try this unique combination, you can book a wine tasting experience or, if you're time-bound like us, buy Pompeii wine in a local supermarket.
The Amphitheatre of Pompeii
We started our self-guided tour by one of these wineries and walked over to see the ancient Roman amphitheatre where Pink Floyd performed a live set back in 1971. It was another fun fact that I had learned. Although I'm not a fan of the band (I much prefer Scorpions and Guns N' Roses), I have a deeply rooted love for rock music, so I was totally in my element.
Nuovi Scavi
From there, we went to see Nuovi Scavi (New Excavations). The city is very well-preserved, so you get great insight into what the homes and daily lives of ancient Romans looked like. In New Excavations, many frescoes, mosaics, and furnishings have been left intact, including the magnificent House of Venus fresco. We saw the remnants of the city's public bathhouses, as well as old brothels. You can easily spot and recognise them by their façades, which were marked with phallic sculptures.
The House of the Tragic Poet
After a bit of walking around, we managed to find the House of the Tragic Poet. There, you can see one of Pompeii's most famous symbols: a dog mosaic with the inscription "cave canem", which translates to "beware of the dog". Back in the day, it greeted visitors and safeguarded the homeowners' privacy. We know very little about their history, although historians assume that they had likely died in the eruption. Sadly, it currently only serves a decorative purpose. Tourists can no longer step inside the house and can only admire its interior from behind a glass shield.
One of the most fascinating things for me personally was the plaster casts of the victims' bodies on display in glass showcases. You can find them in various locations across the site, with the largest number of victims discovered in the Garden of the Fugitives. We can observe them in their final poses, with their faces and clothing preserved. It serves as a reminder of the extent of the tragedy that happened there in 79 AD, as well as a cautionary tale. We need to bear in mind that Mount Vesuvius is currently one of the most dangerous volcanoes in the world, with a long history of violent eruptions. It represents a great danger to the locals to this day.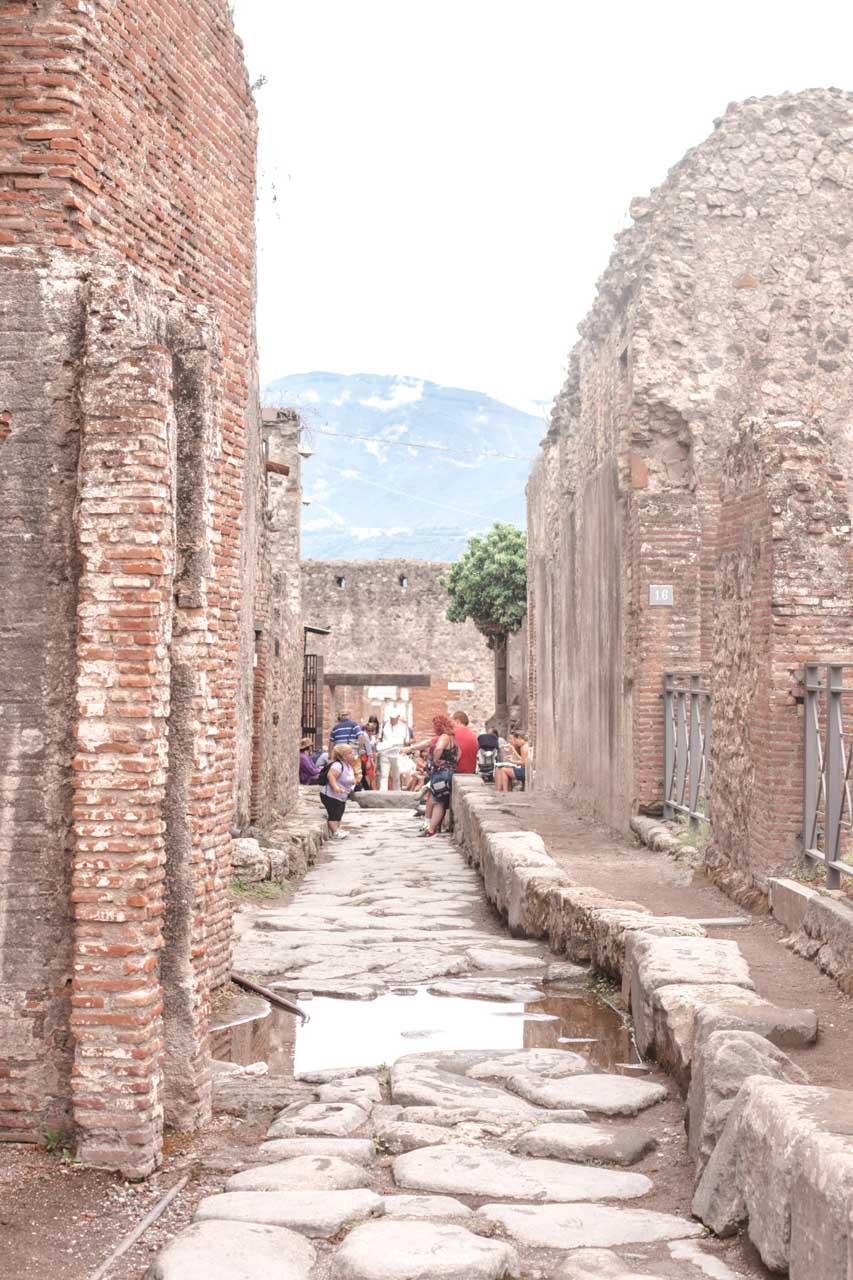 The House of the Faun
We also stopped by the House of the Faun, one of the largest and most expensive private residences in Pompeii. It contained various impressive artworks and is a prime example of architecture from the Roman Republic era. From the moment you walk through the main entrance onto the atrium, adorned with mosaic floors and decorative columns, the extent of wealth becomes clearly evident. At the centre of the main atrium, you can also find a copy of the bronze statue of the dancing faun, from which this place derives its name.
We took a short break in one of the theaters to recheck the map and adjust our route. One of the final places we visited was the Forum, the city's principal square surrounded by former temples. From there, we headed towards the exit, passing another vineyard and an old burial site on the way. As much as we would've loved to stay, we had more attractions planned for the day…
How to get from Pompeii to Mount Vesuvius base
Right outside the entrance to the Pompeii Archeological Park, there is a timetable for the EAV public bus between Pompei Anfiteatro and Vesuvio. Of course, there are various other transport options available that include renting a car or booking a shuttle bus. You can even hike all the way up if you're feeling adventurous (one word of advice: don't). If this feels more like something for you, there's tons of information available. I, however, will focus on the option we chose and would highly recommend.
The bus journey from Pompeii to Mount Vesuvius takes around 55 minutes and tickets cost €3.10 each way. You can only buy them on board. It even says so on the timetable, so do not fall for scammers trying to sell (very often overpriced) tickets in the streets. You can find the current bus timetable here. As the buses don't run very frequently, I'd highly recommend taking a photo or a screenshot of the timetable before you go in and time your Pompeii visit and hike accordingly.
The bus drops you off at the foot of Mount Vesuvius and you have to walk that last bit yourself. There is an entry fee in the amount of €10 – and then it's all about the climb… At the time of our visit, you could easily buy the tickets at the gate. I saw that now, you can apparently only visit the crater with pre-booked online tickets. Once you get to Mount Vesuvius, the Internet signal is patchy, so it's worth taking care of that in advance!
Hiking to the Mount Vesuvius summit
Don't worry, I promise it's not as scary as it may sound! The trail is wide and its surface is mostly made of pumice and volcanic stone. It is relatively steep, so if you're not used to uphill hiking, the climb may take you a little longer. However, even if you're not an experienced hiker, it's still perfectly doable and safe – just remember to wear comfortable shoes! I only ever wear trainers to work out, so I admittedly found this part more challenging than the hike itself.
We gave ourselves around 90 minutes, so that we could grab a bite before boarding our train to Salerno. It took us around 30 minutes to reach the edge of the crater. Thankfully, we came on a clear day, so we could enjoy spectacular views of the Bay of Naples stretching right under our feet. The sense of achievement as you stand on top of this majestic volcano towering over the area is incredible.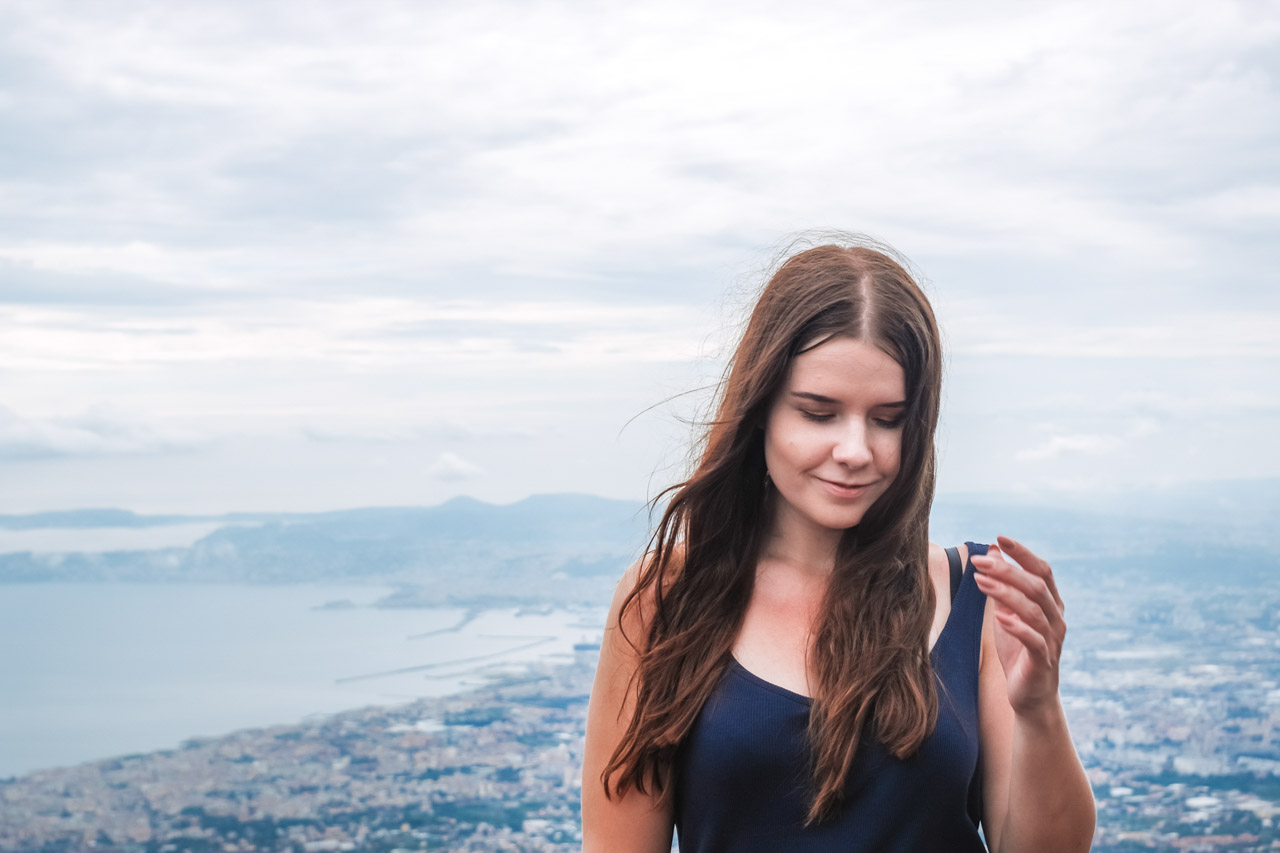 As I took a peek inside the crater, there was luckily no lava in sight. There were only lava trails from the previous eruptions, streams of steam shooting up, and lots of debris.
There's a certain thrill about being able to look inside an active volcano and observe how past eruptions shaped the landscape. Fortunately, current technology enables scientists to monitor any changes in temperature around the clock. There is also a detailed evacuation plan in place, assuming at least a two-week notice of an eruption in order to keep the local residents safe.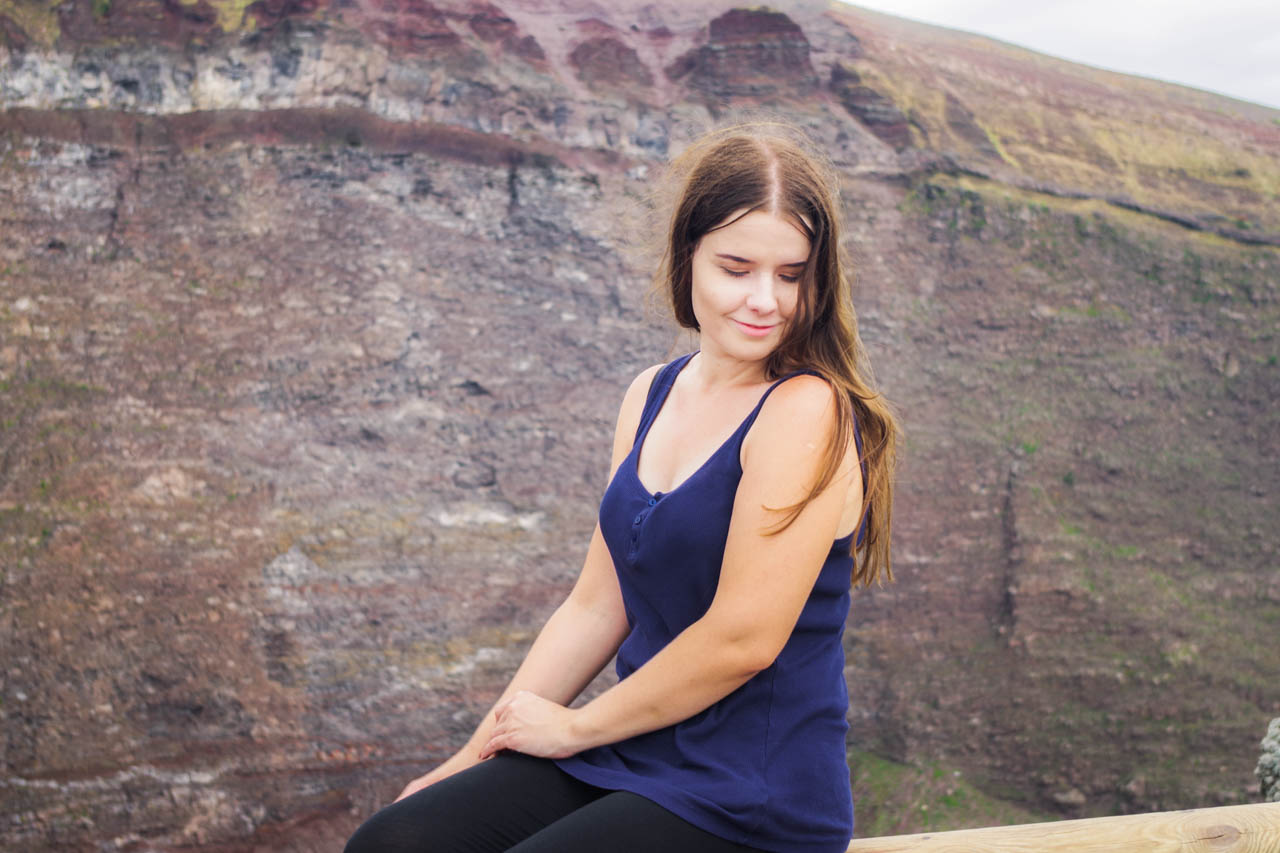 Read more: How to Spend 72 Hours in Naples, the Birthplace of Pizza
---
That's the end of my complete guide to exploring Pompeii and hiking the Mount Vesuvius summit in one day! Have you ever climbed a volcano? Would you ever consider it?