The idea of taking a day trip to Potsdam was born during my first time travelling solo to Berlin. I was standing on the platform, waiting for my train to arrive, when an S-Bahn to Potsdam Hauptbahnhof approached the station. I was only in the capital for 15 hours, which was nowhere near enough to see everything it had to offer, let alone venture out further. Still, an idea was planted in my head right then and there.
Fast forward three years, I was planning a trip to the German capital with my boyfriend when he suddenly expressed the same sentiment. His one regret was running out of time to go down to Potsdam, so we knew we had to put our plans into action this time around! If you too have been looking for ideas on how to spend a day in Potsdam, keep reading…
How to get from Berlin to Potsdam
As Potsdam directly borders the city of Berlin, it can easily be reached by S-Bahn (S1/S7) or regional trains. We boarded the S7 train from Alexanderplatz to Potsdam Hbf, which takes a little over 40 minutes to reach its destination. In order to travel to Potsdam, you will need to purchase a ticket that includes the C tariff zone.
I would highly recommend getting the day ticket (Tageskarte) that currently costs €10 for the ABC zones. If you know you'll be getting the train at least 3 times in one day, it basically pays for itself! For those spending a little more time in Berlin's metropolitan area, it's also worth looking into longer-term tickets. You can find a full fare overview on the BVG website.
As I mentioned in my post on how we spent 72 hours in Berlin, after weighing all the pros and cons, we decided on yet another option. We purchased a Berlin WelcomeCard for €38, which granted us unlimited travel and savings on various attractions for 72 hours. Even though we didn't do as much sightseeing as we'd initially hoped, it still provided us great value for money.
What we saw in Potsdam
Prior to visiting Potsdam, my knowledge was limited to what I remembered from my history class. Back in 1945, Cecilienhof Palace was the venue of the Potsdam Conference, during which the "Big Three" heads of state worked to establish the postwar order. It symbolised the end of World War II, and the agreements made nearly 78 years ago still impact the world's politics.
At the time of our visit, several of the city's museums were closed as a result of the coronavirus restrictions. We did our research and devised a plan of action that would allow us to explore the city's biggest attractions in one afternoon while enjoying the glorious weather on one of the last days of summer. Here's a little walk-through of our day trip route, including all the best stops…
Sanssouci Park
As a former residence of the Prussian kings, Potsdam is filled with spectacular baroque and rococo architectural jewels. When searching for a landmark to centre our trip around, we decided on the Sanssouci Park.
Interestingly enough, this complex that occupies an area of 290 hectares is only slightly smaller than New York's world-famous Central Park encompassing 341 hectares! It houses several buildings constructed under Frederick the Great and Frederick William IV, including Sanssouci Palace, New Palace, the Orangery Palace, the Historic Mill of Sanssouci, and the Roman Baths.
While entrance to the park itself is free, you have to pay in order to visit individual attractions. When doing our research, we discovered that most of the buildings in the complex were closed. Under more favourable circumstances, I would probably look into getting the sanssouci + ticket. It allows you to explore all of Potsdam's splendid palaces for a fraction of the price. It currently costs €22, but you get 20% off with a valid WelcomeCard, bringing it down to €17.60!
Getting to the Sanssouci Park complex
As we had plenty of time to spare, we chose to walk from the train station to the Sanssouci Park. We would occasionally stray from the route Google Maps picked for us as we spotted another landmark in the distance. Starting from the seat of the Landtag of Brandenburg, we then went past the Museum Barberini and St. Nicholas Church.
As we kept on walking, we came across the city's Filmmuseum. I looked to my boyfriend who also hadn't heard of Potsdam's movie industry before. A quick Google search highlighted its importance as the home of the world's oldest large-film studio in operation since 1912! Aside from the Babelsberg Studio, Berlin's neighbouring city also houses the oldest and largest film school in the country.
More recent examples of films shot here include The Pianist or The Inglourious Basterds. It goes to show how much you can learn just by allowing some spontaneity on your travels. As a bit of an organisation freak, it's definitely a lesson I need to carry with me into the future!
The rest of our route was just as lovely. We spotted an artist creating an art installation right in the middle of the street and made our way through a really picturesque residential neighbourhood. As more greenery started looming on the horizon, the influence of art and theatre on the city's landscape became even more evident. Someone had a giant bush trimmed in the shape of a theatre mask right in their garden, while a handwritten note on the facade of a quaint little café invited passers-by to the next poetry reading.
Nearly an hour later, we finally made it to Sanssouci Park where we spent the rest of the afternoon walking around and basking in the sun!
University of Potsdam
As we entered the complex grounds, one particular building caught my attention. Located right behind the Neues Palais, at first glance, it appeared to be an extension of the royal residence. Imagine my surprise when I approached the facade, only to spot the plaque of the University of Potsdam on it! The subject of my admiration turned out to be part of its Am Neuen Palais campus, which is home to the Faculty of Arts.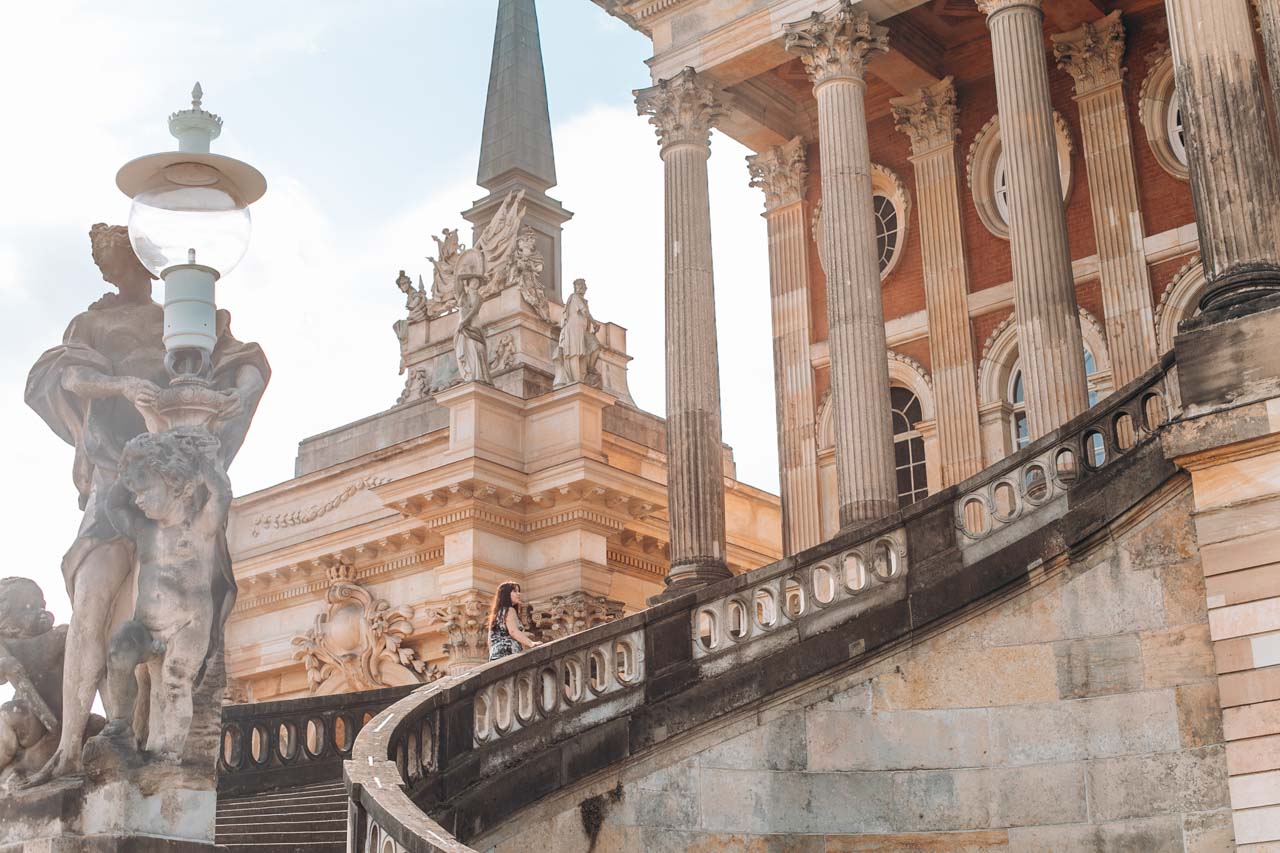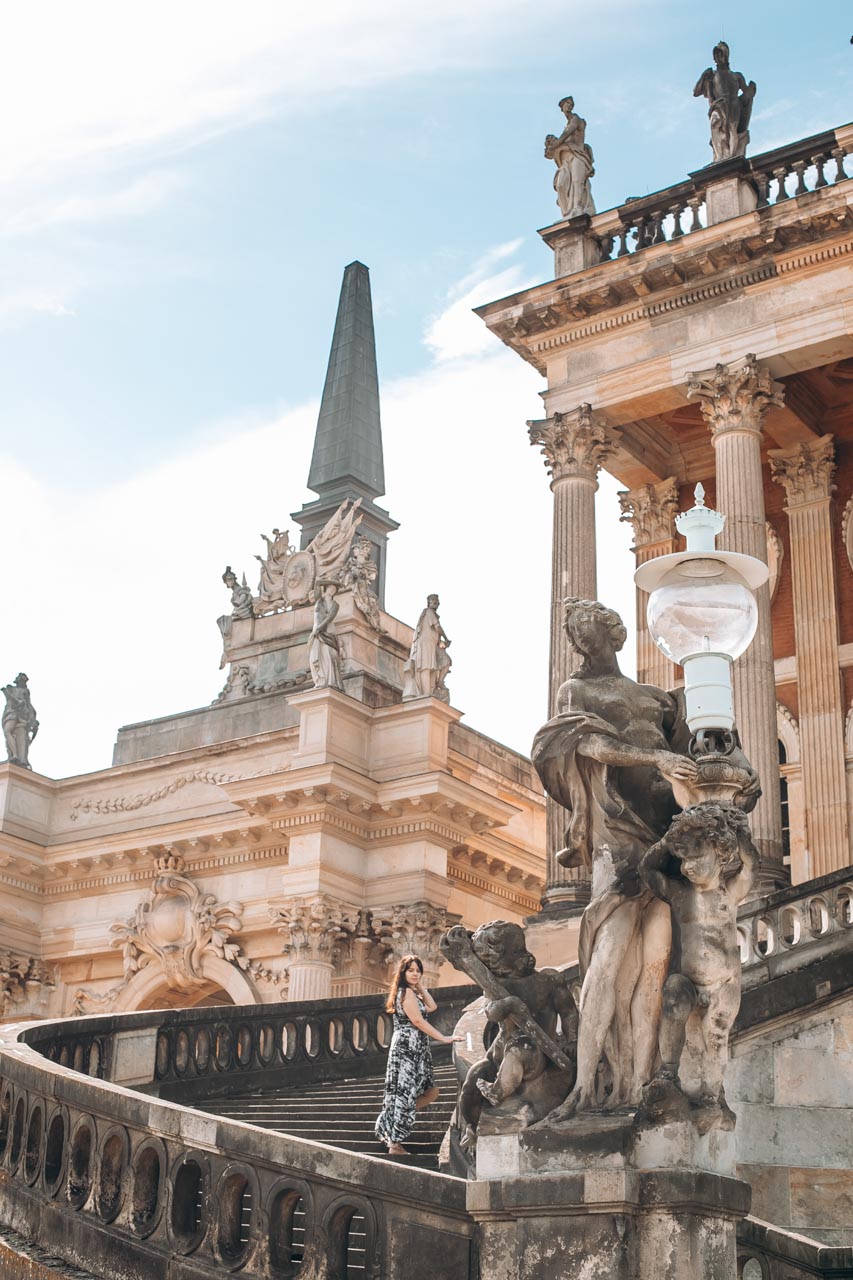 Most of the buildings originate from the times of Frederick the Great, King of Prussia. Back in the day, they used to house the imperial stables, staff chambers, and a guesthouse for the King's visitors. At one point, some of them were even turned into the most representative Prussian barracks for an infantry battalion. It wasn't until after WWII that they started serving a scientific purpose – first for state and teacher training colleges, and now for the newly established University of Potsdam. I know one thing for sure – if my campus looked this splendid, maybe I wouldn't be so tempted to skip even the most boring lectures!
Sanssouci Palace
Out of all the buildings we saw on the park's extensive grounds, the former summer home of Frederick the Great was quite possibly my favourite. The palace's name speaks to its main purpose. The French phrase "sans souci" translates into "without concerns", meaning it was built as a place of relaxation away from the Berlin court.
The structure of this single-story manor that only contains ten rooms is far from imposing. However, the King's impact on interior design and furnishings is said to have been so profound that the style earned its distinct name: "Frederician Rococo". I probably wouldn't have been as enchanted with the villa on its own, which looks fairly unassuming and non-palatial observed from below, but it's the surroundings that completely won me over.
Sanssouci Palace sits on top of a hill with terraced vineyards overlooking the gardens. Right in the middle, there's a massive fountain with marble statues around its basin. It's circled by benches carved in stone. On a warm summer day, it draws many visitors for a moment of relaxation in direct sunlight. The palace beautifully reflects in the water surface as an occasional duck swims right past you. We spent so much time lounging around this magnificent area we didn't even brave the 100+ steps leading to Sanssouci Palace itself!
Brandenburg Gate
If you got to this section thinking I must've mixed the guides up, I don't blame you at all. I had a similar reaction when on our way back to the train station, we spotted street signs showing the way to the Brandenburg Gate. Again, Google was our best friend, and we learned you can find a gate of the same name in Potsdam!
It was constructed by order of Frederick the Great to mark his victory in the Seven Years' War, replacing the original, less ornate gate in the same spot. This explains the gate's shape resembling a triumphal arch. An interesting fact we later found out was that the gate has two different sides designed by two separate architects.
As for the name? The structure was initially part of the city wall. Anyone who wanted to get to the town of Brandenburg had to pass through the gate, thus inspiring its name. Also, contrary to what you may think, the construction finished two decades before its more famous counterpart! We definitely wouldn't have pegged Berlin's most distinctive landmark as the copy. You live and you learn…
---
We came to Potsdam at a rather unfortunate time when many locations weren't available for tourists. Otherwise, we would've definitely altered our itinerary to fit in more sightseeing. Still, even though we stayed outdoors, there were enough attractions to fill an entire afternoon – and the day after that, no doubt, if we chose to stay.
It was a really easy day trip from Berlin, so we'll likely be back at some point to see more of the city. For starters, Cecilienhof Palace and Pfingstberg are definitely on my list!
If you only had one day in Potsdam, how would you like to spend it?