The Bay of Kotor, sometimes referred to as Europe's southernmost fjord, has been high on my list of must-see destinations in the Balkans for some time. From the moment I first saw it in a travel vlog, I've wanted to stroll along the winding cobbled streets, surrounded by breathtaking mountain vistas and crystal clear waters. When we were putting together the itinerary for our 3-week Balkan trip, it was probably the first place I noted down.
We spent nearly 4 days exploring the best attractions of the coastal town of Kotor. Thanks to some extremely handy travel tips from a local, I feel like we struck the perfect balance between visiting the tourist hotspots and having an authentic experience. In this post, I'll share these recommendations for the best restaurants to visit and the best things to do in Kotor, so you can make the most of your time in Montenegro!
Where to stay in Kotor Bay
If you're wondering where to stay in the Bay of Kotor, there are several options depending on the type of experience you're after:
If you're looking for high-rise hotels and a buzzing nightlife, Budva is the place for you.
If you prefer a more laid-back setting whilst still being at the heart of the action, choose Kotor.
If you wish to be near the airport and have access to luxury amenities, Tivat is an excellent option.
For a more upscale experience, check out Porto Montenegro, a luxury marina complex in Tivat with high-end shopping, dining, and accommodation options.
Bay View Apartments
As we're not really into clubbing but wanted to stay near the area's main attractions, we didn't think twice about choosing Kotor as our base. We ended up staying at Bay View Apartments, which turned out to be a fantastic choice.
Our flat was a 10-minute walk from Kotor Old Town, or 3 minutes away from the waterfront, and cost us €248 for 4 nights. The highlight of this place was the host who went above and beyond to make our trip special. He greeted us with beers and his wife's homemade cake, shared stories, and offered invaluable tips for our stay in Kotor. He even kindly offered to do our laundry, which is absolutely perfect for long-term travellers.
The flat itself had everything we could've needed, including a small kitchenette where we prepared our breakfast every morning. The view from the balcony was incredible – we could watch cruise ships entering or leaving the port while enjoying a glass of wine and unwinding after a long day.
However, if you're a light sleeper, this might not be the best option for you. We personally didn't experience any problems, but the flat is situated above the main road, which can get busy, particularly during peak season. Also, if you're travelling with heavy luggage, be aware that there's a steep flight of stairs to reach the building. Aside from that, I would wholeheartedly recommend this place to anyone. In fact, we're already contemplating returning for a few days later this year!
Best things to do in Kotor
Disclaimer: It's important to be aware of some potential challenges linked to staying in Kotor during the peak cruise season (June-August). With multiple large cruise ships docking in the harbour each day, the town can quickly become overcrowded with tourists, making it difficult to navigate and enjoy the sights. The influx of tourists can also inflate prices and create long queues at popular attractions and restaurants. We visited Kotor at the beginning of September, as we much prefer travelling during the off-peak season. If you have flexibility in choosing your travel dates, I'd recommend you do the same. It was still warm enough to enjoy the beach or book a speedboat tour, but the crowds were noticeably smaller!
1. Stroll around the Old Town
Strolling through the charming cobblestone streets of Kotor Old Town is like taking a step back in time. With a unique mix of architecture, including a significant number of palaces dating back to between 15th and 18th century, and cats absolutely everywhere, it's a must-visit place for anyone exploring Montenegro.
My favourite thing about Kotor Old Town is how compact and perfectly walkable it is – if you're short on time, you can easily cover the area in under an hour. But, if you allow yourself more time to get lost in its narrow winding streets, you can discover some real gems.
I'd recommend stopping by to check out the Cathedral of Saint Tryphon (aka the Kotor Cathedral), the Orthodox Church of St. Nicholas, and climbing the ancient city walls for incredible panoramic views of Kotor Bay (more on this later).
Or, if you're a cat lover like me, there are several other places you simply cannot miss…
2. Buy a souvenir at the shop of good luck cats
One thing you should know about the town of Kotor is that it has an unusually high population of furry felines. They can be spotted literally at every corner, roaming the streets, or basking in the sun. You may even find yourself dining alongside some of them. During our time in Kotor, we often played a game of 'spot the cat', as we found them in all sorts of weird locations and positions. Case in point:
Legend has it that the cats of Kotor arrived in the town centuries ago, aboard ships that docked in the port. Since then, they have become an integral part of the city's culture and history, with locals and visitors alike embracing their presence. Even the town's Italian name is Cattaro, which sounds a bit like Cat Town to me 😉
Over the years, the cats have also become a symbol of good luck. If you pop into the Cats of Kotor shop in the Old Town, you can buy various cat-themed souvenirs designed by a local couple and get a 1-year guarantee of good luck 😉
3. Visit the town's feline population on Cat Square
As we were wandering around, we found ourselves in a small plaza, which we later learned was very aptly named Cat Square. It seemed to be a meeting point for Kotor's feline population, with cats of all shapes and sizes curled up on benches or ambling up to greet people. They were absolutely EVERYWHERE, so I was totally in my element and could happily stay there for hours.
On our last day, we had a few hours to spare before catching our bus to Dubrovnik, so we returned to Cat Square. As I bent over to stroke one of my new furry friends, he clambered up my leg and clung onto my dress. The moment we sat down, he dozed off in my lap, whilst another ginger feline fell asleep on Mac's rucksack.
There was also a tiny little kitten who was too small to leap up, so he just curled up on my feet and fell asleep there. After a while, we started feeling like a local attraction ourselves, with people asking to take a photo of us every couple of minutes 😉 I don't blame them, though, as I couldn't resist doing a mini photoshoot myself!
My heart honestly broke into a million pieces when we finally had to wake the kitties up. When I posted a photo to Instagram stories, I've never had this many DMs telling me to bring them home with us – how I wish we could!
Whether you're a cat lover or simply enjoy soaking up the local culture, a visit to Cat Square is a must-see when exploring Kotor. It offers a glimpse into the everyday life of this historic town, where cats and humans coexist in harmony.
4. Explore the purrfect collection of the Cats Museum
Another excellent spot to visit for cat lovers is Kotor's Cats Museum. For a small fee of €1, you can see a large collection of cat-related artifacts, from vintage cat-themed postcards, photographs, and books, to quirky cat-inspired artwork. The museum accepts donations of exhibits from around the globe and welcomes proposals to acquire new cat-themed items.
If you email them a photo of your cat, along with their name, city, and country of residence, for €2, the museum will email back a certificate confirming their registration among the members of the Cats Museum of Kotor. I also found information on their website that for a symbolic fee, you can get one photo from their collection sent to your inbox daily for an entire year! Sadly, when I asked the lady at the museum about it, she advised me to email her boss for more information.
I really loved these initiatives, and will probably take advantage of both. The museum collects food for the cats of Kotor, so it's great to know your money can make a real change. Inside the museum, they also have a variety of the cutest notebooks and magnets to choose from – I honestly wanted to buy them all!
If you'd like to support the cause, Kotor Kitties is another wonderful organisation that does tremendous work to improve the lives of homeless cats in Montenegro.
5. Ascend the historic Kotor City Walls
If you're searching for the best vantage point over the Bay of Kotor, climbing the city walls is an absolute must-do. As Kotor was an important naval, trading, and economic centre, the first walls were constructed in the 9th century, when the town was under Byzantine rule, to protect it from invaders. The following rulers continued to add to them, until the protective loop was completed back in the 14th century.
These days, you can witness the history and beauty of Kotor up close by braving the vigorous ascent up 1,200 meters, or around 1,350 steps, until you reach the height of 260 meters above sea level. There are 3 different entry points to the walls: the Northern Gate, the Sea Gate, and the Gurdic Gate (or the South Gate).
How much does it cost to climb the Kotor City Walls?
From May to September, between 8 AM and 8 PM, you have to pay a fee of €8. However, the gates are technically open 24/7, so our host advised us to get there before 8 to avoid paying. Normally, we wouldn't mind if we knew the money was going to a good cause. Unfortunately, on your way up, you'll see loads of litter scattered across the area. Judging by the quantity, it's clear that nobody really does anything about it, which is a shame.
If you ask me, it's even better to start early, before the sun comes up and makes the climb even more demanding. The hike definitely requires a moderate level of fitness, but the views from the San Giovanni Fortress at the top are well worth the effort. To get there and back, it should take you between 1.5 to 2 hours. It depends on how much time you want to spend soaking in the views, as there are stunning photo opportunities at every turn!
6. Embark on a Blue Cave adventure
Our biggest splurge in Kotor was definitely booking the Blue Cave Tour. As you stroll along the waterfront, you'll see dozens of companies offering cruises to visit the local sea cave, famed for its crystal clear waters that shimmer in a turquoise blue hue.
From our experience, the itineraries only slightly vary between the companies. The main difference is that the ones closer to the cruise port are understandably pricier. So, I'd highly recommend comparing the different offers and opting for the more affordable ones.
Sea Stars boat tour
We ended up going with Sea Stars, which cost €30 per person for a 3-hour tour. It included:
Our Lady of the Rocks, a man-made islet off the coast of Perast with a blue-domed church. Legend has it that the islet was created by local fishermen who found an icon of the Virgin Mary and a Child on a nearby rock and began adding stones after each successful voyage. For an additional €2, you can enter the church to see the 17th-century paintings and a collection of votives.
The Blue Cave. After leaving the cave, those who wished to get off the boat had 20 minutes to swim around.
An old submarine tunnel, built by the Yugoslav Navy, with an abandoned ship inside.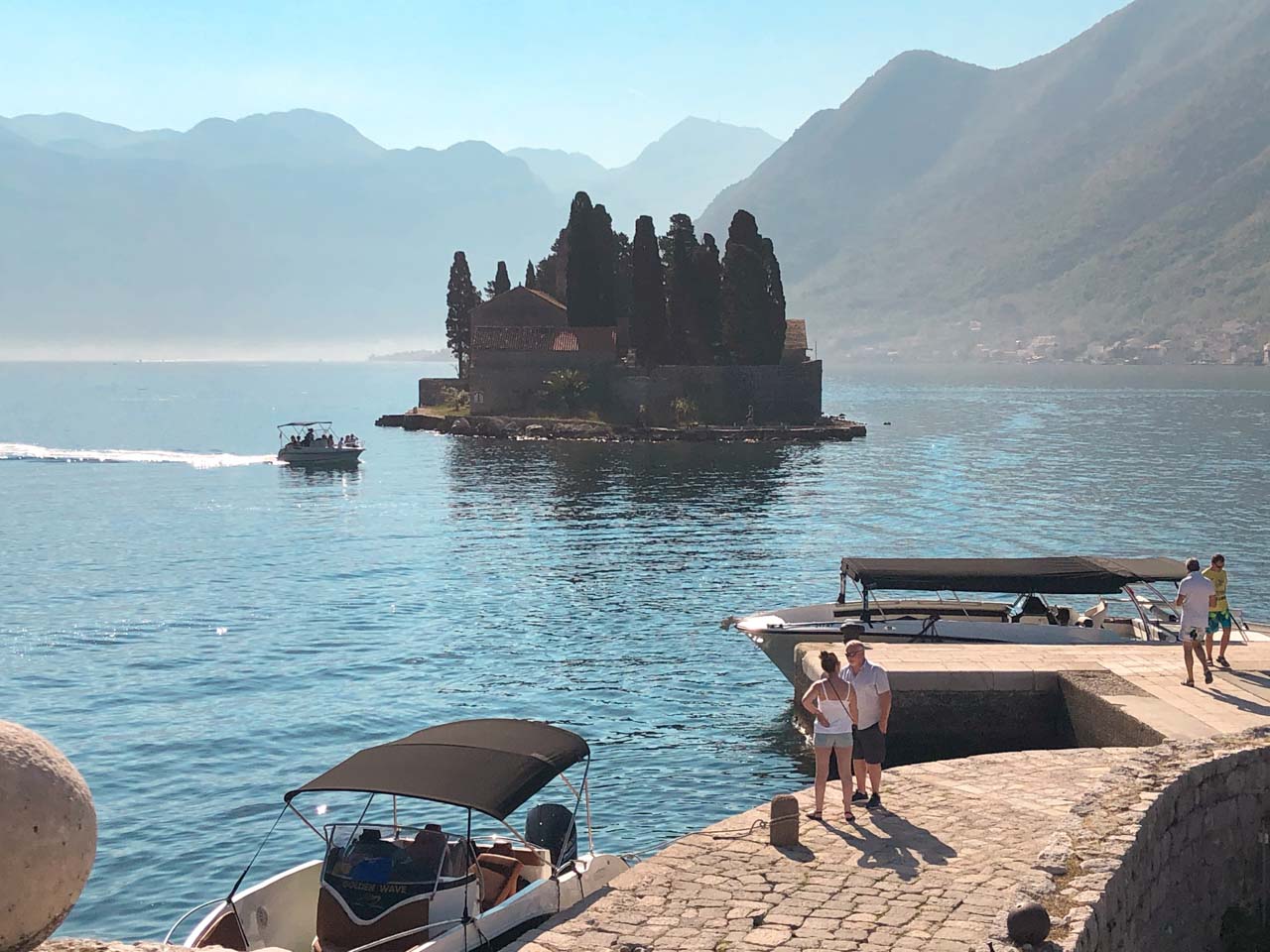 We booked our tour the day before and had to pay a deposit to secure our places. Overall, I'd say I found the Blue Grotto in Malta far more impressive (to read more about that trip, check out my Dingli Cliffs and Blue Grotto guide), but a speedboat tour is still an amazing attraction when in Kotor. With Sea Stars, you could also book private tours or suggest your own itinerary for an additional fee, which sounded absolutely brilliant too!
7. Go on a day trip to Perast
Taking a day trip to the charming town of Perast is another excellent way to experience the natural beauty, history, and culture of Montenegro. While it's really small, with fewer than 300 inhabitants, it has much to offer.
To truly understand this town's character, it's worth noting that between 1420 and 1797, it belonged to the Republic of Venice. The Venetian period was Perast's golden era, when the town flourished due to the development of maritime trade. It was also during this time that most of the town's palaces and churches were built.
If you're a photographer, you'll genuinely love Perast, as it looks picture perfect from every possible angle. From baroque buildings to houses draped in bougainvillea and wisteria, you won't know where to point your camera first!
How to get to Perast from Kotor
Perast is a short 20-minute drive away from Kotor. If you wish to save money on a taxi, or have a bit of an adventure, you can take a bus instead. There are Blue Line buses running every hour on the route between Kotor and Risan, and the journey costs €1.50 each way. Alternatively, you can go to the main bus station in Kotor to check for long-distance buses that go through Perast.
The Blue Line buses stop near Kotor's Old Town. There's one stop right in front of the Sea Gate, which is the main entrance, marked by the word 'Bus' on the tarmac, and another in front of the Kamelija Shopping Centre. Unfortunately, you won't find any schedules at the stops, but there's a tourist information kiosk close to the Sea Gate where you can ask for the most recent timetable.
How to spend a day in Perast
We only had half a day in Perast, but the great thing about the town is that it's still enough to cover the main attractions without feeling like you're rushing through things.
Aside from their stunning coastal beauty and rich history, the towns of Kotor and Perast are also known for their namesake cakes. Kotor Cake (Kotorske Krempite) is essentially a custard pie, while Perast Cake (Peraška torta) is a moist almond cake with lemon zest. We stopped by Bistro Šijavoga and Restaurant Armonia to try both – while you can find similar flavours in other countries, sampling local cuisine and desserts is always a must for me.
Interestingly, Perast only has one road, but walking down the waterfront is more than enough to fall in love with the beauty of this place. You can learn more about the town's past at the Perast Museum, located inside a stunning 18th-century palace.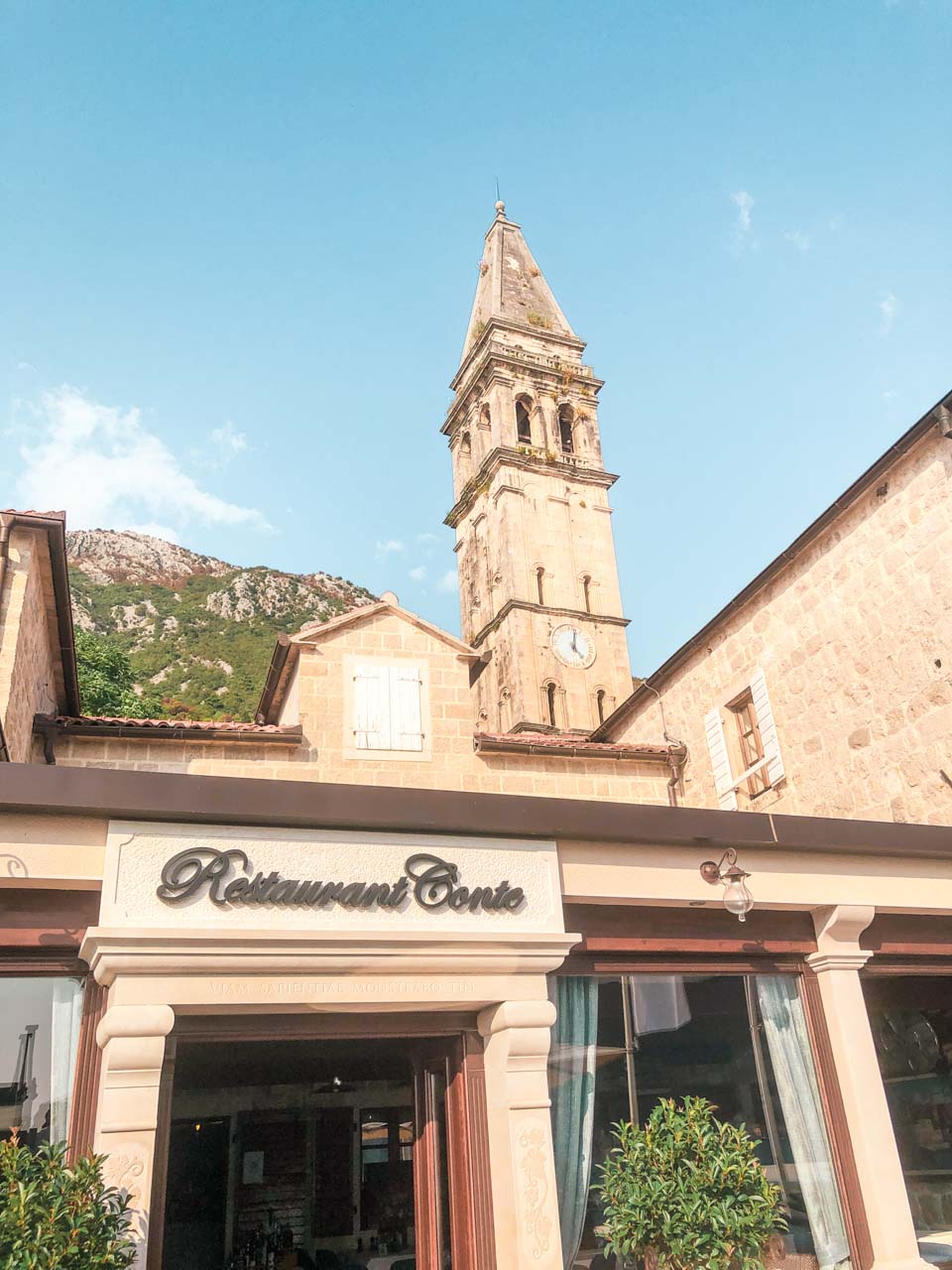 If you want to swim in the Bay of Kotor, there's one place in Perast with shallow water on a pebble beach – just make sure to bring your water shoes. You can find it by typing "Peskovita plaža Perast" into Google Maps. There's also a cool beach bar nearby, where you can chill with a cocktail on a deck overlooking Sveti Đorđe (Saint George) Island and Our Lady of the Rocks.
And, if you're not planning a speedboat tour, or feel like you didn't get enough time to explore Our Lady of the Rocks during yours, there are also boats departing from Perast all the time for a small fee of €5.
Overall, visiting Perast was honestly one of the best things we did in Montenegro – I'd go so far as to say no Kotor itinerary is complete without it!
Best restaurants and cafés to visit in Kotor
1. Pekara Buongiorno
So, this first place is technically a bakery, not a restaurant, but I simply couldn't not include it in my post. This came as another recommendation from our host – and, as always, he hit the jackpot. If you're staying in the city centre, this is probably a little out of your way. But, if you're based somewhere closer to Dobrota, you must pop in here to satisfy your sweet tooth.
When we went inside, I genuinely felt like a kid in a sweet shop. I'd just gaze and point at all the different pastries inside the display counters. From flaky croissants, cinnamon buns, and strudels to an entire counter unit filled with all sorts of mouth-watering cakes and donuts, I wanted it all. We eventually ended up getting an entire bag of delicious baked goods, which came to somewhere between €5-6. For breakfast on a budget, this is honestly as good as it gets!
2. Steak & BBQ House Tanjga
When our host was about to recommend this place to us, for a while he appeared to be deep in thought, looking for the best words to describe it. Eventually, he proudly exclaimed "2 person, 10 euros, full power!", which I'd say is a pretty accurate representation.
As the name suggests, this restaurant specialises in barbecue and steak. Once you walk in, it feels a bit like you've entered a butcher's shop, with all kinds of meat inside a glass counter. All food is then prepared on the spot in an open kitchen, so you can be sure it's as fresh as it gets.
Don't worry about the fact that there are only a couple tables inside. There's also an outdoor seating area behind the restaurant where you can enjoy your meal. At first, it gives off that "should I even be here?" vibe, as you have to walk through a storage room to get there. You get used to it, though – once the food hits the table, you forget about all the minor inconveniences.
Our personal favourites were the mixed meat platter starting at €10 and the stuffed burger costing €7.50. If you don't eat meat, you can get some grilled veggies instead. One of the waiters was a total jokester, pretending to be shocked as he handed a plate of veggies to one of the customers and saying "you come to the best barbecue in Montenegro and you order vegetables?!"
Overall, the portions were extremely generous and we loved the friendly, laid-back atmosphere. It genuinely does not get better than this for the price, so if you're looking to save some money, I'd wholeheartedly recommend this place.
3. Ribarnica Perper
If you're a fan of seafood, Ribarnica Perper is the perfect place for you. From the outside, it looks really unassuming, more like a fishmonger's (are you starting to sense a pattern here…). So, if your host hadn't mentioned it to us, we would've never thought to go in.
The only drawback of this place is that you can only order food to take away. Thankfully, it was within walking distance from our flat. Alternatively, you can also go to the waterfront and enjoy your food in the sunshine.
Once you place an order, the owner prepares your food on the spot and you can come back 20-30 minutes later to collect it. You can choose from various kinds of fish, meat, and seafood, as well as a few types of risotto. And the best part? The prices are so low we had to do a double-take to make sure we read that right. I wish I'd taken a photo of the menu, but I swear you could get a kilo of mussels for around €12!
I got some red risotto (unfortunately, they'd run out of the black one by the time we arrived) and some mixed meat with chips and only paid €8. We had enough food for 2 days – and I just know if we went to a touristy restaurant instead, we'd probably pay triple that amount for the risotto alone!
If you're visiting Kotor, this place is an absolute must, but I'd recommend that you head there early. It's extremely popular with the locals – we arrived around 2 and most items had already sold out!
---
Which of these Kotor activities would you be most excited to try? Would you consider staying longer than a couple of days?